According to a 2021 report from the National Traffic Highway Administration, an estimated 42915 people died in traffic crashes in the United States. A car crash can alter the course of your life in a matter of seconds. 
Even if you are an extremely careful driver, you cannot control the actions of other drivers on Atlanta roads. A distracted or drunk driver can hit your car while on the road, leaving you with thousands of dollars in medical bills and property damage.
You may have to undergo treatment procedures, surgeries, and therapies after your accident. You may also miss work or lose business income as you recover. During such instances, you shouldn't have to bear the cost of another driver's negligence.
If you are not responsible for your motor vehicle accident, you may be eligible for compensation. An Atlanta car accident lawyer from The Weinstein Firm can look into the facts of your case and advise you accordingly. Our legal team is prepared to help you build a strong insurance claim.
We have won millions of dollars for our clients throughout Georgia.
We stop at nothing to win maximum injury compensation!
If you or your loved one were in a car accident, Call 770-HELP-NOW today to schedule your risk-free, no-obligation consultation. Let us put our aggressive representation skills to work so that you can get the justice you deserve. We are ready to answer any questions that you may have about your Atlanta car accident claim
How Can We Help
At The Weinstein Firm, we value our clients. We are prepared to go above and beyond to make sure we protect your legal rights after a car wreck or fender bender. We can represent you in personal injury claims and prove that the other party's negligence led to your damages.
Our legal team is willing to spend their time, effort, and energy to build a strong car accident claim in Atlanta, GA. We will conduct thorough investigations into your car accident and advise you accordingly.
Here's how our Atlanta car accident lawyers can help you.
We Fight For Your Rights
Insurance companies are only interested in limiting or denying your claim. Don't be fooled by their friendliness. They are always looking for reasons to limit payouts.
At The Weinstein Firm, our attorneys know how insurance adjusters operate. For this reason, we will handle all talks with insurance providers on your behalf. We will look into the facts of your case and make sure the insurance company doesn't act in bad faith and deny your claim.
We Pursue Maximum Compensation
Insurance companies will look for reasons, such as an admission of fault, to limit your payout. At The Weinstein Firm, our lawyers will analyze the facts of your case and determine who is responsible for your crash. 
We will push for maximum compensation, ensuring you don't pay for anything out of your own pocket after an accident. This compensation may include hospital bills, pain and suffering, lost income, and vehicle repair costs.
Pay Nothing Unless You Win
The Weinstein Firm operates on a contingency fee basis. This implies that you don't pay anything until we win your car accident claim. We will cover all expenses related to your claim and lawsuit as you rest and recover.
Once you receive compensation for your car accident claim, we will get a percentage of that settlement as attorney fees.
Get the compensation
you deserve $$$
Schedule a free initial consultation. We will provide sound legal advice without judgement. Contact us today at 770-HELP-NOW
What Do I Do After a Car Accident in Atlanta?
The moments after a car accident can be very confusing. That's normal for victims of car crashes. Here's what the lawyers at The Weinstein Firm advise you to do after a car accident.
Call 911
After a crash, it's important to call the police. Law enforcement officers will prepare a report that your insurer may require in order to settle your claim. A police report can also come in handy when proving negligence in a car accident case.
Take Pictures of the Scene
Remember to take photos and videos of the crash. Photos of vehicle damage, road conditions, visible injuries, road signs, and the weather can help during case preparation. Also, never leave the scene until the responding officer tells you it is ok.
Seek Medical Attention
After an accident, your adrenaline may mask your pain and injuries. Once a day or a week passes, you may realize you are severely hurt. To avoid this, you should visit a doctor and follow their orders.
If you don't feel any relief, go back to your doctor and explain to them how you feel.
Obtain A Copy Of The Police Report
It's important to get a copy of the police report after your crash. Your lawyer may analyze this report and build a strong claim to help you secure the best compensation.
To obtain this report, you can visit the Georgia State Highway Patrol (GSP) or your local police department. Alternatively, you can also obtain this report online at Buycrash.com. Make sure you have these details with you when obtaining the report:

Contact The Weinstein Firm
After your accident, you require the legal counsel of an experienced personal injury attorney near Atlanta. At The Weinstein Firm, our attorneys, brothers Harris and Micheal Weinstein are prepared to handle all aspects of your claim, including settlement talks and litigation.
Protect your legal rights today by enlisting the services of a reliable car accident law firm in Atlanta, GA.
With Your Attorney, Contact Your Insurance Company
Call an Atlanta car accident attorney before you speak to any insurance adjusters after your car accident. A lawyer can protect your rights and make sure you don't say anything that ruins your insurance claim.
Last, But Not Least, Stay off Social Media!
Always stay off social media after your accident. Don't talk about the crash, your injuries, your treatment, or the other driver on Twitter, Instagram, TikTok, or Facebook. Also, never admit fault. Remember, insurance companies may monitor what you say in your posts and videos and use that against you.
For instance, talking about how fast your injuries have healed may significantly affect your compensation. Your insurance company may assume your injuries weren't as severe as you claimed earlier.

When Should You Talk to a Car Accident Lawyer in Atlanta?
After a car accident, it's advisable to contact an auto accident lawyer from Atlanta as soon as possible. An attorney can protect your rights throughout the claims process. Contacting them immediately after your accident ensures they fight for your interests after the crash.
Remember, the other driver may have an attorney who will try to blame you for the crash. After a collision, having your own lawyer ensures you know all your legal options and the best path to take.
You should consider reaching out to a lawyer after a car crash if:
It is unclear who is liable
Involved parties sustained severe injuries
There was property damage
The compensation doesn't cover your damages
At The Weinstein Firm LLC, our Jewish personal injury lawyers are dedicated to taking on all your problems and pursuing maximum compensation so you can focus on healing.
Whether you have been injured in an accident due to a distracted, reckless, or drunk driver, our skilled Atlanta car accident attorneys will deliver the aggressive representation you need to fight for your rights.
No matter what route you decide to take, the success of your case begins with hiring an attorney you can trust.
What Your Car Accident Lawyer Will Help You Prove
As a plaintiff, you bear the burden of proving fault in a car accident claim. Negligence plays an essential role in determining who is responsible for a car wreck in Atlanta. Legally, a person is negligent if they act in a way a reasonable person wouldn't. Such actions may cause harm.
For instance, no reasonable person would speed in a crowded street or a school zone.
To prove negligence in a car accident claim, here are the elements your lawyer must establish:
Duty of care: Did the defendant have a legal obligation to protect the rights of other road users?
Breach of duty of care: Did they disregard that obligation?
Injury caused by the accident: Did their actions or omissions result in injuries?
Actual damages caused by the accident: Did you suffer actual damages, like pain and suffering or lost income, after the accident?
If the answer to these questions is "Yes," you may have a case. An Atlanta car accident lawyer can gather and analyze evidence to push for maximum compensation for your car accident claim.
Most Common Causes of Car Wrecks in Atlanta
Many factors can lead to car accidents in Atlanta, GA. Some of these factors are natural, like heavy rains, while others aren't. Human error is the most common cause of car accidents.
Here are various causes of car accidents in Atlanta.
Dangerous Road Conditions
Dangerous road conditions can send drivers into oncoming traffic once they lose control. Driving on a road with potholes, missing guardrails, or poor drainage is risky. An icy road can also increase the risk of a crash.
Texting and Driving
Distracted driving is dangerous. You are 23 times more likely to crash while texting and driving. According to the National Highway Traffic Safety Administration (NHTSA), 3,142 people were killed in accidents involving distracted drivers in 2019.
Georgia's hands-free law prohibits drivers from texting while driving. Drivers should, at all times, never take their eyes off the road.
Drunk Driving
There were 10,142 deaths from drunk driving accidents in 2019. Every day, approximately 28 people die from drunk driving auto accidents.
Federal and state laws prohibit the use of alcohol while on Georgia roads. Drivers in Georgia should not operate motor vehicles if their blood alcohol concentration (BAC) is 0.08 percent or more.
Drunk driving can:
Affect brain function
Impair thinking
Affect muscle coordination
Increase risk-taking: speeding, passing, or failure to wear seat belts
Alter vision and hearing
Lead to drowsiness
Elicit a false sense of confidence
Speeding
In 2019, speeding was responsible for 26% of all traffic fatalities — 9,478 deaths. Speeding and reckless driving claimed over 25 deaths every day in the same year.
Driving for too Long
Drivers should rest after driving for a while. However, this isn't always the case for most commercial drivers. Drivers of most company trucks, vans, Ubers, and Lyfts may drive for too long and become tired. This puts all road users at risk.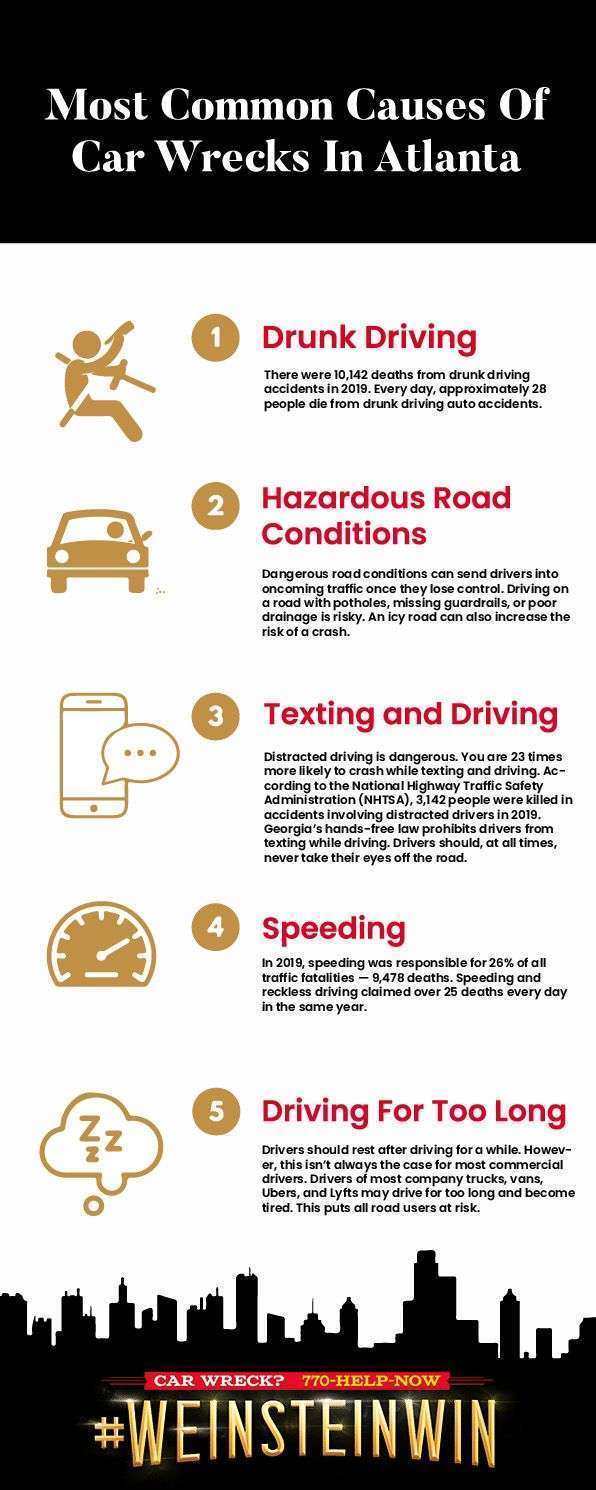 Car Accident Statistics
What if the Car Accident Wasn't My Fault?
Georgia is a "fault" state when it comes to personal injury insurance claims. This implies that if you are involved in a crash that isn't your fault, the responsible party will be responsible for paying your damages.
You can file a claim with the other driver's insurance company, your insurance company, or file a lawsuit to seek compensation.
Handling Insurance Companies After a Car Accident
After a car accident, victims typically seek compensation from the at-fault party's insurance provider. However, remember these companies are for-profit businesses that will look for any reason to deny or limit your claim.
They may offer you a lowball settlement that doesn't cover your future medical bills.
With a reputable Atlanta car accident lawyer by your side, rest assured that they'll fight for your rights and make sure you receive the best compensation.
Damages Available for Car Accidents in Georgia
After a car accident in Atlanta, you or your family member may be eligible to receive economic and non-economic damages. Economic damages are monetary damages that can be found in bills and receipts. But non-economic damages are intangible losses that are completely subjective.
These damages don't have any fixed monetary value. Georgia courts may also award punitive damages in car accident claims. Here are some of the damages available in Atlanta, GA:
Past, present, and future medical expenses
Lost wages and future wages
Property damage
Out-of-pocket expenses
Pain and suffering
Frequently Asked Questions
Types of Auto Accident Cases We Handle
At The Weinstein Firm, our legal team handles various types of auto accident cases, including:
If you have been involved in any of the above accidents, you should contact a car accident lawyer from Atlanta to find out if you have a case. The Weinstein Firm is prepared to guide you throughout the claims process.
Is it Worth it to Hire a Car Accident Lawyer?
Representing yourself after an accident is ill-advised. Personal injury laws and statutes in Georgia may be too complicated to understand. An attorney can help you throughout the claims process, ensuring you get the justice you deserve.
Here are various reasons why you should consider hiring The Weinstein Firm:
Gather and analyze evidence
Evaluate your damages
Create a car accident claim
Handle negotiations with insurance companies
Prove negligence in your car accident case
Represent you in court
You Pay Zero Unless We Win!
Millions recovered for injured victims
Why Choose The Weinstein Firm?
At The Weinstein Firm, we take every car accident case seriously. Our lawyers aggressively fight to protect the rights of car accident victims, ensuring they get the best compensation. Additionally, The Weinstein Firm:
Offers free case reviews
Is available 24/7 365
Doesn't charge upfront fees
Guarantees 100% satisfaction
Schedule Your Free Case Review With the Top Car Accident Lawyer in Atlanta! Call the Weinstein Firm Now!
If you or someone you care about has been hurt in a car accident, contact The Weinstein Firm today to find out if you have a case. Remember, insurance companies work hard to find reasons to reduce insurance payouts.
Our legal team is prepared to build a strong case and make sure you receive the compensation you deserve.
Contact us today at 770-HELP-NOW to find out if you have a case. Let us help you recover damages from your medical bills, vehicle damage, and lost income. Get started now before it's too late to file a claim.
Our Atlanta Office is located on Roswell Road in Atlanta. It is situated between Green Hill Rd NE and Beachland Dr. NE. Our office is located minutes away from Chastain Park, Northside Hospital Atlanta and I285 Perimeter. We serve the Greater Atlanta Area including Sandy Springs, Buckhead, Norcross, Duluth, Johns Creek, Roswell, Dunwoody, College Park, Kennesaw, Alpharetta and Marietta.
Coming from Ashford Park, GA: Take Tobey Rd to Parkridge Drive NE, make the right onto Parkridge Dr. NE. After .4 miles, turn left onto Caldwell Rd. NE. After .4 miles, turn right onto Redding Rd NE, across from the Charge-Point Charging Station. After .1 miles turn left on GA-141-S, Peachtree Rd. In .2 miles, turn right on Ashford Dunwoody Rd. Turn left onto Windsor Rd after .4 miles. After 3.2 miles turn right on Roswell Rd. In 1.4 miles, The Weinstein Firm will be on your right
Coming from Sandy Springs, GA: Head South on Vernon Woods Dr NE, proceeding straight through the traffic circle to stay on Venon Woods Dr. NE. Turn Right onto Mt Vernon Highway at the intersection. After .4 miles take the slight right onto Johnson Ferry Rd. After .1 miles, take the sharp left onto Roswell Rd, passing The Chase Bank on your right. Stay on Roswell Rd for 1.8 miles, then the Weinstein Firm will be on your left after Rocky Mountain Ski & Board
Coming from Cumberland, GA: Head SE on Interstate N Circle SE for .2 miles, heading towards Windy Ridge Pkwy SE. Continue onto Interstate N Pkwy for approx 500 feet, staying straight onto Cumberland Blvd SE. After .9 miles, use the right 2 lanes to turn slightly right, merging onto I-285E. Take I-285E for 4.7 miles, then take Exit 25 onto US-19 S/Roswell Rd. in Sandy Springs. Stay on Roswell Rd. for .8 miles, then turn left into The Weinstein Firm, after Rocky Mountain Ski & Board.
Auto Accident Scholarship