The Georgia Governor's Office of Traffic Safety reports that every year around 55,000 motor vehicle accidents occurs on Fulton County roads. Over 14,000 people incur injuries in these accidents. Unfortunately, many of the injured victims have no idea they can contact a car accident attorney near Roswell GA to claim compensation for the damages and injuries they sustained, or they do it when it is already too late. If you've been injured in a car accident, one of the car accident lawyers at the Weinstein Firm can help!
About Roswell, Georgia
The city of Roswell is located in northern Fulton County, Georgia, and is a close suburb of Atlanta. The 2019 estimated population was 94,763, making Roswell the state's ninth-largest city. Roswell's story is connected to the Cherokee Indians, the Civil War, and United States presidents. You can explore the city's historic district and even take a ghost tour if you're feeling adventurous.
Located only about 5 miles away in Alpharetta, the Ameris Bank Amphitheatre is a 12,000 seat state-of-the-art concert venue. Roswell is surrounded by natural beauty. You can see the ruins of a historic mill and the rushing dam waterfall on a hike of Vickery Creek Trail at Roswell Mill. The Chattahoochee Nature Center offers trails, exhibits, programs, and events on 127 acres of forest, wetland, and river habitat.
Roswell Accident Statistics 2019-2021
Why Get in Touch with a Car Accident Attorney Near Roswell as Soon as Possible?
Although Georgia statutes of limitations give victims two years from the accident date to claim compensation for their injuries, getting in touch with a car accident lawyer as soon as possible is very important.
On the one hand, a personal injury lawyer near Roswell Georgia can help the victim evaluate their case and assess who was at fault for the accident and whether they have the right to seek compensation. Georgia is a shared-fault state, meaning that accident victims are entitled to compensation even if they were partially at fault for the accident.
In order to receive the compensation, no matter if they work with a car accident attorney or they are on their own; they need to prove that their share of liability is lower than that of the other party or parties involved in the accident.
The amount of compensation they can receive depends not only on each party's liability and the experience of their auto accident lawyer but also on the type and value of the damages and injuries each party sustained, on the evidence supporting the claim.
Every aspect of a car accident claim needs to rely on solid evidence. That is why, at The Weinstein Firm, our lawyers focus on proving beyond the reason of doubt:
How the accident occurred and that our clients were the least at fault for it
The losses our clients incurred
The value of those losses, or how much money our client should receive.
Our car accident attorneys have noticed people forget about accidents easily, since such events are part of their everyday reality. Local stores, institutions, and gas stations do not keep the recordings of their video surveillance cameras forever. Witnesses change addresses and phone numbers, and they can become more difficult to locate.
What could be easy to prove within a few days or weeks after an accident, it could become an impossible mission even for the best auto accident attorney after several months or one year have passed. That is why we recommend consulting an auto accident attorney near Roswell, GA as soon as possible.
Since the first consultation with our car accident attorneys is always free, our clients do not risk anything. On the contrary, all of them leave our offices satisfied that they received new and useful information and they know exactly what steps to take to protect their interests and make sure they eventually receive the compensation they deserve.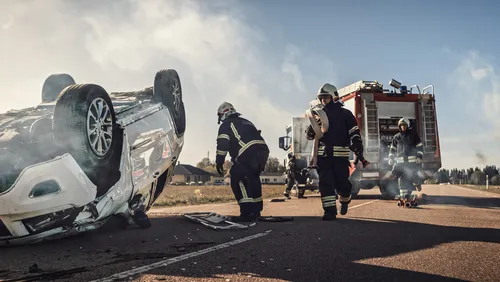 Georgia Compensation Claim Process and How a Car Accident Lawyer Can Help
1. Preparing the Claim
The process of preparing a car accident claim, in Georgia, should begin at the scene of the accident. No matter if they have a car accident attorney present on site, consult one later on, or choose to take matters into their hands, everyone involved in an accident should follow a few simple steps, detailed below:
Remaining at the scene – Under Georgia Code Title 40, Chapter 6, Article 12, any driver involved in an accident should stop at the scene and provide or request assistance for the injured. Contacting an auto accident lawyer near Roswell is always preferable to fleeing the scene. The penalties include misdemeanor charges, fines between $300 and $1,000, and even spending time behind bars.
Seeking medical assistance – Anyone injured in the accident should undergo a medical consultation, even if the injuries seem insignificant at first sight. Many car accident victims mistakenly believe they are alright, only to discover later that they suffered concussions or even internal injuries. Besides, any medical reports will help the car accident lawyer or the claimant document the compensation claim.
Reporting the accident – As any car accident attorney can explain, it is important to report all accidents involving damages over $500 to the police, and prepare a Personal Report of Accident if the police do not come to the scene or the accident was minor and did not require reporting. The accident report will serve as evidence and support the compensation claim.
Obtaining information – It is impossible to file a compensation claim without identifying the party at fault for the accident and their insurer. A car accident attorney will also try to find witnesses, passengers or anyone else at the scene who can testify how the accident took place and who caused it. The most important details to collect are names, addresses, and phone numbers, car license plates, identification number, insurance policy details, and insurer name and contact information.
Gathering evidence – This is probably the most important step in preparing the car accident claim, and it should begin at the scene of the accident. Photos of the cars involved and of the damages, speedometers, brake marks, oil, fuel, or brake fluid leaks, witness testimonies and video recordings from nearby cameras can be very valuable in the hands of an experienced car wreck lawyer.
Avoiding detrimental statements – In the aftermath of a car accident, those involved often make the mistake of apologizing or assuming fault, giving contradicting statements, or signing right-waiving agreements. Those who do not have a car accident lawyer to support them should focus on the steps as mentioned earlier, take notes of everything they see and hear, and limit their discussions with the police and any insurance agents to the bare minimum. Cooperation is advisable, but answers should follow careful consideration and be short and concise.
One important aspect that should determine anyone to contact a car accident attorney is the absence of a driver's liability insurance coverage. Under Georgia laws, the minimum liability insurance for drivers is:
$25,000 personal injury per person
$50,000 personal injury per event
$25,000 property damage per event
Those who incur significant property damage and injuries that could exceed these amounts will have a hard time recovering losses beyond the specified amounts without the help of an experienced car accident lawyer.
Also, those who discover that the party at fault for the accident is uninsured or underinsured may only be able to recover losses from their own insurer, or by filing a civil lawsuit against the party at fault. Again, a car wreck lawyer is the best person to assess the situation and provide adequate advice.
After things have calmed down, and the victims have received the treatment they need and repaired or replaced the damaged property, they or their car accident lawyer need to document all their expenses and file them as evidence to support their compensation claim.
Here are some examples of documents a car wreck lawyer may use to can support a compensation claim:
Car accident report and any other evidence showing how the accident took place
Invoices and reports from the auto repair shop, detailing the source and the extent of the damage and the repairs performed
Medical reports, hospital bills, pharmacy receipts, and any invoices or documents that will help establish the severity of the injuries incurred and the value of the medical care the victim required
Income statements, employer correspondence, and any other documents that can prove loss of income or earning capacity
Medical letters, medicines prospects, and witness testimonies to prove significant pain and suffering
All this evidence will become annexes to the notice of claim, an elaborate written document the writing of which should be left to an experienced car accident lawyer. The notice needs to show beyond a reasonable doubt who was at fault for the accident, what the consequences of their negligence or wrongdoing were, and that the compensation requested is a small price to pay.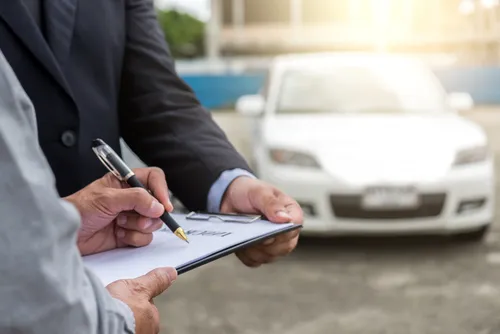 2. Filing the Claim
Before writing the notice and filing the claim, any claimant needs to decide from whom to seek compensation. There are three options available under Georgia laws:
The party at fault (driver, taxi or trucking company, the company in charge of road maintenance)
The insurer of the party at fault
The victim's insurer.
At The Weinstein firm, we have found that the safest bet, in most cases, is seeking compensation from the insurer of the party at fault. However, our car accident lawyers prefer to look at the details, assess all factors involved and the insurance policies in place, and recommend the best solution for each case.
Depending on the severity of the accident and how serious the injuries and damages the victim sustained were, the compensation claim can cover:
Property damage – The costs of repairing or replacing the car and any other assets damaged in the accident
Medical care – The costs of doctor consultations, blood tests, medical procedures, prescribed treatments and therapy
Home care – The costs of home care services, necessary devices (wheelchair) or procedures (massage, physical therapy), disability accommodation adjustments (wheelchair ramps, support bars installation)
Lost income – Wages the victim could not earn due to the injuries, income the victim will no longer be able to earn due to an accident-related impairment
Pain and suffering – When the injuries involve severe physical and emotional trauma, the victim can seek compensation for the physical and emotional torment. These too require support documents, like psychiatric evaluation, medicine leaflet, witness testimonies, and more.
The compensation amount will depend on the victim or their car wreck lawyer's ability to prove the claimed losses, and the other party's share of fault. Georgia laws consider car accident liability and losses to sum 100%. Each party involved in the accident will be responsible for the percentage of losses corresponding to their fault.
Thus, someone 25% at fault for an accident will have to cover 25% of the losses.  How much these losses represent and how much money they can still receive as compensation will depend on the total value of the damages, but also on their or their car accident lawyer's ability to substantiate the compensation claim.
No matter the value of the compensation, it is vital to file the claim before the statute of limitations expires and to include all losses. After accepting a settlement, further compensations are difficult, maybe even impossible to obtain, no matter the justifications. The clock starts ticking on the day of the accident.
3. Obtaining a Convenient Settlement
Any car accident lawyer will agree that, if the amount is fair, a settlement is preferable to a court trial. Usually, assuming the claimant has a solid claim, the defendant will make a settlement offer. This means they will offer the claimant a sum of money as compensation, in exchange for the latter to give up their right to further claims or demands.
This amount will usually be lower than the one the claimant requests. Although the claimant decides if the settlement offer is worth accepting or not, it could be in their best interest to consult with a car accident attorney, to find out whether they can obtain more money in an appeal or civil lawsuit, and what such options would entail.
The terms of the settlement should receive the attention of an experienced personal injury attorney as well, as some claim adjusters include tricky terms in their offers. Assuming everything is in order, the claimant can sign the settlement agreement and receive the agreed compensation. If the claimant decides they deserve higher compensation, they can appeal.
4. Appealing the Compensation Claim
Claimants who are not satisfied with the settlement offer they receive from the claim adjuster of the insurer against whom they filed the claim can file an appeal with the insurer's claims supervisor. If the answer they receive at this stage is not satisfactory either, they have the option of taking their case to court. The Weinstein Firm car accident lawyers never hesitate to take matters to court if it is in their clients' best interests.
Sometimes, the parties settle just before or even during the court trial. The experience and knowledge of a car accident attorney near Roswell can be incredibly useful every step of the way. Besides helping their client substantiate their claim and obtain a higher compensation, the car accident attorney will also take over most of the hassles.
Common Types of Car Accident Injuries
Bruising
The most frequent injury resulting from car accidents is bruising, which takes place when small blood vessels below the skin tear, causing tenderness and discoloration. Bruising can be a minor injury or a sign of more severe underlying trauma, and it may take several days to fully manifest.
Scars and Disfiguration
Car accidents can result in scarring and disfigurement injuries. Scarring is a natural healing process that can cause permanent changes to the skin's appearance, whereas disfigurement is a more severe and permanent alteration of the face or body.
Broken Bones
High-impact collisions can lead to broken bones, which occur when the force of the impact is stronger than the bone's strength. Treatment for broken bones can vary from immobilization with a cast or brace to surgery, depending on the severity of the break. Recovery time can vary based on the extent of the injury and the individual's overall health.
Facial Injuries
Car accident injuries can range from minor cuts and bruises to more severe conditions like broken bones or disfigurement that may require surgery. These injuries can cause both physical pain and emotional distress.
Neck Injuries
Neck injuries are common in car accidents, particularly in rear-end collisions, and can range from minor strains to severe conditions such as whiplash or spinal cord damage.
Whiplash
In car accidents, whiplash is a common neck injury caused by sudden and forceful back-and-forth head movement. The impact can damage the soft tissues in the neck, such as muscles, ligaments, and nerves, leading to symptoms such as neck pain, stiffness, limited mobility, headaches, dizziness, and fatigue.
Wrist & Hand Injuries
Car accidents frequently result in wrist and hand injuries, especially when the person braces themselves during impact. These injuries may vary in severity from minor cuts and bruises to more serious conditions like fractures or dislocations.
Leg & Foot Injuries
Car accidents can lead to a range of injuries, from minor cuts and bruises to more severe conditions such as fractures or amputations.
Brain Injuries
Car accidents can cause serious brain injuries, especially in high-speed collisions or rollover accidents. These injuries can range from mild concussions to severe traumatic brain injuries (TBI), leading to long-term disabilities or even death.
Burns
Car accidents may result in burns, especially in situations that involve fires or explosions. These injuries can vary in severity, ranging from minor burns to more serious ones that may lead to permanent scarring or disfigurement.
Post-Traumatic Stress
Post-traumatic stress is a mental health condition that can arise following a traumatic event like a car accident. Common symptoms of post-traumatic stress may include anxiety, depression, recurring flashbacks, nightmares, and avoiding situations or places that bring back memories of the event.
Back Injuries
Back injuries resulting from car accidents can vary in severity, ranging from minor strains and sprains to more severe conditions like herniated discs or spinal cord damage. These injuries can cause pain, stiffness, and limited mobility, and may require medical attention such as rest, physical therapy, or surgery to alleviate symptoms and promote recovery.
Paralysis
Paralysis is a severe medical condition that may arise from car accidents, especially those that involve high impact or damage to the spinal cord. It can be partial or complete and is characterized by the loss of muscle function and sensation in a particular area of the body.
Internal Bleeding
Internal bleeding is the result of damage to blood vessels within the body, causing blood to leak into surrounding tissues or organs. Indicators of internal bleeding may include pain, swelling, dizziness, and weakness.
Pain & Distress
Car accidents can result in physical pain and emotional distress for those involved, regardless of the type or severity of the injury. Physical pain may stem from cuts, bruises, fractures, and other injuries sustained in the accident, while emotional distress may arise from the shock of the accident, fear, anxiety, depression, and post-traumatic stress.
Get Help with Your Claim from an Experienced Car Accident Lawyer Near Roswell, GA
If you were involved in a car accident, you have repairs to oversee and injuries to treat and from which recover. The last thing you want to do is deal with insurance companies. However, you have the right to compensation, and obtaining it takes time and effort.
At The Weinstein Firm, we can take over the claim preparation, filing, and negotiation process, and be with you every step of the way. All you have to do in order to benefit from our help is to schedule a free consultation with The Weinstein Firm car accident attorney. In addition to car accident cases, our law office handles a variety of personal injury cases. Do it now, and let us get you the compensation you deserve!