As the ongoing campaigns to promote bike riding as an alternative to driving start paying results, the number of bike accidents is increasing as well. The Governor's Office of Highway Safety announced an increase of 21% in the number of fatalities related to bike accidents. In Fulton County, many bikers end up among the over 14,000 persons injured in traffic and needing the assistance of a bike accident lawyer near Roswell.
Unfortunately, bikers, along with pedestrians and motorcyclists, are the ones who sustain the most serious injuries, since they have no restraints or airbags to protect them. Many of them need months of treatment and therapy to recover after an accident, and the costs of these reach huge amounts.
Call The Weinstein Firm, our bike accident lawyers have been helping clients recover the cost of their medical treatment and other losses for years. Many of our clients call us right from the scene of the accident or from their hospital bed. Others come to our offices unsure of whether they have the right to seek compensation or not, wanting to talk to a bike wreck lawyer. We evaluate all cases and help our clients understand their rights and obligations under Georgia laws.
Does Georgia Have Specific Laws For Bikes?
Bike accident cases are tricky. Drivers always try to blame bikers, and the latter, severely injured, misinformed, and without a bike accident attorney to guide them, give up all claims and focus on their recovery. It is important for all bikers to understand that, under Georgia laws, there are no definite victims and culprits.
As a bike wreck lawyer near Roswell will confirm, Georgia laws admit the possibility for both parties to be at fault. In fact, when it comes to establishing liability, all cases start from the premise that the party 100% at fault for the accident (or their insurer) should cover all the losses and damages. When both parties are at fault, they cover the damages and losses corresponding to their fault percentage.
Thus, even if a biker was partly at fault for their accident, they may still be entitled to compensation if they or their bike accident attorney manage to prove that their fault percentage is lower than that of the other party or if they incurred the most losses. Besides, liability for damages and losses depends more on what the parties can prove than on how things really happened.
In order to assess their clients' liability, most bike accident lawyers will try to find out whether the biker violated any laws. Georgia laws categorize bicycles as vehicles. Therefore all laws applicable to "vehicles," except for those referring specifically to "motorized vehicles," apply to bikes as well.
There are also laws referring specifically to bicycles. Although the easiest way for a biker to find out if they violated any laws is to tell a bike accident lawyer how everything happened, close knowledge of Georgia laws may help as well.
Brief Overview of Georgia Bike Laws
Persons propelling bikes should ride upon or astride regular seats and never allow other persons to ride on the handlebars. However, bikers who were carrying someone on the handlebar and their passenger may still be able to obtain compensation with the help of an experienced bike accident attorney if the latter can prove that the driver was more at fault.
The number of persons using a bike should always match the specifications, the design, and the equipment of the bike. Even if it does not, an experienced bike wreck lawyer may be able to prove that the biker's violation of the law did not cause the accident or the injuries.
Bikers over 16 years of age transporting children should use specific seats or correspondingly affixed trailers and ensure the child wears a helmet and adequate restraints. Failure to do so could prevent the biker, the child's parents, or their bike accident lawyer from obtaining compensation for the child's injuries.
Bikers should never hold on or attach their bikes to other vehicles on the road. Those who do and get involved in accidents, as a result, may not be able to obtain compensation, no matter how experienced their bike accident attorney is.
Bikers should keep to the right of the road unless they have to avoid an obstacle, turn left, or ride a narrow lane that cannot accommodate both a bike and a motor vehicle. As an experienced bike accident lawyer may confirm, a biker changing lanes randomly will have lower chances of obtaining compensation than one who incurred injuries while keeping to the right side.
Unless on designated paths, bikers should avoid riding abreast with more than one biker. When three or more bikers ride abreast, and car accidents occur, they will need a seasoned bike accident lawyer to defend their interests.
Packages and bundles should be avoided as well, especially when they do not fit in the bike's basket and they do not allow for proper restraining and balance. Bikers who get into accidents while carrying packages or their bike wreck lawyer will have to prove that the package did not interfere with their ability to control the bike, and the fault for the accident belonged to the other party involved.
At night, all bikes should be equipped with front lights and rear reflectors that hold the approval of the Department of Public Safety and are visible from a minimum of 300 feet on their bikes. Their absence could be considered the cause of a night-time accident and compromise the success chances of even the best bike accident attorney.
Functional brakes are mandatory as well under Georgia laws. They should allow the wheels to skid on the road pavement and enable the biker to stop safely when necessary. In their absence, a bike wreck lawyer may have a hard time proving their client's innocence.
The bikes' handlebars cannot exceed the shoulder level of the rider. Also, in their lowest position, the pedals of the bike should not be higher than 12 inches from the pavement.
The law also stipulates that bikers under 16 years of age should wear fitting, strapped helmets that meet the requirements of the Snell Memorial Foundation or the American National Standards Institute.
Violation of the above law stipulations does not necessarily mean that a biker cannot obtain compensation for their losses. They should, however, prompt the biker to contact a car accident lawyer as soon as possible, explain how the accident occurred and what stipulations they violated, and request a case evaluation.
With the support of an experienced bike accident attorney near Roswell, any proven violation of the above-presented law stipulations will add to the biker's fault percentage. Thus, if a with no fault for the accident they were involved in may hope to obtain compensation for all their losses, those who violated the law should expect the compensation to diminish directly proportional to their fault percentage.
However, bike law violations are rarely the main cause of accidents. Most bike accidents in Fulton County, including those handled by our bike accident lawyers, have caused similar to most traffic accidents, reviewed in the following lines.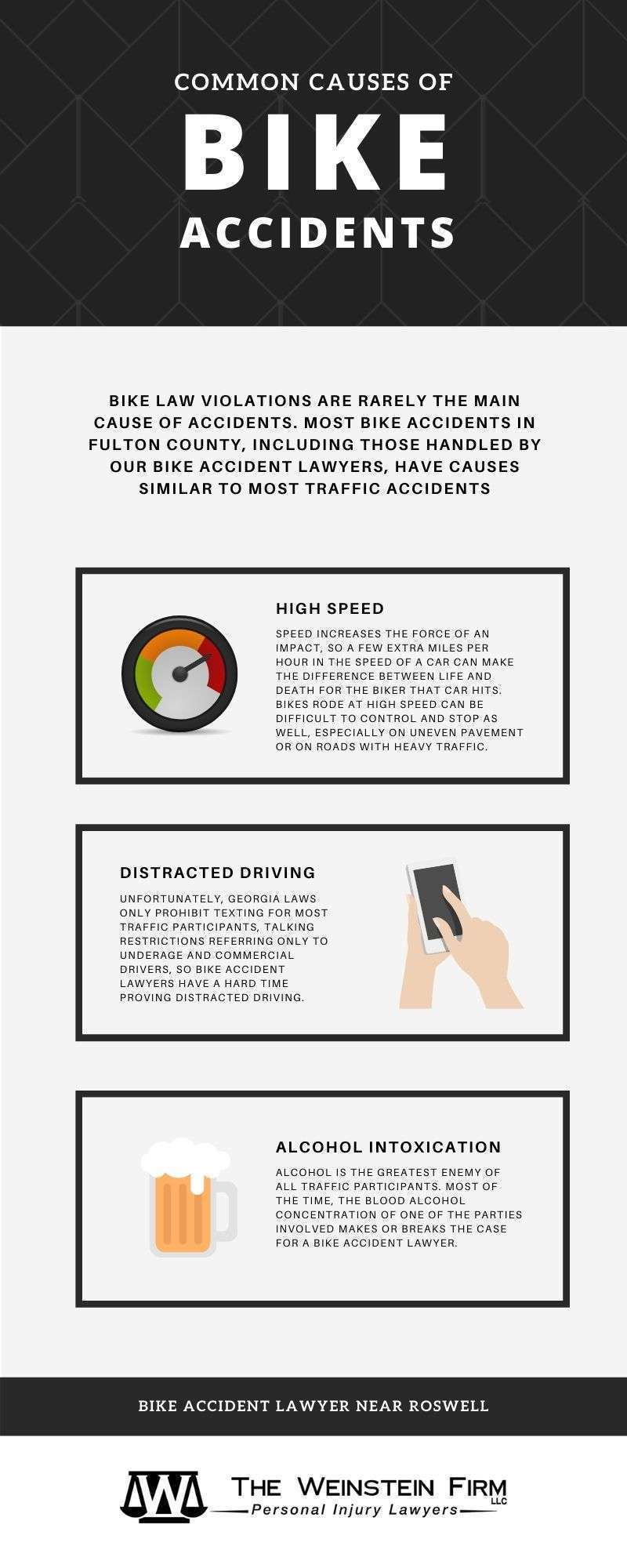 Common Causes of Bike Accidents in Roswell, GA
High speed – The higher the speed of a car is, the lower the chances of that driver's ability to avoid a bike accident are, especially on the crowded roads of Fulton County, where bikers don't always have dedicated paths and find themselves forced to avoid parked cars and other obstacles. Speed increases the force of an impact, so a few extra miles per hour in the speed of a car can make the difference between life and death for the biker that car hits. Bikes rode at high speed can be difficult to control and stop as well, especially on uneven pavement or on roads with heavy traffic.
Distracted driving – Both drivers and bikers often talk on the phone in traffic, check their social media notifications, or even send text messages. A couple of seconds of diverted attention can cost them their life or cause serious injuries and property damage. Unfortunately, Georgia laws only prohibit texting for most traffic participants, talking restrictions referring only to underage and commercial drivers, so bike accident lawyers have a hard time proving distracted driving.
Alcohol intoxication – Alcohol is the greatest enemy of all traffic participants. Drunken pedestrians lose their balance and fall on the carriageway, bikers have a hard time keeping their balance and controlling their bikes, drivers have slow and exaggerated reactions. Most of the time, the blood alcohol concentration of one of the parties involved makes or breaks the case for a bike accident lawyer.
No matter the cause of an accident, bikers should always consult a bike accident lawyer to find out whether they have the right to seek compensation and obtain help with the formalities. Sometimes, the advice they receive from their attorney can make or break their case.
For example, a bike wreck lawyer will always war clients on how to act immediately after an accident and what mistakes to avoid. Here are some of the advice The Weinstein Firm bike accident lawyers give to our clients.
What Should I Do After A Bike Accident?
Get medical attention immediately after the accident – Many accident victims refuse to call an ambulance or go to the hospital as soon as they realize they have no broken bones. Unfortunately, broken bones are not the only type of injury bikers should worry about in an accident. Internal injuries and concussions can be even more dangerous, and neglecting them could give the opposing party an argument – that the injuries aggravated due to the victim's negligence to treat them.
Identify any parties involved and get their contact information – The first step of obtaining compensation, even more important than contacting a personal injury lawyer is identifying the party at fault for the accident, or finding out against whom to file the compensation claim. Details like name, contact information, car license plate and insurance policy are vital to any case.
Gather as much evidence as possible – The success of a compensation claim depends not only on the experience of the bike accident lawyer handling it, but also the claimant's ability to prove that the defendant's actions caused their injuries and damages, and to show how much those injuries and damages are worth. Any photos, recordings, and testimonies from the scene can be worth a fortune, and so can medical reports, hospital bills, and drug invoices.
Avoid detrimental statements – People say and do crazy things when they are scared, stressed, angry, or worried. Nothing turns one's mood upside down worse than a life-threatening accident. However, victims should avoid at all costs saying they are sorry, admitting that they made a mistake, or signing any papers without reading them carefully or showing them to a bike accident attorney.
Never wait too long before filing the car accident claim – Although car accident victims should take their time before filing the claim to make sure they are aware of all losses, waiting too long could mean losing evidence or witnesses. Also, the Georgia statute of limitations leaves bike accident victims only two years to file their claim. Those who are not sure how long they should wait can get in touch with a bike accident lawyer, and the latter will advise them and make sure they take the step at the right time.
Never rush into accepting settlement offers – It is in the best interest of all the parties involved in an accident to reach a settlement as soon as possible. However, insurance companies often pressure victims into accepting low compensations just to get money fast. The best thing a claimant can do is discuss settlement offers with a bike accident attorney. If the insurance company does not offer fair compensation, the claimant can always appeal to their decision.
Otherwise put, after any bike accident, victims should either get a bike wreck lawyer to advise them or think twice before saying or doing anything. As the Miranda rights go, anything they say can be used against them.
Schedule a Consultation With A Bike Accident Lawyer Near Roswell Now!
Recovering from a bike accident is difficult, especially when the bills are piling and you have no way to pay them. The last thing you need to worry about is preparing and filing compensation claims or watching every step to make sure you don't do anything wrong.
You can forget about all hassles and focus on your recovery with the help of a The Weinstein Firm bike wreck lawyer. We can take over the claim preparation and filing process, and we can get you the compensation you need and deserve.
Call us now and schedule a consultation with a bike accident lawyer! The case evaluation is free, and you only pay our fee after receiving the compensation, so what are you waiting for?