After a severe car accident, it might be challenging to return to work immediately due to injuries sustained. Unfortunately, this usually means you can't make money. So, you may struggle to pay rent, buy groceries, foot medical bills, and other expenses. An Atlanta automobile accident attorney can help you recover compensation for your injuries.
But you might wonder if you can recover lost wages when self-employed. An employed accident victim can rely on their employer to provide sick time and paid leave. However, the burden is heavier and entirely on you if you're self-employed. Claiming lost wages as a self-employed person is difficult but not impossible.
So, keep reading to learn how to prove lost wages in a car accident claim if you're self-employed.
What Is Self-Employment?
Self-employment is pretty basic. It means a person doesn't have an employer. This means they're not on an actual payroll, so no employer pays them regular salaries or wages. Self-employment doesn't mean the person is without a job. Instead, it means that you work for yourself.
Claiming Lost Wages: Self-Employed vs. Employed
Claiming lost wages after a car accident is straightforward for employees. They just have to present their most recent paycheck as proof of their earnings. However, it is more complicated for self-employed persons.
If you're self-employed, you probably have multiple income streams that have different levels of frequency – monthly or weekly. Consequently, you're not just providing a paycheck and making simple calculations. Instead, you must prove what you would have earned from these income sources if you had not sustained injuries in a car accident.
Defining Lost Wages for the Self-Employed
Unless you have clear proof of the income you lost due to the accident, recovering compensation for lost wages after a car accident won't be possible. First, however, you need to know how to prove that you lost income when you're self-employed.
There are various pieces of evidence you can present for your sources of income. You must also demonstrate your total based on recent and upcoming work, past earnings, and tax returns. Some types of evidence of lost income you can present to receive compensation as a self-employed individual include:
Lost business opportunities
Lost earnings from an ongoing contract with monthly or weekly payments
Lost goodwill with existing clients you couldn't work for during your recovery
How to Prove Lost Wages After an Auto Accident If You're Self Employed
The evidence above does not provide exact amounts, so determining your maximum compensation for lost wages is still hard. But proving a lost wage claim involves some estimation. Therefore, below are some documents you can use to establish your lost income due to the car accident.
Client Letters: If you get regular emails and letters from your clients, they could be beneficial in making an estimation. Getting this evidence to prove your claim can be easier if you have a regular client base.
Recent Invoices: If you issue invoices to your clients, you can use the most recent invoices to show how much you usually earn from each client. Copies of these invoices can help you calculate your lost wages.
Past Tax Forms: Tax documents and other completed past tax returns can show what you usually earn in a year. If your recovery period after the crash lasts for half a year, you could divide your yearly earnings by half to determine how much income you have lost.
Statement from Clients: If you have an excellent relationship with your client, you can ask them for a written statement discussing your working relationship. The statement should also detail the number of hours of paid work you missed due to the car crash.
Medical Records: Medical documents are another form of evidence you can provide to receive compensation for lost wages. Although they don't prove lost income, it will show that your doctor advised you to take time off work for recovery, causing you to lose wages.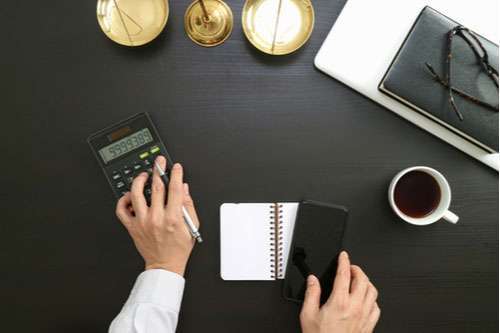 How to Calculate Lost Wages If You're Self-Employed
Once you have the necessary documents to support your lost wages claim, the next step is calculating your lost wages. This comes with its own challenges. An Atlanta automobile accident attorney can easily calculate the lost wages of a salaried or hourly employee. However, it's quite different for a self-employed individual.
It would be best to use a combination of your recent invoices, tax returns, and upcoming and lost contracts. In addition, you can estimate the value of the business opportunities you missed to determine your lost wages during the recovery period. Note that your level of shared fault in the accident must also go into the calculations.
It's easy to make mistakes during these calculations, which could cost you dearly. However, with a two-year statute of limitation for personal injury cases, including car accidents, you cannot afford to waste time. That's why hiring an Atlanta automobile accident attorney is essential for self-employed accident victims.
Can I Make a Claim for Loss of Future Earnings If I'm Self-Employed
Apart from missing work, if you won't be able to return to your job after your claim, you have to calculate future losses. An example is a web developer who suffers traumatic brain injuries after a car accident. These injuries could have neurological consequences that diminish their future ability to work and earn money.
Once you can prove future loss of earnings due to injuries sustained, your lawyer can help you recover compensation for the loss. Courts and insurers don't calculate this compensation based on your earnings before the injury or how much you'll make after the injury. Instead, it depends on your ability to earn more income.
To build a case for loss of future earnings, you'll need medical evidence stating the expectation of future recovery. If you can't go back to work, you will make calculations based on when you should have ordinarily retired had the injury never occurred.
Hire an Atlanta Automobile Accident Attorney Today
Clearly, personally proving lost wages as a self-employed accident injury victim would be very difficult. Insurance companies try to deny self-employed individuals compensation for lost income due to insufficient proof. However, an experienced auto accident lawyer understands these challenges. So, they will ensure they address them properly to ensure you get the maximum settlement for your injuries.
You get the best legal advice and support when you work with attorneys from The Weinstein Firm. Indeed, calculating lost wages from car accidents for the self-employed can be tricky. But we'll ensure you get the highest possible settlement for your losses. So contact a personal injury lawyer in Atlanta, Georgia, today to get started.