Burn injuries are unfortunately common in car accidents, and can result in long-term physical and emotional trauma. Severe burn injuries often require extensive medical treatment, including surgeries, skin grafts, and rehabilitation. Burn injuries can also lead to significant scarring and disfigurement.
In many cases, burn injuries in car accidents are caused by the negligence of another driver, making it important for victims to seek legal assistance. Our Atlanta car accident lawyers at The Weinstein Firm have extensive experience helping victims with burn injuries recover maximum compensation.
How Common Are Burn Injuries in Car Accidents?
The U.S. Fire Administration's report on highway vehicle fires between 2014 and 2016 shows that approximately one in eight fires responded to by the fire departments across the U.S. is a highway vehicle fire. Additionally, 83% of highway vehicle fires occurred in passenger vehicles resulting in severe burn injuries, while collisions caused 60% of fatal fires in car accidents.
To prevent fire outbreaks during car accidents, the National Highway Traffic Safety Administration mandates that car fuel systems be designed to withstand impact from a car accident without being ruptured. Also, the fuel tank and other components of the fuel systems of cars should be made with flame-resistant materials.
What Are the Different Types of Burn Injuries? 
The largest organ in the human body is the skin. Therefore, it plays a significant role in our health and well-being.
Burns can harm any skin layer, but the severity of the burn determines how many layers get damaged. The various types of burn injuries that might happen in an automobile accident include the following:
First-Degree Burns 
These have an impact on the outermost layer of skin. Although these burns can be excruciatingly painful, and the skin may turn red and swell, they are typically treatable with cool water and bandages.
Second-Degree Burns
These have an impact on the top two skin layers. They can result in blisters and swelling and are highly painful. In addition, the skin could look shiny and begin to secrete fluid. If you sustain a second-degree burn in an accident, ensure you visit a doctor to have the burn treated.
Third-Degree Burns 
These are highly severe burns that extend to the third layer of skin. The skin may appear white, brown, or black or become leathery and dry. The person may sustain tissue, blood vessels, and permanent nerve damage.
Fourth-Degree Burns 
All layers of skin and muscle, and bone, are affected by this burn degree. Fourth-degree burns frequently result in permanent damage and may call for amputations because of the substantial damage to skin, tendons, nerves, and muscles. These burns can be fatal and of the utmost severity.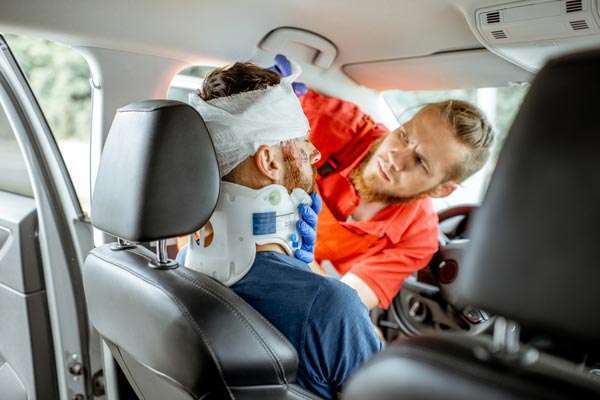 An Auto Accident Attorney in Atlanta Explains Liability for Burn Injuries in a Car Accident 
When assessing who is at fault for a car accident that resulted in severe burn injuries, there are many different factors to consider, such as whether the other driver was at fault and whether a defective part of the vehicle caused the burn injury.
If the injured party thinks the other driver was at fault, they must be able to demonstrate the following:
The other driver owed them a duty of care.
The other driver breached the duty of care.
The breach by the other driver caused the car accident and burn injuries.
On the other hand, the car accident victim may file a product liability claim against the car manufacturer if they think a faulty product brought on the burn injury. The three categories of product liability suits are as follows:
Inadequate warning
Design defects
Manufacturing defects
In some cases, both the other driver involved in the accident and the car manufacturer may be liable for your car accident burn injuries. You may file an auto liability insurance claim or lawsuit against the other driver or a product liability claim against the car manufacturer.
When you contact an auto accident attorney in Atlanta, Georgia, you will know more about your options and the best step to take to get compensation.
How Much Will I Get From a Burn Injury Settlement?
If you file your claim correctly and present the right evidence, you will get compensation for burn injuries in an Atlanta car accident. However, the details involved in filing a successful claim for compensation are enormous.
As such, you need the expertise and experience of auto accident attorneys in Atlanta to file a successful claim. Car accident compensation amounts are typically calculated considering the three types of damages listed below.
Economic losses
Non-economic damages
Punitive damages
Under Georgia law, car accident victims are entitled to compensation for medical expenses, lost wages, and other economic losses caused by the accident. In addition, burn injuries can be extremely painful and can alter the body in many ways. Therefore, burn injury victims are also entitled to compensation for their pain, suffering, and disfigurement.
Contact an Auto Accident Attorney in Atlanta, Georgia, After a Burn Injury in a Car Accident 
Although burn injury victims are left in dire situations immediately after a car accident, contacting auto accident attorneys in Atlanta early is vital. This is because Georgia has a two-year Statute of Limitations for personal injury claims, and the time starts counting from the crash date.
At The Weinstein Firm, our personal injury lawyers in Atlanta, Georgia, have the experience needed to get you the compensation you deserve. We render compassionate representation and will be with you every step of the way. Book a free consultation with us today to start your journey toward full recovery.