Car accidents happen quickly and unexpectedly, especially on overcrowded highways. When you are at fault in a car accident, you might feel anxious about what's to come next. However, no matter how much blame you share for the collision, you may still be entitled to damages. You should hire an Atlanta, Georgia, car accident lawyer well-versed in this practice area to protect your rights.
When accidents happen due to fault, it's not unusual to wonder who will cover the resulting expenses. Factors like state law, car insurance coverage, and collision fault degree determine compensation. A skilled lawyer can help you review the case and advise you on how to best proceed. 
But what if you were at fault in a car accident? Can you recover compensation? If yes, to what extent? This article discusses the implications of causing a collision and how to protect your rights. 
Steps to Take if You Caused a Car Accident in Atlanta, Georgia
It's not always clear from the onset who the at-fault party is in some traffic collisions.  When a crash happens, disputes will arise concerning who is to blame. Even if you are at fault in a car accident, there are steps to take to protect your rights.
Stop and Check for Injuries
When a collision occurs, stop and move the vehicle from the roadway to a safe refuge. Then check to see if anyone is injured and the extent of property damages. In addition, call 911 for help.
Georgia law requires you to call the police if the accident resulted in the injury or death of a person. The same applies if the property damage exceeds $500. Therefore, you should never leave the accident scene before the authorities arrive. 
This is especially so if you believe you bear some fault in a car accident. Hit and run is a crime in Atlanta, Georgia. You could face criminal charges and strict fines if you flee the scene.
Exchange Information With the Other Driver
Even if the collision is minor, you should trade information with the other driver and other parties involved. Get the following information:
The other driver's name, address, and contact information

The license plate numbers of the vehicles involved, and

The insurance policy of the other driver.
In addition, ensure to document the crash by taking photos of the scene. Visual evidence of the injuries sustained and vehicle damage will help in the investigation process and in proving your claim. Documenting evidence can be useful, especially if you believe the other party shared blame for the crash.
Don't Admit Fault in a Car Accident
Before the responding officer arrives at the scene, keep all communication to the barest minimum. If you believe you were at fault in a car accident, you may be pressured to admit fault or apologize to the other party. Refrain from doing so, as an apology can be considered an admission of liability. Instead, wait patiently for the police or medical professionals to arrive. 
In addition, get an Atlanta, Georgia, car accident lawyer to investigate the incident. A complete investigation may reveal that both drivers or more are responsible for the crash.
Report to Your Insurance Company
Most insurance policies require you to inform them of any involvement in an auto collision. If your policy has this provision, contact your insurer within the stipulated time. 
Is Georgia a No-Fault or At-Fault State?
Georgia is an at-fault state. This means you are liable for the damages if anyone is injured in the crash. Furthermore, Georgia law allows a percentage of fault in a car accident to be assigned through the comparative fault doctrine.
This allows you to sue the other driver for damages if you were also partially at fault in a car accident. However, you forfeit your right to sue if you were totally at fault for the crash.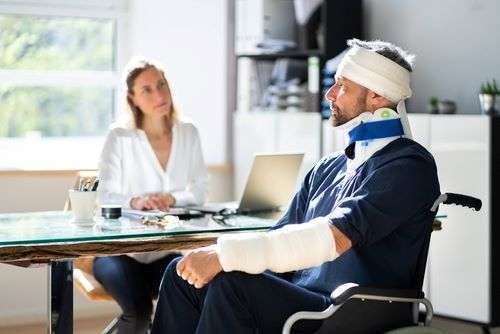 Atlanta, Georgia Car Accident Lawyer Explains Georgia's Modified Comparative Fault Rule
There are times when more than one party is at fault in a car accident. However, according to Georgia law, you are only responsible for the percentage of fault you hold in a crash. So you may be able to seek compensation for your damages, depending on your level of fault in a car accident. 
With this rule, you can sue the other party even if you were at fault. This is as long as your percentage of fault does not equal or exceed that of the other party. However, your recovery will be diminished by your percentage of fault in a car accident. For example, if you were 49% at fault in a car accident, you can recover compensation equal to 51% of the damages. 
But if you were 50% or more at fault in a car accident, you will be barred from recovering any damages. So get a lawyer to investigate the crash to determine your percentage of fault. Additionally, they will help you determine the extent of your damages and ensure your rights are protected throughout the process.
What Damages Are Covered if I Cause a Car Accident?
Damages are the resulting losses from an auto crash caused by a negligent party. In most cases, you don't have to pay these damages out of your pocket. 
Thus, having an insurance policy can prove helpful when you are at fault in a car accident.  However, you will be personally liable if the costs surpass your insurance limit. 
The other party can sue you for more compensation than your policy covers. But your insurance company can create a settlement agreement instead of resorting to court. Typical damages include costs for:
Medical bills and other treatment

Lost wages

Vehicle damage

Pain and suffering

Diminished earning capacity, etc.
Do I Need a Lawyer if I Was Responsible for the Car Accident?
Deciding to hire a lawyer after a crash is entirely up to you. However, if you were at fault in a car accident, you need an Atlanta car accident lawyer by your side. In addition, you may be mistaken about your fault after all. 
A skilled lawyer will investigate the crash and establish who truly holds liability for the collision. Without a lawyer, the adverse party's insurer can put total blame on you, making it difficult for you to recover damages. 
Book a Free Case Review With Our Atlanta, Georgia, Car Accident Lawyer
Auto crashes can be stressful for all parties involved. Therefore, seek the services of a lawyer. Even if you believe you were at fault in a car accident, you may still be entitled to file a lawsuit for financial compensation.
At The Weinstein Firm, we will investigate the crash and gather all evidence to prevent you from paying an unfair settlement to the other party. Contact our personal injury lawyers in Atlanta today to schedule your free initial consultation.