Car crash injuries send people to hospital emergency rooms daily. Of these daily injuries, those that affect the back can be some of the most catastrophic. When a collision occurs, the force of the impact can lead to serious injuries such as a herniated disc. If you suffer a herniated disc due to another person's negligence and are considering filing a claim for your losses, it's in your best interest to consult an Atlanta auto accident lawyer.
A herniated disc (also called "ruptured disc" or "slipped disc") can occur in any part of the spine, especially in the lower back, causing extreme pain, numbness, and tingling sensations. If this occurred because of someone else's fault, they might be legally obligated to compensate you for your injuries. But you must speak with a lawyer experienced in litigating car accident cases.
Depending on the severity of your injuries, you could recover thousands or millions of dollars in compensation. However, it may be challenging to determine exactly how much you can get as every accident case is unique. But, specific factors such as liability and extent of injuries will contribute to the overall value of your case.
In this article, you will learn whether you can get compensation for herniated discs, amongst other issues.
What Is a Herniated Disc? 
Your spinal column comprises a stack of bones called the "Vertebrae." The vertebrae protect the nerves that come out of the brain. A spinal disc has a soft jellylike interior and a tough exterior and serves as a cushioning disc between the vertebrae. So, a herniated disc occurs when all or part of a spinal disc is forced through a crack in the tough exterior.
A herniated disc after an auto crash occurs when the force of the crash causes the vertebrae to push into the spinal canal, which may compress and mount pressure on the spinal cord. When this happens, the nerves can be affected, resulting in great discomfort. Common symptoms are burning sensations, muscle weakness in affected areas, numbness, chronic back pain, etc.
Sadly, many people suffer from a herniated disc after a car accident. If not properly treated, it can degenerate to spinal damage, chronic pain, or disability. Therefore, if you are a traffic accident victim, do not sleep on your right. The party responsible for your herniated disc should pay to ensure you get adequate medical attention.
Will I Get Compensated for Herniated Disc After an Auto Accident in Atlanta?
Absolutely. Georgia operates a fault-based accident system. So, you have three options for seeking compensation and damages from the party who caused your herniated disc. You can file a claim with your insurance company, file a claim directly with the at-fault driver's insurance provider or file a lawsuit in court.
But if you were partially at fault for the crash, all hope is not lost. You can still get compensation. Under Georgia's comparative negligence rule, if you are partly or mostly at fault for the crash, your damages will be eliminated or reduced by the percentage of your liability. But if you contributed 50% or more to the collision, you will get nothing.
How Much Can I Get for My Herniated Disc in a Lawsuit?
The value of your herniated disc compensation case depends largely on the extent and severity of the wound. There is no definite amount that you can get for herniated disc injuries, as every case is different.
Other factors that influence your case's worth include:
The total amount of medical expenses
Lost wages/ loss of income
Permanent disability
Pain and suffering
Physical therapy
Loss of enjoyment of life
The limit on the at-fault party's insurance policy
To better understand how much compensation you can get, consult an Atlanta auto accident lawyer. While these factors will increase your settlement amount, other factors can also limit the amount you get. They include delayed treatment, pre-existing conditions, or if you were wholly or partly responsible for the accident.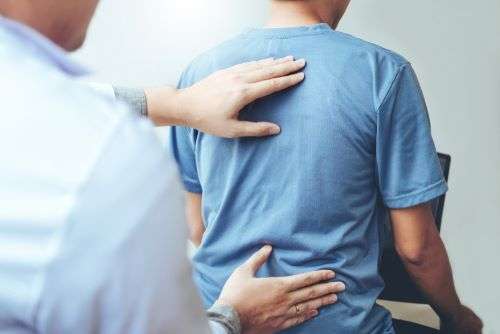 Atlanta Auto Accident Lawyer Explains What To Do After Suffering a Herniated Disc From a Car Accident
Oftentimes, victims of auto collisions don't even realize they have been injured at the time of the accident. The shock and confusion at the accident scene can mask any physical pain or symptoms you ought to feel. Therefore, gathering all information and evidence related to the accident is vital.
This step is especially useful if you choose to pursue legal action for compensation for your losses against the at-fault party. So, you must take concrete steps to protect your rights; otherwise, you leave yourself at the mercy of insurance adjusters.
So, follow these steps to protect your right:
Call 911
You can call the Atlanta Police Department following an auto crash. The police will draw up a police report stating which party is at fault from the surrounding circumstance of the crash. This report can help back your claims against the responsible party.
Get Medical Treatment Immediately
Unfortunately, most car accident injuries don't appear severe at first instance. So it's important to get examined by a doctor immediately so that you can know the extent of your wounds. Early detection of the herniated disc allows for early treatment to minimize complications. Additionally, medical records documenting the accident can help prove to the insurance company or the court that the accident caused your injuries.
Document Your Injuries
Early documentation of herniated discs after an auto collision makes it harder for the at-fault party's insurance company to deny your claims. It also makes it easier for your lawyer to get the full and fair compensation you deserve for your injuries. So take pictures, videos, witness testimony, or anything that helps establish a relationship between the accident and your injuries.
Talk to an Atlanta Auto Accident Lawyer
Again, a lawyer plays a significant role in protecting your rights to financial compensation for a herniated disc. A qualified lawyer will review the facts of your case and determine the best course of action.
Contact Your Auto Insurance Company
Inform your auto insurance company or the at-fault party's insurer about the accident. But it's best to let your lawyer handle every communication and correspondence on your behalf. Additionally, do not sign any settlement, agreement, or waiver related to the crash without legal representation. Doing so could mean giving up your right to much more money.
Talk to Injury Attorneys in Atlanta for Free!
If the actions of a negligent driver have caused you a herniated disc, you have a right to recover compensation for your injuries. But as there is no specific formula to determine how much financial compensation you get, reach out to a lawyer today.
At The Weinstein Firm, we have helped victims and families of auto crashes get justice and compensation for these unfortunate events. In addition, we can help you fight for your rights. Therefore, reach out to us today to set up a free consultation with our injury attorneys in Atlanta.