If your Atlanta, Georgia car accident claim goes to court, you may have to answer a set of questions called interrogatories. An interrogatory is a standard procedure of car accident lawsuits designed to help opposing parties discover what evidence and testimony the other party will use against them. However, if you have secured the services of competent auto accident attorneys in Atlanta, you should have no reason to fret.
Your lawyer will guide you through answering your interrogatory to ensure it doesn't hurt your case. So what's in an interrogatory? How helpful can an interrogatory be in helping you win maximum compensation in court? We provided the answers in this article.
What Is an Interrogatory? 
An interrogatory is a set of questions sent by any party in a civil suit to the other. So, for example, as a plaintiff in a car accident lawsuit, you can send an interrogatory to the defendant and receive one from them.
You will respond to the interrogatory under oath and must give accurate answers to avoid facing an angry judge. However, providing false information in an interrogatory can cost you money through fines and litigation costs. Also, wrong answers to an interrogatory can make you lose your chances of winning any compensation.
The Purpose of Interrogatories in a Car Accident Lawsuit 
Information is a crucial tool in legal processes. Usually, the side that scores bigger wins in court has more information than the other. To give each party a chance to uncover relevant facts about a case, the law allows them to send an interrogatory to the opposing party.
Interrogatories are part of the discovery process in a car accident lawsuit. For example, if the plaintiff states that they consulted a certain auto mechanic, you can arrange to meet the mechanic to find more information.
Through interrogatories, your attorney can arm themselves with valuable information for use in the law court. Interrogatories will help your lawyer get into the defendant's mind and anticipate their moves, especially in front of the judge. However, it is important to note that answers from interrogatories do not count as evidence in court unless they are tendered during the trial.
How Many Interrogatories Are Allowed in Georgia?
Of course, the number of interrogatories you can send to the plaintiff isn't unlimited or up to you to decide. Each state's law sets a maximum number of items for interrogatories.
Georgia permits both parties to submit up to 50 interrogatories, including subparts of these questions. To help assemble the strongest case, your attorney will submit interrogatories to the other party.
How Do You Respond to Interrogatories in Georgia? 
You must answer interrogatories carefully so as not to harm your chances of getting the compensation you deserve at the end of your car accident lawsuit. Your answers must:
Be relevant to the questions you have been asked. Going off the mark can expose you and arm the defendant against you.
Be consistent. A sound response to interrogatories must be contradiction-proof. Only answer questions you are sure about.
Be confident and diplomatic. Your response must not admit guilt or suggest that your injuries were not as serious as stated in your lawsuit.
How Long Do You Have to Respond to Interrogatories in Georgia?
Every party to a car accident lawsuit who receives the service of an interrogatory has 30 days from the date of service to respond to them and send the answers. If you receive an interrogatory, this 30-day window is sufficient time to weigh your responses before submitting them. If the defendant fails to answer the interrogatories and submit them within 30 days, your auto accident attorneys in Atlanta can apply to the court to hold the defendant in contempt.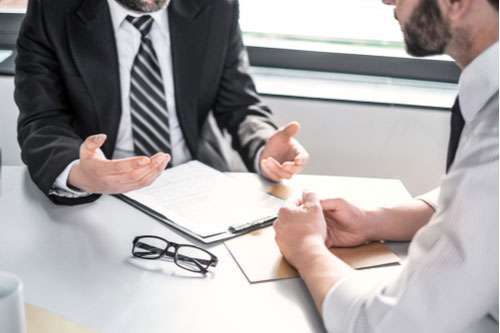 What Kind of Questions Can Appear in an Interrogatory?
Interrogatories are usually blank-check questions on the circumstances surrounding the accident. However, interrogatories will allow you to say as much as possible without giving you any options to choose from. So, it's up to you to decide the level of detail your answers will contain.
Typical interrogatories to the plaintiff begin with questions surrounding the plaintiff's background. Next are questions about your opinion about the accident and the gravity of the injuries you have sustained.
Many litigants are taken aback by interrogatories that do not contain actual questions. So don't be shocked if you get one without any question marks. Some questions are essay-like points to write about or respond to.
Here are some common car accident interrogatories.
State the address and telephone number of any person(s) responding to these interrogatories.
State the date of birth and social security number of any person(s) responding to these interrogatories.
What would you have done differently if you were in the defendant's shoes to avoid the accident?
State the name, address, and telephone number of any person who has knowledge of or claims to know of the plaintiff's

Medical condition;
Physical condition;
Ability to perform normal functions;
Claim of damages;
Ability to move;
Ability to do work;
Ability to do recreational activities;
Ability to perform any occupation or occupational duties

Did you have a condition that would have impaired your driving ability at the time of the accident?
Before the accident, did you use a smartphone or other technological device? If yes, kindly specify the device's carrier, phone number, and other identifying details.
Can Auto Accident Attorneys in Atlanta Object to Questions in an Interrogatory? 
If you receive interrogatories, your lawyer can object to questions for several reasons. The most common reasons are:
If the question(s) are not within the scope of the car accident litigation
If the question(s) are improper
If the questions exceed the legally permissible 50
Additionally, your lawyer will guide you to give the most appropriate responses. In all, your attorney should ensure that your answers do not dent your claim in any way.
The Weinstein Firm Can Help You Prepare for Interrogatories
An interrogatory can stand in your way when you are on the verge of securing compensation in your car accident lawsuit. Part of the job of experienced and skilled lawyers is ensuring you never experience such tragedies. That's why you need The Weinstein Firm.
At The Weinstein Firm, we help car accident victims surmount the interrogatories' hurdle during the fight for compensation. We understand that the last thing you would appreciate after a car accident is having to go through a stress-filled lawsuit process.
Therefore, we make the journey easy. Contact our personal injury lawyers in Atlanta, Georgia, to schedule a free, no-obligation consultation. We also work on a contingency fee basis. You only pay us if we win your case.