Losing a loved one is never an easy situation, especially if it occurs in a sudden fashion. The situation is difficult to comprehend no matter the cause, but if their death was due to the negligence or recklessness of another, a wrongful death lawyer may be able to help file a wrongful death lawsuit in Atlanta, Georgia. These lawsuits allow you to seek compensation from the responsible individual or entity. The wrongful death lawyers at The Weinstein Firm know that compensation will not bring your loved one back, but it can help ease the financial burden placed on you by the sudden loss. In the case of wrongful death, contact the Atlanta attorneys at The Weinstein Firm to fight to recover damages.
What is Wrongful Death?
Legally speaking, wrongful death is the loss of life as a result of someone else's negligence, criminal behavior or recklessness. Wrongful death attorneys process these cases and seek to hold the other party responsible for the preventable loss of life. You can bring a claim against any individual whose carelessness resulted in another person's death. Wrongful death lawyers know that no amount of money can replace a loved one, but Georgia's wrongful death laws are in place to help a victim's family regain their financial security following a sudden and preventable loss of life.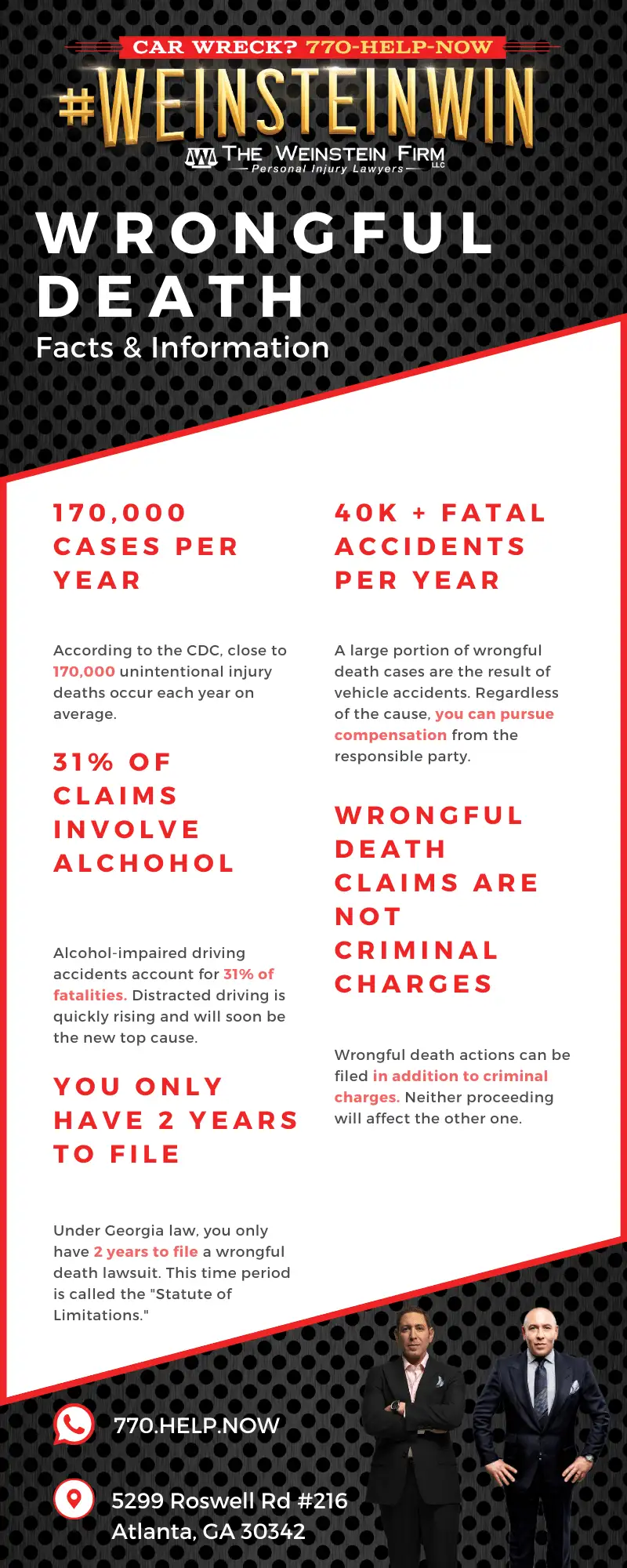 What Are the Grounds for a Wrongful Death Lawsuit in Georgia?
A wrongful death attorney can file a suit when a person or entity was negligent or at fault for the loss of someone else's life. Wrongful death can stem from a drunk driver striking an individual with their vehicle, a negligent surgeon that loses someone on their table or result from criminal actions like battery and assault. Wrongful death attorneys are well versed in the requirements for a wrongful death suit. If you are unsure if you have cause to file a wrongful death lawsuit, a wrongful death attorney can help. The wrongful death lawyers at The Weinstein Firm in Atlanta will examine the facts of your case and determine whether there are grounds to file a wrongful death lawsuit.
Do All States Have the Same Wrongful Death Statutes?
There is no common-law basis for wrongful death lawsuits. Legislative statutes that govern wrongful death cases vary by state. All 50 states recognize wrongful death causes, but there is no uniform law that governs wrongful death. Wrongful death attorneys know the unique statutes in their own state, including how long surviving family members have to file a claim, who can pursue a claim, the amount and types of damages recovered, and who can receive the recovered damages in a successful wrongful death suit.
Does Georgia Have a Specific Wrongful Death Act?
Yes, Georgia has its own act regulating wrongful death suits. The Georgia Wrongful Death Act formed 100 years ago and has the following five sections:
C.G.A. § 51-4-1 "Definitions"
C.G.A. § 51-4-2 "Homicide of spouse or parent; survival of action"
C.G.A. § 51-4-4 "Homicide of a child"
C.G.A. § 51-4-5 "Recovery by administrator or executor of decedent"
C.G.A. § 19-7-1 "Parental power; recovery for homicide of child"
The Georgia Wrongful Death Act has undergone many changes over the past decade. An Atlanta, GA wrongful death attorney will be aware of the current statutes and can help you navigate the complicated process. Under the current Georgia law, the following are causes that create grounds for a wrongful death lawsuit:
Faulty construction
Intentional homicide
Truck, car or motorcycle accident
Medical malpractice
Careless/Negligent Behavior
Contaminated food
Dangerous/Defective products
Dangerous medical devices
Engineering malpractice
Illegal or improper service of alcohol
Unsafe prescription drugs
Criminal or unlawful acts
If you lost a loved one due to one of the causes listed above, a personal injury lawyer in Atlanta can help you collect damages. The route to file a claim is complex, but Atlanta wrongful death attorneys are knowledgeable and can help navigate you through the filing route.
What Damages Can Wrongful Death Lawyers Recover in Georgia?
In Atlanta, the surviving family members of a wrongful death victim can recover certain damages. The type and amount of damages vary from state to state, but in Georgia, all damages must relate directly to the injury and death of the victim. An Atlanta wrongful death lawyer will file a claim that seeks compensation for the following:
Full value of the life of the deceased
Funeral, medical and other expenses resulting from the injury or death of the victim
Medical expenses, pain, and suffering realized by the defendant during the time between their injury and subsequent death
In Georgia, any damages suffered by the surviving family members are not considered relevant, and a wrongful death lawyer will not be able to seek compensation for them.
Calculating the "Full Value of Life" Under Georgia Law
O.C.G.A. §§ 51-4-2(a) and 19-7-1(c)(1) of Georgia's Wrongful Death Act dictates that the plaintiff can recover the "full value of the life of the decedent as shown by the evidence." Beyond that, there is little guidance provided in the statute about how to determine that amount. The Georgia appellate courts recognize that the full value of the life of the decedent comes from two components, the economic and non-economic component.
The economic component is the present value of the victim's future earnings and services that would have occurred over normal life expectancy. This not only includes all the income the decedent would have received in salary and wages, but it also includes earning form pensions, work benefits, rental income, investment returns and profits from a business. A wrongful death attorney will help determine this value.
The non-economic component of the calculation derives an amount from intangible elements of life. This includes such things as the joy of raising a family, support and companionship of marriage, the enjoyment of hobbies and recreation, among others. None of these elements have an objective economic value, which gives the jury full discretion to decide damages for the intangible component.
Due to the ambiguity of the determination of damages, it is essential to have a wrongful death lawyer on your side to present the best case. There is a complicated calculation process, but an Atlanta wrongful death lawyer will be able to help you through the process.
Do Punitive Damages Apply in a Wrongful Death Lawsuit?
Punitive damages punish the wrongdoer above the typical damages recovered by the victim's family or estate. In these cases, a wrongful death lawyer will only be able to file for punitive damages in connection with a survival action, if the defendant's actions were intentional or malicious. To successfully obtain punitive damages, a wrongful death lawyer must prove the decedent survived at least a few seconds.
When Should I Contact an Atlanta Wrongful Death Lawyer?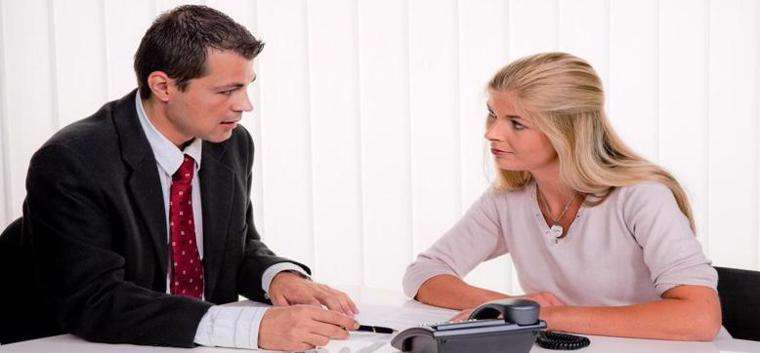 If you have not spoken with a wrongful death attorney yet, time is of the essence. In Georgia, there is a statute of limitations for filing a wrongful death case. A statute of limitations is a specific period of time during which legal action can be taken. In Georgia, the statute of limitations for filing a wrongful death lawsuit is typically two years, although there are shorter exceptions in some scenarios.
The statute begins running on the date of death. If a two-year period passes without a wrongful death attorney settling your case, or filing and serving the case on the proper parties, you may be completely barred from recovering any damages. It is important to contact a Georgia wrongful death lawyer as quickly as possible to begin working on your wrongful death claim. You want to recover all the damages that you can. If the statute of limitations passes, even with the help of a wrongful death attorney, you will be unable to do so.
Eligibility to File a Claim for Wrongful Death in Atlanta, GA
Under the Georgia Wrongful Death Act, a victim's spouse can file a wrongful death claim in Atlanta. If the victim does not have a spouse, the deceased's children are able to file a claim with the help of a wrongful death attorney. If there is no spouse or children, the victim's parents may file a wrongful death claim and recover damages. Thus, in Georgia, other relatives, such as a sibling, aunt, uncle or grandparent have no right to file a wrongful death suit. If there is no surviving spouse, children or living parents, the administrator of the victim's estate has a right to work with a wrongful death lawyer to file a claim.
According to Georgia law, if a spouse files a wrongful death claim and there is no Will on record, they must share a portion of the recovered damages with the victim's children. The law also guarantees that spouses receive one-third of damages recovered in a wrongful death lawsuit. When minor children are in the scenario, their right to recovery rests with a parent or legal guardian, typically until the minor reaches 18 years of age.
Who Can I Sue in a Wrongful Death Lawsuit?
The tortfeasor is the legal term for the person or entity that committed a wrongful act. Only the Tortfeasor can be sued in a wrongful death lawsuit. In medical cases, you can sue a doctor, nurse or hospital for wrongful death. The wrongful death attorneys at The Weinstein Firm will be able to help determine what person or entity the case should be filed against.
What Happens When Wrongful Death Attorneys File a Lawsuit in Georgia?
The first step we take when a potential client comes to us is to determine if their claim is viable. In order for a wrongful death claim to be viable, another party or entity must have been intentional or negligent in causing the victim's death. If you believe your loved one suffered a wrongful death, our Atlanta wrongful death attorneys may be able to assist in filing a lawsuit against the individual or entity responsible for the victim's death. After gathering evidence and determining that your case is viable, our wrongful death attorneys will determine the extent of your losses. If the defendant does not agree to a fitting settlement, our Atlanta attorneys will hire investigators, experts, and witnesses and head to trial. Our wrongful death lawyers are not afraid to go to court to gain full damages.
Is a Wrongful Death Settlement Taxable?
Typically, a wrongful death settlement is not taxable income. However, if you receive punitive damages in a wrongful death claim, it is taxable. Your wrongful death lawyer will be able to disseminate that breakdown for you.
Have You Spoken to an Atlanta Wrongful Death Attorney?
If you have not contacted a wrongful death lawyer yet, schedule a consultation immediately. The sooner you contact the wrongful death attorneys at The Weinstein Firm, the sooner we can begin investigating. Beyond the two-year statute of limitations, cases can often become more difficult to process as time passes. Witnesses can disappear and memories become faded over time. This can make it more difficult to put together a successful wrongful death lawsuit that recovers all the damages. The loss of a loved one is an emotional and stressful time, but we urge you to reach out as soon as possible so that we can help get you the compensation needed to rebuild your life.
Contact a Wrongful Death Lawyer Today to Start Your Claim
Wrongful death lawsuits are a complex legal matter. As soon as someone passes away, the statute of limitations for their wrongful death case begins. If that two-year period of time passes without settling or serving the appropriate parties, you can lose the right to recover damages. That is why it is essential to contact an Atlanta wrongful death lawyer immediately to start the claim process. The wrongful death lawyers at The Weinstein Firm can help navigate through the intricate process and work to obtain the damages related to the case. If you have lost a loved one due to wrongful death, do not delay in initiating a wrongful death claim. Contact a wrongful death lawyer today.