If you've been involved in a motorcycle accident in Atlanta, time is of the essence.
What we offer:
Atlanta's best motorcycle accident lawyers
We've recovered millions for similar motorcycle accident victims like you
24/7 Availability | Free Consultations | No Fee If We Don't Win
The physical and emotional repercussions of a motorcycle accident could stretch from a few short weeks to a couple of years. These consequences may not only affect you; it could also weigh down on your spouse and family members. As a victim of someone else's negligence, you have the right to claim for accident compensation in the state of Georgia. A reliable Atlanta motorcycle accident lawyer will work to ensure that you get the compensation amount entitled to you.
Motorcycle compensation claims in the state are governed by the comparative negligence rule, wherein the injured party's shared negligence in the accident may affect a personal injury claim and his or her chances at full compensation. This is why hiring an Atlanta personal injury lawyer is paramount.
Despite the possibility of multi-party negligence, you can still file a claim for full or partial compensation for injuries in Atlanta, GA. A motorcycle wreck lawyer can give you the right counsel and valuable legal assistance at this most crucial time. If you or a loved one are suffering after a motorcycle accident, call today at and let our experts guide you through the claims process
Motorcycle Accident Statistics In Atlanta, Georgia
In 2015, about 10.6 percent of people killed in motor vehicle accidents in the state were motorcyclists, according to a report published by the Governor's Office of Highway Safety in Georgia.
This means that out of a registered population of 10,000 motorcyclists, approximately seven are killed in crashes, a trend that has not changed since 2008. A significant cause of these motorcycle deaths is the rider's alcohol impairment. Other causes of motorcycle crashes include negligent motor vehicle drivers, car drivers operating while under the influence, tailgating, and more.
The state of Georgia operates on pertinent motorcycle laws, and these are outlined in Article 13, Title 40, Chapter 6 of the Georgia Code. An experienced motorcycle accident lawyer should inform you of these pertinent laws as a basic step in working out your compensation claim.
Some of these motorcycle laws include the following:
Motorcyclists should follow laws adhered to by other motor vehicle drivers, although there are certain laws created specifically for those who operate motorcycles on public roads.
All motorcycle riders are required by law to wear protective headgear, the construction of which must follow strict motor vehicle safety standards.
Motorcycle riders are allowed to use the full lane of any public road or highway.
Motorcycle riders are not allowed to operate between two traffic lanes.
Individuals who operate a motorcycle need to be at least 16 years of age.
A driver not adhering to these laws may prove negligence on the part of the motorcycle driver and may affect the plaintiff's overall compensation claim amount.
Whether your injuries are the result of your partial negligence or the full liability of another driver, legal representation is important. Through the comparative negligence rule, your lawyer will work towards giving you the most optimal compensation amount available.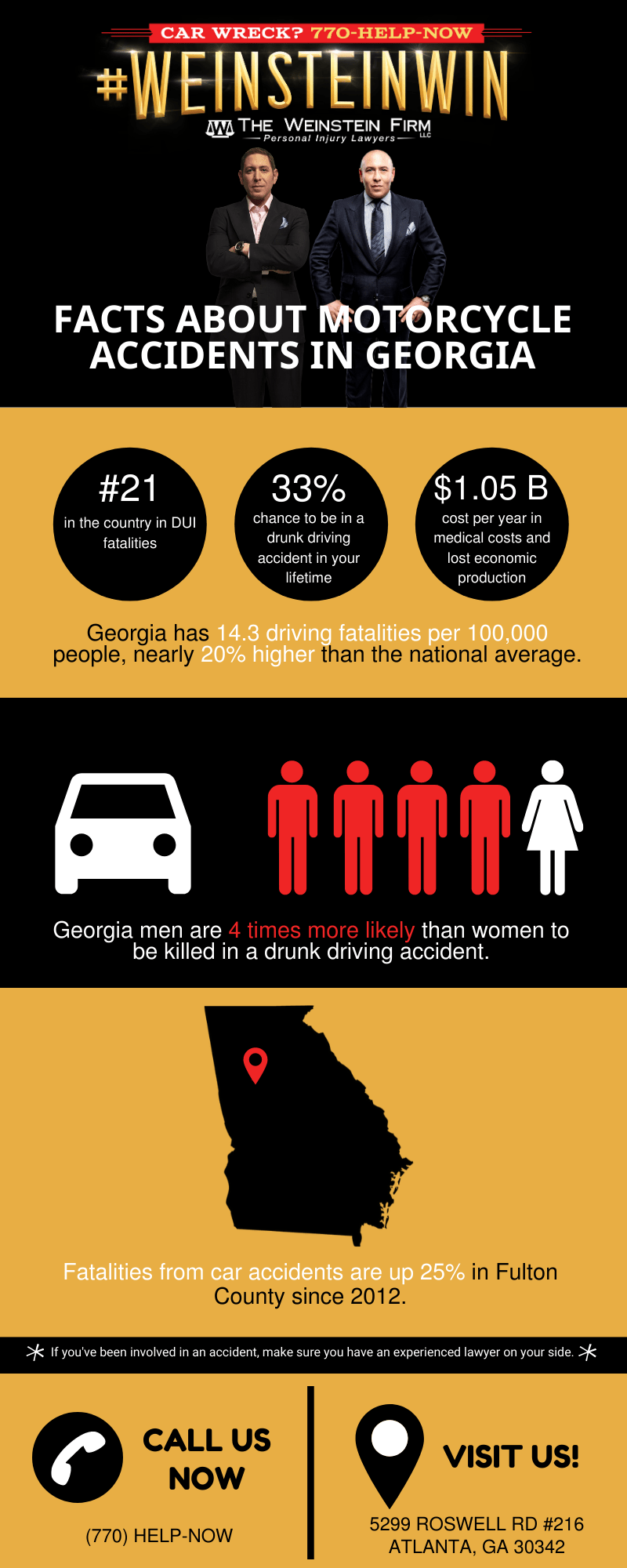 The Comparative Negligence Rule
One important regulation that any driver in Georgia should know is the comparative negligence rule in establishing fault during an accident. This is crucial for anyone seeking to file a compensation claim. If it has been determined that multiple parties are at fault in an accident, the compensation amount allowed to any injured party will be directly proportional to his or her liability in the accident.
As your motorcycle wreck lawyer will explain, just because you are hurt in an accident in Atlanta, Georgia, it does not mean you are automatically guaranteed a certain amount of compensation for your injuries. Through the comparative negligence law, you will be allowed to seek compensation only if your liability is ruled out to be less than 50%. If you are found to be negligent for as much as 50% or higher, there is a chance that your claim will be rejected.
If this is the case, will you still be able to recover damages? The answer will depend on how your attorney is able to defend you in settlement discussions or in court hearings.
At this point, establishing the percentage of negligence will be crucial. What your Atlanta motorcycle accident attorney will do is to collect evidence of the accident, review police reports, gather eyewitness statements, and compile relevant medical records. These are all crucial for your motorcycle wreck lawyer to determine and defend your percentage of liability in the collision.
Using this important information, your lawyer is able to fight for you and with you, from settlement discussions to courtroom proceedings.
Common Motorcycle Accident Injuries And Causes
Experienced motorcycle accident lawyers understand that any injuries arising from motorcycle accidents can take a turn for the worse. This is why seeking full compensation is necessary, especially if the serious injuries are the result of someone else's negligence.
The following injuries are common in motorcycle collisions and highway accidents:
Road rash
Biker's arm injury
Muscle impairment
Leg injuries
Given the severity of these injuries, how exactly do motorcycle accidents happen? Who is usually at fault? If you believe that the other motor vehicle driver is at fault, you can work with our accident lawyers to establish the at-fault party's liability.
Some of the more common negligent actions of vehicle drivers are listed below:
Distracted driving
Speeding
Failure to yield
Tailgating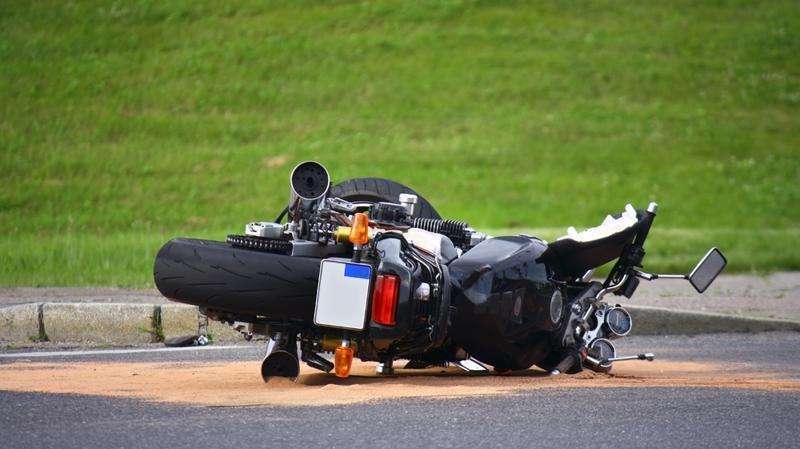 What Type of Compensation Can I Receive for My Motorcycle Accident?
Get the compensation
you deserve $$$
Schedule a free initial consultation. We will provide sound legal advice without judgement. Contact us today at 770-HELP-NOW
Despite wearing protective headgear and eyewear, motorcyclists are susceptible to a wide range of injuries in a collision. Unlike those driving traditional cars, motorcyclists do not have the protection of an enclosed space and automatic airbags during an impact. This means that they are more likely to have severe injuries that require prolonged medical attention. When you have been in an accident that was caused by the negligence of another driver, then you deserve to seek full compensation for any injuries or damages.
If you have been the victim of a driver's negligence, you may work with motorcycle accident lawyers for the following types of compensation:
Medical Compensation
This type of compensation reimburses you for any medical care or expenses you have had to deal with as a result of your physical injuries. It also factors in the loss of wages that result from your confinement or inability to go back to work. To facilitate this, your injury lawyer will need to compile your medical records and receipts, including employment and salary records, if necessary.
Non-Economic Damages
Although financial losses are common after an accident or motorcycle crash, you may also have to endure intangible damages due to your physical injuries. If you lost a limb, went into a coma, or became facially disfigured due to another person's negligence, you can also seek non-economic compensation. Since it is not easy to quantify these kinds of damages, you will need to work closely with reliable motorcycle accident lawyers.
Get the compensation
you deserve $$$
Schedule a free initial consultation. We will provide sound legal advice without judgement. Contact us today at 770-HELP-NOW
Punitive Action
You may file for punitive damages if there was malicious intent to hurt you or if the negligence of the at-fault party is so severe that it has resulted in extreme life-changing injuries or lifelong impairment.
In cases such as these, you will not only need a motorcycle wreck lawyer willing and able to go to court to defend you, but you will also need a motorcycle accident attorney equipped with resources for evidence collection. This evidence should establish the outright negligence and malicious intent of the other party.
You may file a claim to recover one or several of these kinds of damages, depending on the degree of your injuries and suffering. An important thing to remember, however, is that filing for these personal injury, compensation and property damage claims should be done within a set deadline.
Thus, you need to choose an Atlanta motorcycle accident attorney who fully understands the laws and deadlines governing compensation claims in Georgia.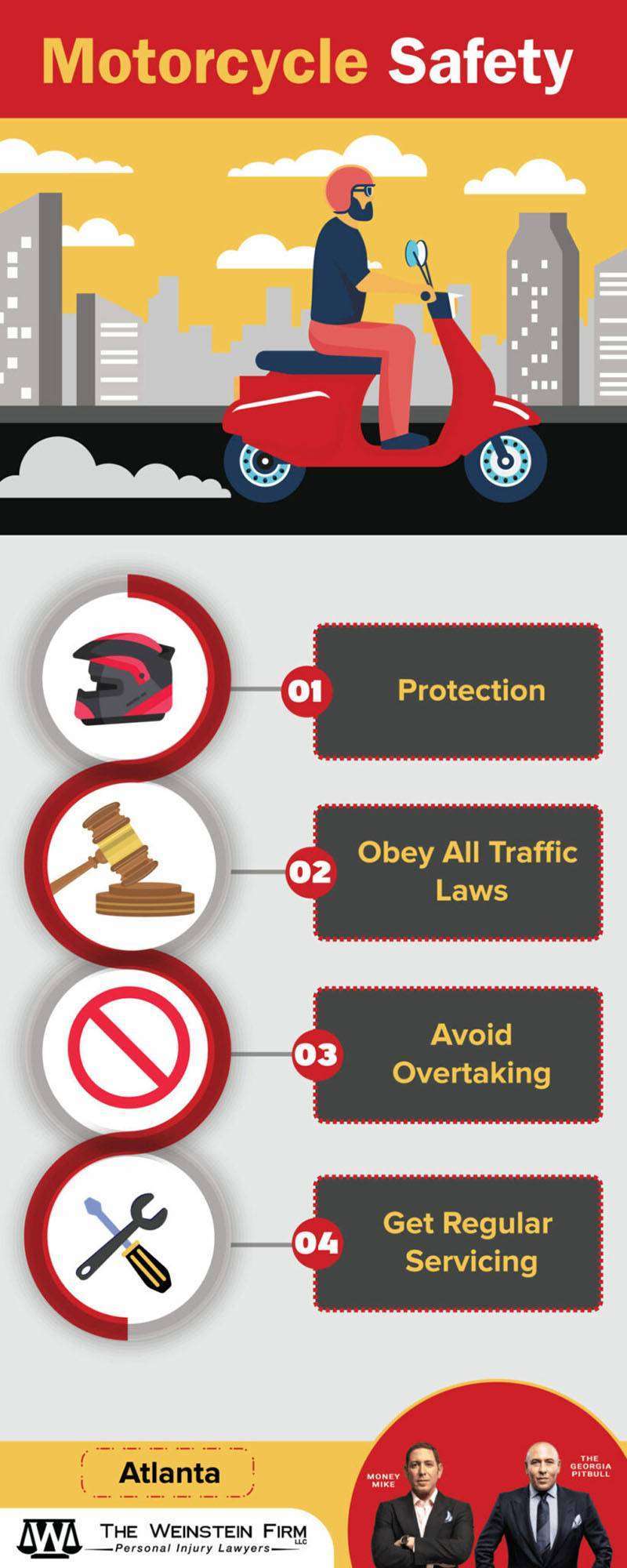 Should I Accept A Settlement Or Work On A Lawsuit In Atlanta, GA?
The decision to accept a settlement will depend on the severity of your injuries and the degree of the at-fault driver's negligence. Your lawyer should explain to you when to best accept a settlement and when to file a lawsuit against the other party.
Evaluating Settlement vs. Lawsuit
When it comes to accepting a settlement, it is important to make sure that the amount covers all economic and non-economic damages related to the accident. Your motorcycle accident attorney should be able to defend you against any insurance company, specifically on your right to be properly and fully compensated.
If the negligent party's insurance provider refuses to compensate you fully, you and your Atlanta motorcycle accident lawyer may file a lawsuit as the next step.
A settlement also comes with other, distinct advantages. Many injured motorcyclists are able to benefit from the early release of most compensation claims through a settlement. This is especially crucial if the plaintiff no longer prefers a stressful courtroom battle or if expensive medical bills necessitate an immediate compensation reward.
Challenges and Advantages of a Lawsuit
Lawsuits, on the other hand, can get complicated, expensive, and extensive. Your motorcycle accident lawsuit may even drag on for months. Still, there are cases that necessitate courtroom litigation. One example is if you and your motorcycle accident attorney are working to recover punitive damages. Another is if the insurance company rejects the amount proposed by your lawyer even after the presentation of extensive evidence.
Recovering Punitive Damages through Litigation
No matter which action you choose, your lawyer should be someone you can fully trust. Not all attorneys, unfortunately, will work in your best interest. Some may even recommend an immediate settlement, even before reviewing the facts of your case first. Others may be too aggressive to proceed to courtroom battle when, clearly, you could benefit more from a less stressful settlement.
That is why it is important to choose a car accident law firm in Atlanta, Georgia who will truly fight for you and put your best interests first.

How Can A Motorcycle Accident Lawyer Help With My Compensation Claim?
In addition to giving you sound advice on the merits and drawbacks of a settlement or litigation, your motorcycle accident attorney will also help you in filing your claim within set deadlines, as required by Georgia state laws.
Importance of Meeting Claim Deadlines
If your accident took place in Atlanta, GA, you only have a period of two years from the date of the accident to make a motor vehicle accident claim. For property damage, you only have four years. Your motorcycle wreck lawyer should be able to inform you of these crucial deadlines.
Navigating Comparative Negligence in Georgia
Basic knowledge of the comparative negligence rule in Georgia is essential if you must discuss compensation claims with the at-fault party's insurance carrier. In the event that you are partially liable for the collision, your experienced motorcycle accident attorney, should be able to negotiate on your behalf. This negotiation will not be possible without the knowledge, expertise, and commitment of your motorcycle wreck lawyer.
Gathering Essential Evidence for Your Claim
Furthermore, any successful negotiation, settlement, or litigation is hugely dependent on the ability of your motorcycle accident lawyer to obtain sufficient evidence. To do this, your motorcycle accident attorney will need to access any and all investigative documents, such as police reports.
Recreating the Accident Scene
Your motorcycle wreck lawyer may also have to visit the accident scene or attempt to recreate it. Finally, your motorcycle accident attorney will need to interview eyewitnesses and compile helpful evidence such as photos of the motorcycle, marks on the pavement, and the position of certain street signs.
Beyond these standard efforts, your attorney can also provide you with sound emotional support and access to resources necessary for your recovery and rehabilitation. At the end of the day, you need legal counsel with whom you can entrust the best possible outcome of your case.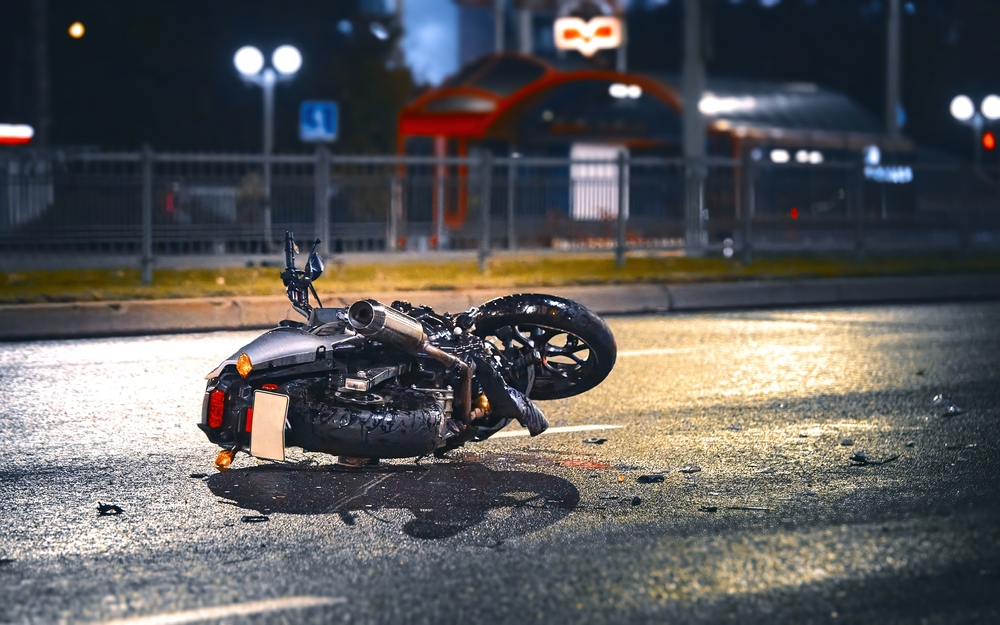 Why Was My Motorcycle Accident Claim Denied?
Insurance companies often begin the claim process by denying a claim. For them, paying out the absolute minimum amount is the most desirable outcome.
By initially denying a claim, they require the claimant to appeal in order to obtain a fair compensation amount, which doesn't always happen.
Some claimants won't appeal, nor will they hire a lawyer to help them fight the claim, and others will simply settle for a minimal settlement after the initial denial. Additionally, your claim may be denied for a number of other legitimate reasons, including:
The policy was canceled or lapsed
The driver was not insured under the policy
They believe the accident was your fault
They don't believe you were really hurt
They don't think the accident is what caused your injuries
Our Atlanta motorcycle accident attorneys can help guide you through the process of filing a claim.
Your lawyer will call the insurance adjuster on your behalf and see if the adjuster is willing to negotiate a fair settlement amount. If the insurance adjuster refuses to pay your claim, your attorney will have no choice but to file a lawsuit.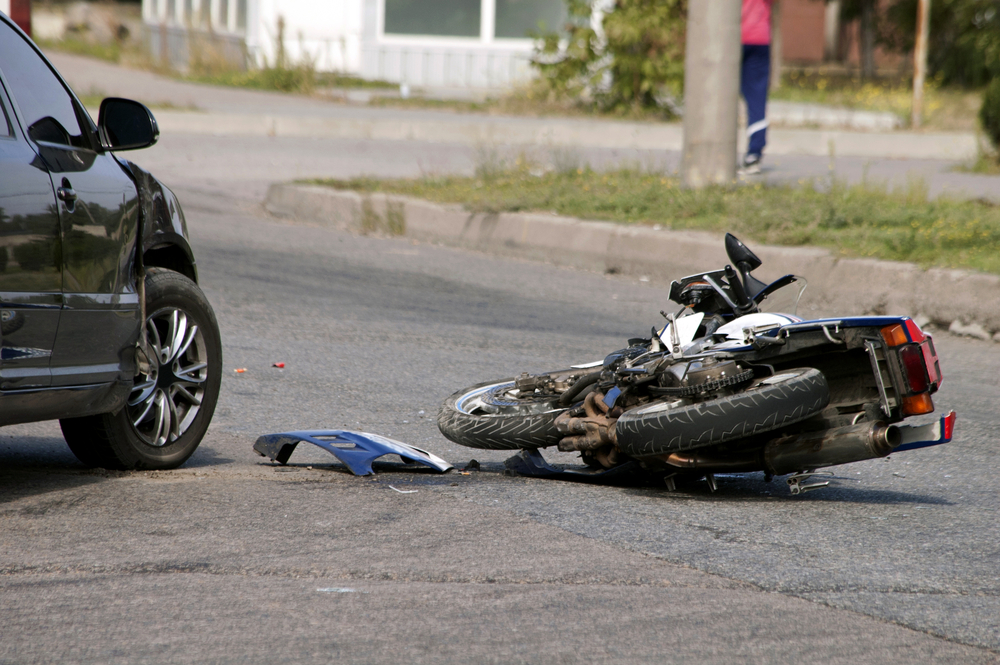 Call The Atlanta Motorcycle Accident Lawyers At The Weinstein Firm To Get Trusted Legal Help
The difference between a successful compensation claim and a failed compensation request is a committed Georgia motorcycle accident lawyer.
At The Weinstein Firm, our accident lawyers are knowledgeable about specific vehicle collision laws in Atlanta, GA. We will commit ourselves to understanding your specific claim, whether you are seeking a settlement or a more serious punitive action in court.
If you or a loved one has been hurt in a motorcycle collision in Atlanta, GA, call The Weinstein Firm today at . We have a motorcycle accident attorney ready to assist you with your economic or non-economic claim request and to explain your legal options during a free consultation. Contact our offices to get the best lawyers fighting for your financial recovery so that you can focus on your physical recovery.