If you've been involved in a truck accident in Atlanta, time is of the essence.
What we offer:
Atlanta's best truck accident lawyers
We've recovered millions for similar truck accident victims like you
24/7 Availability | Free Consultations | No Fee If We Don't Win
One of the worst kinds of accidents to be involved in is a truck accident, given the size and speed of a truck in operation. Whether you were rear-ended by a semi-truck or side-swiped by a commercial vehicle on the road, you have the right to fight for compensation in Atlanta, GA. The legal support of an Atlanta truck accident attorney will help to ensure that you take all the necessary steps toward your personal injury lawyers receiving full and fair compensation.
While you may want to file a claim against the truck driver directly, multiple parties can actually be responsible for catastrophic injuries in a truck collision. That is why whether you are planning to settle out of court or battle it out before a judge, you need a personal injury lawyer in Atlanta who will guide you on the best steps to take for your claim.
If you are attempting to put the pieces back together after a serious truck wreck, call The Weinstein Firm at to receive a risk-free consultation with one of our experts.
When you are fighting against a trucking company, rest assured that they will bring a team of lawyers to defend their interests.
To get fair compensation for your damages, get the best Atlanta truck accident lawyers fighting for you by hiring The Weinstein Firm.
How Common Are Truck Accidents In Atlanta, GA?
The Federal Motor Carrier Safety Administration has reported a total of 4,311 fatal crashes involving trucks all over the US for the year 2015, which translates to an increase of eight percent since 2014.
In the state of Georgia, traffic fatalities reached 1,664 in 2020. In addition, the number of fatalities in the state for collisions involving light trucks and large trucks has steadily increased between 2011 and 2015. Many interstates in Georgia are infamous for truck accidents, and some of these are the interstates 85, 75, 20, and 16.
Atlanta Truck Accident Prevention Measures
To prevent the occurrence of semi-truck accidents and fatal crashes, the state has enacted laws that govern commercial truck drivers' driving practices on roadways. Trucks, for example, are allowed to operate only on the two right-hand lanes, except when making a left turn.
In Atlanta, trucks are not allowed on standard roadways, except for specific cases such as having to pick up a shipment in a location inaccessible by other routes. The state has also enacted the truck safety belt law, which requires truck drivers to wear seat belts at all times.
Truck Accident Victims Deserve Compensation
Despite these laws, unfortunately, truck accidents are still fairly common in Georgia. If you or a family member has been killed in a truck collision, the help of an Atlanta wrongful death lawyer is paramount.
You deserve to be compensated not only for your physical injuries but also for the intangible and emotional losses you have had to endure as a result of the accident.
Our committed Atlanta truck accident lawyers will help you throughout the process, from compiling evidence to defending you in court.
Common Causes Of Truck Accidents In Georgia
Both non-critical and fatal truck accidents happen because of one or several reasons. In some cases, the truck driver may be ruled to be the negligent party. In other cases, car drivers may be the liable party. Many accidents have also been the result of faulty truck vehicle parts or components.
Your truck accident lawyer should be able to identify the negligent party or parties quickly so that you can begin the process of filing your claim.
Some of the most common reasons truck drivers or their employers in truck accidents cause traffic accidents to include:
Speeding
Overloading
Driver fatigue
Insufficient driver's training
Compensation systems that promote faster driving
Unscrupulous employer practices that expose truck drivers to road safety risks
Poor truck maintenance
In some cases, a Georgia truck accident attorney may discover that the liable party in a truck-to-car collision is the car driver. Some examples of negligent behavior that could lead to this type of serious truck accident cases include:
Abrupt lane changes, especially ahead of a truck
Driving in areas where the truck driver may have zero visibility
Failure to slow down or to accelerate speed when a truck changes lanes
Driving in between two trucks

Common Types Of Truck Accident Injuries In Georgia
The sheer size of most trucks and the speeds by which they are running on public roads can make any collision critical and fatal. As such, in many cases, it is the car driver, the car's passenger, or a pedestrian who are at the losing end of a truck accident.
If a truck driver has been negligent in his duty of care, your truck accident lawyer can help you seek compensation for the following injuries:
Bruises and lacerations
Fractured or broken bones
Back and neck injuries
Internal injuries
Paralysis
Amputation
Whether your injuries constitute mere bruises, severe internal injuries, or paralysis, you need to take action against the negligent party. You can rely on a truck accident lawyer to help you file a claim against the negligent party's insurance carrier, whether in a settlement deal or a state court in Atlanta, GA.
Get the compensation
you deserve $$$

Schedule a free initial consultation. We will provide sound legal advice without judgement. Contact us today at 770-HELP-NOW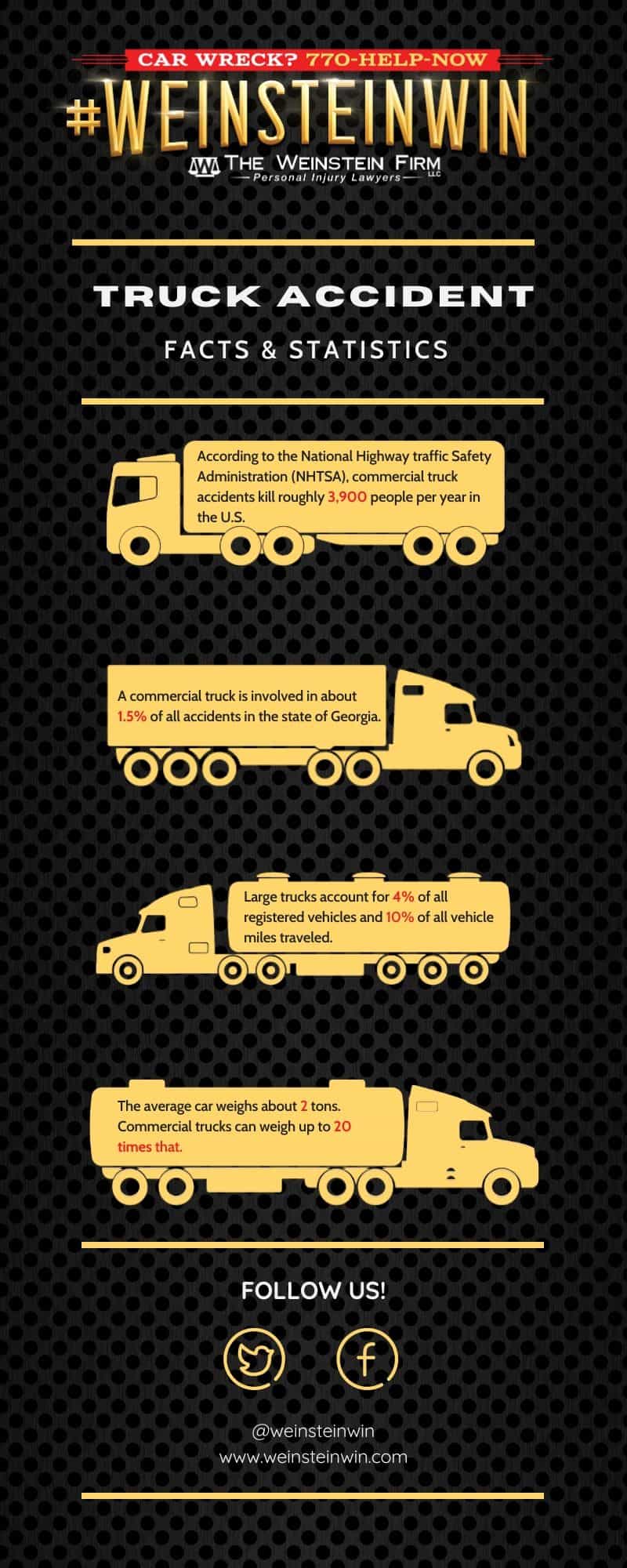 What Compensation Is Available For My Truck Accident Injuries?
As the injured party in an accident, you have the right to be fully compensated for your losses. Depending on the nature of your truck accident case, your accident attorney may help you recover from the following expenses and losses:
Economic Losses
Medical bills. Severe injuries will necessitate expensive medication, extensive hospital stays, and possible post-injury rehabilitation. Your accident lawyer may evaluate and compile all your hospital records to determine the medical compensation you deserve.
Lost wages. If you have been unable to return to work on account of your injuries, your compensation may also factor in your loss of present and future wages.
Property damage. You may consult your lawyer on how to recover compensation for property losses, such as an irreparably damaged car.
Non-Economic Losses
Mental anguish. This intangible loss may be brought about by severe injuries, depression, or the loss of a spouse or significant other. Your lawyer may compel the liable party to pay an equivalent amount that approximates these losses one way or another.
Loss of consortium or the enjoyment of life. If your injuries are preventing you from taking pleasure in life due to amputation, paralysis, brain injuries, or if you can no longer enjoy the physical company of your spouse, you may also seek this type of non-economic compensation.
Your Atlanta, Georgia truck wreck lawyer may also bring the case to court to seek punitive damages in addition to these types of economic and non-economic losses. Punitive damages are commonly awarded if a malicious action instigated the accident and if the accident has either resulted in grave injuries, irreversible medical complications, or death.
Your truck accident lawyer in Atlanta, Georgia will be able to explain whether punitive damages could be awarded in your case to ensure you receive the maximum compensation amount possible.

What Is Modified Comparative Negligence?
In the state of Georgia, the modified comparative negligence rule usually governs a compensation lawsuit where multiple parties are found to be negligent. In the event that your negligence has also contributed to your own serious injuries, you may face the possibility of having your compensation reduced or altogether forfeited.
The advice and efforts of a truck accident attorney, however, may steer your case in a more positive direction. A reliable lawyer can work to prove that your purported negligence has nothing to do with the accident. Should the other party claim that you were 50% or more responsible for the trucking accident, your truck wreck lawyer will be prepared with information to counter this narrative.
It is crucial that you hire a skillful team of car accident lawyers who are committed to fighting for you and with you, whether in settlement negotiations or in the courtroom.
Settlement Vs. Lawsuit: Which One Should I Choose After My Truck Accident?
When it comes to seeking compensation for accident-related injuries and death, the question of settlement versus a lawsuit will often crop up. Given the advantages and disadvantages of both a settlement and a trial, how do you identify which route is best for your truck accident case?
Understanding Settlements and Lawsuits
Many plaintiffs and their respective truck accident lawyers may prefer a settlement, as these proceedings are usually concluded out of court. This usually just involves the truck accident attorney and the legal team of the at-fault party, including the other insurance company or carrier responsible for paying compensation. Using evidence to prove liability as well as your record of medical expenses, your attorney at The Weinstein Firm will negotiate with the other party to get you the fair compensation you need to move forward.
Benefits of Choosing a Settlement
If you are the injured party, you can benefit from a settlement, as this will mean having the compensation proceeds awarded to you in a timely manner. However, you have to be careful with some early settlement arrangements. It is best to have your truck wreck lawyer review all your losses and see whether all have been accounted for in the settlement. Some settlement deals may fail to include future medical expenses, which may be necessary for long-term rehabilitative care.
Risks of Early Settlement Arrangements
In the event that the insurance carrier of the at-fault party fails to honor the settlement agreement proposed by your truck accident attorney, you may proceed to take your case to court. Since both sides of the argument have to be presented in a trial, this process can take much longer than a settlement. Despite this, your case may potentially benefit more from a lengthy litigation process than from a quick settlement that doesn't grant you complete recovery of all relevant losses.
When to Consider a Lawsuit
Now that you know the pros and cons of each, you should know that your compensation claim must be filed from within two years of the date of the accident if you are suing for personal injury. If you are suing for property damage, the deadline is no later than four years from the date of the accident
Legal Deadlines for Compensation Claims
Due to the deadline requirements for lawsuits filed in Atlanta, GA, it is important for you to hire Atlanta truck accident lawyers who understand how the personal injury law really works in the state of Georgia. They can help you file your claim in a timely manner.

How Can Truck Accident Lawyers Help You?
Regardless of your decision to settle or to fight in court, you need the help of a dedicated and compassionate truck accident attorney. After an accident, many Georgia residents find it hard to focus on anything but their family and their own recovery. With a trusted truck wreck lawyer on your side, you can focus on what matters most while a legal representative handles the paperwork for you.
In addition to helping you gather the information needed to file your claim, your truck accident lawyer can also conduct an investigation right after your initial consultation meeting. This is crucial, as most settlement and litigation procedures will require the presentation of important evidence. Any evidence found by your truck accident lawyer should establish the negligence of the at-fault driver. As part of this investigative process, your truck accident attorney in Atlanta, GA may also:
Hire experts necessary to reconstruct the accident scene
Identify any malfunctioning part of the truck
Review police reports and photographs of the accident scene
Interview possible eyewitnesses
Research into the driving experience and history of the truck driver
These are just a few of the procedures that your truck wreck lawyer may undertake in order to strengthen your case.
It may also be necessary to check whether only a single party or if multiple parties can be held liable for your injuries and losses. For this, seasoned truck accident lawyers will review the evidence in order to determine whether the driver, the driver's job, or a third party is responsible for the accident that took place.
Hire An Atlanta Truck Accident Attorney For Your Case
The consequences of truck and car accidents can affect an injured party and their family for the long-term. If you have been injured in a truck accident and your injuries have affected your physical abilities and opportunities for work, contact our accident lawyers today.
Our committed truck accident lawyers in Atlanta at The Weinstein Firm will immediately look into your case and provide you with valuable counsel as needed. Whether you want a settlement or prefer to litigate your case in court, we have the truck accident lawyer prepared to handle your case in Atlanta, GA.
It is not right to allow the negligence of another person to cripple you physically, emotionally, and financially. You have the right to claim for the amount you fully deserve. Call our experienced law firm today to schedule your free consultation.