While all car accidents can be devastating, getting into a bus accident can be especially terrifying for all passengers, pedestrians, or car drivers involved. This is especially true if a school bus is involved with children on board. If you or a family member has been hurt in a bus accident, it is important for you to consult with an Atlanta bus accident lawyer as soon as possible.
Bus accidents can be subject to the different regulations that govern bus transportation systems in the state of Georgia. These regulations are crucial to your ability to seek full compensation for your injuries or those of your loved ones. Without the sound legal advice of a personal injury lawyer in Atlanta, it can be difficult for you to obtain the compensation you rightfully deserve.
Regardless of the nature and circumstance of your injuries, you have the right to fight for compensation, whether through settlement negotiations or in court. A committed injury lawyer can help. Call The Weinstein Firm at (770)HELP-NOW and receive a risk-free case review from one of our local experts. We will answer any questions you may have and aggressively pursue maximum compensation for your damages.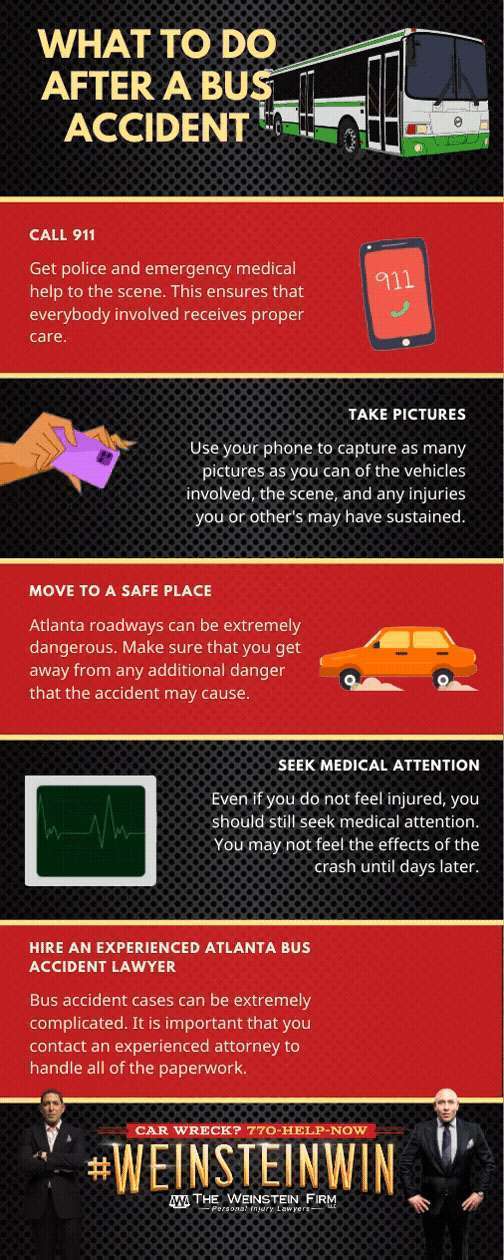 Ask a Trusted Bus Wreck Lawyer: What Do I Need to Know?
Different kinds of buses operate through the various interstates and highways of Atlanta, Georgia, and for various purposes. School buses ferry students to and from school. Public buses carry passengers to and from bus stops. If and when an accident takes place, these different bus transport systems will be governed by different regulations. This also inevitably affects the ability of any party to seek for accident or wrongful death compensation.
In 2016, there was an alarming rise in school bus accident statistics, with 700 accidents recorded between the months of July and December. Throughout the year, an approximate number of 302 students suffered bus-related injuries. The NHTSA (National Highway Traffic Safety Administration) reported an average number of 133 people killed in school vehicles annually for the period 2005 to 2014.
Any parent can seek the help of a bus accident attorney in the unfortunate event that his or her child has been involved in a bus accident. This is also an important route to take for adults who have been in a public bus wreck. Since public buses are owned by the government, civilians will inevitably face complications when pursuing a lawsuit against a government-owned entity. This just means the advice of a bus wreck lawyer in Atlanta, Georgia becomes all the more important at this point.
Although bus accidents occur due to the same reasons as those of other vehicle accidents, the immensity and impact of a bus can cause any wreck to become more severe. The size and weight of a bus can potentially cause more damage to its immediate vicinity, which includes any surrounding cars and cyclists. A careening bus can easily sweep other vehicles into a collective collision and may even fatally hurt pedestrians.
Another factor for a potential disaster is the absence of safety features, such as airbags and seatbelts, in most public buses. And with buses being considerably larger than regular vehicles, they can be a challenge to operate on the interstate or highway. Should an accident occur, those insides of the bus may be thrown about the vehicle, which could lead to serious injuries.
If you or a family member has been hurt in a bus collision in Atlanta, GA, you have the right to seek proper compensation from the at-fault party.  The first and most important thing is to hire a bus accident lawyer who has full knowledge of the laws operating in the state of Georgia. The advice of committed bus accident lawyers will be valuable in helping you navigate the complex compensation filing process in Atlanta, GA.
Types of Bus Accident Injuries and Responsible Parties
Bus accidents can vary in nature and involvement. Bus accident lawyers will have ample experience in dealing with various kinds of bus collisions, including the following:
Bus to bus collisions
Bus to car crashes
Bus to motorcycle collisions
Bus-pedestrian accidents
Bus malfunction accidents
Pedestrian accidents
The reasons why bus accidents happen can also vary, with many of these reasons shared by most types of vehicle accidents. At some point or other, a trusted bus wreck lawyer will have dealt with the following negligent behavior of bus drivers:
DUI or Driving Under the Influence of drugs, alcohol, or any other impairing substance
Negligent driving
Distracted driving
Tailgating a motorcycle
Lack of bus maneuvering skills
Running a stop sign
Unsafe lane changes
Who is Liable for a Georgia Bus Accident?
If you've suffered through injuries as a result of the negligence of a bus driver, you need to contact a bus accident lawyer in Atlanta, Georgia right away. It is important for your legal counsel to review the facts of your case and compile the necessary documents for you to file a claim against the negligent party. However, deciding who should be held liable for the accident can be difficult. Sometimes, multiple parties can be responsible for a single accident.
It is crucial for your bus accident attorney to determine which party can be held liable for your injuries and compensation, which can be any of the following:
The Bus Driver
If sufficient evidence proves the negligence of the driver, s/he will be liable to pay for economic, non-economic, and even punitive damages. A bus accident attorney will quantify the amount entitled to the injured party based on medical receipts, hospital records, police reports, and intangible factors such as pain and suffering.
The Bus Driver's Employer
This will depend largely on whether the employer of the bus driver is a government agency or a private company. A government agency may not be liable for any accident-related compensation through their immunity privileges.
However, it is possible to hold a private employer legally responsible if and when the negligent driver is their employee and if the driver's actions are well within the range of his work duties. Given these potential complexities, it is important for anyone involved in a bus-related accident to consult with bus accident lawyers right away.
Another Vehicle Driver
It is also possible for another driver to be the one responsible for a bus accident. In these cases, the employer of the other driver and their insurance carrier may be liable for paying any compensation to the injured parties. 
The Bus or Bus Parts Manufacturer
The liability would rest on the bus production company or bus parts manufacturer if defective parts contributed to the accident. The bus accident lawyer of the injured party will have to work on obtaining evidence necessary to establish the negligence of the manufacturing company.
What Type of Compensation is Available to Bus Accident Victims in Georgia?
Your bus accident lawyer will help to determine which types of compensation may be available to you. The factors that determine the compensation you are qualified to claim typically include the severity of your injuries and losses, the degree of the at-fault driver's negligence, and the ability of your bus accident attorney to obtain relevant evidence. With that said, you may be able to collect compensation for any of the following:
Loss of Wages
If you are unable to work and earn money due to your accident injuries, your compensation claim could include the loss of your present and future wages.
Property Damage
If your vehicle or any other property has been damaged, these damages may be quantified and factored into a compensation claim. If a lawsuit must be filed, your bus accident lawyer should do the filing within four years from the date of the accident.
Medical Expenses
Your compensation claim may also include all your medical expenses, which will have to be supported by your medical records and other pertinent documents.
Non-Economic Damages
Not all accident-related losses can be quantifiable. Non-economic losses may include pain and suffering, loss of the company of a loved one, or the loss of enjoyment of life. With the help of a bus accident lawyer, these intangible losses may be estimated and covered in a compensation request.
Ask a Bus Accident Lawyer: Settlements vs. Lawsuits, Which is Best for Me?
When it comes to filing a compensation claim, there are two possible directions that your legal counsel may take—a settlement or a lawsuit. The right bus wreck lawyer should explain to you which direction is best given your unique circumstances.
If you prefer to avoid a lengthy court trial, you and your Atlanta, Georgia bus accident attorney may instead negotiate a settlement. With a settlement, the attorney of the injured party and the at-fault party will negotiate on a compensation amount based on the circumstances of the bus accident and the injured party's medical expenses.
Not only does this eliminate the hassle of courtroom proceedings, but it can also result in an immediate release of compensation. If you prefer to go for a settlement in Atlanta, GA, make sure that you discuss the matter with your bus accident lawyer first.
Nonetheless, there are cases that necessitate litigation, over and beyond simple settlement discussions. If you are seeking punitive damages, your bus accident attorney in Atlanta, GA may bring the case to court. This is usually the case for accidents that occur due to extreme negligence or malicious intent. If the negligence of another has resulted in your prolonged disability or any losses graver than physical injuries, you and your bus wreck lawyer may file a lawsuit against the negligent defendant.
Another reason for filing a lawsuit is if the at-fault party and his or her respective bus accident lawyer refuse to offer you full and fair compensation for your injuries. Unfortunately, not all settlement discussions conclude favorably. If you and your bus accident attorney believe that a lawsuit, and not a settlement, is going to grant you the right compensation, then proceeding to the state court is a wiser course of action.
Whether you choose an amicable settlement or a feisty courtroom battle, what is more, important is that you understand the advantages and demerits of either a settlement or a lawsuit. For this, you need a bus wreck lawyer to provide you with sound advice and legal help.
Why is the Legal Help of an Atlanta Bus Accident Lawyer Crucial?
More than helping you dissect the pros and cons of a settlement and litigation, a bus accident lawyer is also going to help you in many other ways.
One of the crucial factors in filing a compensation claim in the state of Georgia is the deadline. In this state, you are given only two years to file a bus accident compensation claim. For property damage, your bus wreck lawyer should inform you that the deadline is at only four years. Any type of compensation claim filed beyond the stipulated period for lawsuits faces higher chances of rejection.
In addition to the deadline, your bus accident lawyer should inform you of the comparative negligence rule in Georgia. This rule applies to the determination of a compensation claim amount in the case of multiple negligent parties. Due to the comparative negligence clause, your liability in an accident may significantly affect your ability to receive full compensation. You can recover damages only if your liability does not reach 50%. Otherwise, you won't be entitled to any compensation.
Your bus accident lawyer at The Weinstein Firm can still work in proving the other party had a higher percentage of negligence, however. This is why it is crucial for your lawyer to gather evidence such as eyewitness accounts and police reports to bolster your claims. This is just another reason why you need a bus accident lawyer who will work on your case from start to finish.
Hire a Trusted Bus Accident Lawyer Today
Bus accidents can be one of the most catastrophic accidents on public roads and highways. Regardless of the nature of the bus collision, if someone's negligence has resulted in your accident-related injuries, you have the right to full compensation. Our automobile accident lawyers at The Weinstein Firm are ready to help you with your bus accident compensation claim in Atlanta, Georgia.
With the help of a bus wreck lawyer, you can take appropriate action against an irresponsible entity—whether it's the bus driver, the driver's operator or employer, or a faulty parts manufacturer. There is no reason why you should not fight for your right to be compensated in Atlanta, GA. Talk to one of our bus accident lawyers today for a free consultation.