Bird scooters took flight from their unknown source and landed in numerous cities seemingly overnight. These often unwelcome motorized scooters have led to countless injuries in Atlanta. Now people are wondering what they do about these injuries and how can they possibly expect to receive compensation. Contacting an Atlanta Bird scooter injury lawyer at The Weinstein Firm is the first step in getting answers to these questions.
Bird scooters often operate at speeds much faster than walking, however, are not meant for the streets and have no place on the sidewalks of Downtown Atlanta. That hasn't stopped many younger people from jetting around on these scooters and injuring themselves or others. Unfortunately, many of these injuries aren't even the riders fault although they're often the ones to take the blame.
Bird scooters are lacking many qualities, chief among them is safety. They are not safe to ride, and they endanger the safety of pedestrians. The many recent injuries are proof. If you were hit by a scooter, or if you were riding a scooter and were injured, contact a personal injury attorney in Atlanta as soon as possible. Only a scooter accident attorney can help you explore all of your legal resolution options. Get help by calling The Weinstein Firm today and find out if your Bird injury can lead to compensation.
What Are the Dangers of Bird Scooters?
Whenever someone is riding a Bird scooter, any negligent behavior can put others and themselves at risk. If you were hurt because someone was recklessly operating a Bird scooter than you should pursue compensation.
While Bird scooters do offer a very convenient way to get around town, and at a low price, there are many dangers. Bird advertises these scooters as an environmentally-conscious method to tackle short trips in urban regions. However, these areas are often highly-populated, and that makes it challenging to navigate safely. Not to mention that these scooters operate at speeds of about 15 miles per hour.
That speed of 15 miles per hour is more than enough to lead to serious injuries when colliding with other people or objects. Then there is the issue of helmet safety. While many of these electric scooter companies provide some sort of helmet initiative via mail, there is no convenient way to access both the Bird scooter and a helmet without thorough planning.
What's worse is that many scooter riders in Atlanta have taken to the streets, literally. Scooter riders are weaving through traffic as if they were on motorcycles. Then there are the issues of scooter abandonment. People are leaving scooters in a walkway or laying down on the sidewalk in the way of foot traffic. It's creating a major issue regarding fall accidents.
Even when scooter riders are operating at a slower speed, the injuries can be devastating. Running into a car can lead to broken bones, neck and spine injuries, as well as TBI. If you were hurt because of a scooter rider, or while riding a scooter, then you need the guidance of The Weinstein Firm.
We will help you navigate the claim system while aiding you with legal strategy, and a wealth of resources. Our experience and determination can play a large roll in fighting for the maximum compensation in your case.

What Should I do After a Bird Scooter Accident?
While many people know exactly what to do after a car accident, scooter accidents can raise a few eyebrows. Don't worry. You should go through nearly the same process as if you were in a car crash or in a pedestrian accident. They will often include these:
Call the cops – There's a lot that a crash report can prove long after the scene was cleaned up and everyone walked away. A crash report can provide insurance companies, attorneys, and Bird with insight into who was at fault and how you became injured. Whenever you're meeting with an attorney, bring your accident report. Be sure to bring it to your consultation with The Weinstein Firm.
Take a lot of pictures – Take pictures of everything from the property damage, weather, conditions of the road or sidewalk, and the positions of the vehicle scooter and people involved. If a driver was involved, then take pictures of their license, plates, and insurance information for later reference.
Record the driver's info – Just as with a car accident you need to write down the phone number, address, insurance policy information, and name of the negligent driver. You can write this down or snap a photo, either will prove useful later when you make your claim.
Record any info from witnesses – Witnesses can play a substantial role in supporting your statement. An Atlanta Bird scooter injury lawyer can rely on their testimony and use it to support your claim.
See a doctor – After a crash, you might feel a little sore, but it's more likely that you have a clear injury such as broken bones or cuts. You always need to see a doctor and to get a full evaluation. Make sure that they document all of your injuries.
Reach out to a Bird scooter injury attorney – Scheduling a consultation is the first step for meeting with an attorney. During a consultation, you can ask questions about your scooter claim and get honest answers about your claim.
Our attorneys work with legally complex claims every day. That allows us to work with your claim while you can focus on our recovery. Our free case evaluation gives us the opportunity to go through the details of your case and explain what the standard procedure will look like for you. Then we'll go through what can help your case and how to build a strong presence of the accident. That way you have the best possible chances for success.
What Are Some Common Reasons for Bird Scooter Accidents
Atlanta Bird scooter accidents are becoming even more common, which gives rising concern to the safety of the general public. Not only do they pose a danger to the scooter rider, but pedestrian injuries are also very common. These accidents have caused the Centers for Disease Control and Prevention, or the CDC, to investigate e-scooter injuries. No doubt this investigation will result in exposing the dangers that these scooter pose.
Common accidents often come from:
Faulty scooters or scooters with faulty parts (such as brakes)
Scooters are flipping and falling from poor balance or insufficient use experience.
Falls from uneven surfaces
Vehicle impact
Collision with pedestrians
Brake failure
Handlebars detaching, wobbling, or broken
Usually, these accidents happen because of these reasons:
User Negligence
The scooter rider did not understand the rules of the road or failed to apply them. Atlanta requires that riders meet the rules of the road but too often scooter riders are inexperienced with these rules and may cause sufficient injury to themselves.
Other Driver Negligence
A car, bike, motorcycle, or another scooter rider may be negligent if they hit you and caused the accident. In these cases, the other driver or rider must violate the rules of the road or fail to deliver proper duty of care. One example is a distraction, while another is running a red light.
Defective and Malfunctioning Scooters
Like any other device, these electronic scooters can malfunction. It can cause the brakes to lock, the baseboard to break, the wheels to lock, or the accelerator to become stuck at full speed.
In any case, contact an Atlanta Bird scooter injury lawyer to get the help that you need.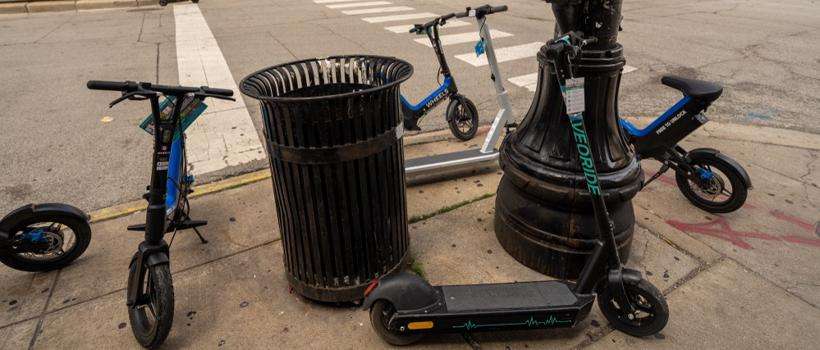 Who is Liable in a Bird Scooter Accident?
In a Bird scooter accident, the many factors at play can put any number of people as the responsible party.
For example, if a person walking on the sidewalk was struck by a scooter user, then the rider was likely liable. However, if a pedestrian pushes, or intentionally causes harm to a scooter rider, then they are probably liable for injuries as well as damage to the scooter.
When scooter accidents come into play with vehicles, then the liability will often represent fault with a car accident. When a car and scooter crash, it often falls to whoever was not following the rules. Many times this ends up being the car driver as they have more, and clearer, rules on their use and functionality. But the two can also share liability to some extent. Our car accident lawyers will be able to help you out with these types of cases.
In some cases, the scooter company, Bird, may be liable if there was some kind of malfunction. Additionally, they can be liable if someone tripped over a scooter because it was in a walkway and was not in operation.
However, what is unique to these scooters is that there are times when the City of Atlanta is liable. If you're riding down a sidewalk or roadway and are then thrown from the scooter because of cracks, potholes, or raised areas, then you could pursue the city for compensation.
There are times too when a business is responsible for the poor maintenance in their work areas, or walkways.
What Kind of Compensation Can be Expected for a Bird Scooter Accident?
Our lawyers provide aid which can help you secure the maximum possible compensation for the damages you experienced. Your injuries from the Bird accidents can make it difficult for many attorneys to handle as there is not yet clear legal direction on these issues.
Some of the expenses you can include in your demand are:
Medical bills including doctor's treatments, physical therapy, and medication.
Hospital expenses
Future medical bills for ongoing recovery
Lost time at work because you missed days
Future lost income if you will need to undergo recovery or surgery
Property damage for lost or damaged cell phones, electronics, and personal property
Pain and suffering. Including anxiety,  PTSD, mental anguish, and more.
Even further, if you lost a loved one or a family member because of a Bird scooter accident, then you need more legal help. You may have the opportunity to file a wrongful death claim which can cover funeral costs, medical bills, loss of the consortium, companionship, and more.
Contact an Atlanta Bird Scooter Injury Lawyer at The Weinstein Firm for a Free Consultation
The Weinstein Firm is here for any victims of Bird Scooter accidents within the Atlanta area. We aim to help victims pursue the maximum amount of compensation. Our attorneys accomplish that by helping them know who to pursue damages and how to seek compensation accurately.
With the wealth of experience in our office, these new Bird scooters are nothing to worry about. After the damage is done you simply need help clearing up the mess and getting back on your feet. No matter the extent of the damage, if you weren't at fault, then someone is liable, and someone should pay you back for your expenses.
Contact one of the best injury law firms in Georgia now to get in touch with our experienced and skilled team of Bird scooter accident lawyers. We provide a free consultation for Bird scooter-related injuries and can help provide immediate insight into your case and what to expect.