Year after year, Uber and Lyft passengers find themselves in accidents for various reasons. Whether it's due to poor driving skills, speeding, or defectively manufactured parts, rideshare accidents, like any traffic mishap, are no pleasant experience. If you or a loved one has sustained injuries due to a rideshare's negligence, you have the right to work with an Atlanta Uber accident lawyer for proper compensation.
Whether you are suffering from simple skin bruises and cuts or injuries as serious as a brain injury or loss of limb, you should not have to pay for your medical care and expenses in an accident that was not your fault. A dedicated car accident attorney in Atlanta can help you recover from your losses so that you can begin anew after any unfortunate ridesharing circumstance.
If you have suffered an injury in a rideshare accident, call The Weinstein Firm today at (770)HELP-NOW to speak with an experienced Uber accident lawyer in Atlanta. We will answer any questions you may have about your potential case and provide guidance on the best course forward for you. Don't let the rideshare company off the hook for your damages, get the best Uber accident lawyers on your side!
Uber and Lyft Accident Statistics According to an Uber Accident Lawyer
The popularity of ridesharing apps has grown in recent years, but this has not necessarily resulted in safer transportation for many commuters. In one US state, Uber vehicles figured in more fatal crashes than regular cabs for the last six months of 2015. And in November 2017, CBS Atlanta reported the death of a crossing guard outside a Cobb County school after she was hit by a speeding vehicle. The car had an Uber sticker on its windshield.
This came approximately six months after an Uber driver was arrested in Atlanta for speeding and marijuana charges. At the time of his arrest, he was ferrying a passenger in a vehicle that turned out to be a rental car.
These ridesharing incidents are neither safe nor simple, and for many of those who end up in an accident, compensation claims are clearly no easy matter. The advice of an Uber wreck lawyer should be paramount, as the ability to recover damages will ultimately depend on the identification of the liable party.
A passenger-less Uber driver who encounters an accident will be covered by his personal insurance carrier. However, there are cases where a driver's personal coverage is not enough to handle the expenses. For this, Uber or Lyft may step up through their additional liability coverage.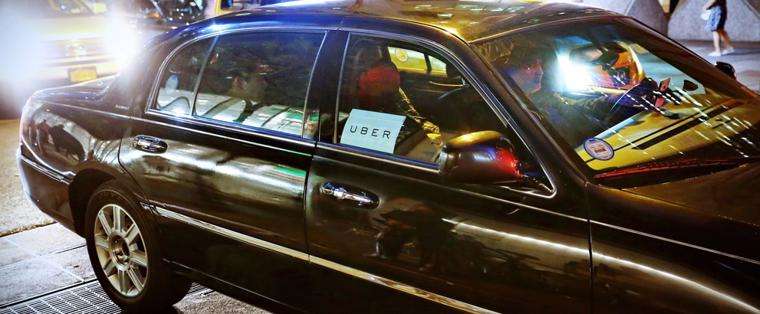 If you are a passenger in an Uber car that encounters an accident, your Uber and Lyft accident attorney must be able to discuss your compensation rights with the driver's insurance carrier and with Uber's or Lyft's liability coverage.
Recently, Uber has been known to provide liability coverage of up to $50,000 for injuries and $25,000 for property damages. A more recent 2015 law mandated that Uber and Lyft must require their drivers to obtain insurance coverage of up to $1 million. Along with this mandate is the authorization for Uber and Lyft to make a private background check on each of their drivers.
While these mandates help to ensure the physical safety and legal backing of Uber and Lyft passengers, accidents in varying circumstances can still occur. In the event of an accident, it is important for commuters to have access to Uber and Lyft accident lawyers that they can fully trust.
The experience of Uber and Lyft accident lawyers, as well as their knowledge of pertinent traffic accident laws in Georgia, make them a valuable source of legal support when seeking for compensation or filing a lawsuit.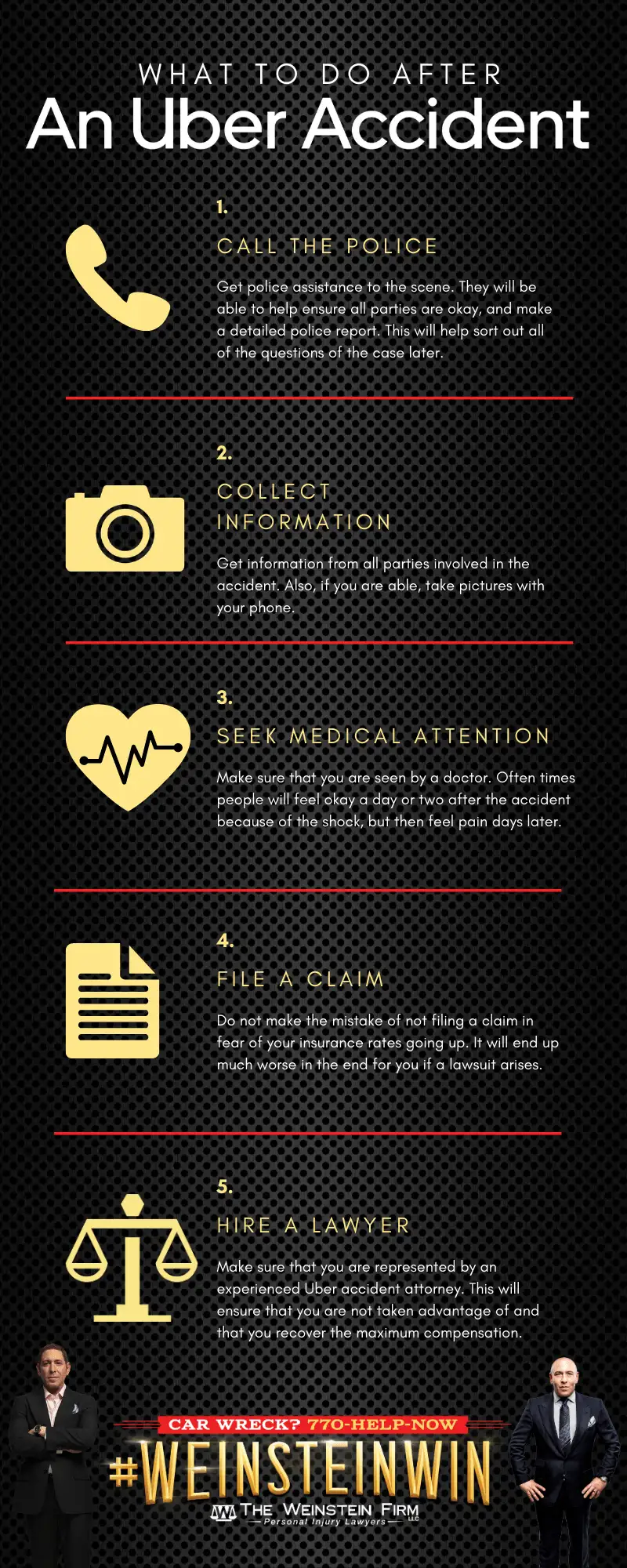 Common Kinds of Uber and Lyft Accidents
Uber and Lyft accidents can occur in a number of ways. Whether you are a pedestrian or a passenger, you still face the grim possibility of being involved in a ridesharing accident. An Uber accident lawyer in Atlanta, Georgia can help the injured parties in any of the following Uber and Lyft accident scenarios:
Passenger injury due to the negligence of the Uber and Lyft driver.
Third-party injury due to the liability of an Uber and Lyft driver.
Passenger injury due to the negligence of another Uber driver.
Property damage due to the negligence of an Uber and Lyft driver.
Uber and Lyft driver injury due to their own negligence.
Uber and Lyft driver injury due to the negligence of another driver.
Passenger and driver injury due to a defective or malfunctioning vehicle part.
The varied nature of ridesharing accidents can make any compensation claim or lawsuit a difficult event to go through. Uber and Lyft may even deny that they can be held liable for the accident and the ensuing passenger or driver injuries. This makes the legal help of a personal injury lawyer in Atlanta extremely important.
Who Can Be Found Liable for Uber Accidents?
In addition to shedding light on the different types of Uber and Lyft accidents, an Uber wreck lawyer will also be valuable in identifying which parties should be held liable for your injuries.
In an accident, it's possible for the negligence to be pinned on either a single party or multi-parties. Regardless of the nature of the accident, Lyft accident lawyers should be able to help you determine which entity can be deemed responsible, such as the following:
The Uber or Lyft Driver
In cases where the driver has been proven to be negligent in his duty of care to passengers, any compensation claim will be provided for through the personal insurance coverage of the Uber or Lyft driver.
If you are injured due to the negligent actions of your ridesharing driver, you may consult with your Uber wreck lawyer to discuss how to recover damages from the driver's personal insurance carrier.
The Rideshare Companies
There are also cases where the ridesharing companies themselves may be held liable to pay for the negligent actions of their drivers. Technically, Uber and Lyft drivers are not employed by Uber; they are simply operating as independent contractors. Thus, it may be possible for Uber or Lyft to deny responsibility for any claim.
Nonetheless, a committed Uber and Lyft accident attorney may argue on the shared liability of the company if and when the personal coverage of the driver proves insufficient. Also, an Uber wreck lawyer may site a ruling that mandates the provision of insurance coverage to app-online passengers at the time of the accident.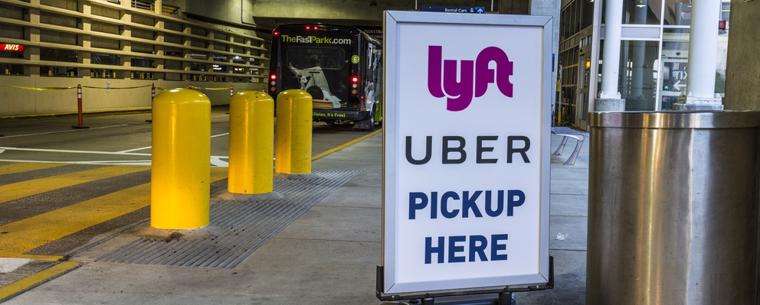 Any Related Third Parties
There are Uber accidents that occur due to the negligence of another party, neither of which are the driver nor the ridesharing company. When this happens, you are within your rights to sue the negligent entity or file a compensation claim with their insurance carrier. An example is when the accident was instigated by the lack of proper signage on an on-going road maintenance project. Another instance is when an accident is traced to a poorly manufactured vehicle part.
If you got into an Uber accident due to the negligence of a third party, you should waste no time in discussing your options with an Uber wreck lawyer in Atlanta, Georgia. The sooner you discuss your claim with an Uber accident lawyer, the faster they can help you gather evidence and file a claim within the set timeframe.
Doesn't Uber Have a $1 Million Insurance Policy for Accidents?
Because of Uber's advertising, many people are under the interpretation that regardless of what happens, if they are involved in an accident involving an Uber driver, there is a $1 Million insurance policy to cover their losses. While yes, Uber does have this policy, its scope is incredibly limited and only applies in situations where the Uber driver has passengers in the car, on a paid trip, and is involved in an accident where the damages exceed the personal insurance of the driver. If the driver is en route to pick up passengers, waiting on a fare, or operating their vehicle in a personal capacity, Uber's insurance policy does not come into effect.
Because of the stringent requirements on the Uber policy, contacting a lawyer who specializes in Uber accidents will give you the greatest likelihood of accessing this large policy to cover your damages beyond what the driver's personal insurance covers.
What Type of Compensation Can My Atlanta Uber Accident Lawyer Help Me Receive?
Once the liable parties in an accident have already been identified, your Uber wreck lawyer can work on your compensation request. It is important for your Uber and Lyft accident attorney to review your medical expenses, hospital bills, and salary receipts to quantify financial losses. Intangible losses may also be evaluated to ascertain a more appropriate amount.
Depending on the nature of your case, an Uber wreck lawyer in Atlanta can help you recover compensation according to the following types of damages:
Economic Damages
These damages are financial in nature and are, therefore, quantifiable. These damages could include loss of wages, emergency room fees, hospitalization and treatment expenses, and even property damage. Your Uber and Lyft accident attorney should be able to assess in full all your economic losses, including past and present wages and medical expenses.
Non-Economic Damages
These non-economic losses may be difficult to quantify, but they nevertheless present a heavy burden on the injured party and his or her family. If the injury has brought you intense pain and suffering, and if it has incapacitated you in any way, you and your Uber wreck lawyer may file for non-economic damages in addition to your financial losses.
Punitive Damages
Not all injuries require you to file a lawsuit for punitive damages, but an Uber accident lawyer may advise you to proceed if there was grave negligence or malicious intent by the at-fault party. This kind of lawsuit may require extensive evidence and investigation, making the choice of a trusted Uber and Lyft accident attorney extremely crucial.
Settlement or Lawsuit?
A crucial matter for discussion when it comes to claiming compensation is whether to go for a settlement or battle it out in court after filing a lawsuit. The answer largely depends on whether the other party honors the proposed settlement or not. An Uber accident lawyer will have to sit down with the insurance companies and discuss the settlement. There will be no reason for a further lawsuit if the insurance company agrees to the proposed settlement amount.
Although your Uber accident lawyer will expound on the benefits of a settlement, not all accident compensation claims can benefit from one. You need to discuss your options fully with your legal counsel to understand whether a settlement or a lawsuit will be more beneficial for your case.

Seeking the Help of a Compassionate Uber and Lyft Accident Attorney in Atlanta, Georgia
Right after an accident, it is important for you to seek immediate medical help, report the incident to Uber or Lyft, and consult with an Uber accident lawyer straight away. You will also need to report the accident to the local police, as this report may serve as evidence for later compensation claims.
Some insurance companies will attempt to discuss your claim with you or obtain confidential information from you, which they may later use in their defense. This is why you should only speak with the other party's insurer in the presence of an Uber accident lawyer who can prevent you from saying anything that could damage your case.
Depending on the facts of your case, you may be dealing with the personal insurance provider of the Uber or Lyft driver, the insurance agency of Uber or Lyft, or the insurance agent of a third party. These insurance companies, moreover, may operate on specific timelines and deadlines that may differ from the timeframe in which you need to file your compensation claim.
It is important to note that you only have two years from the date of your accident to file a personal compensation claim in Atlanta, GA. For property damage lawsuits, the time period is higher at four years, but still, there is a deadline to consider. The inability to file a lawsuit within the allowed period may mean an outright rejection for claims by the court.
This highlights yet another reason why you need to have a dedicated Uber accident lawyer from the beginning of your case. In addition to gathering evidence in order to establish liability, your lawyer can also ensure your claim is filed on time.
Consult with an Uber Accident Lawyer in Atlanta, GA
Navigating the complex world of Uber and Lyft settlements and lawsuits can be a challenging experience. Even more so, if the ridesharing company denies any culpability in the accident and refuses to handle any compensation request.
For this, you need the committed and compassionate help of an Uber and Lyft accident attorney in Atlanta, Georgia. Here at The Weinstein Firm, our Lyft accident lawyers are ready to review your case and handle it for you, from settlement discussions to courtroom litigation.
If you or your loved one has been involved in an Uber and Lyft accident that was caused by the negligence of another party, you have the right to fight for compensation. Call The Weinstein Firm to receive the dedicated help of a trusted Uber accident lawyer and ensure you receive fair and full compensation for your damages. Contact one of the Uber and Lyft accident lawyers at The Weinstein Firm for a free consultation today.