Slip and fall injury claims are one of the most common types of premises liability claims. These accidents, also called trip and falls, are costly for all involved, but most especially for the owners who failed to maintain their property. These incidents arise because someone was injured on another person's property—either due to reckless, negligence, or lack of care and maintenance.
Thousands of people suffer injuries from a slip and fall each year. Schedule your free consultation with The Weinstein Firm, our slip and fall lawyers can represent you if you have a case. We know how much a personal injury can put your life on hold. You should not be forced to pay when you are not at fault.
Causes of Slip and Fall Accidents
Personal injury attorneys can evaluate the evidence to determine how the property owner was negligent. It may be a poorly installed guardrail or a hinge that came loose. Property owners have the responsibility of ensuring that the premises are clear of any hazards, whether it is due to foreign objects on the ground, ice or snow, a spill, or toxic materials that poison the environment.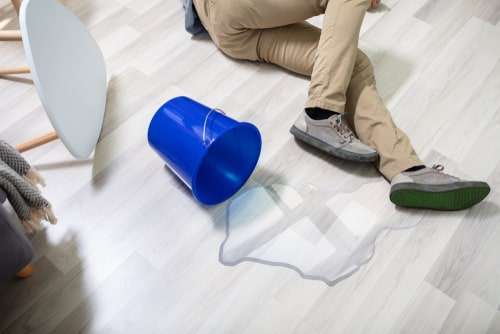 We can handle slip and fall cases caused by any of the following:
Uneven flooring
Wet floors
Slippery floor material
Damaged sidewalks
Potholes and ditches
Ice and snow on stairs, sidewalks, or walkways
Merchandise or foreign objects cluttering the paths
Poor or inadequate lighting
Damaged flooring
An owner can be held liable for accidents due to these if the owner about the problem but failed to address it. Our slip and fall lawyers can review the incident to determine the severity of your injuries and help you find the compensation that you are owed.
Falls Caused by Uneven Flooring
Loose or uneven flooring is one of the largest reasons behind slip and fall accidents. Property owners should be diligent at ensuring that their area is safe to walk. If they fail to address any persistent problems or ignore complaints, then they can be held legally responsible for another person's injuries.
Many of these injuries occur on different types of flooring materials, such as:
Warped hardwood floors
Loosened tiles
Cracked or peeled vinyl or linoleum
Worn, wrinkled, or torn up carpet
It does not matter what type of flooring or the location—another person's home, the office, a government building—property owners still have the responsibility of ensuring their floors are maintained. It does require effort on their part, by keeping up with day-to-day maintenance. It is the largest reason numerous injury claims due to slip and falls on uneven floors are filed every year.
Accidents that Occur in Someone's Home
For your claim to be successful, we must demonstrate that the homeowners were somehow negligent. There may have been a lack of care or disregard for the maintenance of their property. Thus, they would only be liable if their negligence was the cause of the slip and fall accident. This is what makes the biggest difference between a case where someone trips while walking because he or she forgot to tie their shoes versus tripping because of a sharp, slippery, or otherwise unsafe item on the floor.
Here are some examples of common slip and fall accidents in the home:
Slipping or tripping on the carpet
Slipping or tripping on floorboards, vinyl, or tiles
Tripping on the stairs
Unsafe or shaky stairways
Slipping on snow or ice
Lack of handrails on the stairs
Slipping on sidewalks or cracked pathways
Slipping on uneven or poorly maintained porches, balconies
Slip and falls in someone's home can sometimes be difficult to prove because it can be difficult to obtain the evidence after the fact. The circumstances may have changed, or objects and other obstacles in the home may have been rearranged. The homeowner might have also addressed the problem, leaving little physical evidence ready. It may not always be possible to take photos or your injuries or the scene of the accident immediately after. That is why it is imperative that you have a seasoned personal injury team to handle the processes for you.