If you have suffered an injury from a head-on collision in Atlanta, or throughout Georgia, you may be entitled to compensation. To learn more about how you can maximize your settlement or reward you will receive for your injuries, you need to contact one of the best head-on collision lawyers at The Weinstein Firm.
Contact an Atlanta head-on collision lawyer at The Weinstein Firm we offer a free case evaluation to answer all of your questions and determine how much your case is worth.
At The Weinstein Firm, we have helped thousands of clients recover an average of 3x more than what they would have gotten without the assistance of our attorneys. This could make a significant impact on the life of an injured victim.
Think about all of the medical bills, the loss of income, and all of the other problems an injury could potentially cost you- are you prepared to cover these costs on your own? Don't jeopardize your future and call us today! We'll make things better.
What Steps Need To Be Taken Following A Head-On Collision In Atlanta?
If you or a loved one was injured in a head-on collision in the Atlanta, GA area, you should immediately report the accident to Atlanta's police department. A police report of your accident can be a critical record for any future proceedings. You and the other driver should also exchange information, including car and driver license numbers.
If there are any witnesses of the accident, take down their names and phone numbers. Take photos with your phone, including the road. Call an ambulance if anyone has been injured. If you cannot gather any information because you are too injured, our experienced investigators can return to the scene and review the insurance and police reports to recreate the accident.
Seek medical treatment and also contact a personal injury lawyer. Do not sign any paperwork with the other driver or your insurance company before consulting with an Atlanta Head-On Collision Lawyer. Do not provide any insurance agent or adjuster with a recorded statement without first talking to your attorney.
You may want to be as forthcoming as possible, but this can harm yourself.
What Is Different About Head-On Wrecks Compared To Other Kinds Of Car Accidents?
Injuries sustained in a head-on collision can be very severe due to the physics involved in the crash. Usually, passengers and drivers are thrown forward. The car occupants in the best-case situations are wearing seat belts and thrown into the airbag, which may break a couple of facial bones and crack ribs.
In the worst situation, passengers and drivers who are not wearing their seat belts may be thrown through the windshield and out on the road.
What Are The Most Common Causes For a Head-On Car Collision?
The Fatal Analysis Reporting System (FARS) reports that 75% of head-on collisions take place on two-way roads without dividers and on country roads. One driver typically tends to make what is referred to as an "unintentional maneuver" like swerving around a curve or drifting into the other lane.
A driver might "over-recover" going around a curve and might end up on the wrong side of the road or wrong lane. Other significant factors are speeding and alcohol. Neither vehicle needs to be traveling at a high speed for significant damages to be created. Contrary to what you might believe, one vehicle passing isn't the most common reason for these types of collisions.
In A Head-On Car Crash, How Is Fault Determined?
The most obvious sign of fault is when a driver veers over into the wrong lane and hits another vehicle that is going in the right direction. However, don't attempt to figure out who is at fault by yourself. In a head-on collision, there can be numerous factors involved.
Contact a personal injury lawyer at The Weinstein Firm for your free consultation and allow our experienced investigators sort through the evidence. You deserve an honest and ethical opinion regarding your case.
Do not get into any arguments about who is at fault with the other driver. Just remain cordial and exchange information. There are many factors that determine fault, and they will be detailed in the insurance company report and police report. In the state of Georgia, you can recover on a case even when you are partially at fault for your accident.
It is referred to as comparative negligence – our lawyers can help to determine what your percentage of fault is. There might be a liable third party, also. For example, you might have been driving on a roadway that is defective. Contact an Atlanta Head-on Collision lawyer at the Weinstein Firm for your free consultation before taking someone else's word.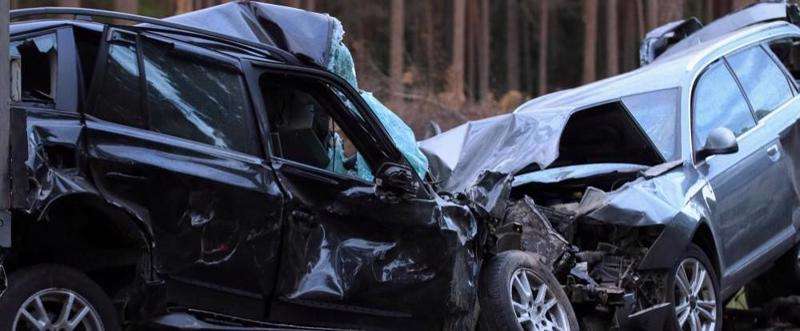 What Kind Of Compensation May I Seek In My Head-On Collision Case?
A personal injury claim can seek payment for necessary and reasonable medical care; wages and income for the time you are unable to work due to the accident; as well as pain and suffering.
In other situations, if the other driver was under the influence, and being negligent, such as a case of distracted or drunk driving, the courts will then award punitive damages which are intended as a punishment of the other driver.
Keep in mind, no matter who you end up hiring, your personal injury lawyer never should take any money upfront. Any fees for your attorney should come out of your settlement following a successful case.
How Much Time Do I Have To File My Claim?
The statute of limitations or the time that is allowed to pursue a case in the state of Georgia is usually two years following the accident. However, there are some exceptions that are shorter.
However, in a Head-On Collision, it is especially important to get started right away. First, you need to seek medical care and even if you are unable to afford it we can help get you pointed in the right direction. Second, witnesses can disappear and evidence grows "cold." That is why it is important to get started as soon as possible.
Injuries from Head-On Collisions
The Georgia Governor's Office of Highway Safety reported that one out of every 10 head-on crashes results in someone's death. Most often, it is because another has been driving recklessly or cares not to pay attention to the flow of traffic or the traffic laws. When this happens, it is imperative to have an Atlanta car accident attorney working on your case.
We can help you if you or a loved one suffered a traumatic injury, such as:
Neck and back trauma
Fractures
Bruising
Cuts
Scrapes
Organ damage or puncture
We are not afraid to tackle even the most serious of cases, such as those that involve the wrongful death of a loved one in a head-on collision. You have the right to hold others responsible for causing your accident. At The Weinstein Law Firm, PLLC, our personal injury attorneys in Atlanta are skilled negotiators and are known for our persistence.
It is our hope that you can find some comfort when all is said and done.
We Are Aggressive & Trial Experienced
The Weinstein Firm can break down all of the legal aspects of your case to give you a fair and clearer understanding of the situation. We also keep you up-to-date on how your case is progressing. Our Atlanta car accident attorneys, we pride ourselves on being accessible to our clients.