Georgia has strict laws that prohibit driving while under the influence of alcohol. These DUI laws exist to protect everyone on the road. When someone breaks these laws and injures another person, the drunk driver needs to be held accountable for his or her actions. An Atlanta DUI accident lawyer will fight to make sure justice is served for you. At The Weinstein Firm, we believe strongly in vigorously enforcing Georgia's strict drunk driving laws. If you have been injured in an auto accident caused by a driver who was driving under the influence, you could be entitled to compensation for your injuries and property damage. Paying for your medical bills while suffering from injuries sustained by a car accident should not be a burden you need to carry. Our Atlanta car accident lawyers can help you hold the drunk driver responsible for his or her actions. If you were injured at the hands of a drunk driver, contact The Weinstein Firm today. You will receive a risk-free consultation with our experts, allowing you to ask any questions you may have and obtain advice and guidance on how to proceed with your potential case.
What Do I Need To Do If A Drunk Driver Injures Me?
In the event of any accident, it's crucial to contact local law enforcement in order to have a formal report made about the accident. This is even more true if you think that a driver might have been drunk or just somehow otherwise impaired. Tell the responding officer that you have suspicions of the other driver being impaired or drunk. Police officers receive training in order to identify such situations. If it does wind up being a DUI situation, then you have rights to substantial recoveries from a driver who is that irresponsible.
Smartphones are wonderful to have in situations like these. You can capture the audio or even video of your conversation with another driver since DUI drivers are often impaired with obvious signs. Get down just as much information as you're able to regarding the accident, which includes the names and numbers of any witnesses. Collect as much information that you can. See if another driver is attempting to hide or get rid of cans or bottles. If another driver starts using eye drops, that might be an attempt to cover up the bloodshot eyes resulting from the use of alcohol or marijuana. Also, if you, another driver, or any passenger requires medical treatment, send for an ambulance immediately. Call one of the drunk driving lawyers at our firm. We will strive to get you the compensation that you deserve. Our team of legal experts can investigate the driver for prior convictions. CDC data shows that drivers arrested for DUI are six times as likely to have previous DUI convictions compared to drivers that don't have any alcohol present in their system.
What Sort Of Damages Can I Seek In The Event Of A Drunk Driver Accident Case?
In most cases of personal injury, you can go after three kinds of compensation. They are payments for work that you lose; pain and suffering; and costs for any resulting and reasonable medical care, which might include future care. However, in a drunk driving case, you might also be entitled to getting punitive damages. These kinds of damages go far beyond cost, as they are intended to punish wrongdoers. DUI case awards can prove seriously substantial.
What If Another Driver Was High From Marijuana?
Being high as a result of any drug gets handled just like drunk driving. Any drug which makes a driver less safe can qualify to be a DUI case.
What If Another Driver Gets Impaired Because Of Prescription Medication?
Prescription drugs are legally mandated to come with warning labels regarding potential impairment, so drives must honor other drivers. If you do not detect marijuana or alcohol, but still suspect something is wrong with another driver, then you should report your concerns to the responding officer.
What Are The Differences Between Normal Car Accidents And Drunk Driving Accidents?
Drunk drivers are typically reckless with their driving and also drive at rather high speeds. Government data estimates that over two-thirds of drunk drivers who die in a car crash aren't wearing their seatbelts. Drunk drivers typically have trouble maintaining their focus, which impairs their muscle coordination. They have slower reaction times on top of mental confusion.
Who Might Be Held As Responsible For A Drunk Driving Accident?
The DUI driver is the one responsible for payment. However, business owners and party hosts might also be found responsible. The state of Georgia has a "Dram Shop Law" which holds business owners responsible if they knowingly sell alcohol to a guest or customer who is inebriated. Bartenders get training to refuse service to anyone that's had too many drinks. Restaurant servers also have a duty to track how drinks a customer has, which is simple to do when a server just keeps a tab of how many customer orders. A part host might also get held responsible, particularly if they knowingly made alcohol available to any persons under the legal drinking age. If you served any minor knowingly, then you can possibly be liable.
How Fast Do I Need To File My Drunk Driving Accident Lawsuit?
The general time limit for you to file a personal injury case typically sits at two years, although there are exceptions which can mean even shorter periods of time. It's crucial that you act promptly and get a personal injury lawyer before there is too much passage of time. DUI cases frequently end up going into the criminal court system while also having a civil component to them.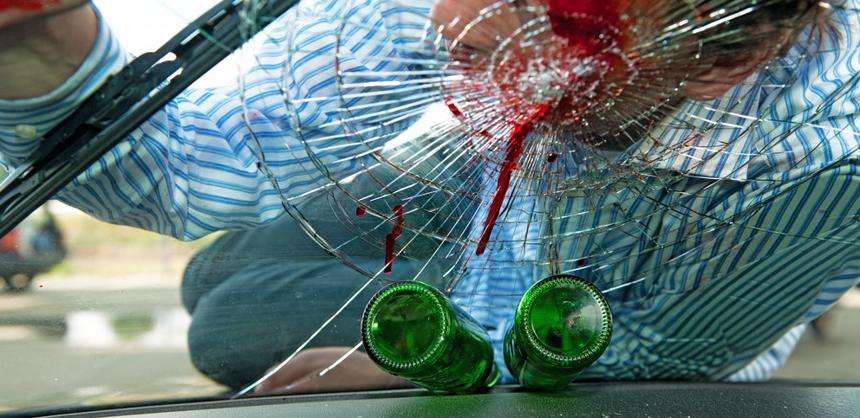 Alcohol-Related Accidents and Proving Negligence
Every year thousands of people die because of alcohol-related accidents. Nearly 25% of traffic-related fatalities in Georgia involve someone with a BAC above the legal limit of .08. While the punishments for these tragedies are severe, it is still vitally important to prove the negligence of the other driver. At The Weinstein Firm, our attorneys have the experience necessary to help you build a strong case and to effectively show how the other driver was at fault.
Our Atlanta personal injury attorneys understand that fully focusing on your recovery is of the utmost importance. We will work hard for you to receive the maximum compensation so that you can turn all your attention on healing and getting your life back to normal.
Hit by a Drunk Driver? Here's What to Do!
If you are hit by a drunk driver, our Atlanta DUI accident lawyer has compiled a list of ways you can ensure that you can help ensure that you protect your case. Watching out for these types of tactics and notifying the police can reduce the chances of the drunk driver getting away unscathed.
Here are things to watch out for and how to respond if you are struck by a drunk driver:
If you smell alcohol or marijuana from the driver that struck you, make sure to note it to the police officer. It is also important to note if you see them use mouth spray or scent sprays on their vehicle in order to conceal the odor.
It is also a good idea to notify the police officer at the scene if you witnessed the other driver use eye drops. If the driver was under the influence of marijuana or another drug, they might attempt to conceal it. Bringing it up could prompt a drug test.
Watch the other driver and note if they try to dispose of any trash, drug paraphernalia, or bottles after the accidents. Many drivers try to dispose of evidence that could be linked to a DUI. Tell the officer as soon as they arrive on the scene and make sure it is recorded.
It is important to know exactly who was driving during the accident. Many drunk drivers might also try to switch places with a passenger that hasn't been drinking and state that the passenger was driving during the incident to avoid a DUI.
Our Atlanta personal injury attorneys fight aggressively to obtain compensation for our clients who are dealing with serious losses due to intoxicated drivers. Serious DUI accidents in Georgia can lead to catastrophic injuries or even wrongful death. We can help you obtain the compensation you need for your losses after a DUI accident.
Take action – Call The Weinstein Firm today!
Your case is about more than just money. It's about justice and sending a message that such behavior will not be tolerated in our society. Discover what we can do for you. Call the experts at The Weinstein Firm today to get the representation you need to get the compensation you deserve.