In 2020, there were an estimated 4.8 million people injured in motor vehicle crashes in the United States, according to the National Highway Traffic Safety Administration. Medical bills might be only the start of the wake-up call if you were hurt in a Acworth car Collision. You may have been forced to quit working and perhaps you are struggling with ongoing pain. You don't have to pay for a wreck that wasn't your fault. If you're the victim of an accident in Acworth, GA contact an experienced car accident lawyer at The Weinstein Firm. Our personal injury attorneys serving Acworth have been getting accident victims the money they deserve for years.
Why are car wreck injuries different than other injuries?
Because they're generally quickly identified as covered by auto insurance policies whereas with other accidents it could take months or years to determine who is actually liable. Georgia law requires vehicle owners to take insurance, which means that the drivers involved have at least a minimal quantity of coverage to cover for both personal injuries and vehicle damage.
Acworth Accident Statistics 2019-2021
Common Types of Car Accident Injuries
Bruising
Bruising is caused by the rupture of small blood vessels beneath the skin, resulting in discoloration and tenderness. In some cases, the severity of the bruise can indicate underlying trauma, making it important to seek medical attention.
Scars and Disfigurement
Scarring and disfigurement are two types of injuries that can happen in a car accident. Scarring happens when the body tries to heal itself and may result in permanent changes in the skin's appearance. Disfigurement is a more severe and permanent alteration of the body or face.
Broken Bones
Broken bones are a common injury in high-impact car accidents. Treatment for a broken bone can range from immobilization with a cast or brace to surgical intervention, depending on the severity of the injury.
Facial Injuries
Facial injuries are a frequent occurrence in car accidents, especially when an individual's face collides with the dashboard, steering wheel, or airbag. These injuries can vary in severity, ranging from minor cuts and bruises to more severe injuries such as broken bones or permanent disfigurement.
Whiplash
Whiplash is a common type of neck injury that can happen in car accidents when the head is forcefully jerked back and forth. This sudden movement can result in damage to the neck's soft tissues, including muscles, ligaments, and nerves. Common symptoms of whiplash include neck pain, stiffness, and limited mobility, as well as headaches, dizziness, and fatigue.
Wrist & Hand Injuries
Car accidents often lead to wrist and hand injuries, especially when the person instinctively tries to protect themselves during the impact. These injuries can vary in severity, from minor bruises to more serious ones such as fractures or dislocations.
Leg & Foot Injuries
Car accident injuries can vary greatly in severity, ranging from minor cuts and bruises to more serious conditions such as fractures or amputations. Treatment options for these injuries depend on their extent and may include immobilization with a cast or brace, physical therapy, or surgery.
Brain Injuries
Car accidents, particularly those involving high-speed collisions or rollovers, can result in a range of brain injuries, from mild concussions to severe traumatic brain injury (TBI) that may lead to long-term disabilities or even death.
Burns
Burns are a common injury that can occur in car accidents, especially when there are fires or explosions involved. These injuries can vary in severity, ranging from minor burns that heal on their own to more severe burns that can lead to permanent scarring or disfigurement.
Post-Traumatic Stress
Experiencing or witnessing a traumatic event, such as a car accident, can lead to post-traumatic stress, a psychological condition characterized by symptoms like anxiety, depression, flashbacks, nightmares, and avoidance of places or situations that remind the person of the event.
Back Injuries
Back injuries resulting from car accidents can vary in severity, from minor strains and sprains to more serious injuries such as herniated discs or spinal cord damage. Symptoms may include pain, stiffness, and limited mobility, and treatment options can range from rest and physical therapy to surgery depending on the extent of the injury.
Paralysis
Paralysis is a debilitating condition that may arise from a car accident, particularly if it involves severe impact or spinal cord injury. It is characterized by a loss of sensation and movement in a certain part of the body, and can range from partial to complete paralysis.
Internal Bleeding
Internal bleeding is a condition that can occur after a car accident when blood vessels inside the body are damaged, causing blood to leak into the surrounding tissues or organs. Symptoms may include pain, swelling, dizziness, and weakness, and it requires immediate medical attention.
Pain & Distress
Car accidents can cause physical pain and emotional distress, including cuts, bruises, fractures, shock, fear, anxiety, depression, and post-traumatic stress.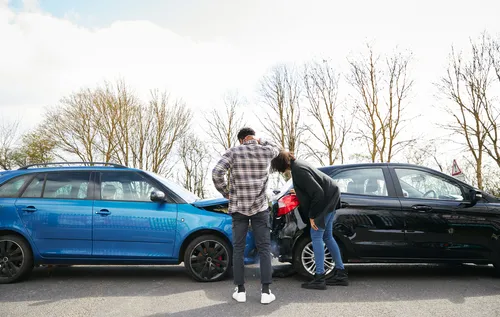 Who is at fault in an Acworth car accident?
Because the insurance company must pay for accidents and vehicle damage, fault is essential in all Georgia car accidents. In most accidents, the driver at fault wasn't intending to be negligent and harm you. It only means that the driver caused the accident by being careless. Negligent behavior consists of excessive speed, running stop signs, texting while driving, driving drunk, tailgating or violating other traffic laws.
How do I know if my injuries will be covered?
Potentially any harm incurred can be covered by a car incident claim, so long as it's proven to have been caused by the actual auto accident. A number of the most frequent injuries we see include:
Broken bones, more times than not wrists, hands, & noses
Soft tissue injuries such as sprains and strains
Whiplash
Concussions
Many times you may not even realize you've been injured until hours, days, or weeks later. This is the reason we advise that you visit the doctor as soon as possible so that he may detect such. A doctor's early identification of such an injury is crucial not only to a speedy recovery but to the validity of your insurance claim.
Can there be a cap on how much my payoff is worth?
No. You can regain 100 percent of your expenses.
Many car accident victims qualify for:
All accident-related current and future medical expenses such as costs of long-term care or rehabilitation
Compensation for loss of work
All repairs to vehicle or property
You Pay Zero Unless We Win!
Millions recovered for injured victims
Do I need to hire a Car Accident Lawyer Near Acworth?
It's typical for an insurance provider to swoop in following an accident and offer quick easy money. This may sound tempting, but it is generally far less than your claim is worth. That is because insurance companies are motivated by profit. They expect you'll take their quick but low offer and sign away the right to possibly find more money. Once accepted you cannot go back.
Accident victims are often too quick to put the blame on themselves or believe that the accident wasn't anybody's fault, just dumb luck. We urge you to speak with an experienced and caring attorney who can properly review the accident, recognize fault, and build the proper case to present for maximum compensation.
Speak to a Acworth car collision lawyer at The Weinstein Firm by calling 770-HELP-NOW or simply clicking FREE Consult below. Our lawyers have just one goal and that is to assist accident victims. We won't bill you a dollar unless we win money for you!