If you've been injured in a motorcycle accident, there's a good chance you suffered very serious injuries. This means you'll likely be entitled to damages. Your Atlanta motorcycle accident lawyer will have to prove fault. They'll also have to prove your damages. The question is – how much is your case worth?
In this blog, we'll describe the types of damages you may be entitled to. We'll also explain how these damages are calculated. Finally, we'll discuss the various factors that can impact how much your motorcycle accident case is worth.
Your Atlanta Motorcycle Accident Lawyer Must Prove Fault
Before you can think about damages, your attorney must first prove fault. You'll need to demonstrate that the other driver was negligent. To do this, your lawyer must prove the following four things:
The defendant owed you a duty of care. All motorists must drive safely.
They breached this duty, for example, by speeding or not checking blind spots.
The defendant's careless or reckless behavior caused the accident.
You suffered injuries and damages due to the motorcycle crash.
Once your attorney proves negligence you can focus on proving your damages.
What Types of Damages Can Your Lawyer Demand?
In most motorcycle accident cases, the plaintiff is entitled to significant damages. Given the seriousness of these crashes, the victim's injuries are often severe. They also end up missing time from work.
Your attorney will demand some, or all of the following damages, depending on the facts of your case:
Medical bills
Future medical bills
Lost wages
Lost future income
Property damage
Pain and suffering
When you file your lawsuit, you'll have to list your damages in your complaint. You'll have to specify the type of amount of each type of damages you believe you're entitled to.
How Will Your Attorney Calculate These Damages?
As your Atlanta motorcycle accident attorney reviews your case, they'll take note of certain things. For example, they'll look to see how much you've accrued in medical bills.
They'll also review your payroll records to see how much time you've missed. It's this type of information that will help them calculate your damages.
Once your economic damages are determined, your attorney can turn to non-economic damages. The main type of non-economic damages is pain and suffering.
The general rule is that your pain and suffering will be estimated to be about two to three times your economic damages.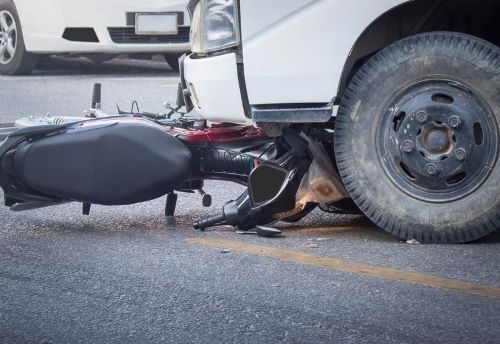 Can My Lawyer Demand Punitive Damages?
A lot of motorcycle accident victims want to know if they're entitled to punitive damages. These are meant to punish the defendant. It's also meant to send a message to the public about the sort of behavior that won't be tolerated.
It's very rare that your lawyer would be able to convince a judge to award you punitive damages. Unless you can prove that the defendant was drunk driving or acting recklessly, it will be very difficult to secure punitive damages.
Factors That Impact Motorcycle Accident Case Value
Aside from the defendant's behavior, there are other things that can impact the value of your case.
Some of these things include:
How much time you missed from work
The nature and extent of your injuries
Whether you'll be able to work in the future
The damage to your motorcycle
The pain associated with your injuries
How your quality of life will be affected
Whether you were partially at fault
Of course, this isn't an exhaustive list. Each case is unique so the factors that will impact your case may be slightly different than those described here.
Can You Still Collect Damages if You Were Partly at Fault?
In Georgia, plaintiffs can still recover damages, even if they were partially at fault. This is because Georgia follows something called the modified comparative negligence rule. According to OCGA §51-11-7, you can collect damages as long as you're less than 50% at fault.
The statute also dictates that your damages will be reduced by your percentage of fault. So, if you sued the defendant for $100,000 and you were 20% at fault, your damages will be reduced to $80,000.
What Can Your Motorcycle Accident Attorney in Atlanta Do to Help?
In minor accidents, the victim is usually able to resolve their claim directly with the insurance company. However, very few motorcycle crashes are minor. It may be in your best interest to retain an Atlanta injury lawyer immediately after your accident.
Your attorney will handle the legal side of things while you focus on making a full recovery. Some of the tasks they'll handle for you include:
Ensure that your initial insurance claim is filed properly
Communicate with the insurance adjuster on your behalf
Try to negotiate a settlement with the insurance carrier
File suit if the insurance company won't settle
Gather the necessary evidence to prove your case
Hire expert witnesses and private investigators
Conduct depositions and other discovery processes
Try to settle your lawsuit by negotiating with the insurance company
Prepare for trial if need be and represent you in court
This may look like a lot. That's because it is. Most motorcycle accident victims realize this at some point and contact an experienced attorney.
Contact Our Law Firm for a Free Case Review
It's understandable that you'll want to know how much your motorcycle accident case is worth. It really depends on the severity of your injuries and the other factors discussed here. If you want to recover as much money as possible, you should hire an experienced lawyer.
If you want to sit down and discuss your case with a seasoned attorney in Atlanta, contact our office at 770-HELP-NOW. You can schedule your free, initial consultation over the phone or through our website.