In 2020, there were 847,000 injuries resulting from distracted driving in the United States. (National Highway Traffic Safety Administration) Have you been hurt in a car accident near Alpharetta? If you were, there are two very important questions to be asking yourself.
First, have you spoken to one of our Alpharetta car collision lawyers? And second, have you signed any release or authorization forms for an auto insurance company? Before signing anything call The Weinstein Firm at 770-HELP-NOW. But let's discuss the first question right now.
Should I Reach Out to Alpharetta Car Accident Lawyers?
If you have not yet spoken to a car accident attorney in the city of Alpharetta GA, then you should do this as soon as you possibly can. Even in a minor case, speaking with an attorney can help you to better understand the process of recovering the compensation you deserve and the potential value of your case.
In most car accident cases, we find that hiring an experienced law firm to be your representation during negotiation is a sensible step to take for fair compensation. In a recent study performed by several insurance companies, data suggested that those who do not work with car accident attorneys for assistance tend to not recover as much in compensation as those who do.
If you hire one of our Alpharetta personal injury attorneys for help on your accident case, your personal injury lawyer will handle all the paperwork, communications, and negotiations for you, so that you can focus on recovery. In addition, we will help you to recover a more significant settlement sum than you would be able to recover on your own.
Did You Sign a Release for the Insurance Company?
As for our second important question, as mentioned, hopefully, the answer is "no." Insurance companies following an accident will often reach out to injury victims and attempt to get a statement. Sometimes, during this process, they will ask for a medical release authorization to be signed.
No matter what an insurer tells you, do not sign any authorization to allow them access to your private medical files. These authorizations enable the insurance company to search your entire medical history, including medical history unrelated to your Alpharetta car crash.
They will search for any injury that is similar to the one you have now, hoping to claim that the injury you suffered during your collision existed before the wreck. Protect your privacy and refuse to sign such documents.
Alpharetta Accident Statistics 2019-2021
When Another Party is Liable for Your Alpharetta Car Wreck
If you can prove that someone else is at fault for your accident, you'll be able to hold that person liable for any damages or injuries you have suffered. The question of proving fault in an auto collison case sounds straightforward, but it can be a complicated and heavily disputed issue.
Fault, in general, is shown by the work of proving negligence on the part of that person. This is something best accomplished with the assistance of a skilled attorney or legal team. Legally, negligence is defined as either an action or inaction in which a person knows (or, within reason, should have known) that the action or inaction will place others at risk.
For you and your attorney to prove negligence, the following needs to be shown:
First, it is necessary to establish "duty". That is, that the at-fault party had a legal duty to see to your safety. In the case of a car wreck, simply driving on the road involves sharing that road with others, and each of us must ensure the safety of other drivers. Second, it is necessary to show that the at-fault driver deviated from this duty.
Common ways to do this is to demonstrate some sort of violation, from speeding to failure to yield to following too closely, to distracted driving.
Then, once the duty and breach have been established, you and your accident lawyer will need to show that the breach of duty was the cause of the accident. Finally, after causation is established, you and your Alpharetta car accident lawyer will have to prove that the amount of compensation you are seeking is fair and just.

When Your Actions Contribute to an Auto Accident
In certain cases, the other drivers in a car accident case will try to argue that you were a negligent driver also at fault for the accident. This is usually an attempt to prevent you from recovering compensation, but it is certainly still possible to be paid damages even if your actions did partially contributed to the accident.
The state of Georgia uses comparative negligence in car accident cases. In other words, as long as you are determined to be less than 50% responsible for a vehicle accident, you will still be able to recover reduced compensation for your injuries. The amount of your compensation will be reduced by the percentage of your portion of responsibility.
What Sort of Compensation Can I Get for My Injuries?
In the state of Georgia, victims of a vehicle accident can seek to recover damages to completely cover their costs and losses. Those damages could be economic, such as property damages, medical bills, emergency room fees, ambulance fees, hospital bills, and costs associated with rehabilitation including medical equipment, in-home care, doctor visits, and mental health treatment.
In addition, other economic losses that recover compensation include lost wages and reduced earning potential. The compensation you receive for your accident may also include non-economic damages, such as pain and suffering, disfigurement, loss of quality of life, loss of consortium, and, in certain cases, punitive damages as a "punishment" for egregious negligence.
In the state of Georgia, legal action can be pursued by anyone involved in a car accident for up to two years following the accident. The case does not necessarily need to be finished within that time frame, but the claim must be initiated within that two-year window.
If you fail to seek legal action within this period, you will not be able to recover any compensation from that accident in most cases. This may sound like plenty of time, but we urge you to reach out to an Alpharetta car accident lawyer as soon as possible to make sure that your rights are upheld.
Get the compensation
you deserve $$$
Schedule a free initial consultation. We will provide sound legal advice without judgement. Contact us today at 770-HELP-NOW
Rental Car Coverage After a Car Wreck
After a car crash, especially one that causes serious injuries, one of your primary concerns will be securing transportation. After all, you will have medical visits, meetings with your attorney, and other places to be while your vehicle is being repaired (or you work on obtaining a replacement vehicle).
It is no surprise that our car injury attorneys in Alpharetta are frequently asked about the possibility of getting a rental car after their vehicle is damaged.
After a car collision, the first place to look for rental car coverage is your insurance. If you have rental car reimbursement on your insurance policy, then this coverage will be the most expedient way of getting your rental car covered.
Even though the other driver may be at fault, your own car insurer will provide rental coverage much faster than the other driver's insurance because they will typically not accept any costs until they have accepted responsibility for your accident.
If you do not have rental reimbursement on your insurance policy, you may be able to seek reimbursement from the other insurance company. It may take a little longer, especially if the fault is in dispute in your accident, but your Alpharetta auto accident attorneys will work to see that you get the rental car reimbursement you deserve if it is appropriate in your case.
Do I Need to Give a Statement on the Record for Rental Car Reimbursement?
Sometimes, the other insurance company will ask you for a recorded statement before they will cover your rental car costs. Be very careful about giving any insurance company a recorded statement, because it will be used against you later. In most cases, consult your car accident lawyer in Alpharetta GA before you give any statements to any insurance company, including your own.
Whether you use your insurance or seek reimbursement from the other driver's insurance for your rental car, you must return the rental on time. Insurance companies will generally require the rental to be returned when your vehicle is repaired or replaced.
If your insurance company provides a fair offer to replace your own damaged vehicle, this also indicates that your rental must be returned. Failing to promptly return your rental car could mean that you will be responsible for the additional fees incurred by the extended rental period.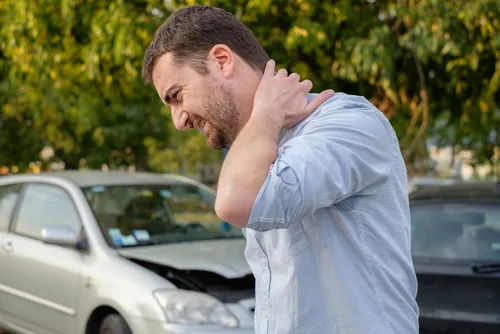 Who is Responsible for Medical Payments Following an Auto Accident?
Anytime anyone is injured in an Alpharetta car accident, it can result in expensive medical costs, and these bills will need to be paid to avoid damage to your credit. This can be incredibly frustrating, particularly when the accident was not your fault.
Car accident lawyers in Alpharetta, GA will work to ensure that your medical bills are forwarded to the appropriate insurance company for payment. One of the common reasons that a medical bill is sent to collections is when the bill is sent to the wrong insurance company. By working with our Alpharetta car accident lawyers, you can avoid this happening to you.
Unfortunately, any medical bills that need to be sent to the at-fault driver's insurance will probably not be paid on time. The other insurance company will not pay out any medical bills until a fair settlement amount is agreed upon, so while your case is pending, these bills will go unpaid.
Sometimes, your car accident lawyers in Alpharetta may be able to help you contact doctors who will treat your injuries on a lien with the understanding that they will be paid when your case is settled.
Common Accident Injuries
Bruising
Bruising, also known as contusion, is a common injury that occurs when small blood vessels near the surface of the skin break or rupture, causing blood to leak into the surrounding tissues.
Scars and Disfiguration
Car accidents can result in scars and disfigurement. Treatment may involve physical procedures as well as psychological support to help individuals cope with their condition.
Broken Bones
Broken bones, also known as fractures, occur when there is a break or crack in one or more bones in the body. Treatment may involve immobilization of the affected area, pain management, and in some cases, surgery.
Facial Injuries
Facial injuries from an auto accident can range from minor cuts and bruises to more severe injuries such as broken bones, lacerations, and damage to the eyes, nose, or mouth. Treatment may involve a combination of medical procedures and psychological support to help individuals cope with the physical and emotional impact of the injury.
Whiplash
Whiplash is a type of neck injury that often occurs in car accidents where the head and neck experience a sudden back-and-forth motion. Common symptoms include neck pain, stiffness, headaches, and possible dizziness or tingling sensations, and treatment may involve rest, medication for pain, and physical therapy to restore movement and flexibility.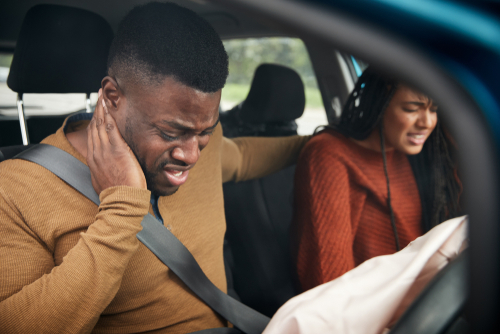 Wrist & Hand Injuries
Wrist and hand injuries from a car accident can range from minor cuts and bruises to more severe injuries such as fractures, dislocations, and nerve damage. Treatment may involve immobilization of the affected area, pain management, and physical therapy to restore function and reduce the risk of long-term complications.
Leg & Foot Injuries
In a car crash, leg and foot injuries can vary from minor cuts and bruises to severe injuries, such as broken bones, dislocations, and damage to tendons or ligaments.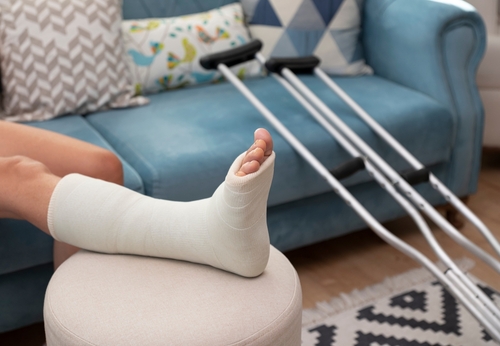 Brain Injuries
Brain injuries from a car accident can result from a sudden blow or jolt to the head and may include a concussion, traumatic brain injury (TBI), or other types of head trauma.
Burns
Burns from a car accident can occur from contact with hot surfaces, flames, chemicals, or electrical currents. The severity of the burn can vary from minor to life-threatening, depending on the degree of tissue damage.
Post-Traumatic Stress
Post-traumatic stress disorder (PTSD) can develop after a car accident, particularly if the individual experienced any catastrophic injuries or witnessed a life-threatening event.
Back Injuries
Back injuries are a common consequence of when car accidents occur, especially rear-end collisions. The force of impact can cause the spine to bend, twist, or compress, leading to a range of injuries.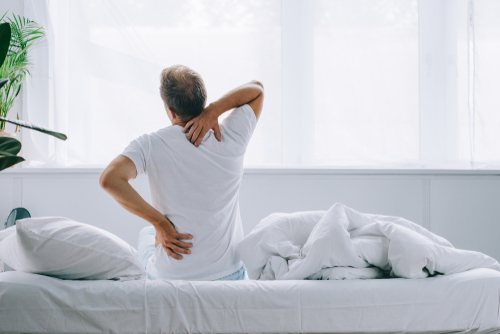 Paralysis
Paralysis from a car crash can result from damage to the spinal cord or nerves and can affect mobility and sensation in different parts of the body.
Internal Bleeding
Internal bleeding from a car accident can occur when blood vessels inside the body are damaged or ruptured due to trauma. Symptoms may include abdominal pain, swelling, dizziness, or fainting, and can be life-threatening if not treated promptly. Treatment may involve medical intervention such as surgery, blood transfusions, or other procedures to stop the bleeding and stabilize the individual.
Pain & Distress
Pain and distress can be common after a car accident, and may be physical, emotional, or both. Physical pain may include headaches, muscle soreness, or pain in specific areas of the body. Emotional distress may include anxiety, fear, or depression related to the accident.
When Should I See a Doctor After an Alpharetta Car Wreck?
If you have been involved in a car accident in Alpharetta, the best time to see a doctor is right away. If possible, see a doctor directly after leaving the accident scene. Even if you believe your injuries are not that serious, you must seek medical attention as soon as possible following an accident, both for your well-being and for the sake of your settlement.
In many cases, injuries sustained in a car accident may not show symptoms for days or even weeks. Head injuries, spinal injuries, and other internal injuries may seem benign at the time of the car accident but can worsen quickly in the coming days. Seeing a doctor right away will ensure that these injuries are discovered and treated early, saving you pain and suffering.
Waiting for days or weeks after an accident to see a doctor will not only place your health at risk, however. It also gives the at-fault driver's insurance company a reason to claim that your injuries were sustained after the accident itself.
It is certainly possible to prove that your injuries were sustained in the accident if this is the case, but it is far easier if you seek medical attention right away after your accident report.
If nothing else, this will grant you the peace of mind of ruling out a serious underlying injury, and in the best case, you can ensure that your injuries are treated promptly and that the insurance company has no reason to deny your claim.
Once you have seen a doctor, make sure you follow their orders to the letter. Failing to follow your doctor's recommendations for recovery can also result in your claim being denied.
Reach Out to an Alpharetta Car Wreck Lawyer for a Consultation Today
If you have sustained an injury in an Alpharetta, GA motor vehicle accident, there are plenty of calls to make and people with which to speak. Beyond speaking to the police, reporting the accident to your insurance company, getting your vehicle repair started, and speaking to the other driver and any witnesses, you must talk to two other people.
First, make sure you speak to a doctor, and second, make sure you contact an experienced personal injury attorney at The Weinstein Firm serving Alpharetta, Georgia. Call us for a Free Consultation and legal advice.