Traffic accidents are always a cause for alarm, but truck accidents are particularly devastating. Anytime a commercial truck accident happens on the streets near Alpharetta, GA, it is time to consider calling on the services of an experienced truck accident lawyer in Alpharetta. Accidents that involve these big rigs are more dangerous, more complicated, and more deadly than almost any other type of accident in Alpharetta.
The damage that these eighteen-wheeler trucks can leave in their wake when they are operated improperly is, in a word, devastating. With improper handling, a semi-truck quickly becomes 50 tons of moving death.
Semi-truck accidents in Alpharetta often result in serious injuries, up to and including permanent disabilities or paralysis and, of course, fatalities. If you or a family member has been involved in one of these terrible accidents, we urge you to contact an Alpharetta truck accident lawyer as soon as you can.
Our truck accident attorneys here at The Weinstein Firm serving Alpharetta will carefully examine your case and the details of your accident, working each day to ensure that you receive the maximum possible settlement for your injuries and other damages.
What Can an Alpharetta, GA Truck Accident Lawyer Do for You?
Highway crashes involving traditional vehicles colliding with large commercial vehicles like semi-trucks, tanker trucks, agricultural trucks, and car haulers, can easily result in injuries that are life-altering, or even fatal. These sorts of accidents have many possible causes. Violations of regulations, tire blowouts, driver impairment, distraction, and unsafe road conditions are all factors that may play a part in these accidents.
Each year, a significant percentage of wrongful death and injury cases our truck wreck lawyers handle comes from this sort of accident. If you are injured, you may think your case is clear and that you can proceed on your own. However, these cases are very complex, and it is always in your best interest to at least consult with an experienced truck accident lawyer in Alpharetta, Georgia.
We can advise you as to the best route forward, and if we don't believe you need the services of a truck accident attorney, we'll tell you so at the beginning.
Here at The Weinstein Firm, we have earned our reputation by representing clients injured in many different kinds of traffic accidents, and often the most complex and devastating among these are accidents involving commercial trucks. Our truck accident lawyers will thoroughly examine the circumstances of your accident, identifying all potentially negligent parties, and seek the maximum possible compensation for your damages and your injuries.
Our truck wreck lawyers in Alpharetta may recommend that you pursue legal action against the trucking company, the vehicle's owner, the insurance companies, or the driver himself or herself. Insurance policies and coverage in cases involving more than one negligent party can become very complicated very quickly. This is another area where a truck accident attorney in Alpharetta can help you to make sure all the possible avenues of compensation are exhausted.
In many cases, trucking companies train drivers in what to say or do after they involved in an accident. They are trained this way to help the driver not be found negligent in the accident. If you have been hurt in an accident involving a negligent truck driver, or if you have lost a loved one in one of these terrible collisions, it is very important that you speak to a truck accident lawyer in Alpharetta as soon as you are able.
We will help you learn how accidents involving these big rigs are distinct from more common car accidents in Alpharetta, as well as what steps you may wish to take to recover a full, fair, and just compensation.
What Steps Will a Georgia Truck Accident Attorney Take After an Accident?
The knowledgeable and experienced truck wreck lawyers here at The Weinstein Firm completely understand the devastating nature of these accidents. Our personal injury lawyers will work diligently to recover all the evidence relevant to your incident, speak to witnesses to obtain testimony or statements, and will enter into aggressive negotiations with insurance companies of the responsible parties to see that you are fully compensated.
When you work with a truck accident lawyer in Alpharetta, you are free to focus on putting your own life back together, and let your attorney handle the hard work and messy details.
A Truck Accident is Not Just a Large Car Accident
If you have been in a car accident before, you know that it is stressful and painstaking to deal with the accident. On the surface, it may seem that a semi-truck accident and a car accident have much in common, but they are very different. Not only is the amount of damage done in a truck accident greater by an order of magnitude, but there are significant legal differences as well.
Investigating a truck accident is a more complicated matter than merely investigating a car accident. For instance, car accidents usually involve only two parties: the owner of the at-fault vehicle, and the injured party – plus, of course, their respective insurance companies.
In a truck accident, however, one must consider the truck's driver, the company that hired that driver, the truck's owner, the vehicle manufacturer, and many other considerations. In a traditional car accident, the at-fault driver's driving history is generally not called into question, but in the case of a truck accident, the driver's records as a commercial driver as well as the operational practices of his employer are both of interest, legally.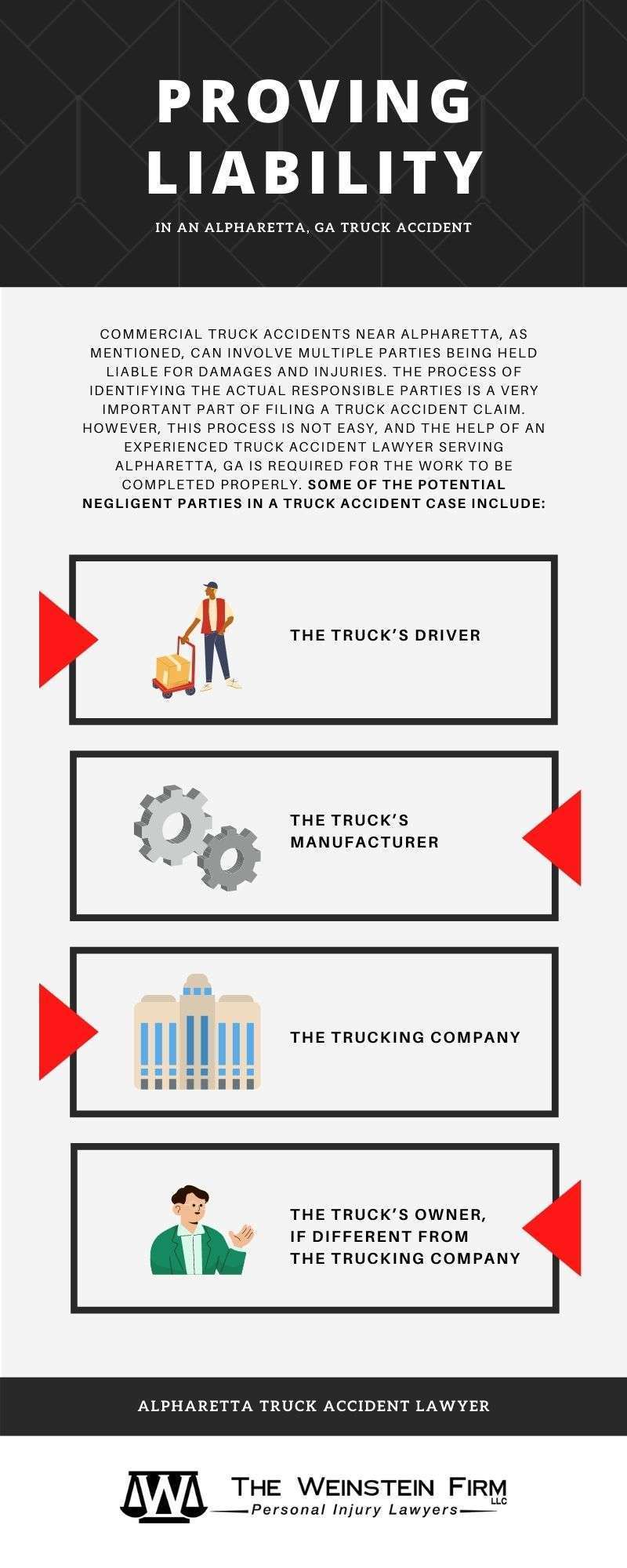 Proving Liability in an Alpharetta, GA Truck Accident
Commercial truck accidents near Alpharetta, as mentioned, can involve multiple parties being held liable for damages and injuries. The process of identifying the actual responsible parties is a very important part of filing a truck accident claim. However, this process is not easy, and the help of an experienced truck accident lawyer serving Alpharetta, GA is required for the work to be completed properly. Some of the potential negligent parties in a truck accident case include:
The truck's driver
The truck's manufacturer
The trucking company
The truck's owner, if different from the trucking company
In most cases, the trucking company owns the truck that is involved in the accident. If that company knowingly allows a driver with a bad driving history to drive one of its vehicles, this could be an indicator of negligence on the company's part. The company may also be found liable if it engages in shady practices such as encouraging drivers to drive more hours than are legally permitted.
Truck drivers have to keep detailed logs of their driving hours, and if these records are shown to be falsified with the company's knowledge, this is also an indicator of negligence on the part of the company.
As for the driver, traffic violations, distracted driving, or impaired driving are all examples of ways the driver could be found to be negligent. Finally, an accident caused by faulty parts in the truck itself could implicate the vehicle's manufacturer in the truck accident case. Your truck accident lawyer in Alpharetta will thoroughly examine every possible angle in your case in order to ensure that you receive the maximum possible compensation.
A Truck Driver's Driving History and Truck Accidents in Alpharetta
As mentioned, in a traditional car accident, a driver's driving history is generally not a factor, because it cannot be shared with a Jury. Under Georgia state law, in a car accident, the only issue at hand is the negligence of the drivers at that moment – previous moving violations have no bearing on the accident itself, legally speaking.
However, in a truck accident case, the law is different. Since the vehicle is owned by a trucking company in most cases, operated by a professional driver in the course of employment, the driving history is a factor. If a company knowingly hires or continues to employ, a driver who has a poor driving history, this can be interpreted as a negligent entrustment on the part of the company.
Negligent Entrustment in Alpharetta Truck Accident Cases
Negligent entrustment is a legal term that refers to a situation like the one mentioned above. If a company knows, or should reasonably have known that it has hired or retained a dangerous driver, this can be used as an example of negligent entrustment. This allegation implies that by allowing the driver to continue to operate large and arguably dangerous vehicles, that they have in effect placed all others on the roads in Alpharetta at risk.
Since the truck driver's driving history has a bearing on negligent entrustment, it can be used by your truck accident lawyer to show negligence on the company's part.
Because of this issue, the process by which trucking companies hire their drivers is a commonly explored issue in Georgia truck accident cases. Your truck accident lawyer will look for issues that warrant further investigation in the hiring process. For instance, did the driver misrepresent his or her driving history when they were hired?
Did the company fail to verify the driving history? Were there further moving violations during the course of employment, and, if so, were they accurately reported? How often does the company subsequently check their driver's records? All of these are questions that your truck accident lawyer in Alpharetta, Georgia will ask and will play a significant role in determining negligence.
Trust Your Truck Accident Lawyer in Alpharetta, Georgia to Handle Your Injury or Wrongful Death Case
If you or a loved one is involved in a truck accident on the roads near Alpharetta, GA, you likely know that there is a lot more to be considered than in a "normal" car accident, even one that is rather serious. Here at The Weinstein Firm, our car wreck lawyers know how to help you build a strong case based on evidence that speaks in your favor.
No matter what the circumstances of your truck accident in Alpharetta, Georgia, you can rest assured that the truck accident attorneys at The Weinstein Firm will diligently pursue every path to victory for you. The trucking companies typically have several insurance companies working in tandem to ensure the bottom lines remain favorable, and the work of an experienced truck accident lawyer will ensure that you receive the maximum possible compensation.
We know as you do that the injuries that can result from an accident can be serious. We also understand all too well that in many of these cases, tragedy strikes and takes a loved one from you. We know that you may not be sure where to turn, or what to do in the days, weeks, and months following your accident. Our truck accident lawyers serving Alpharetta know exactly how to help.
We understand how overwhelming the situation is. Even though you know you are not at fault for the accident, you may find yourself facing down a monolithic force of insurance companies, corporate big-wigs, and lawyers – this can be scary. As truck accident lawyers serving Alpharetta, GA, we don't scare too easily. We will work hard for you every day in order to ensure that the just, fair, and full compensation is delivered into your hands.
We will use clear evidence to prove the fault of the negligent parties and will take all the relevant and necessary steps to mount the strongest possible case for you. You are dealing with the process of recovering, or grieving, following the accident – let your truck wreck lawyer take it from here.
Schedule a Consultation with a Georgia Truck Accident Lawyer Today
Without a doubt — a truck accident near Alpharetta, Georgia can seem like the worst possible thing that can happen. However, with the help of a truck accident attorney serving Alpharetta, the process of seeking compensation does not have to be unpleasant. Let The Weinstein Firm help you start putting your life back together. Contact a truck accident lawyer today and tell us about your case.