From side-swipe accidents to rear-end collisions, car wrecks happen every day on the roads of Kennesaw, Georgia. In 2019, the highest rates of motor vehicle crash injuries occurred among people aged 20-24, followed by those aged 25-29, and the injury rate for male drivers involved in motor vehicle crashes was almost double that of female drivers. (NHTSA, 2021) When you are a victim of a car accident, you need an experienced Kennesaw Car Accident Lawyer.
You may be concerned about the costs you are likely to incur related to the accident. These could include medical expenses and the cost of repairs.
Knowing how to deal with the aftermath of an accident is not something people are generally prepared for, but it's always important to remember that you don't have to deal with it alone.
With legal guidance from a car accident lawyer, it's easy to navigate through the complex process of filing a claim and negotiating with the other driver's insurance companies for a fair settlement. Call The Weinstein Firm today at 770-HELP-NOW to schedule a free consultation.
An Overview of Kennesaw
Kennesaw is located in Cobb County, Georgia within the greater Atlanta metropolitan area. It had a population of 34,077 in the 2019 census, representing a 14.4% increase since the last decade.
Those interested in history will enjoy visiting the Southern Museum of Civil War and Locomotive History and the Kennesaw Mountain National Battlefield Park. Other local attractions include the Zuckerman Museum of Art at Kennesaw University and Smith-Gilbert Gardens.
Every April, the annual Big Shanty Festival displays over 200 arts and crafts booths along with 20 food booths downtown. The festival begins with a parade downtown.
Unfortunately, driving in Kennesaw can be dangerous. The Atlanta Journal-Constitution reports that a 1.07 mile stretch of I-75 in Kennesaw ranks in the top three for fatal crashes per mile in Georgia. Only I-20 in Atlanta has more fatal crashes than I-75 in Kennesaw.
Kennesaw Accident Statistics 2019-2021
The Dangers of Reckless Driving on Georgia Roads
Car accidents are one of the most common causes of death in the United States. At least 37,000 deaths and around two million medically treated injuries occur in the US each year. According to the National Safety Council, the total cost of these accidents in terms of claims for death, injury, and auto damage is a staggering $152 billion.
Not only can a car accident be extremely frightening for all those involved, but it can also be expensive and legally complex. That is why it is important to hire a car wreck lawyer as soon as possible after the accident has taken place.
When an auto accident has taken place as a result of another person's negligent actions, the party who has suffered injuries has sufficient grounds to file a personal injury claim. Car crashes can have a great impact on a victim's life and can affect their financial, personal and professional life.
They have every right to be compensated for any additional costs they incur. When you consult a car accident lawyer, they will ensure that your interests are protected. You will need this support during a very difficult and stressful time like this.
The implementation of airbags and driver-assist features in later car models by agencies like the National Highway Traffic Safety Administration (NHTSA) has been instrumental in improving safety on the road.
Although modern-day vehicles have relatively advanced technology and there is stricter motor vehicle legislation in place than ever before, accidents continue to happen and car accident attorneys are hired all the time.
In addition, technological advancements have also increased the risk of accidents. The smartphone is just one example of this. Although they are useful for traveling to a brand new destination and for letting you know when heavy traffic lies ahead, they can also serve to be a significant – and highly dangerous – distraction.
Today, a large number of accidents are caused by drivers who were distracted because they were either texting or talking while driving.
The majority of car accidents are caused by negligent or distracted drivers, and while motorists can ensure their vehicles are in good working order and that they drive safely at all times, it's impossible to predict the actions of other drivers on the road. An experienced car accident lawyer would be skilled at getting you justice if you were hit by a driver who was distracted and/or negligent.
If you have been hurt in a car crash as a result of a negligent driver, a car wreck lawyer can help you file a claim, so you do not have to foot the bill for any resulting damages. This is your right, and this is the right that the legal system provides you in Kennesaw, GA.
Driver Fatigue
While most people talk about the dangers of driving while intoxicated, driving while you are tired can often turn out to be equally risky. Research shows that sleep-deprived driving is exceptionally hazardous and the cause of many accidents.
In fact, it has been proven that a person who has not slept for 24-hours is as compromised on the road as drivers with a blood-alcohol level of .10.
When people drive when exhausted, their reflexes and their ability to respond is significantly reduced. They risk drifting from lane to lane or violating traffic laws such as failing to stop at a stop sign, which presents a safety hazard to other drivers on the road.
According to the NHTSA, fatigued drivers cause more than 100,000 car accidents every single year, many requiring car accident lawyers.
Speeding & Rollover Accidents
Rollover accidents usually happen as a result of driver negligence or speeding. Drivers of heavy vehicles like trucks and SUVs can easily lose control when they are driving at high speed, especially when navigating sharp turns. This can cause their vehicle to roll over.
Rollover accidents can take out other vehicles nearby, so it's not unusual for multiple vehicles to be involved in such accidents. If you have been involved in a speeding-related or a roll-over accident, you should contact a car accident attorney immediately.
Because there are usually several vehicles involved in rollover accidents, they generally have a high rate of fatalities. There are, of course, preventative measures you can take to protect yourself and your passengers from injury should your vehicle rollover. These measures include seat belts and airbags.
If you are ever involved in a rollover incident, hiring a reputable car accident lawyer is advisable.
Spinal Cord Injuries: How a Good Car Accident Lawyer Can Help
The most common injury from a car accident is a spinal injury. This particular injury has the potential to cause additional medical problems and may require long-term rehabilitation.
Sometimes, people who suffer a spinal injury after a car accident may need to have their homes, cars, and workplaces adapted to assist them with any resulting disability or incapacity.
All this could result in significant expenditure for the victims.
A skilled personal injury lawyer will be able to negotiate the best compensation to deal with any complications caused by a spinal injury sustained during a car crash. A good car wreck lawyer will work to ensure you are adequately compensated for:
Medical costs and expenses
Loss of earnings
The suffering caused by trauma
Benefits for wrongful death
An experienced car accident lawyer in Kennesaw, Georgia, will work hard to ensure that you and your family receive your full entitlement to financial resources for as long as you require after the incident.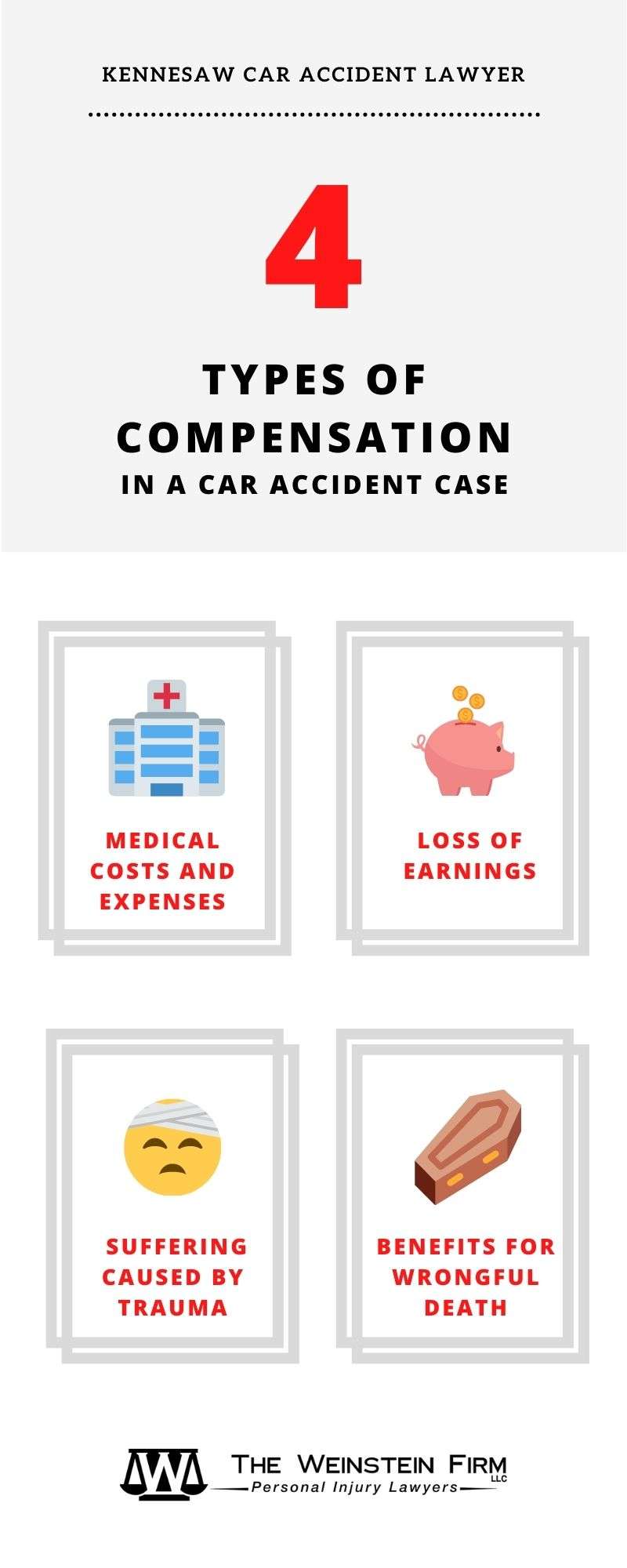 What Should I Do If I Am Hurt in an Auto Accident?
The scene of a car accident can be alarming and confusing.  Many people tend to panic in this situation especially when all they see are flashing lights and sirens surrounding the area. The details of the accident can quite easily be lost in the commotion.
However, a crash scene is the best place to gather some useful bits of information that can help your case should a car accident lawyer need to pursue a claim on your behalf. Although emotions can naturally run very high immediately after car crashes, it's important to keep calm and assist first responders as much as possible in piecing together exactly what happened.
Despite the confusion of a crash scene, the following are some important things you can do after a car accident:
Gather the names and contact information of the other drivers involved along with their insurance details and their vehicle's license plate number(s).
Take photographs of the crash scene and each vehicle involved.
If you have a dashcam fitted in your car, it may contain valuable footage relating to the incident which should be handed to your car accident lawyers.
Within 72 hours of a car accident, you are required to complete a DMV accident report. Failing to do so can result in the suspension of your driving license.
Contact your auto insurance provider as soon as possible to report the accident and request a claim form.
If you have visible injuries yourself, take some pictures at the time and then continue to take photos of any abrasions, cuts, and bruises that visibly change.
Not all injuries sustained in a traffic incident are noticeable immediately, and symptoms can develop over time. If you consult your doctor soon after the accident, you will have a better chance of being treated before more significant complications develop. Always make sure you keep your car accident lawyers in the loop.
Obtaining the above information and giving it to your kennesaw car accident lawyer will enable your legal team to prepare your case properly. The more information you can pass to your car accident attorney, the stronger your case will be.
In the confusion of car accidents, it is not uncommon to forget the details of what took place once you've left the crash scene, which means your car wreck lawyer may have incomplete information.
This is why it is important to be as proactive as possible when it comes to collecting evidence at the scene of the crash.
How to Deal With Loss Adjusters from Insurance Firms
It is crucial to remember that when you're dealing with an insurance adjuster for another driver's policy, they are not your friend. Their primary obligation lies with the insurance company's shareholders and not the victims of the car accident. They will be most concerned with limiting your payout as much as possible.
Let your car accident attorney take care of this on your behalf. The last thing you need is the hassle of dealing with insurance companies.
Insurance loss adjusters are trained to extract information from you in ways you may not even realize. Car accident victims are typically vulnerable and possibly still in shock. Asking questions to elicit sensitive and personal information is a tactic used by loss adjusters, and although it may come across as compassion, it is more likely an attempt to find ways to discredit your case.
That is why it is important to hire a car accident lawyer. Having a Kennesaw car accident lawyer deal with loss adjusters can prevent you from inadvertently devaluing your claim. When you have a reputable car accident lawyer working your case, you can simply defer any questions about the incident directly to your legal team.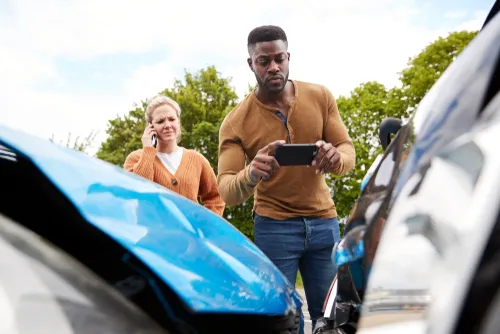 Car Crashes and Passengers
When most people think of car accident victims, they forget that there are often innocent passengers in the car with the driver. If a passenger has been injured in a car accident, then they are also entitled to compensation from the responsible party.
That said, it is not unusual for passengers to have to wait for the case between the two drivers to be settled before they can seek compensation.
The person responsible for the accident will need to be determined before the case can move forward. If this sounds like your situation, then a car accident lawyer can represent your interests and help you get the compensation you need.
How Much is My Car Accident Claim Worth?
When you're in a car accident, there are two types of damages you could experience, which are: economic and non-economic.
Economic Damages are those financial losses you can easily calculate. Like:
Medical Expenses: Bills for your hospital stays, medicine, doctor visits, and even costs for future medical care.
Lost Wages: The money you've lost because you couldn't work, and if your ability to work in the future is affected, that's included too.
Property Damage: This one covers the expenses to fix or replace your car and any personal property that got damaged in the accident.
Non-Economic Damages are those losses that aren't easy to put a price on, but definitely impact your life. These include:
Pain and Suffering: All the physical and emotional pain that came from the accident.
Emotional Distress: Sometimes accidents can have a big mental impact, causing things like anxiety, depression, loss of sleep, or even PTSD.
Loss of Enjoyment of Life: If your injuries stop you from doing things you love or participating in daily activities, you could be compensated for this.
Loss of Consortium: This might sound fancy, but it's about how the accident and your injuries affect your relationship with your spouse or family.
Schedule a Consultation with a Kennesaw Car Accident Lawyer in Georgia
Hiring a reputable car wreck lawyer is important when it comes to filing injury claims. In some cases, a driver who is thought to be the cause of the accident can try to imply the injured person was partially responsible in an attempt to try and reduce their liability.
This is called apportionment or comparative fault, which can be difficult to navigate without the assistance of an experienced car accident lawyer in Kennesaw, Georgia.
After you have been hurt in a car accident, seeking reputable legal representation should be at the top of your list.
While you focus on recovering from your injuries, your attorney can be working on your behalf to gather photos of the scene, interview witnesses, and collect your medical records so that you can present a strong case to the other driver's insurance company.
Once the claim has been filed, the negotiation process begins. It is likely that the other driver's insurer will try to fight for lower compensation than what you deserve.
But, armed with your medical records as well as the knowledge of any treatment you will need in the long-run, your attorney can help you get the maximum amount of compensation possible for your car accident injuries.
To get started on your case, call The Weinstein Firm at 770-HELP-NOW to discuss the details of your car wreck in Kennesaw, Georgia.