Personal injury lawyers are legal professionals who specialize in assisting individuals who have been injured due to the negligence or wrongdoing of another party. These lawyers represent victims of car accidents, truck accidents, motorcycle accidents, and more.
This article explores the many ways that a Conyers personal injury attorney helps clients. The Weinstein Firm has recovered millions for accident victims across Georgia. Contact us today for a free case review.
The Role of a Personal Injury Lawyer
A Conyers personal injury attorney has a multitude of duties in assisting their clients. These duties include adhering to both professional and ethical guidelines and behavior codes established by the State Bar of Georgia.
Legal Guidance
Personal injury lawyers are first and foremost tasked with providing legal advice to their clients. They provide guidance about how to deal with the aftermath of an accident, including navigating insurance claims. They help their clients understand the legal process and get through the maze of paperwork required in personal injury cases.
Gathering Evidence
Personal injury attorneys are tasked with investigating and helping gather evidence to support your case. This can include:
Interviewing eyewitnesses
Collecting medical records and bills, treatment records, etc.
Reviewing the police report
Looking for additional evidence, such as traffic camera footage
Hiring expert witnesses if necessary
Settlement Negotiation
Most personal injury cases are settled out of court as it's often less time-consuming and costly than going to trial. Insurance companies do everything possible to minimize payouts, so you need a skilled attorney who can negotiate a settlement on your behalf.
Representation in Court
One of the most important roles of a personal injury lawyer is representing clients in court. If a case goes to trial, they will argue your case and present evidence.
How a Personal Injury Attorney Helps Your Case
A Conyers personal injury attorney helps you navigate the legal process and fights for the compensation you deserve.
Establishing Liability
The first step in any personal injury claim is determining liability. Your attorney will need to prove that another party is at fault for your injuries. This could be a driver who was texting while driving or a truck driver who was speeding.
The attorney will gather evidence to establish that the other party breached their duty of care towards you.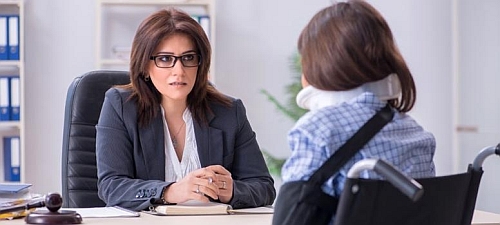 Assessing Damages
Once liability is established, the attorney will then assess the damages you've suffered. This isn't limited to just physical injuries – it also includes emotional trauma, loss of earnings if you've been unable to work, reduction in your quality of life, and any other negative impacts that the injury has had on your life.
The attorney will likely consult with medical professionals to understand the full extent of your injuries and how they will impact your future.
Gathering Evidence
Evidence is the backbone of any legal claim. This can include medical records that document your injuries, statements from witnesses, photographs or video footage of where the incident occurred, and any other documentation that supports your claim.
Reviewing Insurance Coverage
Another crucial factor is the at-fault party's insurance coverage. If they have insurance, their policy may cover your damages up to a certain limit. However, if their policy limit is not enough to cover all your damages or if they are uninsured, you may need to explore other avenues for compensation.
Understanding Legal Deadlines
Every state has specific deadlines, known as statutes of limitations, for filing personal injury claims. If you don't file your claim within this time frame, you may lose your right to pursue compensation.
In Georgia, the deadline is typically two years after the accident or injury happened. Your attorney will ensure that all necessary paperwork is filed on time.
Why Hire a Conyers Personal Injury Lawyer?
Engaging a personal injury attorney can significantly impact your claim. Here are a few reasons why you might think about employing one.
Familiarity With Similar Cases
Personal injury attorneys bring experience in handling comparable claims. Their understanding of the law, strategies of insurance companies, and prior case history can save you considerable time and research. They've seen it all before, they're knowledgeable, and they can navigate it swiftly.
No Fees if You Don't Win
The majority of personal injury attorneys operate on a contingency fee basis, meaning that you don't owe any fees if they don't secure a win for you – and if they do win, the fees will be deducted from the settlement, so no upfront payment is necessary.
Taking the Stress Off You
Do you have the countless hours it takes to obtain your own medical records? To review police and medical reports? To engage in back-and-forth communication with the insurance adjuster? Allow the professionals to manage this for you.
Contact Us Today for a Free Case Review
Personal injury lawyers play a critical role in enabling individuals who have suffered harm to secure the compensation they deserve. Contact the Weinstein Firm at 770-HELP-NOW to get in touch with a personal injury attorney who knows the law.