In a car, the occupants have thousands of pounds of metal, fiberglass, plastic, and other safety equipment protecting them from harm. You don't have the same level of protection when riding a motorcycle. In fact, motorcycle riders are very vulnerable to other motorists, and a simple mishap could prove deadly.
If you or a loved one was seriously injured in a motorcycle crash, you have enough grounds to pursue compensation from the person responsible for the crash. You might be able to recover a compensation award to cater for your injuries and damages. You may also be awarded extra amounts of money to reimburse you for the pain and suffering you went through.
The Dublin personal injury lawyers at The Weinstein Firm have decades of experience helping motorcycle injury victims in Dublin and the greater Georgia area. If you were involved in a crash that resulted in injuries and/or damages, we are always ready to represent you, protect your rights, and pursue the compensation you need and deserve. Contact us today to schedule a free case assessment with our motorcycle accident lawyers.
[toc]
How Can a Motorcycle Accident Lawyer Help With My Compensation Claim?
Following a motorcycle accident, you ideally want to spend your time making a full recovery. You shouldn't have to waste your precious time and energy dealing with insurance claims representatives and adjusters.
Unfortunately, to file a claim and get the compensation you need, you will have to go through an insurance company. The good thing is that you don't have to do it by yourself. Keep in mind that most companies will do everything in their power to lower the payouts as much as possible. They actually employ trained professionals to do so.
At The Weinstein Firm, our motorcycle accident lawyers will readily take on the task of taking on these insurance companies and fight to get you the compensation you deserve. Our team has decades of experience handling insurance companies on behalf of clients.
When you come to us with a motorcycle accident case, our lawyers will:
· Assess and evaluate your claim to find out if you have a case
· Investigate the incident, collect the necessary evidence, and determine the strengths and weaknesses of your case
· Identify all of the negligent parties that should be held liable
· File your claim and negotiate with the insurers on your behalf to ensure you receive a fair settlement offer
· Hire and engage different experts to build the strongest case possible
· Provide guidance and advice at every step of the way to help you make informed decisions about your case
Our representation doesn't end with settlement negotiations. Our team of motorcycle accident lawyers will not hesitate from taking your case to trial if the defendant and the insurance companies fail to offer the settlement amount you deserve.
We know that you have enough to deal with following a motorcycle accident. Let's take on the hassle of dealing with the insurance companies and filing a claim off your back. Get in touch with us today to talk more about your case.
What are the Most Common Causes of Motorcycle Accidents?
Many of the motorcycle accidents that happen are both preventable and avoidable. Some of the most common causes of motorcycle accidents include:
· Drunk driving or driving under the influence of drugs
· Distracted driving
· Faulty brakes, mirrors, or lighting
· Failure to yield to or pay attention to motorcycles
· Unexpected pedestrians, objects, or hazards on the road
Motorcycle accidents can be quite devastating to both the victim and their family. Injuries resulting from motorcycle accidents are often permanent or life-threatening. While working with a personal injury or a wrongful death lawyer after a motorcycle accident won't undo the harm caused, it may help provide financial stability and security to pay for long-term care.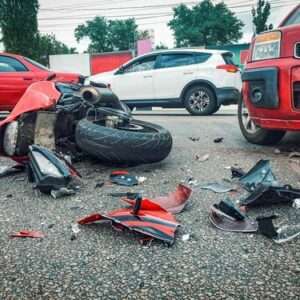 Motorcycle Accident Statistics
In Georgia, motorcycle accidents usually account for about 7% of the total number of traffic fatalities. This number is quite significant considering that 2% of all vehicles registered in Georgia are motorcycles. As such, riding a motorcycle puts you at a higher risk of being involved in a fatal crash. It's also worth pointing out that 50% of the people who lose their lives in motorcycle crashes don't have a motorcycle license.
While only about 4% of car accidents result in severe or visible injuries, 56% of motorcycle accidents result in severe injuries. Lower limb fracture is the most common motorcycle injury. Traumatic brain injuries are also fairly common in these accidents and are also responsible for the highest number of fatalities in motorcycle accidents. Wearing a helmet essentially lowers the likelihood of a rider suffering a traumatic brain injury.
What Are the Motorcycle-Specific Laws in Georgia?
In Georgia, motorcyclists are usually given the same rights as other motorists and are also given the same responsibilities as other motorists on the road. However, much of the motorcycle accidents are as a result of someone (either a motorist or a motorcyclist) breaking a traffic rule.
Considering how a motorcycle is built, Georgia has enacted some specific laws in an attempt to improve the safety of riders. Failure to follow these rules may increase the risk of fatalities in accidents, especially around metropolitan areas like Dublin.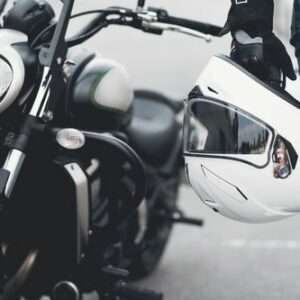 Some of the laws meant for motorcyclists include:
· Each motorcyclist must have a special Class M license, which is acquired by passing a motorcycle driving test and sign tests
· All riders and passengers must wear safety helmets that are federally recommended. Georgia law also requires the rider to wear protective or safe eyewear
· Motorcycles are specifically prohibited from splitting lanes or driving between two lanes. As a rider, you're also not allowed to overtake other vehicles on the same lane that the vehicle is on
· Both the headlights and the taillights of the motorcycle must always be illuminated while in operation, even during the day
Every motorcyclist has to abide by these laws and other traffic rules when driving on any road in the state of Georgia. This means that as a rider, you must always come to a stop when at a stop sign, avoid tailgating, speeding, and reckless driving, and also signal when you're about to make a turn. Reckless riding has been among the major causes of motorcycle accidents in Georgia and other parts of the country for years.
Something like wearing a helmet might seem quite trivial, but it has become a universal law for a reason. Breaking this law could actually lower your chances of being awarded compensation in case you're involved in a motorcycle accident. The court might argue that your injuries would have been significantly less severe if you had simply followed the recommended safety guidelines. It may also serve as enough grounds for revoking or suspending your rider's license.
What are the Most Common Injuries Seen in Motorcycle Accidents?
While every motorcycle accident is different, the following are some of the most common types of injuries that we come across:
Road Rash
This is a form of friction burn on the skin that commonly occurs in a motorcycle accident. It's caused by the rider or passenger being dragged along the surface of the road.
Abrasions
Severe abrasions could occur if a rider comes into contact with the road surface, which could be asphalt, concrete, or other hard materials. In such a case, traumatic tattooing could occur, which refers to scarring caused by the pieces of rocks becoming embedded into the skin.
Fractures
Arms, legs, and wrists are vulnerable to fractures in a motorcycle accident.
Brain and head injuries
While helmets are a requirement in Georgia, it's still pretty common for head injuries to occur in motorcycle accidents. Victims may suffer anything from mild concussions to severe brain injuries, with possibilities such as brain swelling, skull-cracking, or objects penetrating into the brain through the skull.
Spinal Cord Injuries
Vehicle accidents, including motorcycle accidents, are the leading causes of spinal cord injuries. A traumatic hit to the spine could lead to herniation, disc fractures, compression, or these could be completely crushed.
How is Fault Determined in a Dublin Motorcycle Accident?
Georgia is a comparative negligence state, which refers to the laws used to determine how negligence is calculated in an accident. It's one of the essential laws to have in mind when pursuing a claim. In case there are multiple parties found to be responsible for an accident, the amount of compensation the victim is eligible for is directly proportional to the percentage of liability that they shoulder for the accident.
Our attorneys will help you come to terms with the circumstances surrounding your case, and whether you're eligible for compensation based on the comparative negligence law. Keep in mind that you can only be awarded compensation if your liability or fault in the accident is less than 50%. If you're not in any way at fault for the accident, you can receive the maximum compensation possible for the accident. However, if your contribution to the accident is 50% or higher, you will most likely not receive any compensation.
It's worth noting that you could still receive compensation for your damages depending on how your attorney defends you in court hearings or settlement negotiations. If your lawyer is able to successfully discredit any of the claimed levels of negligence or fault on your part, your claim will be successful. Lawyers typically do this by collecting and reviewing any available evidence, including eye witness statements, police reports, and medical records.
What Type of Compensation Can I Receive for My Motorcycle Accident?
If you can prove without a doubt that someone's negligence caused the motorcycle accident, you will be eligible for financial reimbursement in the form of a compensation award as follows.
Economic damages
These are damages incurred in the accident that can be calculated. They include:
· Hospital bills, treatment costs, and any other medical expenses
· Lost wages from time spent away from work
· Property damage incurred
Non-economic damages
These are damages for things that can't be calculated. They include compensation for things like:
· Pain and suffering
· Mental anguish and emotional distress
· Loss of enjoyment of life
Punitive damages
These are damages awarded by the court that is meant to serve as extra punishment to the defendant in cases where they are found to be extremely reckless, intentionally negligent, or if they were actively trying to harm you. Punitive damages serve as a deterrent to the defendant and the members of the public from engaging in similar acts in the future.
Why Was My Motorcycle Accident Claim Denied?
There are quite a number of reasons why insurance companies may choose to deny a motorcycle claim. These include:
· The driver wasn't covered or insured under the policy
· The policy has lapsed or was canceled
· The insurer doesn't believe you were hurt
· The insurer believes that the accident was your fault
· The insurer doesn't believe the accident was the actual cause of your injuries
When you come to us, our lawyers will provide you with guidance and advice on the right path to take when pursuing a claim. We will also contact the insurance adjuster on your behalf to see if they are willing to negotiate the settlement. In case the adjuster disapproves of your claim, your lawyer will proceed to file a suit and your case will proceed to trial.
Are There Time Limits to Filing a Claim in Georgia?
Georgia law places a time limit for when a person can file a lawsuit for a motorcycle accident claim. This is covered under the statute of limitation, which allows victims two years from the date of the accident to file a claim. This period can be longer or shorter depending on who you're suing, and the age of the defendant.
Contact a Dublin Motorcycle Accident Lawyer Today
A motorcycle accident can change your life permanently in a blink of an eye. And depending on your injuries, a motorcycle accident could be devastating to your health and your finances. But you don't have to deal with all this alone.
Contact the Weinstein Firm today. We handle all aspects of motorcycle accident lawsuits, and our lawyers have extensive experience in fighting for motorcyclists who were injured due to the actions of negligent drivers. Get in touch with our Dublin motorcycle accident lawyers today at (770) HELP NOW for a free case evaluation.