One of the first things a client asks when they meet with one of our Suwanee accident attorneys is how much their case is worth. They usually want to know upfront what kind of damages they will be entitled to. Many clients also insist that they have their day in court. What they don't realize is that it's usually in their best interest to settle their Suwanee truck accident case instead.
Most Truck Accident Lawsuits Settle Long Before Trial
Many of our clients are surprised to learn that more than 95% of all truck accident lawsuits settle out of court. In all the years our Suwanee truck accident lawyers have been handling cases, very few go to trial.
Even if your lawyer has to file suit against the truck driver, there is still a good chance that your case will settle. Once the insurance company and the trucking company realize that you mean business, they may be more willing to discuss payment of your claim.
Many Suwanee Accident Attorneys Resolve Claims Directly With the Insurance Company
Typically, before your Suwanee accident attorney even considers filing suit, they will reach out to the insurance company directly. They will find out why your claim was denied and what they can do to get it paid.
Sometimes, all it takes is hiring a Suwanee accident attorney to convince the insurance company to do the right thing. When faced with the fact that they may spend thousands of dollars defending the claim, it may make better financial sense to negotiate a settlement.
Often Times, a Lawsuit Is Filed and Then Settled Shortly Thereafter 
Even if your Suwanee truck accident lawyer does need to sue, that doesn't mean your case will go to trial. It can take months or even years before your case goes before a judge.
During this time, both sides we'll work hard to unearth evidence proving that the other side was responsible for the crash. At some point, your Suwanee accident attorney will meet with the insurance carrier to see if a settlement can be reached.
What Are the Benefits of Settling Your Case?
Some of our clients are not happy when they hear that the insurance company has made a settlement offer. Many of them are angry when they first learn that their claim has been denied. They may tell our Suwanee truck accident lawyers that they want to have their day in court.
Many people don't realize that there are benefits to settling your case. Not only will you receive a lump sum upfront, but you don't have to risk losing in court. Below, we'll discuss some of the specific benefits of settling your case rather than going to trial.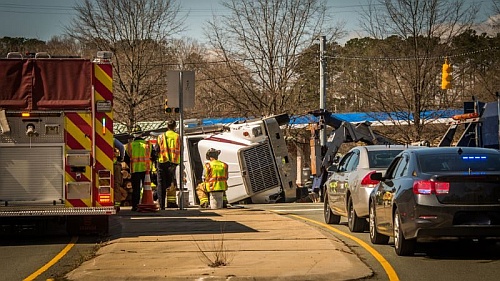 Your Suwanee Truck Accident Lawyer Can Settle Your Case Much Faster Than It Takes to Go to Trial
One reason you should consider a settlement is that your Suwanee accident attorney can often settle your case a lot faster than it takes to go to court. Given the backlog that most civil courts have right now in Georgia, it could be well over a year before a judge is even assigned to your case.
Very few truck accident victims can go this long without receiving the compensation they deserve.
You Don't Risk Losing if You Settle Your Case Out of Court
You also must consider that if you go to trial, there is always a chance that you'll lose. If you lose at trial, both you and your Suwanee truck accident lawyer will walk away with nothing.
Your Suwanee Truck Accident Lawyer Can Save Thousands of Dollars by Settling
You also have to keep in mind that any money your Suwanee accident attorney spends on trial will come off the top of your damages. In other words, even if you win at trial, you will have to repay the firm any money that was spent taking your case to trial.
Sometimes it makes a lot more sense to accept a settlement rather than sit back and wait a year or longer to receive your money.
If You Settle, There's a Good Chance You'll Receive a Lump Sum
In most of the cases our Suwanee truck accident lawyers handle, they negotiate a settlement for a lump sum cash payment. Usually, it takes anywhere from 30 to 90 days to receive your settlement proceeds.
Of course, there are other times when the settlement is structured. This means that you will be paid a certain amount of money over a period of time. Your lawyer will let you know ahead of time if this is the type of settlement you will be agreeing to.
Talk With an Experienced Suwanee Truck Accident Lawyer
If you were in a truck accident in Suwanee or anywhere in Georgia, you need a skilled attorney to help you get the compensation you deserve. Our firm offers all new clients a free, initial consultation. This gives you a chance to find out if you have a case and learn more about how our attorneys can help you.
You can contact our office anytime 24/7 at (770) HELP-NOW or through our website. The Weinstein Firm has won millions of dollars for clients. Let us help you get the compensation you deserve.