In 2019, the injury rate for motor vehicle crashes involving a driver who was driving under the influence of drugs was more than three times higher than for crashes where the driver was not under the influence of drugs. (NHTSA, 2021) A car accident can have long term effects. You may be left with a disability, long-term pain, or a mountain of healthcare expenses. You don't need to face your accident's aftermath alone, and you might not be responsible for the cost. In the event that you were involved in a car crash in Peachtree Corners, GA and it wasn't your fault, you might have a right to a settlement. You should talk to a car accident lawyer near Peachtree Corners as soon as possible.
At The Weinstein Firm, our dedicated group of lawyers has spent years assisting the victims of automobile accidents. We won't charge you unless we win you money. Call us at (770)HELP-NOW or complete the form on this page to get your free consultation.
About Peachtree Corners
Peachtree Corners is the largest city in Gwinnett County with a population of 42,243 as of the 2020 US Census. It is part of the Atlanta metropolitan area and is the only planned community out of Atlanta's northern suburbs. The city is bordered to the north and west by the Chattahoochee River and is located east of Dunwoody.
Peachtree Corners is home to several parks, including Jones Bridge Park on the Chattahoochee River. You can tube, canoe, or kayak along the Chattahoochee at Medlock Bridge. Peachtree Corners hosts a variety of fun events throughout the year, such as a Summer Concert Series at the Town Green. Don't miss the Peachtree Corners Festival featuring live music, local artists, and food trucks.
Peachtree Corners Accident Statistics 2019-2021
How Much Money Will My Car Accident Claim Cover?
It's dependent upon the crash and what occurred. The brief answer is: you can recover ALL of your costs related to the crash. The idea behind the law is that your settlement should make you whole for whatever you lost. The basic costs we see covered are vehicle repair expenses, medical expenses, and cash for lost wages. You can be awarded money for severe losses, including:
Pain or suffering
Permanent disability
Long-term or permanent unemployment
The death of a loved one
The money that you acquire is no replacement for such significant losses. The reason the courts offer this money is to help you rebuild your life and to assist families financially. The amount awarded can range signify from thousands to hundreds of thousands and more.
Do I Have a Car Accident Case?
The legislation about car accident claims is complex. The only way to make sure whether you have a claim would be to speak with an attorney. Your car accident lawyer near Peachtree Corners can assemble evidence to establish what happened and potentially force the insurance company to offer more compensation by opening an independent investigation into the accident. Successful claims have been led by us for an assortment of mishaps, such as those involving distracted drivers, DUIs and even for driving conditions. We even win claims against uninsured drivers.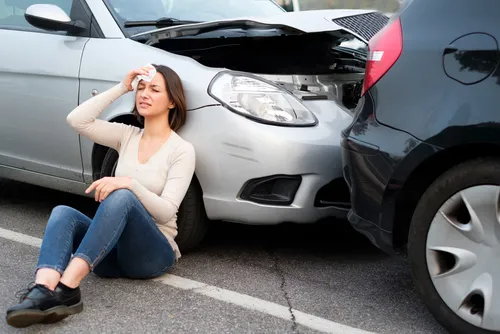 How Is Fault Decided in a Peachtree Corners Car Accident?
In Georgia, the driver at fault is accountable for the costs of an accident, and everything should be paid for by their insurance. Determining who's to blame can be hard. The police and insurers begin a comprehensive investigation into this accident's events to figure out who is at fault.
A driver can be at fault for many reasons. Frequently, it means that they broke some sort of law such as driving while intoxicated or speeding. However, a driver can be at fault even if they did not violate a law. This is when the cause is based on negligence. This means that the crash would not have happened had the driver been careful. The other driver in your accident might have been negligent and you may not know it.
This is only one of the reasons it is so important to have a car accident attorney near Peachtree Corners investigate your case. Even with a detailed investigation, fault may be determined erroneously by insurance investigators. Never permit an insurer to blame you for an accident that you didn't cause. If you are not certain about who is responsible for a crash, always speak with a lawyer.
Should I Accept the Insurance Company's Offer?
Insurance companies make more by paying less, so be hesitant to accept an offer from the insurance carrier. The insurance company are notorious for making quick offers for less money than you deserve. By relying on a car accident attorney near Peachtree Corners, you are likely to a higher offer. Insurers may use any of the following tactics:
Giving you an offer without any consideration for future treatment you may need
Leaving treatment or other kinds of care out
Before you understand the extent of your injuries, rushing in with an offer
Pressuring you to take an offer by an artificial deadline
These are only a couple of the strategies they may use. Insurance companies have whole departments to minimize their payouts and prevent you from getting what you deserve. Our personal injury lawyers near Peachtree Corners have the knowledge to guide you through the process.
Will I Have to Sue Someone?
Automobile crash lawsuits in Peachtree Corners, Georgia are infrequent. Sometimes, an insurance carrier will put up a struggle or refuse to pay you the cash that you need. In such situations, we will let you know whether we think it is worth taking your situation all the way to court. It will be your call to pursue a lawsuit and we can provide you with our opinion of whether you can win it. But this is the exception. Usually, our team completes the analysis, collects evidence, and settles a situation without any lawsuit.
You Pay Zero Unless We Win!
Millions recovered for injured victims
How Long do I Have to File a Car Accident Claim in Peachtree Corners?
The time frame is defined by Georgia state laws. If you fail to file in time, then you won't have the ability to recover any money following your accident. However, the deadline depends on the events of the accident.
Here's what you ought to know about claim deadlines:
In most cases, accident sufferers have up to 2 years to file their claims. But some claims might have much less time, even only months, depending on what happened. Never risk waiting. It's best to talk to a lawyer as soon after the injury as possible.
Talk for Free to a Car Accident Lawyer Near Peachtree Corners
Handling the aftermath of an auto crash can be overwhelming. Don't confront it without help. Our legal team can help you and be sure that you get the most for your claim. Let us provide you a totally free consultation. Call us at (770)HELP-NOW or complete the form on this page.