If you or someone you love has been hurt in Marietta, GA, you might be eligible for significant recovery. This compensation can be critical in paying for losses you've experienced including missed workdays and medical bills. Sadly, many realize that they are eligible for this money after it is too late. You have to speak with an experienced personal injury lawyer near Marietta .
The Weinstein Firm has the expertise to help. We were only established in 2013 but we've grown into one of the biggest personal injury companies in Georgia, winning millions across all our clients' cases. We work for those who have been hurt through no fault of their own. Let us assess your claim options and answer your questions with a free consultation. Call The Weinstein Firm at 770-HELP-NOW today, and get your FREE consultation.
What should I do following an accident in Marietta?
There are steps you can take to maintain and protect your legal rights from the start. Some of the simplest things you can do include:
Document your injury, take pictures after your injury, and write down what happened. Include every detail you remember, including the date, the time and the names of anyone involved.
If at all possible, it helps to take pictures of the place where it happened. Often injured persons place the blame on themselves, or downplay how severe their injury is. It can seem instinctual to apologize after an accident but your words will be used against you by the insurance carrier. Don't apologize for something that wasn't your fault.
Never sign anything from the insurer until you've spoken to a lawyer. Insurance companies have mastered the craft of underpaying you, and they would like you to sign your rights away before you know how serious your injuries are. Frequently, they will make a cash offer right after your accident. In other instances, they can delay processing your claim over and over until you are desperate for cash.
We recommend you don't want to take the cash in either situation. Put aside any paperwork they send you and do not provide them a recorded statement.
Speak to a lawyer. Personal injury law is very complicated. It is tough to know what to do or how much your claim may be worth. That's why we recommend speaking to legal aid as soon as possible.
How do I know if I have a claim?
Any sort of harm has the potential to qualify for compensation. The key to personal injury claims is not how you're hurt, but if anyone's neglect was involved. Neglect means that somebody else was careless and it resulted in your injury. Examples of negligence can include:
A stairwell in which the light bulbs were not replaced
A spill in a shop that nobody has cleaned up
A driver changing lanes without signaling first
Remember that nobody wanted to hurt anybody. But, in each of these situations, someone neglected to take basic precautions to be on the watch for the people around them. They were careless with peoples security, and there is a legitimate personal injury claim if that leads to an injury.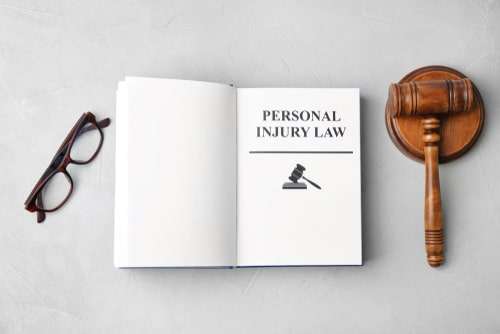 What are the most common types of personal injury cases?
The most common personal injury cases covered by The Weinstein Firm include:
Car accidents, including trucks and motorcycles
Pedestrians being hit by automobiles
Injuries from a dog bite
Defective products
Harmful prescription medication
Pharmacies that give the wrong dose or the wrong medication
Defective medical devices
Get the compensation
you deserve $$$
Schedule a free initial consultation. We will provide sound legal advice without judgement. Contact us today at 770-HELP-NOW
Will I have to go to court for the Marietta injury case?
Not usually. This typically only happens if the insurance company won't negotiate. We're very experienced at working at the local courts, and we could manage the whole process for you if your claim goes to trial. In most cases, however, there is absolutely no need. We work to resolve your claim. Our investigation of your injury backs up each argument we make with evidence, then we put pressure on the insurers to repay quickly and easily. This is often all it takes for you to get a greater offer of money.
What does it cost to hire a personal injury attorney near Marietta?
We don't think it should cost you a penny. Other attorneys charge hourly fees. Instead, we offer a promise: Your appointment is FREE. You pay us nothing upfront or out of pocket, you don't owe to us if we don't win you money. Our personal injury attorneys near Marietta, GA only get paid after we recover money for you. We receive a percentage and you keep everything else. This way you'll be able to get the professional legal advice you deserve.
Is there a deadline for submitting a claim?
Deadlines established in federal and state laws are used by the City of Marietta. Some cases have deadlines up to two years, however in many cases you have just a few weeks from the date of your injury. That's why our personal injury lawyers near Marietta, advise all injury victims to see a lawyer.
Speak to a Personal Injury Lawyer Near Marietta at No Cost
The Weinstein Firm exists for one reason: to help. Let our personal injury lawyers near Marietta give you a free consultation. Don't wait until it is too late. Get in touch with us or at 770-HELP-NOW complete the contact form now and receive your free consultation.