After a car accident, you are likely to do two things. The first is to see a doctor and get medical treatment, and the second is to find the best car accident lawyer to help you. Car accidents are traumatic incidents that nobody prays for. 
However, the sad reality is that they happen and are more common than we think. The National Highway Traffic Safety Administration, a division of the Department of Transportation, estimates that 42,915 people died in motor vehicle crashes in 2021, a 10.5% increase from the 38,824 fatalities in 2020.
One common error car accident victims make is refusing to go see a doctor and seek medical attention when there are no obvious injuries. They assume they are perfectly okay because there are no obvious lacerations, no blood, and no pain. This couldn't be further from the truth. Don't get it wrong; sometimes, you may be right, and all is actually well with you physically. 
However, the fight-or-flight hormone, adrenaline, may hide the injuries or pain. The body releases this hormone after a traumatic event like an accident. 
Therefore, seeking medical help after an accident is precautionary and may be the thing that saves your life. This article will discuss why you should see a doctor after a car accident, regardless of its severity. 
Understanding Your Body's Response to a Car Accident
Earlier, we mentioned the hormone adrenaline. In the event of a car accident, the body makes an effort to protect you from the trauma by releasing a large amount of adrenaline. This hormone is produced to protect you from harm by causing the "fight or flight" response in the face of danger. 
The following happens when adrenaline is released:
Increase in energy levels

Reduced/no pain

Dilated blood vessels and airways increase the flow of oxygen

A rush of blood into the muscles
Along with the adrenaline, the body also releases endorphins that make the accident victim feel calm and in control. This is why you should still see a doctor in the event of an accident because sometimes you don't start feeling pain until the adrenaline and endorphins wear off.
Atlanta, GA, Car Accident Injuries With Delayed Symptoms 
Different forms of injuries can result from an auto accident. Some are easily identified with obvious symptoms that present right away, while others develop subtle signs that may show up days or even weeks later. 
These types of injuries are the reason why it's important to see a doctor and get a medical check-up immediately after an accident. Below, we've listed some of the car accident injuries that are not obvious in the aftermath of the incident, which makes it all the more important to see a doctor:
Whiplash
Whiplash, also called cervical acceleration-deceleration (CAD) syndrome, is a condition where the head and neck are suddenly forced backward and forward in seconds. This leads to stress on the bones in the neck (cervical spine). 
Some whiplash cases are minor, causing little or no pain; others can cause excruciating neck pains, headaches, upper back aches, and shoulder pains. Whiplash is the most common car accident injury, and symptoms may not appear for days, weeks, or even longer.
Concussions 
A concussion is another car accident injury whose symptoms do not show in the direct aftermath of the collision. A concussion occurs when the head is forcibly jolted upon impact in a car accident, causing the brain to hit the inside of the skull. This sudden movement and impact on the skull damages brain cells and soft tissues and that is why you should see a doctor right away.
Common concussion symptoms include:
Loss of consciousness 

Headaches

Nausea and fatigue

Dizziness 

Confusion

Memory problems

Concentration and focus problems

Loss of balance and coordination

Mood and personality changes 
Post Traumatic Stress Disorder (PTSD)
Car accidents are traumatic events that can hurt your mental and emotional well-being. Mental health disorders like anxiety, depression, and post-traumatic stress disorder (PTSD) related to an auto accident can appear weeks, months, or even years after the initial incident. While depression or PTSD is not necessarily a physical injury, it's still a valid injury that needs prompt diagnosis and treatment.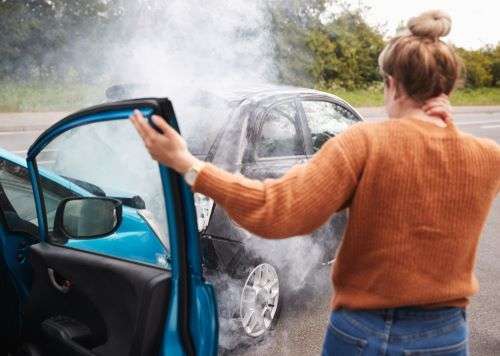 Internal Bleeding
Internal bleeding is one of the most serious consequences of traumatic incidents like a car crash, which is why it's crucial to go see a doctor. Normally, the bleeding results from obvious injuries that need immediate medical attention. 
However, internal bleeding may also occur after a minor accident or be delayed by hours or days. Some internal bleeding due to car accidents stops on its own. However, if the bleeding continues or is severe, surgery is required to treat it. 
Internal bleeding damages the body via blood loss. Some symptoms of internal bleeding include:
Abdominal pain

Breathing difficulties 

Dizziness 

Vomiting or coughing up blood

Presence of blood in urine and stool
Spine Injuries 
The heavy impact of a car crash can cause a back or spinal injury. A spinal injury could also be a herniated disc, nerve damage, sprain, or soft tissue damage in the back. These injuries can cause severe back pain and that is why you should see a doctor sooner rather than later after a car crash.
Why It's Important to See a Doctor for a Personal Injury Claim
Now that we have discussed the medical significance of going to see a doctor for a check-up let's discuss the legal angle. If your car accident resulted from another party's negligence or recklessness, you might be eligible for compensation. Usually, this compensation is paid by the at-fault party's insurance company via a settlement or, in other cases, a court judgment. 
To maximize your chances of winning an injury claim, go see a doctor and get a medical checkup and professional help within the first 48-72 hours of the accident. This is because most insurance companies use the 72 hours mark to determine if your injuries were truly caused by the accident. 
Not going to see a doctor and getting treated within that timeframe greatly reduces your chances of getting fair compensation. A good car accident lawyer knows all of this and can give you solid legal advice while helping you fight your case. 
Also, medical records and bills are one of several pieces of evidence you need to increase your chances of getting fair compensation. This is why it is important to see a doctor and keep very good records of your visits to the hospital and any expenses associated with the medical treatment, including prescription receipts, travel expenses, a journal of your symptoms, etc. 
Are You Searching for the Best Car Accident Lawyer Near Me? Contact The Weinstein Firm
If you or a loved one have been involved in a car accident, ensure you see a doctor right away. Then, if your accident was a direct result of another person's negligence, the law permits you to seek financial compensation from the at-fault party. 
The top personal injury attorneys at The Weinstein Firm are ready to help you. Our lawyers are dedicated and have the perfect blend of knowledge and experience to get you the maximum compensation possible. Book a free consultation with us today.