Whether minor or severe, accidents occur daily on the busy Atlanta highways and city streets. These collisions are inevitable due to negligent drivers, distracted road users, bad road conditions, inclement weather conditions, etc. If you are involved in a car accident or would like to know how being in a car accident affects your insurance, speak with an Atlanta auto accident lawyer to discuss your legal options.
Being in a car accident can result in expensive medical bills for injuries sustained and the cost of repairs for vehicle damage. In addition, you might still face vehicle repair bills even if you were not hurt. Therefore, even if you maintain a safe distance and speed, you should get adequate auto insurance.
Auto insurance coverage provides financial protection for you and possibly others if you are involved in a collision. However, being in a car accident can cause your insurance rate to increase, especially if you were the at-fault driver. For this reason, people fear reporting a car accident to their insurance providers. This article addresses your fears and the question of whether a car accident can affect your auto insurance.
Understanding Your Atlanta Auto Insurance 
Your auto insurance policy consists of multiple coverages that protect you in the event of a crash. This policy covers accidents, liability, property, medical expenses, and vehicles. However, insurance policies have different limits and may also have deductibles.
Georgia requires drivers to have liability insurance that meets the minimum legal requirements. This insurance helps to pay damages to others on your behalf if they are injured or their property is damaged in a car accident caused by you. 
The minimum limits required under Georgia law are:
$25,000 for bodily injury liability per person 

$50,000 per incident, and 

$25,000 per property damage.
You will cover the excess if you cause more damage that exceeds your insurance coverage. Additionally, there are other optional types of insurance coverage, like those that pay for damages from uninsured or underinsured motorists.
An Atlanta Auto Accident Lawyer Explains "Fault" in Auto Collisions
Georgia is an "at-fault state" regarding auto insurance. This means that the negligent driver who caused the crash is liable for the injuries and losses incurred. When a car accident occurs, the insurance company for each driver will determine which party was responsible. If one driver is determined to be 100% liable for the crash, they bear the liability for the car accident.
However, it may not always be clear who is responsible for the crash. In some circumstances, both drivers may have contributed to the crash. Where this is the case, Georgia's comparative fault rule will apply. 
Under the rule, a person injured in a car accident can recover compensation if they are not more than 49% at fault for the crash. If they share 50% or more blame, they lose their right to recover compensation. 
The victim has three options for seeking compensation to cover damages and injuries from the at-fault driver:
File a first-party claim with their insurance provider

File a third-party claim with the at-fault driver's insurance company

File a civil lawsuit against the at-fault driver
Our lawyers can help you determine the best option in seeking the maximum compensation you deserve.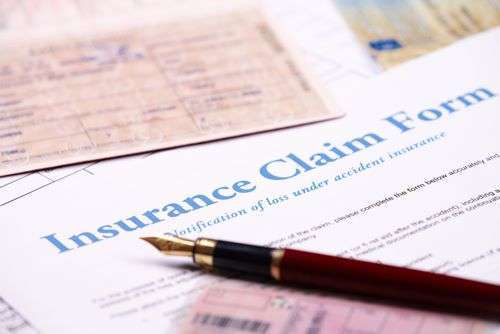 Do I Have to Report a Car Accident to My Insurance Company?
Georgia law requires you to report to the police if you are involved in a car accident resulting in injury, death, or property damage totaling more than $500. Even if nobody was visibly hurt, property damage could easily exceed $500. Therefore, it's best to report the crash.
The law enforcement officer in charge will fill out a traffic accident report and submit it to the Georgia Department of Public Safety. This report determines who is at fault and liable for the crash.
In addition, your insurance company requires you to file a report after a car accident.  Most insurance policy includes a Notice of Occurrence Clause, which requires you to notify and cooperate with the investigation whether or not you are at fault. If you fail to do so, you could lose all coverage for the accident.
How Does an Accident Affect My Insurance Premium in Atlanta?
Insurance rates can increase for various reasons, such as the cost of filing the claim, the additional risk involved, etc. There is no simple answer when asking whether your insurance will increase after a crash. Your insurance premium can increase based on factors such as:
Driving history

Fault in the collision

How severe the crash was

The amount of the accident claim

The presence of accident injuries, etc.
There are other factors aside from the above that might affect insurance premiums. Ensure you carefully study your insurance policy to know what they are. Ask the insurer for clarification or an Atlanta auto accident lawyer if any term is unclear. 
Are There Situations Where My Insurance Premium Will Not Increase?
The following are situations where your insurance premium may or may not increase: 
If You Were Found to Be at Fault for the Collision
If you are found to be at fault for a crash, it may cause your insurance premium to increase. Again, this is one of the reasons why people fear reporting the car accident to their insurers.
The national average rate increase is 45% after a crash with property damage and 47% for accidents resulting in bodily injuries. However, if your percentage share of the fault is below 50%, your insurer may decide not to raise your rates.
Additionally, your premium will likely be affected if the other driver files a claim against your insurance company.  So it is up to your insurance company to rate your risk.
If You Are Involved in a Crash But Did Not Cause It
If you are a victim of a car accident and not the cause of it, your insurance premium should not increase. This is because Georgia law prohibits insurance carriers from raising premiums if you did not cause the crash.
Speak With Experienced Atlanta Auto Accident Lawyers Today!
It is not unusual for motorists in Atlanta to worry that if a car accident occurs, it will increase their insurance rates. While this can happen, particularly if you were responsible for the crash, it is not always the case. You may still be able to keep your insurance rates low.
If you are hurt in a crash or blamed for causing it, consult with a lawyer as soon as possible. At The Weinstein Firm, we will investigate the car accident to determine fault and liability. We will also ensure the at-fault party is held fully responsible for the crash.
Contact our firm today for a free case review with our injury attorneys in Atlanta.