A car accident can leave you struggling, both emotionally and physically. You may be facing severe pain, a long recovery or a disability. You may be unable to go to work and earn a living. Especially when the medical bills keep coming. However, you don't have to face these challenges on your own. You are able to recover money to pay for your injuries In case you were in an accident in Lilburn, GA that wasn't your fault. You need to speak to a car accident lawyer near Lilburn.
Our attorneys know how to get you the cash you want. Let's give you a FREE consultation. Call The Weinstein Firm at 770-HELP-NOW or fill out the form to the best of your ability to get your free consultation.
About Lilburn
Lilburn is a city in Gwinnett County, Georgia located only 20 miles from downtown Atlanta. It is a suburb of Atlanta and part of the Atlanta metropolitan area. U.S. Route 29 (Lawrenceville Highway) passes through the center of town. According to a news report by AllOnGeorgia, Lawrenceville Highway in Lilburn is one of the 57 deadliest stretches of road in Georgia.
Lilburn is home to the BAPS Shri Swaminarayan Mandir Atlanta, a traditional Hindu temple with intricate marble carvings and stone pieces that were hand-carved in India. The Camp Creek Greenway is a great place for biking and walking. You can enjoy beautiful views and learn about Civil War history at Stone Mountain Park, located about 10 miles from Lilburn.
Do I Need to File a Lawsuit to Get Money?
No. After many types of accidents, you have to file a lawsuit to get money. But car accidents are different as it is possible to recoup money. That is because all vehicle owners in Georgia are required by law to have insurance to cover the damage and accidents for your car.
Typically, your Liburn auto accident attorney can put together evidence and force the insurance company to pay without submitting a lawsuit. There are exceptions though and they are common. These include: Uninsured drivers. If the at-fault driver does not have insurance, then your personal injury lawyer might have the ability to use a lawsuit to recoup the cash you need.
Negotiate. Once your attorney shows evidence showing why it is needed by you, most insurance companies offer you more money. In some cases, they aren't convinced. This might be because they're asserting or attempting to blame the harm on you. In such scenarios, it may be to your benefit to file a lawsuit.
How are Fault and Negligence Determined in a Car Accident Case?
Checking laws in Georgia can be useful to determine who must cover an auto accident. This pushes insurance to pay all the costs and damages for everybody who was injured or whose car was damaged if a driver is responsible. As a result of this, fault is an important element in most automobile accident claims. Fault is based upon the legal concept of negligence.
Negligence signifies a driver wasn't reasonably careful in how she or he functioned their car or truck. Negligent drivers usually don't mean to harm anybody and aren't bad people but they are legally responsible. Examples of negligent behavior include tailgating, breaking traffic laws, texting while driving and drinking and driving.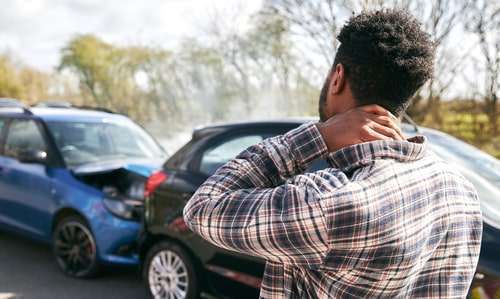 Will My Claim Pay for My Injuries?
In the event that you were hurt in a car accident, your injuries should be covered. This means you could recover money for these. Automobile accident injuries that are common, among others:
Broken bones
Muscle or joint injuries
Injuries requiring hospitalization
Injuries that leave you with a handicap or a permanent condition
Brain injuries
Whiplash
Others don't show up until later, although some car accident injuries appear straight away.
Get the compensation
you deserve $$$
Schedule a free initial consultation. We will provide sound legal advice without judgement. Contact us today at 770-HELP-NOW
Whiplash doesn't typically have symptoms until a few hours, days or even weeks following the accident. As a result of this, the very best approach to look after yourself after an accident is to see a physician as soon as you can in the event that you think you weren't injured. A physician can conduct a correct identification, and a trip to the doctor also enables you to make an insurance case.
How Much Money Can I Expect to Win from My Car Accident Case?
It is dependent upon how severe the accident (and the injuries) were. While one that needs ongoing treatment may pay closer to $10,000, for instance, only a few thousand dollars may be paid by a whiplash injury thas was resolved quickly with treatment.
Serious, life-changing injuries can result in claims that pay out thousands and hundreds of thousands of dollars, or even millions. This is due to the fact that the cash in these cases has to cover not only the permanent change in your wellbeing and your capacity but also for medical bills to get the job done. What you need to know is that Georgia law doesn't place a limitation.
You are able to get back all your costs, plus money for all damages you suffered. This means you can be awarded money for the loss of a family member, pain and suffering, or psychological injury.
How Can a Lawyer Help My Lilburn Car Accident Case?
An attorney can tell you if the insurance agency can help you build a solid claim to get you ALL the cash you're entitled to and is fair. We've discovered that insurance companies never provide you what your claim should be worth. This is because they are more interested in making a profit than in making sure you have compensation.
You will not be able to receive anything more, no matter what your injuries wind up costing should you take the insurance company money now. An auto crash law firm near Lilburn can allow you to get a comprehensive evaluation from physicians who understand your injuries and know what sort of care you need. A lawyer knows how to gather evidence demonstrating the accident was not your fault, and a lawyer can argue your case showing them of what your injury will cost evidence.
Often, the collision victim will recover money without using a lawyer by accepting the insurance company's offer, which is always much less than they would have made.
Is it Worth Making a Claim After a Car Wreck?
Never talk yourself out of making a claim. Automobile accidents don't just happen. Someone's negligence is nearly always to blame. But should you not make a claim, then you might be walking away from a lot of money that you're legally obligated to. To discover if you have a claim, schedule a complimentary consultation with a car accident lawyer. An attorney may provide you an expert opinion and clarify how the procedure works.
Speak to a Car Accident Lawyer Near Lilburn to Start Your Claim
At The Weinstein Firm, our attorneys have built a reputation for helping accident victims get what they deserve. We don't get paid unless we win money for you. Let us provide you a FREE consultation to discuss your case and show you how we could help. Call us at 770-HELP-NOW or fill out the form to the right to get your free consultation.