There's nothing quite like a leisurely stroll or a brisk walk to clear your mind, but although there are many benefits of walking, it can sometimes turn out to be dangerous. This is especially true if you're walking on a busy road or intersection. There are vehicles on the roads, and you need to be aware of what's happening around you to avoid a pedestrian accident. If you have been hurt in a pedestrian accident in Kennesaw, Georgia, you will need a pedestrian accident lawyer to ensure you receive the full and fair compensation you deserve for any medical expenses that you incur. Call The Weinstein Firm and set up your free case evaluation today.
Prevention is the Best Protection
The best way to avoid a pedestrian accident is to be extra attentive when near traffic. Just as there is a 'code of conduct' for drivers on the road, the same is true for pedestrians on the sidewalk. By taking care to stay safe on the road and also educating your children on good pedestrian, the behavior is certainly beneficial.
We should always remember that the roads aren't just for cars, trucks, and motorcycles. Pedestrians need to be able to cross safely where they are supposed to, and drivers should respect that in return. Accidents are nearly always the consequence of someone's negligence, but pedestrians are particularly vulnerable because they aren't shielded by a vehicle. However, if you should be involved in a pedestrian accident and need good legal representation, one of the first things you should do is contact a pedestrian accident lawyer.
Pedestrian Accidents in Kennesaw, GA
Unfortunately, there is an alarming number of pedestrian fatalities in America every year. According to the National Highway Traffic Safety Administration (NHTSA), more than 10% of all road traffic accidents involve pedestrians.
Pedestrian accident lawyers have reported that most of these types of accidents can be attributed to the following:
Pedestrians straying from non-motorist areas
Poor visibility or hazardous weather conditions
Elderly or very young pedestrians
Drivers or pedestrians being under the influence of drugs and/or alcohol
Distracted drivers
According to the majority of pedestrian accident lawyers, motorists are generally at fault in accidents involving pedestrians. This is why it's important to contact a pedestrian accident lawyer as soon as you can if you have been injured in a traffic accident while out walking.
What to Do Immediately After a Pedestrian Accident in Kennesaw, GA
If you have been involved in a pedestrian accident in Kennesaw, GA, you need to remain calm and take the following steps:
Safety First
It's important to get an idea of who has been injured in an accident and to what extent. It is thus imperative to seek medical assistance. A personal injury attorney will advise that one should call 911 immediately. While waiting for medical care to arrive, you should try and move everyone involved to a place of safety. Pedestrian accident lawyers will tell you that it is not unusual for further collisions to occur after an initial one, depending on the location of the crash site. If there are children involved, make sure they are being cared for by their guardians and are not unnecessarily distressed or left alone.
A pedestrian wreck lawyer will advise you not to administer any medical treatment unless you are qualified to do so. Naturally, if you are qualified to carry out emergency procedures, such as CPR, you should absolutely carry on but do not move anyone who is in pain or is unable to move on their own. Let the medical professionals handle that. Your priority should be to call for medical assistance.
Wait for the Police
It may be tempting for someone who has emerged relatively unscathed from a pedestrian accident to walk away from the scene. However, it's important to remember that some internal injuries can take days to develop. It is possible that what you consider to be a minor abrasion is actually potentially more serious. Once the police arrive at the scene, they will file an accident report, and it's vital that you stay around to give your perspective on events. Your pedestrian accident attorney will likely request a copy of this accident report so that they have a clear record of the accident.
Contact a Pedestrian Wreck Lawyer in Kennesaw, Georgia
Once you have had any injuries checked over by healthcare providers and have also spoken to the police, your next step should be to call a pedestrian accident lawyer. If your pedestrian accident was caused by a careless driver, you'd want to be sure you have the best legal representation. Your pedestrian wreck lawyer will be able to advise you on how you should proceed and what essential information may be required to build your case.
Exchange Contact Information
Unless your injuries are too severe, you should make it a point to exchange contact information with other people involved in the accident. Get their names and contact details and if they have any insurance information with them, note that as well. A pedestrian accident attorney will advise you not to engage in any further conversation at the scene as it's easy to innocently admit liability, particularly when everyone is still dazed and confused by events. The only thing you need to do is answer any questions that the police officers ask, and that is it. You are not supposed to engage in any long conversations with anyone else without having your pedestrian accident lawyer present.
It might be a good idea to take pictures of the scene of the accident including the vehicles that were involved. You should also photograph your injuries, even the minor scrapes, and scratches, as you don't know what may be important to your pedestrian accident lawyer in building your case. Make a mental note of the series of events leading up to the accident so that your pedestrian accident lawyer can present your case properly.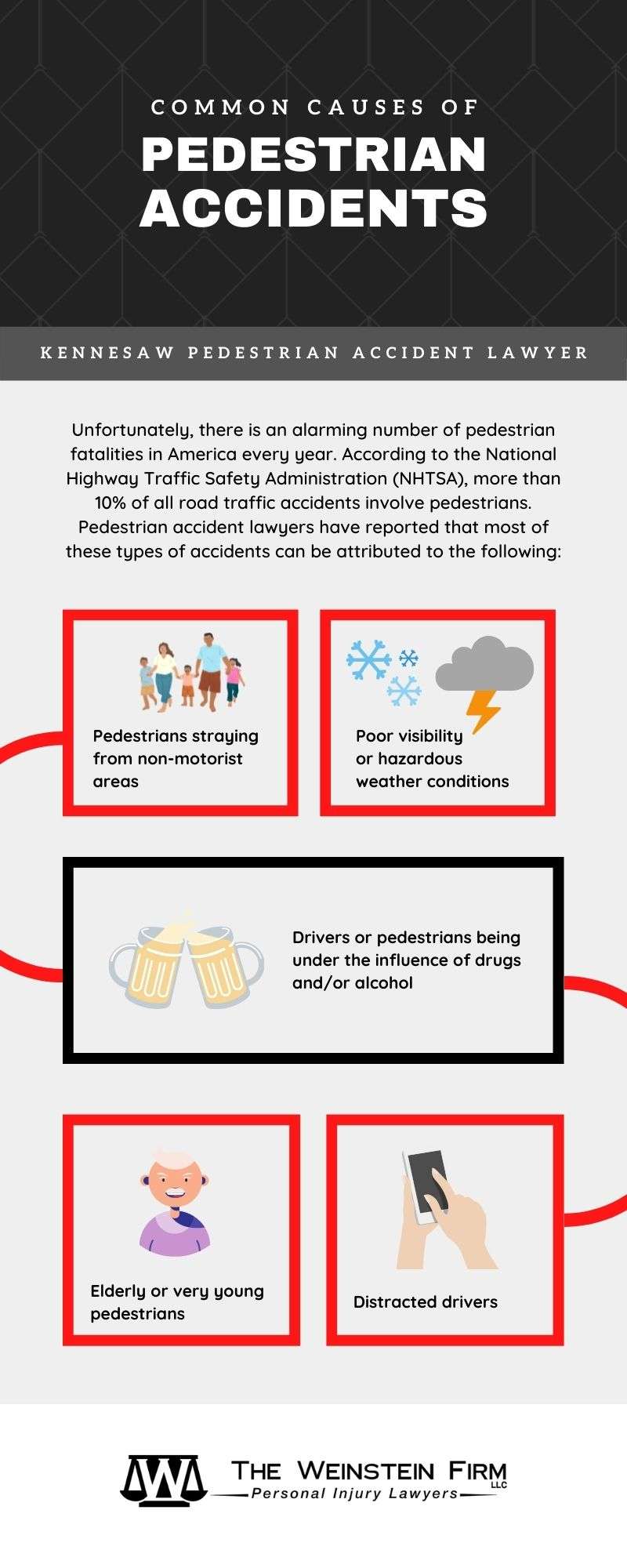 How Will I Cope with a Pedestrian Accident?
If you have been involved in a vehicle-related accident, you are likely to be shaken.  Aside from any physical injuries you may have sustained, there is also the psychological impact to take into consideration. In the immediate aftermath, you are likely to feel shocked and confused and possibly in some pain from your injuries. Reaching out to a pedestrian wreck lawyer at this time is a good idea.
Discuss all elements with your pedestrian accident lawyer. It is natural to be worried and stressed about work, medical bills and recovery. Ask clarification for any questions that you might have such as: What will happen if I can't work? How will I afford the mortgage? Who will help me take care of the kids? Getting a pedestrian accident lawyer on the phone to advise you of your options and rights can help to calm you down in the chaos following an accident.
Make sure you provide as much detail as you can about the accident to your pedestrian accident lawyer. Once they have this information, they can work towards presenting a strong argument on your behalf. This will include interviewing witnesses, collecting the police report, and gathering photos of the scene. All of this information comes together to help pedestrian accident lawyers in Georgia establish fault and liability.
Negligence and Pedestrian Accidents
According to car accident attorneys, most accidents are caused by someone's negligence. When a person fails to exercise a reasonable standard of care when driving a vehicle, then they can be considered at fault. Sometimes, in accidents involving vehicles and pedestrians, both parties can be found to be partially at fault.
Examples of pedestrian negligence: walking in a motorist area, crossing the street unlawfully, being poorly visible at night, being under the influence.
Examples of driver negligence: speeding, driving under the influence, ignoring stop lights, inattentive driving.
Police Reports and Insurance Company Findings
A police accident report is generally central to the legal processes following a pedestrian accident as it contains vital information right after the accident. A police report will generally include statements from everyone involved in the accident along with witnesses. This can be a useful document when determining liability. Your pedestrian wreck lawyer will advise you that if police are unable to make a conclusive finding of liability at the time of the accident, they will conduct a detailed investigation to conclude the case at a later date. However, initial details are important and can play a role in establishing fault.
In many cases, regardless of what is contained in a police accident report, auto insurance companies find something to challenge. Insurance companies can be ruthless after accidents, and you are likely to encounter one of their loss adjusters at the scene, if not very soon afterward. Don't stress yourself further by letting these agents hassle you constantly. Let your pedestrian accident lawyer handle the insurance companies while you focus on your recovery.
The biggest problem with insurance companies is that they want to minimize their financial payout. They may seem compassionate, but in reality, their loyalty lies with their firm. They are not concerned with how people are feeling or the full extent of the medical expenses they are facing; they are purely concerned with keeping any payouts to the absolute minimum. Hiring a pedestrian accident lawyer is an advantage because they will deal with loss adjusters on your behalf and they will take care of your best interests.
If you have already had your encounter with an insurance agent and feel they are trying to place the blame on you for the accident, there is no need to worry. A pedestrian accident lawyer can manage insurance companies and can use the evidence they gather to counter this argument. When you have been injured in an accident, the last thing you want to deal with is a negotiation with the driver's insurance company. Instead, let a Kennesaw, Georgia pedestrian accident attorney take over and fight for your full and fair compensation.
Insurance Coverage for Pedestrian Accidents
Unlike registered drivers, pedestrians are not necessarily covered by insurance when they are out taking a stroll. But they do have protection in other ways. If the accident took place during work hours, you might be able to file a claim for workers' compensation insurance. In addition, there are certain health and disability policies and programs available that could be beneficial for you. Many auto insurance policies also include a liability element for pedestrian involvement in vehicle accidents. Talk to your pedestrian accident lawyer for more information.
Payment Under Auto Liability Insurance
If you have been injured in a traffic-related accident, it is highly likely that you can file a claim with the driver's insurance company. Nearly all states have a requirement for drivers and vehicle owners to carry liability insurance to cover injury to third parties or their property. As with all insurance cases, liability needs to be established, and where there are multiple parties involved, there can be significant delays in getting a settlement. Your pedestrian accident lawyer can help speed up the process. Therefore, it is in your interest to contact one as soon as you can.
Seek a Pedestrian Wreck Lawyer's Advice
Each state has its own limitations and exclusions. This means that pedestrian accidents can be incredibly difficult cases to process and will require the assistance of a pedestrian wreck lawyer in Kennesaw, Georgia. A pedestrian accident lawyer will be familiar with the laws in Georgia and will also be aware of how fault is determined and what factors are considered when evaluating a compensation claim. If you or someone you love has been injured in a pedestrian accident, now is the time to reach out to a pedestrian accident lawyer to discuss the details of your case. Call The Weinstein Firm today, and we will be happy to assist you. Our experienced Kennesaw accident lawyers will discuss the specifics of your case with you in great detail and will then outline the next course of action. Don't delay. Call a pedestrian accident lawyer as soon as you can if you have been injured in a pedestrian accident.