If you have suffered any injury due to the actions of any government employee, you might wonder how you can sue the government. Any Atlanta car accident lawyer would first tell you that there are some special considerations for filing a lawsuit against a governmental body.
The government and its employees are protected against lawsuits or claims under the legal doctrine of sovereign immunity. But, the government can still be held responsible when it causes injuries to anyone, just as any ordinary person can be held liable. However, unlike typical personal injury lawsuits, there are strict requirements and steps to follow before filing a claim against the government.
These requirements must be fulfilled to avoid your case being dismissed. An Atlanta car accident lawyer has experience dealing with government-related cases and can help you navigate these requirements to ensure you receive the compensation you deserve.
What Types of Damages Can I Recover in a Personal Injury Lawsuit Against the Government?
When you seek compensation from the government, you can demand economic and non-economic damages, as with any personal injury case. This is because Atlanta, like the rest of Georgia, operates a fault-based system.
Some of the economic damages include any losses that can be monetarily verified. These include loss of income, medical bills, rehabilitation bills, future medical bills, future lost wages, property damages, treatment-related travel expenses, and loss of employment.
On the other hand, non-economic damages include categories that are somewhat difficult to verify monetarily. These may include compensation for pain and suffering, physical disabilities, emotional anguish, loss of enjoyment of life, and loss of consortium.
However, complainants cannot claim more damages in their lawsuits than they did in their initial claim filing with the government agency. For example, if you requested $10,000 from the government agency before filing a lawsuit, the amount must be the same as in the court documents.
Therefore, it is essential that you know and understand this before filing your claim. The amount of compensation can only be increased from the initial filing if the new damages are based on admissible evidence that could not have been discovered at the time the initial claim was filed.
An Atlanta Car Accident Lawyer Explains How to Sue the Government
Unlike other personal injury claims, the complainant must first submit an administrative claim with the government agency that caused the injuries. This must be done within one year, starting from the date of the accident.
You can file the administrative claim using a form on the City of Atlanta website, and all form entries must be completed. Now, this is where things get complicated because if the form is not filled correctly, it will not be considered a valid claim. In addition, your case may not be able to yield anything, and you won't receive any compensation.
The government agency responsible for the injury has 90 days to decide if they will accept your claim or reject your demand. However, if the government agency rejects your demand or fails to respond, you can file a lawsuit in district court.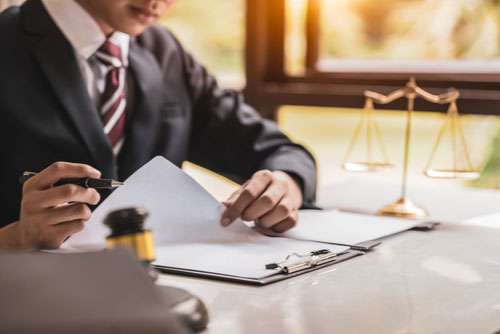 What Do You Need to Prove?
Before you sue the government, you must ensure that your claim falls within the laws of Georgia. In other words, the incident would need to be considered negligent under state laws for you to be able to file a claim.
Most claims against the government usually fall under a negligence cause of action. So, to prove negligence, you must be ready to show the following:
The offender owed you a duty of care;
The offender breached that duty of care; and
The defendant caused all of your injuries.
The defendants in these cases are the government employees who caused the injuries. But you can also hold the government, their employer, responsible under vicarious liability. You must present solid and acceptable evidence in court to prove your case.
You must present the accident report, witness statements, photo and video evidence, etc. So you must contact an Atlanta car accident lawyer to ensure you have all the required proof, accurately present your case and get the maximum compensation.
When Can You Sue the Government?
If you have been injured by a government worker, understanding how the state law works regarding suing the government will help you decide what to do. We understand that the government has a lot of resources and power and can be protective of its reputation and employees. However, you have the right to be compensated for any damages.
One of the most common lawsuits against the government is when a person gets injured in a car accident with a government vehicle. So, the government may be liable when an employee causes an accident. However, the person must have been performing their official duty when the crash occurred.
If they were not performing a work function, for instance, on their way to work or going home in a government-issued vehicle, the government would not be liable. Ultimately, you may be able to sue the government for any car accident involving the following:
A military vehicle
A government postal service driver
A vehicle conveying members of the state law enforcement agencies
A vehicle conveying members of any other government agency
A car accident with a government employee might involve more than the driver. So, determining liability for these types of accidents can be a bit challenging, which is why you must work with your attorney.
Also, the doctrine of comparative negligence applies in these cases. This doctrine states that victims of an accident will only receive compensation if their fault percentage is less than 50% 0r 51%. Therefore, suppose you were 49% at fault for the collision. You will get a settlement but only 51% of the amount awarded.
Our Atlanta Car Accident Lawyers Can Help You Get Maximum Compensation 
No one should have to be in the position to sue the government alone while recovering from injuries. So, suppose you or your loved one has been injured as a result of a government entity's negligence. In that case, you must contact an injury law firm to protect your rights.
Suing the government requires legal knowledge and resources, and failure to follow all proper protocols and processes can result in the denial of your claim. At The Weinstein Firm, our lawyers are experienced in these matters and ready to help you get the compensation you deserve from the government.
Our personal injury lawyers in Atlanta work on a contingency fee basis, so you don't pay upfront fees. Call today for a free consultation on your case.