Bus accidents are not uncommon in Fayetteville, GA. Like all accidents, bus accidents can result in a lot of devastation and anguish. But bus accidents can be even more severe because buses generally carry passengers, any serious accident involving a bus can cause serious injuries to multiple victims.
If you have been in a bus accident or if someone you know was injured in a bus wreck, you should call a bus accident lawyer near Fayetteville as soon as possible. Schedule a free consultation with our top Fayetteville personal injury lawyers today.
Primary Causes of Bus Accidents in Fayetteville, GA
As mentioned above, bus accidents generally involve multiple parties. If it's a public transit bus, adults including senior citizens and children may be injured. If it's a school bus, children can be at risk and teachers may also be victims. Bus accidents can turn out to be very tragic as there may be more than one injured party.
Here are some of the primary causes of bus accidents.
Blindspots
Buses are large vehicles. Just like truck drivers need to be extra careful about blind spots, so do bus drivers. Often, this does not happen and could result in an accident.
Negligence
This could include negligence on the part of the bus driver as well as negligence on the part of other car drivers, truck drivers, motorcyclists, cyclists, and pedestrians.
Many times, drivers fail to obey the rules of the road when school buses are around or when a school bus has stopped on the road and has put out a stop sign warning other drivers to stop. Drivers who choose to ignore these rules can often end up hurting young children, pedestrians, and other drivers.
Head-on collisions can often occur if the bus driver is speeding or distracted or if the other driver does not slow down or tries to overtake a bus.
Road Conditions
Sometimes there is construction going on, and drivers need to exercise extra caution. If they don't, accidents can happen. Sometimes, road conditions are bad because of bad weather such as snow or rain. It is the responsibility of every driver on the road to behave responsibly to prevent any accidents.
Injuries sustained in a bus accident can be very serious and may require immediate medical treatment, complicated medical procedures, and long-term rehabilitation depending on the extent of injuries and the treatment required.
If you are a victim of a bus accident, you need to speak to a bus accident attorney to find out how your legal options and how you can recover damages for your injuries. There are several types of damages that can be claimed, but you need to discuss that with a bus accident lawyer as they will have all the information that you may need.
Types of Bus Accident Injuries
The type of injury you sustain in a bus accident is dependent on how serious the accident was, how many vehicles were involved etc. These details are very important, and if you have been injured and if you consult with a bus accident attorney, you need to provide your personal injury lawyer with all relevant information.
Broadly speaking, the following are some of the most common types of injuries sustained in a bus accident.
Crush Injuries
Crush injuries can damage the victim's hands, feet, and/or legs. The problem is that a bus is a very large vehicle. Anybody who gets hit by a bus or suffers a crash injury in any type of collision with a bus can suffer serious damage to their muscles and bones.
There have been cases where victims had to undergo amputation and extensive surgical procedures. Crush injuries can have a significant impact on one's life and may require long-term rehabilitation. If anyone in your family has been involved in a bus accident and has suffered crush injuries, you need to speak to a bus accident lawyer to find out how you can get compensation for your injuries.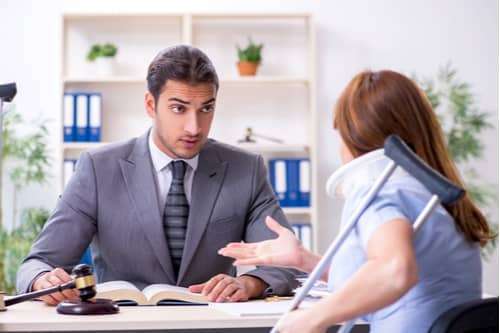 Head Injuries
Head trauma is another common injury that bus accident victims often sustain after an accident. This type of injury can be excessively severe in children if they are hit by a bus or if they are getting off the bus and an oncoming car does not stop and hits the child.
Both children and adults, if hit in such a situation, can hit their heads and could suffer from internal bleeding and/or concussion. Head injuries can have a long-term impact on the victims and can affect their memory, speech, and cognitive skills. Speak to a bus accident attorney if you have suffered head injuries because of a bus accident.
Chest and Abdominal Injuries
Chest trauma and abdominal injuries are also quite frequent among bus accident victims. Important organs such as the heart, lungs, and abdomen can be affected. Anyone who has suffered these serious injuries needs to consult a bus wreck lawyer to find out how they can get the justice they deserve.
Broken Bones and Fractures
Fractures are common in most road accidents, and bus accidents are no different. Some can be severe, and victims could end up losing many workdays while others can be minor with quicker recovery time. Speak to a Fayetteville bus accident lawyer about how you can recover lost wages if you have suffered fractures.
Cuts and Road Rash
Lacerations, road rash, and other skin injuries can also occur after a bus accident. Skin grafting may be the only option and the recovery times can be quite prolonged for patients who have suffered serious injuries. Talk to a bus wreck lawyer in this regard.
Fayetteville Bus Accident Lawyers Help School Bus Accident Victims
School bus accidents can cause major devastation for children, their parents, teachers, supervisors, the school, and the community in general. These are the most traumatic of all types of bus accidents, and while safety measures are in place to minimize risks, there are always cases where accidents happen. School bus accidents are the worst, but luckily, the frequency of these accidents is fairly low in Fayetteville, GA.
Parents get angry and want justice, and the community wants those responsible for the accident to pay for their crimes. The problem is that schools enjoy sovereign immunity in most states in the US, including Georgia. Sovereign immunity means that the general public cannot sue a school, no matter how strongly they feel that the school may have been responsible for a school bus accident.
However, this does not mean that parents who lose their children in a school bus accident or whose children sustain serious injuries and if this accident was due to the negligence of the school bus driver or if the school was believed to be in any way responsible for the accident, they can fight for justice.
Speak to a bus accident attorney in this regard and find out the possible options to go up against a public organization that enjoys such immunity.
If you and your bus accident lawyer can prove that the school bus driver was negligent or otherwise responsible for the accident, the legal system will provide you justice. If the bus driver was drunk or if they were texting while driving or if they were speeding, then they can be held liable.
Not only will the bus driver be held responsible but also the school for not ensuring that the drivers they hire are responsible and well-trained to drive a school bus. Talk to a bus accident lawyer if you have any information that can prove that the bus driver was negligent.
However, it is important to note that if the accident happened because of factors that were out of the bus driver's control, for example, a sudden mechanical failure or poor road conditions, the school cannot be held accountable, and nor can the bus driver.
The concept of sovereign immunity does not apply to private schools that may be using private transportation companies to provide bus services to school children. School buses that are operated by private companies are required to carry valid insurance, and they can be sued if their drivers fail to demonstrate proper and responsible road behavior.
If your child studied in a private school and was in an accident involving a privately-run school bus, you need to speak to a Fayetteville car accident lawyer about ho you can file a claim and get compensation for the losses that you may have incurred because of a school bus accident.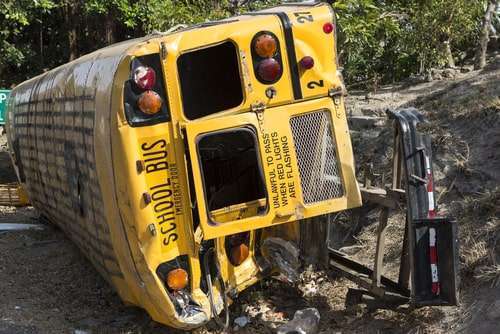 How Can a Bus Accident Lawyer Help You File a Claim?
As discussed above, bus accidents can be devastating for families and for communities in general. There can be multiple parties who are injured, and there may even be some fatalities. Property damage can also occur. Children can often be involved. All these factors make bus accidents fairly tricky to handle. Emotions can run high, and the need for action and justice may be quite intense.
Bus accident lawyers can really help at this time as they are in a better position to understand the legal system and can outline options that would be able to satisfy the sentiments of the community and the affected families. Talk to a bus accident lawyer if you and your family have been affected by a bus accident in Fayetteville, GA.
Fault determination is very important in such cases, especially since Fayetteville, GA follows a fault system when it comes to road accidents. Now when children are involved, there are so many emotions involved that finding the person responsible for the accident becomes complicated. A child could suddenly run in front of the bus and get injured.
You really can't blame the bus driver in such a case unless it can be proven that the bus driver could have stopped or should have stopped but didn't. If the driver were speeding, the case would be different, but if the bus driver did everything right and the child suddenly jumped in front of the bus, the case is different. Bus accident lawyers are in the best position to answer your questions as to how fault can be determined depending on the circumstances of the accident.
Contact a Bus Accident Lawyer Near Fayetteville Today!
At The Weinstein Firm, our bus accident attorneys know how traumatic these accidents can be. When you speak to a bus accident attorney near Fayetteville, you will find out that they have dealt with many different situations involving families that have school-going children who have suffered serious injuries, clients who were hit by a public bus; pedestrians who were hit by a bus driver through no fault of their own, etc.
If your family has suffered immensely because of a bus accident, our bus wreck lawyers can help you get the justice you deserve.
Dealing with bus accident cases that involve public schools and the public school bus transportation system can be quite complex. If your child is injured, the last thing you want to hear is that you cannot do anything for your child or you cannot do anything against the public system.
This can be very frustrating to hear, and our lawyers know that. Our Fayetteville bus accident attorneys are here to support you and offer you a way to get justice.
Every bus accident case is different, and there may be many factors at play that could affect the outcome of your particular case. Call us today at 770-HELP-NOW and our bus accident lawyer will gather all the details, talk to witnesses, evaluate medical documents and find out what caused the accident and who should be held accountable.
We know that bus accidents that cause multiple injuries to multiple parties can be sensitive in nature, but our bus accident lawyers are here to help you. There is always a way, especially when you are right and when you deserve justice. We are here to help.