Car accidents are a common occurrence in Fayetteville, Georgia. In 2019, the injury rate for motor vehicle crashes involving a driver who had been drinking was more than four times higher than for crashes where the driver had not been drinking. (NHTSA, 2021) Not only do accidents make roads unsafe for drivers and passengers, but auto accidents can also really affect the lives of those involved. From serious injuries to long-term disability, there is no saying what damage a single-car crash can have on the lives of many people. If you are a resident of Fayetteville, GA and have been injured in a car accident, you need to speak to a car accident lawyer near Fayetteville as soon as possible. A car accident lawyer can help you recover any financial losses you may have incurred because of the car accident.
If you have suffered an injury in a car accident, call the Weinstein Firm at 770-HELP-NOW to get the best Georgia car accident lawyers fighting for you!
About Fayetteville
The city of Fayetteville is the county seat of Fayette County, Georgia. It sits 22 miles south of downtown Atlanta. As of the 2020 census, Fayetteville had a population of 18,957, up from 15,945 at the 2010 census.
The Fayette County Courthouse, built in 1825 four years after the county and town's founding, is the oldest surviving courthouse in Georgia. You can visit the historic Holliday-Dorsey-Fife House or enjoy a hike through the Ridge Nature Area.
Along with having a rich history, Fayetteville is also home to Trilith Studios. Originally named the Pinewood Atlanta Studios, Trilith Studios is the largest film and television production studio in the United States outside the state of California.
The Town of Trilith is a mixed-use complex located across the street from the studio that features homes and plans for a movie theater, boutique hotels, shopping, dining, and office space. In April 2021, Atlanta magazine ranked the community ninth in their top ten metro Atlanta vibrant city centers list.
Discuss Your Injuries With A Car Accident Lawyer Near Fayetteville
The types of injuries that drivers and passengers can incur if they are in a car accident depend on the severity of the accident. Car accident victims often report muscle and bone injuries, fractures, dislocations, internal bleeding, head trauma, spinal damage, whiplash, and other similar medical conditions. Some injuries are considered minor, and the victims are usually sent off after a thorough check-up while others are more serious and require immediate treatment and medical attention. For victims who end up with a loss of muscle function and/or muscle strength, rehabilitation may be the only course of action. In some unfortunate situations, car accident victims can also end up with a long-term disability. If you were in a car accident in Fayetteville, GA, you need to discuss your injuries with a personal injury lawyer. They can let you know how to recover financial damages to compensate for the medical expenses that you have incurred for the treatment of those injuries. A car accident lawyer will help collect compensation in such a case.
Fayetteville Accident Statistics 2019-2021
What Steps Do I Take After a Car Accident in Fayetteville, GA?
Nobody can prepare themselves for a car accident. It is a scary and frightening thought. The unfortunate reality is that accidents do happen and sometimes they are really bad.  If you or somebody you know is involved in a car accident, here are some tips to keep in mind:
Don't panic
Auto accidents can be traumatic, but you can make a bad situation worse if you go into panic mode. Try to remain calm and help anyone who is in need of assistance. You also need to be aware of the things you say immediately following an accident. Don't take fault or responsibility for the accident, even something as simple as apologizing could damage a potential claim.
Check if you have suffered any injuries
If possible and if required, check if anyone else in your vehicle and the other vehicle(s) has been injured. Obtaining medical assistance and evaluation immediately following a car accident is one thing you can do that will help prove the validity of a future claim.
Call the police
It is always a good idea to report an accident to the police immediately. Also, if you or anyone else around you has been injured, it is important to seek medical attention without any unnecessary delays. Your auto accident lawyer near Fayetteville will also need the police report when filing your claim.
Do not leave the scene of the accident
This is something you should remember at all times. Under no circumstances should you ever flee the scene of a car accident. This is true whether you were at fault or not. Stay there and wait for law enforcement and medical help to arrive. Your car accident attorney will always advise you that you should never leave the scene of a car accident.
Collect as much information as you possibly can
This should ideally include the name and contact information of the other driver(s) involved in the accident, details of any witnesses on the scene, photographs of the cars involved in the accident, any visible damage to the vehicles and any skid marks, shattered glass or any other debris from the accident. Try to record and capture as much information as you possibly can.
Call an auto accident lawyer and provide the details of the accident
Your auto accident attorney can provide you the legal counsel and help you need in this unnerving time. Call your car insurance provider and inform them that you have been involved in a car accident.
The Fault System in Georgia
In Fayetteville, GA, all car accident cases are evaluated on the basis of fault. Therefore, the amount of compensation that is approved for car accident victims s dependent on the level of fault of the parties involved. If one driver is found to be completely at fault, they are the ones who are held accountable for any damages that accident victims may have incurred. In such a case, those who suffer injuries can simply file a compensation claim with their insurance company which in turn will pursue the claim with the insurance company of the driver(s) who is deemed to be at fault. Car accident lawyers near Fayetteville know how a compensation claim will work if it is the other driver who caused the accident.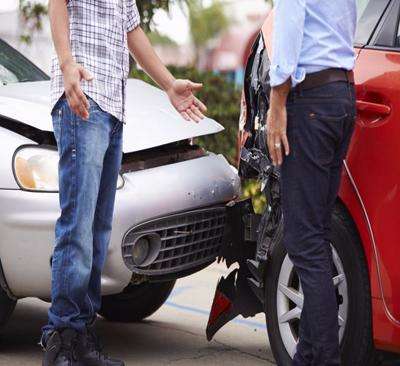 If there is an accident and you were partially at fault, the State of Georgia will use the rule of modified comparative negligence. As per this particular rule, the fault level of all parties involved in the accident will be evaluated. If multiple parties caused the accident, each party would be assigned a particular level of fault. Compensation claims will be reduced by each driver's level of fault.
For example, if you were 20% responsible for the accident, the amount that you and your car wreck attorney have claimed will be reduced by the same amount. If you claimed $10,000, 20% of that claim amount would be reduced to account for your role in the accident. The logic behind the modified comparative negligence principle is that each party should be held liable for their actions. If the other party is completely at fault, they are held completely responsible. If the other party is 70% at fault, they will be held liable for only 70% of the damages that have been incurred. If you are completely at fault, you will be held 100% liable for any damages that may be incurred. Talk to a car accident lawyer about the modified comparative negligence principle and how it works.
Let Your Auto Wreck Lawyer Handle the Insurance Company
As mentioned above, establishing fault is the most important element of a car accident case. That is why it is important that when you speak to a car accident lawyer near Fayetteville, you give them all the details of the accident. The information you provide at this point in time can help your car accident attorney prepare a strong argument on your behalf.
Every licensed driver with a registered vehicle on the roads in Fayetteville, Georgia is required by law to carry mandatory insurance coverage. This insurance coverage is designed to cover any bodily injury or property damage that might occur in case of an auto accident. However, insurance companies are not non-profit organizations. Insurance is a money-making industry, and while the concept is to provide you protection in case of an accident, in reality, this protection might be difficult to obtain when you need it the most. Let your auto accident attorney handle the insurance company, whether it's your insurance company or the other driver's insurance company.
A car accident can be life-changing and the recovery time for many car accident victims can be long. During this time, your focus needs to be on your health. The primary objective of hiring a car accident lawyer is to allow them to deal with the legal aspects on your behalf. You don't want to get involved in the constant back and forth with insurance companies as their primary goal is to make sure they pay you as little money as possible. For this, they will try to find evidence that would prove that you were also at fault for causing the accident.  Talk to a auto accident lawyer near Fayetteville in this regard and how to best deal with the situation if this happens.
Should I Accept the Initial Settlement Offer?
If the case is fairly simple and the other driver is 100% at fault, that driver's insurance company has to pay you for any damages that you may have incurred. But what they might also do is offer you a quick settlement for an amount that may not be fair or accurate. When people are in an accident, they are faced with expenses that they have not anticipated. They are often stressed out about how they will come up with the funding to pay for immediate medical treatment costs, prescription medicines, etc. Your car accident lawyer will tell you how insurance companies often take advantage of this situation and offer victims money in the hope that they will accept the settlement quickly because they need money at that point in time. Don't make that mistake. Don't accept a settlement offer without speaking to an attorney first. If the insurance company initiates an offer, tell your auto wreck lawyer immediately. Do not sign anything. Don't accept responsibility for the car accident. Don't do or say anything that you might regret later. Let your car accident attorney do the talking for you.
Insurance companies can make your life miserable especially if you were also the party responsible for the accident. Even if you were 10% responsible, they would try their best to pin the blame on you and create an argument that their client was also a victim and that you do not deserve the amount that you claim. The car accident lawyers at The Weinstein Firm are aware of how insurance companies work. Let your car accident lawyer negotiate with the insurance company, and you focus on your health and your recovery.
What Damages Can I Claim?
The amount you can claim after a vehicle accident is dependent on the type and severity of your injuries. But in general you can claim:
Medical expenses
Your lawyer will include in your claim any immediate medical costs for a doctor consultation, hospitalization, prescription medicines, and medical procedures. The amount you claim can also include any anticipated medical costs in the future based on the diagnosis and treatment plan outlined by your healthcare provider. A lawyer will be able to provide estimates of future costs incurred from your accident so that you can be compensated appropriately.
Lost Wages
If you have sustained serious injuries because of the car accident, you may be unable to go back to work immediately. The earnings that you lose during this time can be recovered. Your lawyer will be able to recover these lost wages by taking what you make on a weekly basis and multiply it by the number of weeks you are expected to miss due to your injuries.
Property Damages
Physical damage to property can also be claimed by car accident victims. You will need proof to make such a claim, and that is why it is important that you speak to your car accident lawyer in this regard. These damages would likely include the cost of repairs to your vehicle and any property that was in your vehicle and destroyed during the accident.
Pain and Suffering
Pain is a natural consequence of being in a car accident. This is even more applicable to people who have sustained serious and/or life-changing injuries. This is the most subjective element of your compensation claim and can be challenging to prove. However, an experienced car accident attorney near Fayetteville would know that pain and suffering can sometimes be worse than the financial damages that victims incur. That is why it is important to tell your attorney exactly how you feel and the changes that have occurred in your physical health, personal life and professional life due to the accident. This information can be used to establish pain and suffering in a vehicle accident case.
You Pay Zero Unless We Win!
Millions recovered for injured victims
Talk to an Experienced Car Accident Attorney at The Weinstein Firm Today
If you are in a car accident in Fayetteville, you need to speak to a car accident attorney in Georgia. A =car accident lawyer can represent you and will prepare a strong argument on your behalf based on the losses that you have incurred.
The Weinstein Firm has a team of car accident lawyers who have dealt with numerous car accident victims and have successfully collected compensation for them. Our car accident attorneys realize that car accidents can have a life-changing impact on many people and while money cannot substitute for good health and peace of mind, it can certainly go a long way in relieving the number of bills that may have accumulated due to the accident. Call us today at 770-HELP-NOW and provide them the details of your accident so that they can help you get the compensation you deserve. Our car accident attorney is here to help you, and they will ensure that they protect your rights get you the justice you seek.
Remember, the initial consultation is free and you pay nothing until your case is settled. Contact us today to get the representation you deserve.