If you have been injured in a collision, you might search for the best auto accident lawyer near me if you want to recover compensation. It is immaterial if the car accident was only minor. Even if your injuries and damages are minimal, walking away will be a mistake. A car crash is still an accident, even if it's only a minor one, and you will most likely need to hire a car accident attorney.
However, most people do not see the need to get legal representation after a minor car accident. They believe they can represent themselves and would rather not pay legal fees. While self-representation is possible, there are several reasons why you should hire a car accident attorney after a minor car crash.
This article discusses why you should hire a car accident attorney after a minor crash. Contact The Weinstein Firm for excellent legal advice and representation after a traffic collision.
An Atlanta Car Accident Attorney Explains What You Should Do After a Minor Car Accident
You must take steps following a collision in Atlanta, regardless of how minor or severe the crash is. These steps are crucial in protecting your interest and right to compensation. Unfortunately, many victims leave the crash scene and fail to make a report with the police or insurance company. This makes it difficult when trying to recover compensatory damages.
If you are involved in a minor crash, here are actions to take after the occurrence:
Report the Crash to the Atlanta Police
It is essential to report an accident to the police. It is pertinent that you don't leave the scene, even if the collision is minor. The police have a duty to draw up a crash report documenting the accident. In addition, failing to file a police report is illegal in Atlanta, even if it is a fender bender.
Once you leave a crash scene, it becomes difficult to get the facts straight. So ensure you take many photos and videos of the accident and the injuries sustained. The evidence gathered will help when you hire a car accident attorney and need to prove your claim for compensation.
It is a grave mistake to avoid seeking medical treatment after a collision, no matter how minor. Instead, you should get yourself checked out as soon as possible. It may be challenging to attribute your injuries to the crash if you don't. In addition, failing to get treated makes it difficult to recover compensation for the medical costs incurred.
Exchange Information With the Other Party
Always exchange driver information even when in a minor car crash. Obtain the other motorist's contact details, license details, and insurance policy.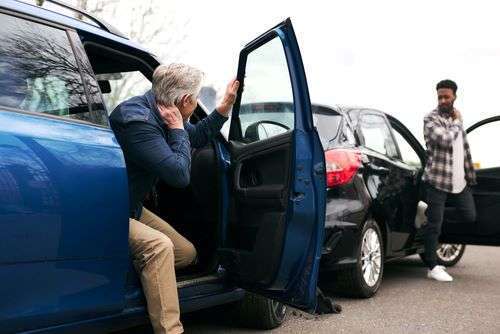 If witnesses are at the accident scene, then get their contact details. Then, if possible, get them to write a statement about the crash. It is better to get their version of how the collision happened while it is still fresh in their mind.
Notify the Insurance Company
Notify your insurance company or the at-fault driver's insurance about the crash to begin your claim process. Remember that insurance companies are first a business, and they exist to make money.
Be wary of the first settlement checks offered, as they may be less than you deserve. Consult with or hire a car accident attorney before speaking with any insurance company representative.
Contact an Atlanta Car Accident Lawyer
Most car crash victims try to settle their minor car accident claims without legal help. This is because they think minor crashes may not require one to hire a car accident attorney, but they are wrong. An Atlanta car accident lawyer will help build your case to help you recover the maximum settlement sum.
Reasons Why You Should Hire a Car Accident Attorney After a Minor Crash
Dealing with the aftermath of a car crash can be devastating. Again, it doesn't matter if the collision or your injuries sustained were minor. Accident victims usually worry about their property damage, medical bills, dealing with the other driver, etc. Hence, the thought of hiring a lawyer may be forgotten or never considered.
As mentioned earlier, most victims think minor car wrecks do not warrant the help of a lawyer. However, after a car crash, the first thing you should consider after seeking medical treatment is to hire a car accident attorney. A lawyer will help investigate the collision while you focus on recovery.
Without legal representation, you place yourself at the mercy of insurance adjusters. Again, insurance companies are, first and foremost, a business. They exist to make money; thus, when you file a claim, they will try to get you to settle for less. It is, therefore, in your best interest to hire a car accident attorney capable of taking them on and fighting for you.
In addition to the above, other reasons why you should hire a car accident attorney after a minor crash include:
A lawyer will file your claim with the insurance company or represent your best interest in court. Note that minor accidents rarely make it to court.
They will help you gather all relevant evidence to build your case.
They can call a network of experts to prove and strengthen your claim.
They will help to determine all potential damages.
An attorney can help you demonstrate fault against the party responsible for the crash. They will review accident reports and witness statements to determine the other driver's negligence.
They can negotiate a fair settlement and level the playing field with insurance companies.
An attorney knows the best outcome of your case and will fight to get maximum compensation.
Through their skills and experience, personal injury lawyers can advise you on navigating the claims process.
Most lawyers work on a contingency fee basis. You don't pay them until they win or settle your case. So you can seek justice and not worry about the financial implications. In most cases, they take between 33% to 40% of the settlement sum, but the percentage would be less for minor car accidents.
The Search for the Best Auto Accident Lawyer Near Me Ends With The Weinstein Firm
A minor car accident injury may appear insignificant and develop into something severe. Thankfully, you have a right to recover compensation for your wounds and other losses. As already stated, your best bet in securing the maximum settlement is to hire a car accident attorney.
At The Weinstein Firm, we understand that a crash can alter the course of your life. However, you don't have to bear the burden alone. We can help you recover fair compensation from the negligent driver. Our legal team is prepared to build you a solid case while working on a contingency fee basis. So reach out to us today to speak with the best personal injury attorney in Atlanta.