The consequences of a truck accident can be painful, complicated, and extensive. Thousands of motor vehicles are involved in fatal crashes yearly, and among these motor vehicles are trucks. Whether you are a vehicle driver, a motorcyclist, a pedestrian, or a truck driver yourself, truck accidents can result in severe injuries and possible long-term impairment. In addition to getting medical help immediately, you will also need to consult with a truck accident lawyer near Dunwoody, GA.
Our injury firm near Dunwoody will work to ensure that you are provided with the compensation type entitled to you, whether in terms of economic damages, non-economic losses, or punitive damages.
Truck Accident Statistics and the Necessary Help of Truck Accident Lawyers in Georgia
Fatal truck accidents are among the 34,439 deadly motor vehicle collisions in the United States reported for 2016 by the Federal Highway Administration. These fatal crashes claimed the lives of 37, 461 individuals all over the country.
In the state of Georgia, 1,422 fatal motor vehicle crashes have been reported for 2016, resulting in 1,554 deaths. Up to 32 large truck occupants were among the fatalities of these collisions.
In 2015, as many as 4,311 large buses and trucks figured in fatal crashes all over the country, recording an 8% rise in the number of fatalities compared to 2014.
Of these deadly collisions, 64% were two-vehicle crashes while 20% accounted for single-vehicle crashes.
According to the Federal Motor Carrier Safety Administration (FMCSA) in their 2015 Large Truck and Bus Crash Facts, fatal crashes often take place on rural roads and in both rural and urban interstate highways. The types of trucks that figure in these fatal crashes are single truck tractors, double-truck tractors, and triple truck tractors. Vehicle-related collisions have also been recorded as a cause of truck accidents.
Anyone who has been involved in a truck accident will require legal assistance, especially in terms of seeking compensation from an at-fault party. The guidance of a trusted car accident lawyer can help determine liability and calculate approximate compensation for all losses.
From Truck Accident Lawyers: Types and Causes of Truck Accidents
Like many other types of road accidents, truck accidents are often the result of one or several risky driving behaviors. One of the first steps which any truck accident attorney should undertake in an injurious or fatal traffic collision is to review the cause of the accident.
A truck wreck lawyer near Dunwoody, GA will have encountered the following causes of truck accidents in some of the cases they have handled in the past:
Truck accidents can happen due to a driver's intoxication while navigating a vehicle. In a two-vehicle collision, it is possible for one of the drivers or for both drivers to have been driving while under the influence of an impairing substance.
As the injured victim, you may press DUI charges against an irresponsible driver and seek compensation on your sustained injuries with the help of a truck accident lawyer in.
Distracted driving.
Distracted driving involves actions that take the driver's attention off the road and his or her surroundings. One of the most common forms of distracted driving is receiving or sending a text message while navigating a vehicle. While this form of driver negligence can be challenging to prove, a reliable truck accident attorney will have the resources necessary in obtaining evidence that corroborates the distraction.
Truck driver negligence.
In addition to being distracted, a truck driver may fall asleep while driving or exhibit irresponsible behavior such as speeding. Some drivers attempt to drive recklessly in the hopes of beating a deadline or arriving at a destination on time. A personal injury lawyer can help to determine whether the driver has been negligent in this regard, so as to quantify the damages for your compensation claim.
Mechanical failures.
Some truck crashes occur because of mechanical failures, such as brake defects, poorly maintained or poorly installed parts, blown-out tires, malfunctioning turn signals, and many others. The liable parties will depend on whether the employer has not been able to maintain the trucks properly or if the manufacturer has failed to maintain high expectations of quality and safety in their manufactured mechanical parts.
Since this kind of negligence will require strong evidence, it is important for anyone who has been hurt in a truck collision to consult with a truck wreck lawyer right after the accident.
Employer liability.
The truck driver's employer may also be held liable for a fatal or injurious truck accident. Some examples of employer's negligent actions include allowing drivers to work beyond a reasonable number of hours, employing untrained drivers, and failing to provide regular mechanical maintenance to the trucks. In some instances, truck driver employers may evade responsibility during a compensation claim. This is why the advice of truck accident lawyers is valuable prior to the filing for compensation against an at-fault party.
Truck accidents become a more complex matter when there are multiple negligent parties involved. While some accidents will involve only one negligent party, there are collisions whereby several parties can be involved in the liability.
Depending on the circumstances of the truck accident, your truck accident lawyer may hold the following parties liable for your injuries:
The truck driver.
If the truck driver has been negligent in his or her duty of care while operating the truck, s/he may be held responsible for the accident.
The driver's employer.
Truck driver employers have the responsibility to ensure that their drivers are properly trained and licensed to operate a truck vehicle. It is also important for employers to demand reasonable working hours from their drivers. Your truck accident attorney may look into the possibility of holding the driver's employer or operator liable in a truck collision.
Truck maintenance.
Some truck operators rely on third-party service providers for maintenance checks and repairs on their trucks. If a truck maintenance company has been negligent in its duties, your truck accident lawyer may hold the company partially or fully liable for your accident injuries and other damages.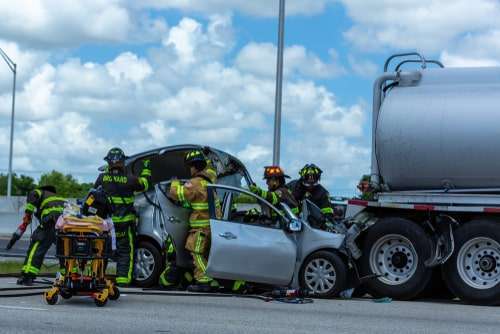 The Types of Truck Accident Compensation for Which Your Truck Accident Lawyer Can Help
The compensation amount that you obtain from an at-fault party aims to help you recover from damages and losses brought about by the truck accident.
Depending on your specific case, you may seek compensation for the following losses:
Medical expenses.
This will include first-aid expenses, ER costs, hospital room bills, medications, and surgical costs. Your truck accident lawyer may need to collect all of your medical reports and hospital receipts as evidence necessary for the calculations of financial damages.
Long-term medical care.
Some post-traumatic symptoms may not be felt immediately after a truck accident. If your truck accident injuries require that you receive long-term care in addition to your present medical treatments, your truck accident lawyer may also include this in your compensation computation.
Loss of income.
This type of compensation aims to take care of present and future income losses while you recuperate from your injuries. Additionally, your injuries may result in a severe impairment that affects your ability to work at a specific job. You may also factor these damages into your claim.
Reduced quality of life.
Some truck injuries are so severe that they leave an injured individual with legitimate losses that are not necessarily financial in nature. When you file a compensation claim, you may include pain and suffering and trauma into the list of non-economic damages. Other losses that may also be factored in by your truck accident lawyer are loss of companionship of a deceased spouse or parent and loss of limb or a body part.
Settlements vs Lawsuits: Which is the Better Option for a Truck Accident Attorney?
A reliable truck wreck lawyer will be able to advise you on the merits and drawbacks of both a settlement and a lawsuit.
Settlements are popular for many reasons, and one of these reasons is that there will be no need for a costly and lengthy trial. In a settlement you will discuss compensation calculations with the insurance carrier of the at-fault party, ensuring that all your losses are covered. Once you have agreed with the other party, you may choose to approve the settlement without further delay. In many cases, this will also mean receiving your compensation almost immediately.
In cases, however, when the other party is not willing to agree to your terms, your truck accident lawyer may proceed to file a lawsuit and battle it out in court. While a courtroom battle can be time-consuming and expensive, some cases can benefit more from it in the long run.
It is thus crucial for your truck accident attorney to have negotiation skills in settlement discussions and the right aggression necessary for court litigations.
Qualities to Look for in a Truck Accident Lawyer
While there are many legal counsels that specialize in truck accidents, not all of them can provide your truck accident compensation case with the direction it needs.
When it comes to choosing a truck accident lawyer, you need more than just experience.
The following qualities of truck accident lawyers can prove helpful as you choose the person who will serve as your legal representative in and out of courts:
Knowledge of state laws.
Motor vehicle laws and compensation claims guidelines tend to vary among various states. If you have been injured in a truck collision in Dunwoody, GA, it is important that you work with a truck wreck lawyer who has a wide knowledge of Georgia state laws, specifically those that involve motor vehicle collisions and personal injury or property damage lawsuits.
Familiarity with FMCSA regulations.
A reliable truck accident attorney should possess sufficient knowledge about the regulations posed by the Federal Motor Carrier Safety Administration (FMCSA) on truck drivers. Whether you are a truck driver seeking compensation from a liable employer or a vehicle driver who has been struck by a negligent truck driver, your truck wreck lawyer should have the ability to examine FMCSA rules diligently as a way to strengthen your case.
Ability to investigate.
The determination of negligence is almost impossible without the presence of sufficient evidence. Furthermore, proper evidence should be collected as early as possible and preserved appropriately for presentation at a later time during settlement talks or court proceedings. This is one of the reasons why a good truck accident lawyer should have ample resources for investigation. A truck wreck lawyer should also consult with other experts as a way to strengthen your claim. Some of these experts may be doctors, scene reconstruction experts, or relevant eyewitnesses, among others.
Commitment.
Finally, you need a truck accident attorney who is able and willing to commit to your case. Although there can be a good reason for your truck wreck lawyer to recommend the acceptance of a settlement, s/he should be willing to proceed to a court trial when needed. A committed truck accident lawyer is one who recommends a settlement when it benefits you but will also be one who is aggressive enough to engage in a courtroom battle to fight for you and with you.
Talk to a Truck Accident Lawyer Near Dunwoody at The Weinstein Firm
Truck accidents are rarely simple, especially if multiple liable parties have been involved in the collision. Furthermore, injuries sustained in any type of truck collision often have the potential to be more devastating, given the size of a double-truck tractor or a speeding 18-wheeler.
If the injuries you have suffered from a truck accident are due to the negligence of a truck driver, the driver's employer, or a truck parts manufacturer, talk to a truck wreck lawyer at The Weinstein Firm.
Our truck accident lawyers are prepared to look into your case and provide the best legal options possible in Dunwoody, GA.
The first steps to recovery begin with you. Call The Weinstein Firm at 770-HELP-NOW to speak with an experienced accident attorney today.