Drunk driving accidents accounted for approximately 10,142 injuries in the United States in 2019. (National Highway Traffic Safety Administration) One of the gravest consequences of a car accident is the physical and psychological trauma that anyone will have to endure, possibly for an extended period of time. In the worst of cases, a car accident may result in a significantly reduced quality of life and even wrongful death.
For you to fully recover from accident-related injuries, it is important to get access to the right medical attention, rehabilitation, and maintenance medications. You may also recover for damages by way of a compensation claim if your injuries were the result of a negligent driver. Call The Weinstein Firm today for the services of a dedicated car accident lawyer near Dunwoody, Georgia.
With the help of a personal injury firm serving Dunwoody, you can seek compensation on both financial and emotional losses and start rebuilding your life at the earliest time possible. Call us today at 770-HELP-NOW.
About Dunwoody
One of Atlanta's earliest suburbs, Dunwoody offers a mix of spacious homes and newer high-density apartments, condominiums, and cluster homes. It's conveniently located minutes from Atlanta's top business, retail, dining, and entertainment spots. Interstate 285, also called The Perimeter, runs along the city's southern border. The population of Dunwoody is estimated at 49,371.
Dunwoody is part of Perimeter Center, one of metro Atlanta's largest business districts. There are also plenty of things to do for fun. Dunwoody is home to a host of swim and tennis facilities and Perimeter Mall, the second-largest shopping mall in Georgia. The annual Butterfly Experience at the Dunwoody Nature Center features up-close butterfly encounters and outdoor activities. Enjoy artisan booths, food trucks, and live entertainment at the can't-miss Dunwoody Art Festival.
Car Collision Statistics in Dunwoody, Georgia
Traffic-related deaths in the country jumped from 35,485 to 37, 461 in 2015 and 2016 respectively, according to the National Highway Traffic Safety Administration (NHTSA). The topmost reason for these traffic-related deaths is driver overspeeding, which accounted for 18.1% of all fatal accident causes.
This increase in crash fatalities is paralleled by traffic death statistics in the state of Georgia, which showed an 8.5% increase in vehicle collision deaths at 1,432 in 2015 to 1,554 in 2016. This translates to 15 fatalities for every population of 100,000 individuals in the state. Additionally, there were a significant number of fatalities in 2015 compared to 2014, at 1,164 traffic-related deaths.
Dunwoody Accident Statistics 2019-2021
Common Car Accidents
Due to the varied circumstances surrounding a collision or crash, car accidents often happen in a number of ways. There are collisions that do not pose serious risks to drivers and properties, while some car accidents result in critical injuries, trauma, and even death. Regardless of the type of accident, you find yourself in, you need the counsel of trusted personal injury lawyers near Dunwoody.
A car accident attorney in Georgia will have encountered the following types of car accidents in some of their past cases:
Head-on collisions
Sideswipe collisions
Rear-end crashes
Side-impact vehicle crashes
Single-car crashes
Multi-vehicle accidents
In any motor vehicle accident, one of the challenges confronting a car accident lawyer is establishing liability in the at-fault driver. Proof of negligence becomes especially important if the state operates on comparative negligence laws.
In a comparative negligence ruling, the amount that a plaintiff is able to recover for damages is directly affected by his/her contributory negligence. It is crucial for any car wreck lawyer to collect sufficient evidence, as a means to establish the negligence of the other driver.
The causes of car accidents are as varied as the many types of vehicle crashes reported in Georgia and in other states. According to the National Highway Traffic Safety Administration, the most common cause of fatal crashes in the country for 2015 is driver overspeeding.
A dedicated car accident lawyer near Dunwoody, Georgia will have had experience dealing with various traffic collision causes such as:
Driving under the influence.
Also known as DUI, driving under the influence of an impairing substance (such as alcohol or drugs), is one of the most serious driving offenses in the state of Georgia. The at-fault driver charged with DUI could be facing both license suspension and criminal conviction.
Failure to maintain the use of proper lane while driving.
This negligent action is a common cause of car accidents. If the other driver is found to be fully at-fault for the accident, your car accident lawyer can work on your full compensation either through settlement or litigation.
Failure to yield.
An important traffic rule is for vehicles to yield to a bicyclist on a bicycle lane or to maintain a safe distance against a large vehicle, such as a bus or a truck. If another vehicle is proven to have been negligent in this regard, your car accident attorney can start obtaining evidence on this negligence to strengthen your accident compensation claim.
Distracted driving.
Most states prohibit texting, eating, or any kind of distracting activity while driving. Any driver who violates these rules and ends up hurting another driver in a collision can be held liable according to state laws. Your car wreck lawyer may argue for this negligent act of the at-fault driver when seeking for compensation in Georgia.
Obscured vision.
Impaired or obscured vision while driving is often caused by rain, heavy snow, or lack of proper signage on public road and highways. Obscured vision may cause single-vehicle accidents or multiple-vehicle collisions, depending on specific circumstances. Some cases may also involve a DUI offense. For this, your car accident lawyer should be committed enough to be able to obtain needed evidence.
Drowsy or fatigued drivers.
Lack of sleep or fatigue is also one of the strong causes of traffic-related deaths all over the country. Depending on the laws operating within the state, car accident lawyers may work out a compensation claim against the driver's insurance company or against the driver's employer, especially in the case of trucks and commercial buses.

Compensation Claims through the Help of a Car Accident Lawyer Near Dunwoody, GA
If you have been hurt in a car accident in Georgia, you have the right to seek compensation from the at-fault driver and his or her insurance company. It is important for you and your car wreck lawyer to establish the full liability or the significant negligence of the other driver. Depending on state laws, the amount that you will receive as compensation may be reduced by the percentage of your shared liability in the accident.
In the state of Georgia, vehicle drivers are required to obtain car liability insurance, in the event that they figure in an accident for which they have been the negligent party. The minimum amount that a driver in Georgia should carry for liability insurance per person is $25,000. For multiple parties, the amount is at $50,000, while property damage is mandated at a minimum amount of $25,000.
Since all drivers are required by state laws to carry liability insurance coverage, the negligent driver has the responsibility to pay a compensatory amount through his or her insurance carrier. It is thus crucial for a car accident lawyer to explain the types of damages that you will be allowed to recover the compensation amount.
A car accident attorney may help you recover for damages to compensate for the following:
Medical expenses.
Traffic collision injuries can range from simple bruises to fractured bones and spinal cord injuries. Some symptoms, such as post-traumatic headaches, may persist for a prolonged period of time. It is crucial for your car accident lawyer to factor your medical costs into the compensation amount, including present and future medical needs.
Vehicle damage and repairs.
You may also be able to recover for property damage either from your own insurance company or the insurance carrier of the at-fault driver.
Loss of present and future wages.
After a traffic accident, you may be required by your physician to refrain from working in order to fully recover. However, this may translate to significant income losses on your part as you recover from your injuries.
With the help of your car accident lawyer, you can factor these losses into the compensation or a settlement proposal against a negligent party.
Pain and suffering.
Not all losses after a car accident are economic in nature. Additionally, many individuals suffer from a significantly reduced quality of life after an accident. If the crash has resulted in your extreme suffering and the pain of your loved ones, you may also seek for this kind of compensation, whether through settlement or in court.
Furthermore, if the evidence is sufficient to prove the malicious intent of the at-fault party in a vehicular crash, your car accident lawyer may also sue for punitive damages in a criminal court.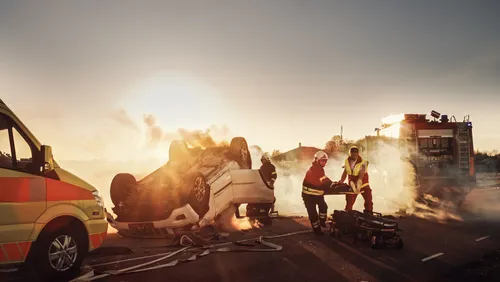 Should I Settle My Accident Claim or Go to Court?
Once compensation matters are discussed, you and your car wreck lawyer may decide whether to agree to a settlement or to proceed to a lawsuit.
Both options have their pros and cons; thus, it is crucial for car accident lawyers to advise you into taking an option that will be more advantageous to you, given your unique situation.
A settlement is an option that allows you to obtain compensation without having to deal with the complex procedures of a court trial. In a settlement, the at-fault parties and their insurance carrier discuss a settlement amount with you and your car accident attorney. You may benefit from a settlement if the proposed amount is appropriate enough to take care of all damages due to the accident.
One clear advantage to a settlement, according to most car accident lawyers, is that it saves the plaintiff from a lengthy trial process. A court trial may extend to long months and years without the guarantee of a positive outcome. If you and your car wreck lawyer are looking for a way for you to recover at an earlier time, a settlement may be an ideal decision to make.
Nonetheless, some settlements may not prove to be very helpful on the whole. There are cases where the at-fault party will attempt to downplay the damages which have resulted from the accident. Or, they may counter-accusations regarding their own negligence and full liability in the accident.
Contributory negligence often affects the compensation amount, and this may leave any claimant with a significantly lower amount. If your car accident attorney believes that your case is worth more than what the other party is settling for, it may be wiser to proceed to litigation.
Why You Need No Less than a Committed Car Accident Lawyer in Georgia
There are many reasons why you need the help of a car accident attorney as soon as after the occurrence of a traffic collision.
In fact, even if you feel relatively fine after an accident, the counsel of a car wreck lawyer is still paramount. You may not know it yet, but you could be suffering from post-traumatic injuries. These injuries show delayed symptoms and may require intensive medical care. When this happens, you wouldn't want to bear all the medical burdens on your own.
A good car accident lawyer will fight for your compensation against any negligent party in Dunwoody, GA.
In addition to the possibility of post-traumatic conditions, another reason why you will require the help of a car accident attorney is that any legal action taken against an erring party may operate through specific deadlines and documentary requirements. In many states, plaintiffs will be given only up to two years to file accident claims.
If you're planning to go to trial, moreover, you will need access to police reports, medical documents, and other crucial types of evidence. A committed car accident lawyer can help you keep track of deadlines and other required submissions while pursuing legal action.
Not least among the reasons is the fact that state laws will vary, and who you need is a car wreck lawyer that understands Georgia state laws. Various states have different laws on negligence, which should be proven in the at-fault party if you want to recover a full amount for compensation.
Your car accident lawyer should be able and willing to help you establish negligence, so you need not settle for the least amount as recovery for damages.
Get in Touch with a Car Accident Lawyer Near Dunwoody, GA
There is no reason why you should be the one to bear the burden of a negligent driver's actions. If you or a loved one has been involved in a car accident in Georgia, it is important that you seek the counsel of car accident lawyers straight away.
Call the The Weinstein Firm at 770-HELP-NOW so a car wreck lawyer can start working on your accident compensation claim in Dunwoody, Georgia as early as today.