Did someone else cause your vehicle accident in Atlanta, Georgia, through some negligent actions? Then, you are entitled to compensation for your bodily injuries and property damage, if any, so you should consult an Atlanta car accident lawyer. Unfortunately, you'll go through a stressful and complicated claims process. The good news is that you can evade such difficulties by hiring an Atlanta auto accident lawyer to represent you.
Generally, after a successful insurance claims process, you will receive a reasonable settlement amount. If your attorney filed a lawsuit on your behalf, there's a possibility for higher compensation amounts. As a result, you wouldn't have to spend your money on expenses that someone else's carelessness caused.
However, many car collision victims sometimes opt out of hiring a qualified lawyer because they're afraid of the costs. The truth is that getting an attorney isn't so much of a financial threat as you may think. We'll give you a guide to determining your traffic accident lawyer's fees in this article.
How Does a Car Accident Lawyer Charge Their Professional Fees in Atlanta?
Your attorney will likely charge per hour if you have a criminal defense case. However, for personal injury matters, many of them will work on a contingency fee basis. This means that they'll only accept payment when you win the case and receive the settlement sum.
That is, your lawyer's fee is contingent on the success of the case. You won't pay anything if you don't win the case.
Sometimes, the car accident lawyer may ask you to pay a few costs in a contingency fee arrangement. For example, you may only be responsible for filing fees in court, or your attorney may foot all the bills initially and get you to pay when you win.
These bills include:
Filing fees
Medical records expenses
Expert fees
Travel expenses
Police reports
Court reporter services
Postage, etc.
If you have any concerns, be sure to voice them out immediately. Also, always seek clarification if you don't understand any part of the agreement. Contingency fee arrangements only apply to claimants or plaintiffs, not defendants in an auto crash case.
Essential Points to Note About Contingency Fees
These are the vital points to understand before you negotiate professional fees with your car accident lawyer:
The State Bar of Georgia expects car accident attorneys to charge reasonable fees. The reasonableness of a lawyer's fees will depend on factors like the attorney's experience/reputation, time constraints, and the amount involved. It may also vary depending on the time and labor required, length of professional relationship with clients, etc.
The State Bar of Georgia also mandates that contingency fee contracts must be in writing. Again, the written agreement must include the method used in calculating the fees at each stage of the claim. It should also specify deductible expenses and whether the professional fee calculations come before or after deductions.
Contingency fees vary per personal injury lawyer or law firm. However, Atlanta personal injury attorneys typically charge between 30% to 40% of your settlement sum, depending on specific factors. Generally, though, most lawyers will settle for 33.3% as the standard fee for insurance settlement claims.
You can negotiate your contingency fees. So, if you're not comfortable with what your attorneys are charging, talk to them about your concerns. That's especially when your case is straightforward and wouldn't require too much time and effort.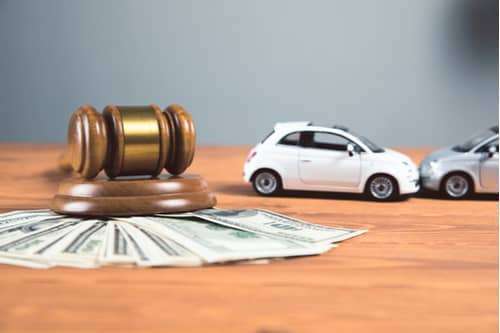 How Does a Contingency Fee Arrangement Benefit Me?
A contingency fee agreement offers you more advantages than it does the car accident lawyer. As such, it's a much more convenient arrangement for you, especially when you compare it with flat or upfront fees.
Here's how contingency fee contracts benefit you.
You Get To Focus on Your Recovery Fully
Car accidents lead to devastating consequences. Unfortunately, pursuing a compensation claim while undergoing treatment can cause you extra mental stress. With a contingency fee agreement, you don't have to think about paying your attorney. This puts your mind at peace and ensures that you're in the right mental frame to recover quickly.
Little or No Financial Risks
When it comes to fixed payments, you can lose your money if you don't win your case. Fortunately, losing your money isn't the case when you have a contingency fee agreement with your lawyers. You lose nothing if you don't win, and you gain so much if you do.
You're More Likely To Receive Maximum Compensation
If your attorney agrees to a contingency fee payment, it automatically means that you will likely win your case. That's because lawyers understand that their fees depend entirely on the case's outcome. As such, they wouldn't want to take up a bad case.
Why Do I Need an Auto Crash Attorney?
It can be tempting to think that hiring a personal injury lawyer is an unnecessary expense. The truth, however, is that hiring an attorney is always vital to get the damages that you desire. Without a lawyer, your chances of maximum compensation will decline drastically.
Here's why we don't recommend handling your car crash case without a personal injury attorney's help:
The thing about auto collision cases is that they can take a different turn quite quickly. Only an experienced lawyer knows what to do in such situations.
Insurance companies typically don't like to play fair and may offer low compensation. You wouldn't have to worry about dealing with the insurance adjusters' ploys with a lawyer by your side.
From gathering evidence to carrying out investigations and speaking with witnesses, an attorney will build a solid case for you. They'll tie all loose ends and boost your claim's chances of success.
Your car accident lawyer can calculate your compensation amount and let you know what to expect from the get-go. That way, they know precisely what your case deserves and wouldn't accept anything less.
If your case goes to court, your injury lawyers will leverage their experience and knowledge to give you top-notch representation. They'll also ensure that you meet the legal requirements for a personal injury case.
Contact Our Personal Injury Lawyers Immediately
Did you sustain injuries in an auto collision in Atlanta, Georgia? If you answered yes, you could get maximum compensation to cover your losses. Our experienced attorneys will ensure that.
At The Weinstein Law Firm, our goal is for you to have access to justice regardless of your financial capabilities. That's why we won't take a dime from you unless we win your case. So, call us immediately to book a free case evaluation with a competent Atlanta personal injury lawyer. We are available round the clock to listen to you.