Every day there are millions of vehicles on the road. Some of these drivers take extreme care to obey the laws of the road while others are negligent in their actions. In 2020 alone, there were a total of 358 alcohol-impaired driving fatalities in the state of Georgia, according to the National Highway Traffic Safety Administration. These actions can cause a car wreck in a matter of seconds. That's when you need a Decatur Car Accident Lawyer.  Driver error can also cause a car accident without warning.
If you are involved in any one of these car crashes, you can easily be injured and have severe property damage to your vehicle. You need a car accident attorney in Decatur, Georgia, that can help!
You have legal rights when another driver causes an accident that is no fault of your own. A Decatur car accident lawyer can help you understand how the laws for car accidents apply to your case and guide you through the legal process to receive compensation for your injuries and property damage.
When you decide to work with an experienced car accident lawyer at The Weinstein Firm you can trust that you will receive the support you need to win your car crash case. Your car accident lawyers know the law when it comes to car accidents and will work with you to develop a case against another driver.
Your car accident lawyer will use all the tools available to them to investigate your claims and the negligence of the driver that caused your crash and the injuries you sustained.
You can count on your car wreck lawyer to establish fault from the very beginning of your car crash case and work to prove your need for compensation to cover your medical bills, lost wages from work, and pain and suffering from a settlement award that is fair.
Decatur, Georgia, car accident lawyers will fight to get you fair compensation and ensure coverage of the damages you have endured with the maximum settlement award possible. Call a car accident lawyer at 770-HELP-NOW to work for you and support you every step of the way in your car wreck case.
A Little Bit About Decatur
Decatur is a city in, and the county seat of, DeKalb County, Georgia, which is part of the Atlanta metropolitan area. The population was recorded at 24,928 in the 2020 census. The city is located approximately 5 miles from downtown Atlanta. It shares its western border with the city of Atlanta and unincorporated DeKalb County.
Decatur holds many special events and festivals, including the Decatur Arts Festival, Summer In The City, and the Decatur BBQ, Blues & Bluegrass Festival. The annual AJC Decatur Book Festival is one of the largest independent book festivals in the United States.
According to data from 2013 – 2015, the two deadliest roadways in Decatur were a 1.42 mile stretch on Wesley Chapel Rd and a long stretch of I-20. Other dangerous roads include Lavista Road and Columbia Dr. The same study also found that drunk driving deaths made up 31% of total deaths compared to 19% for Atlanta.
Decatur Accident Statistics 2019-2021
Having A Car Wreck Lawyer File A Car Accident Lawsuit In Decatur, GA
While most car accident cases settle out of court by negotiating with insurance companies, there are instances when a fair settlement does not happen. In these cases, it is necessary to file a lawsuit in a court of law. There is a statute of limitations in Decatur, Georgia, that dictates how long you have to file a lawsuit for personal injury claims or property damage recovery.
The law in Decatur, Georgia, provides that you have two years from the date of the accident to file a lawsuit against a negligent driver for injuries that happened during the car crash.
If there is a death from the car accident, you also have two years to file your lawsuit, but this starts from the date of the death of the victim of the car crash and not when the car accident claims actually occurred in the case.
For lawsuits that involve property damage, you will need to file your lawsuit in an appropriate court within four years from the date of the accident to receive any settlement award in your case.
While it may seem like you have plenty of time to file a lawsuit under these guidelines, you should speak with your Decatur, GA, car accident lawyer about your car crash case as soon as possible. Your car wreck lawyer needs time to develop a case on your behalf and to investigate the claims you are making whether they are for injuries you sustained or property damages.
Your personal injury lawyer also needs time to negotiate with insurance companies to try and reach a settlement.
Your Decatur, Georgia, car accident lawyers know that going to court for any car wreck case is time-consuming and costly. Experienced car accident lawyers will do their best to try and reach a settlement with an insurance company before filing a lawsuit that goes to court.
Only when it is impossible to reach a fair settlement will your car accident lawyer recommend that you file a lawsuit to receive better compensation for your injuries.
It is also important to note that if you file your lawsuit after the deadlines of the statute of limitations, you will not receive a settlement in your wrongful death case. The judge will dismiss your car accident case without compensation.
Be sure to speak to your Decatur, Georgia, car accident lawyer immediately about your car crash case, especially if there were injuries or property damages that were not your fault.
How Your Car Wreck Lawyer Proves Negligence In A Decatur, GA, Car Accident
Building a case against a negligent driver in a car accident case requires extensive work. Your Decatur, Georgia, car accident attorney will work to establish negligence by another as it is important to show that they carry the burden of fault for the car crash.
Because Decatur, GA, uses a comparative fault law in determining settlement awards, you want to be sure that your car wreck lawyer examines all possible causes of a car crash. This will prove important as the jury looks at your negligence in an accident.
Under the comparative fault law, your percentage of negligence in a car accident reduces your total settlement award. For example, if the jury determines that you are 20 percent at fault for an accident and the total compensation for your settlement should be $20,000, you would only be entitled to $16,000.
This is a reduction of 20 percent of the total settlement amount. The defendant is not responsible for paying this amount of the settlement.
The comparative fault law also prevents payment when you, as a driver, are 50 percent or more at fault for a car accident. For this reason, it is imperative that you have a car accident attorney that can develop a case that strongly supports your claims and shows the negligence of another driver.
This can provide you the maximum settlement award in your case and help you move forward after a car accident has caused you injury or damaged your property.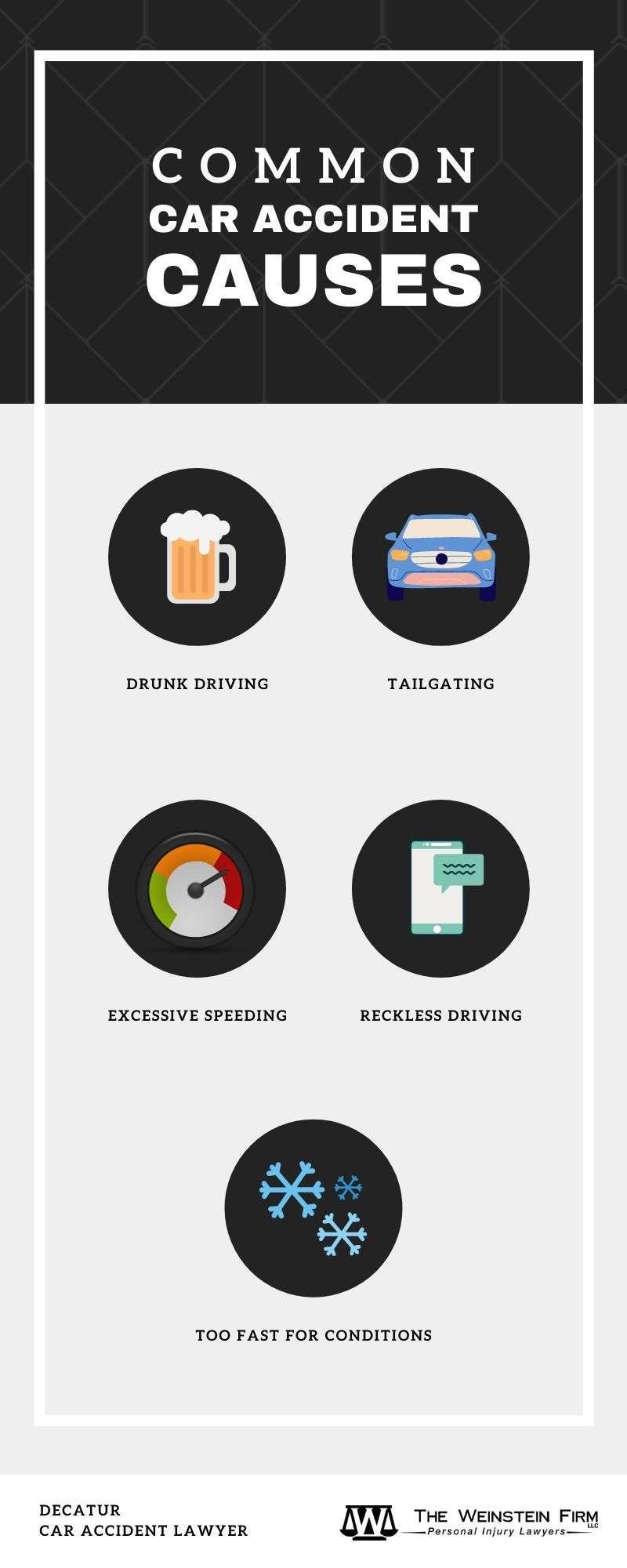 How Much Is Your Car Accident Claim Worth?
Under the law in Decatur, Georgia, you have a right to compensation for your losses after a car accident. Your car accident attorney can help you determine what damages you have suffered and what is recoverable in your auto accident case. Some of the compensation that is recoverable in a car crash case where injury or property damage has occurred include:
Medical Costs
The medical expenses you have from your car accident injuries are recoverable in a car accident case. This includes any current medical bills you have from the injuries you sustained from the car crash as well as any medical bills you may have in the future for continued care of your injuries.
The medical care must be reasonable and necessary to qualify as compensation in a settlement award. A car accident attorney can help you understand if your medical bills are part of the compensation owed as part of your settlement claim.
Lost Wages
The time that is needed to recover from your injuries after a car accident may have caused you to miss work. Your lost wages are recoverable in a settlement award for a car crash. This includes any lost wages you have missed out on due to your injuries as well as any future wages lost because of the extent of your injuries or the inability to work because of the severity of your injuries.
Your Decatur, Georgia, car accident lawyer can help you determine what lost wages you are owed as part of your settlement award.
Loss Of Companionship
When your loved one is injured in a car accident, and you lose their companionship because of their physical or mental injuries, you have a right to compensation under the law. Loss of companionship can also occur with the death of a victim in a car accident.
Your car wreck lawyer will advise you on recovering the loss of companionship in a car crash case and help you receive the maximum compensation amount for this devastating loss.
Vehicle Repairs
A car accident can easily damage your vehicle, and you may need the cost of repairs or replacement covered as part of your settlement award. Coverage of these damages is part of your total compensation in your car crash case, and your car wreck lawyer will fight to get your vehicle repairs or replacement paid.
Pain And Suffering
Often a car accident can cause emotional pain and mental anguish and compensation for these injuries needs to come in the form of a settlement payment. You do not need to suffer alone. You deserve a settlement that can help you recover from this pain and suffering. Decatur, Georgia, car accident lawyers will work to provide you a settlement award for pain and suffering after a car crash.
Punitive Damages
There are times when the actions in a car accident are particularly reckless and dangerous, and additional compensation is necessary for these preventable negligent actions. Punitive damages are often used by the court to make an example out of a driver that put you in harm's way as a way to prevent others from performing the same actions.
Punitive damages awarded above the total compensation are typically sought in a car crash case, and your experienced car accident attorney, can help you determine if you qualify for these damages because of the negligent actions that happened in your case.
In Decatur, GA, there is no cap on most compensation awarded during a car accident case. This allows for maximum recovery of the damages you have suffered from a personal injury claim or property loss. The limit for punitive damages is $250,000.
Common Decatur, GA, Car Accident Causes
Every car accident is unique in the events that lead up to it and cause the crash, however, there are a number of common reasons that car wrecks happen. As a driver on the road, you need to be defensive and watch for these aggressive driving behaviors so that you can avoid a car accident at all costs.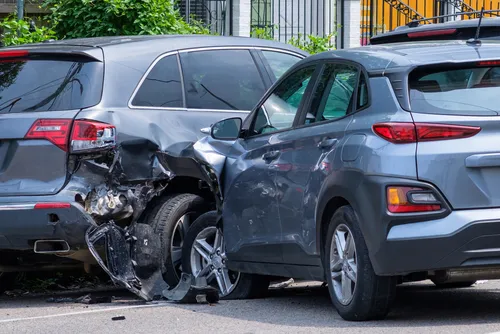 Drunk Driving
Anytime someone is under the influence of alcohol and driving, it puts your family at risk. Watch for drunk drivers that swerve and go outside their lane. They can easily cause a car crash that injures you or someone you love. Talk to your car accident lawyer if a drunk driver caused your car crash.
Excessive Speeding
Speed limits are posted to keep all drivers on the road safe. When someone drives excessively over the speed limit, not only is it illegal but it can easily cause an accident where someone is severely hurt. High rates of speeds and car crashes do not mix. Steer clear of drivers that go over the speed limit and discuss your case with a car accident lawyer if speeding caused your crash.
Reckless Driving
When a driver is driving recklessly and has no regard for the laws of the road, it can put everyone in danger. Reckless driving often leads to an accident with severe injuries, and you need to avoid this negligent driving behavior to stay safe. You can cost someone their life or injure someone A car accident lawyer can help you with a crash involving the reckless driving of another driver.
Tailgating
When a driver is tailgating your vehicle, it can be annoying and dangerous. They are not leaving enough room between vehicles to stop and could easily hit your car. When someone is tailgating your car, pull over and let them pass. There is no reason to allow this aggressive behavior which could lead to an accident with injury. If tailgated caused your car wreck be sure to work with a car accident lawyer on your case.
Too Fast For Conditions
You need to slow down when the weather conditions are poor. Rain, sleet, snow, ice or fog can make it difficult to see or stop and additional caution needs to be taken when driving. Driving too fast in poor weather can cause you to lose control of your vehicle and causes an accident. If poor weather and inattentive driving caused your accident, you need a car accident lawyer on your case.
Contact A Decatur Car Accident Lawyer Today!
If you are involved in a car accident that has caused your injury or damaged your property, you need a Decatur, GA, car accident attorney that is on your side. You can count on the car accident lawyers at The Weinstein Firm. A car accident lawyer at can help fight your claims and get you the compensation you deserve for your injuries or property damage.
Their car accident lawyers are ready to assist you with your car crash case today. Contact us today to set up a consultation at 770-HELP-NOW.