Ridesharing seems a safe and convenient transportation solution in Rockdale County, however no matter where you travel, it is possible to get into an accident. If you have been hurt in a wreck when you were not the one driving, then a Lyft or Uber accident lawyer in Conyers, Georgia can help you receive compensation for your injuries and losses.
An experienced Uber wreck lawyer will know how ridesharing works, what insurance coverage these companies have, and what legal procedures rideshare accident victims have to follow in order to recover their losses.
At The Weinstein Firm, our Uber and Lyft accident lawyers have been defending the interests of Georgians for years and have managed to secure consistent compensation for them even in complex cases when other attorneys may have failed.
If you have been the victim of a car accident while using ridesharing services, the best way to understand what an Uber and Lyft accident attorney can do for you is to find out more about the two most common providers and their liability under Georgia law.
About Rideshare Services: Why the Demand for Uber and Lyft Accident Lawyers is On the Rise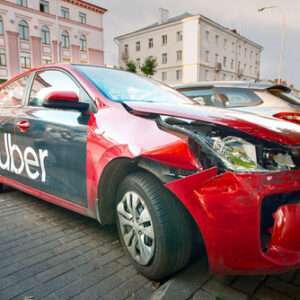 Uber began offering their services in Georgia in 2012-2013 and rapidly expanded their reach throughout the state, including in Rockdale County, causing local taxi companies to lose business. Lyft entered the market a little later, but their expansion was fast and constant, as well.
Both companies claim to make sustainable efforts to ensure their passengers and drivers' safety, and some sources support these allegations, associating Uber rideshare services with a decrease in the number of drunk driving instances and car accidents. However, car crash statistics suggest otherwise, and more and more Georgians find themselves needing the advice of a Lyft and Uber accident lawyer.
In fact, the number of car accidents registered every year has been on the rise in both Georgia and Rockdale County, from 333,963 accidents in 2014 to 385,221 accidents in 2015, and, respectively, from 3,359 crashes in 2013 to 4,013 crashes in 2014.
Unfortunately, due to the dense traffic, the increasing number of distractions for drivers, and the increasing number of rideshare vehicles on the Rockdale County streets, chances are rideshare accidents will follow the same trend. More and more rideshare passengers will likely need the services of a car accident lawyer.
The worst problem is that despite the rideshare companies' claims to do everything in their power to ensure passenger safety, the reality is not very encouraging. One look at Lyft's recruitment ad for new drivers illustrates this point. Candidates have to meet the following requirements, which are not as restrictive as you would expect:
Minimum 21 years of age
Minimum 1 year of driving license possession
Vehicle with valid license plates
Internet-connected smartphone compatible with the Lyft Driver app
Less than three traffic rules violations on record in the past three years
No major moving violations in the past three years (reckless driving or license suspensions)
No DUI or related driving violations in the last seven years
No driving-related convictions (felonies, hit-and-run, and other convictions involving vehicles)
No previous convictions for violent crimes, felonies, drug-related offenses, sexual offenses, and certain offenses related to theft or property damage
Otherwise put, even very young, inexperienced drivers who have had a driving license for one year or have already been caught violating traffic rules can become Lyft drivers. The situation is similar in the case of Uber.
As any experienced personal injury lawyer may confirm, inexperienced drivers cause many accidents in Rockdale County and jeopardize many lives. Unfortunately, passengers only become aware of the risks when the worst has already happened.
When accidents occur, the question on every passenger's lips is "who do I file my claim with?". The best way to answer this question is by consulting a Lyft and Uber accident lawyer. As they will explain, there are several options available, each with its pros and cons.
What Are My Options for Filing a Claim in Conyers, Georgia?
1. Filing the Claim with Uber or Lyft's Insurer
This may seem like the best thing to do, given that both Uber and Lyft companies have ample insurance coverage. However, proving their liability is a challenge even for the best Lyft and Uber accident lawyer. Their drivers are independent contractors, not employees. They drive personal vehicles, not company ones.
This means drivers are responsible for their actions and for maintaining their cars. Proving the responsibility of the drivers is similar to proving the responsibility of any driver, making it a much more simple process. Filing a claim against the rideshare company itself is difficult, but, as our Uber and Lyft accident lawyers like to say, it is not impossible either.
The best way to tell if you have a case is to discuss the accident details with a Lyft and Uber accident lawyer. They will analyze the circumstances of the accident, the records of the driver, and the available insurance coverage, and they will let you know what option is more accessible: filing the claim with the rideshare company's insurer or with the driver's insurer.
2. Filing the Claim with the Uber or Lyft Driver's Insurer
Rideshare companies require their drivers to carry personal auto insurance coverage of a minimum $25,000 for personal injury per person, $50,000 for personal injury per event, and $25,000 for property damage per event.
There is a catch that your Uber and Lyft accident attorney is aware of and will look out for: many insurance companies limit the coverage they provide to situations that do not involve driving for profit.
Therefore, before filing the claim on behalf of the accident victim, every Lyft and Uber wreck lawyer will make sure the driver in question has coverage. If they do not, it may be better to file the claim against the rideshare company or, if that is not a viable option either, with the other driver involved in the accident or your own insurance company.
3. Filing the Claim with the Other Driver Involved in the Accident or Their Insurance Company
Sometimes, an accident occurs due to another driver's negligent behavior. When it does, even if you were a passenger in the rideshare vehicle, your Lyft and Uber accident lawyer will advise you to file your claim with the driver at fault or their insurer.
In this case, your chance of success will depend on whether you can prove that driver's liability and on whether they have insurance. If they have insurance, your Uber and Lyft accident attorney can help you gather evidence and find witnesses to prove their fault.
However, if they are uninsured and their financial situation is not that great, obtaining compensation from them can be difficult. Your Lyft or Uber wreck lawyer will most likely want to look at your own insurance policy to see if it provides uninsured or underinsured motorist coverage. If it does, it may be better to file the claim with your own insurer.
4. Filing the Claim with Your Own Insurer
When you file your claim against your own insurer with the help of a Lyft and Uber accident lawyer, everything has to be perfect. Your insurance payments should be timely, and up to date, your coverage should include uninsured/underinsured motorist coverage, and you should be able to prove how the accident took place and what expenses and losses you incurred.
A Lyft and Uber wreck lawyer can help with this, so contact one as soon as possible, give them all your case details, and listen carefully to what they have to say. At The Weinstein Firm, our Uber and Lyft accident lawyers only express an opinion after thoroughly analyzing each case's details and identifying the best solution for our clients. We let our clients know what options they have available to them and inform them of all the pros and cons to enable them to make the best decision.
No matter who you decide to file your claim against, you can turn to one of The Weinstein Firm Uber and Lyft accident lawyers for help. While your lawyer will spell out everything you need to know, you should be aware of a few simple, yet important, steps all rideshare passengers should follow.
What Steps Should Rideshare Passengers Follow After an Accident?
The priority of every rideshare passenger, when involved in an accident, should be to make sure everyone is safe, including themselves. This could mean calling 911 and requesting an ambulance. Just because you do not seem to have open wounds or broken bones, it does not mean the accident did not affect you. You could have suffered internal injuries or a concussion. It is better to be safe than sorry, so do not hesitate to request a medical consultation.
After that, you can help the others. When everyone is safe, your priority, besides keeping in touch with your Lyft and Uber wreck lawyer or contacting one if you have not done so already, should be to notify the authorities and Uber or Lyft about the incident.
While the drivers may have already reported the accident, you should use the rideshare network app to report it yourself. This way, you will have one more piece of evidence that you were involved in the accident, and you did your part, namely notifying the service provider.
While at the accident scene, keep in mind that all the drivers involved will try to blame someone else and escape liability. Remember to think twice before talking and listen and record or take notes of everything you hear. These notes could be invaluable to your Lyft and Uber accident lawyer who can use this information to help prove liability for the accident.
The following step should be to gather as much evidence of how the accident took place as possible. Although your Uber and Lyft accident attorney will most likely conduct their own investigation, nothing beats photos, recordings, and testimonies from the accident scene. While collecting them, here are a few aspects you should focus on:
Speed and trajectory of the rideshare vehicle and any other vehicles involved in the accident
Traces of leaking fluids and braking marks (they could help your Uber and Lyft accident attorney figure out and prove how the accident occurred)
Drivers appearance and condition (old and slow, young and reckless, aggressive, tired, sight problems, showing signs of alcohol or drugs intoxication)
The license plates, makes, models, technical condition, and damages of all vehicles involved
The presence of the rideshare company's signage or emblem on the Uber or Lyft vehicle
Whether the drivers confess being at fault or apologize for something they did
Any helpful findings or observations of the insurance agents and police officers investigating the accident
Contact and insurance information of every driver and passenger involved in the accident and of all eyewitnesses (your Lyft and Uber accident lawyer may want to talk to them later on)
Whether there are any video cameras that may have recorded the accident or the moments before and after it (the footage may help your Lyft and Uber wreck lawyer prove liability)
Soon after your accident, you should expect the insurance agent of the driver at fault to approach you. They may ask questions, express their regret for what you are going through, or promise some outstanding agreement.
What they really want is for you to say or do something they can use against you, to deny your claim or diminish the compensation they will have to pay. You should avoid any discussions if you do not have a Lyft and Uber accident lawyer present and you should definitely not sign any papers.
After you receive the medical treatment you need, and you evaluate your losses, you can file the compensation claim. Depending on how serious your accident was and what evidence you and your Uber and Lyft accident attorney manage to gather, the claim can cover any or all of the following damages:
Medical treatment (medicines, medical devices, and medical assistance)
Physical therapy
Psychological therapy
Lost wages
Loss of earning capacity
Pain and suffering
Wrongful death
Lawyer fees and trial expenses
Obviously, you will have the chance to negotiate the compensation, appeal the decision of the insurance company, and even file a lawsuit if you are not satisfied with what they are willing to offer. To increase your chances of getting full and fair compensation, you should enlist the help of an experienced Lyft and Uber accident lawyer.
Schedule a Free Consultation with a Reliable Uber and Lyft Accident Attorney
At The Weinstein Firm, we have been helping Georgians obtain fair compensation for years. We understand how challenging recovering after an accident can be, which is why we don't treat our clients like they are just another number. The case evaluation is always free, and those who decide to hire our Conyers Lyft and Uber wreck lawyer to defend their interests only pay for our services when they receive the compensation they deserve. Call to schedule a free consultation now and find out what our Lyft and Uber accident lawyer can do for you.