According to the Georgia Governor's Office of Highway Safety, an average of over 4,000 car crashes occur every year in Rockdale County, causing over 1,000 injuries and ten deaths. Most of them take place in Conyers and on U.S. Route 278 and Interstate 20. To defend their rights, get help with the paperwork, and gain peace of mind, car wreck victims often choose to hire a Conyers car accident lawyer.
At The Weinstein Firm, we have been helping drivers and passengers in Rockdale County for years. We handle all types of car accidents, from severe head-on collisions, to rear-end accidents, hit-and-runs, and even rollovers. Our Conyers personal injury lawyers know how dangerous car accidents can be, and how costly and difficult it is to recover from head, neck, chest, back, or limb injuries.
In the aftermath of a car accident, especially if it involved severe damage and injuries, many people feel confused about what their rights are and how to proceed. For them, receiving the advice and experience of a Conyers car accident lawyer is very helpful.
Unfortunately, few accident victims remember to contact a car wreck lawyer in the spur of the moment. Those who do not often commit mistakes that cost them their ability to obtain compensation for the damages and losses they incurred.
At The Weinstein Firm, we stand by our clients from the moment they call us. Reach out to our Conyers car accident lawyers at 770-HELP-NOW for a free consultation today.
A Little Bit About Conyers
Conyers, Georgia is located 24 miles from downtown Atlanta and is part of the Atlanta metro area. The large population and rapid growth of the Atlanta metro area mean the risk of traffic accidents is high.
Conyers sits along Interstate 20, which provides access to Atlanta from exits 80 and 82. Interstate 20 is one of the deadliest roads in Georgia. U.S. Route 278 and Georgia State Routes 20 and 138 also run through Conyers.
You don't have to head into Atlanta to find things to do. Conyers is home to attractions like the Lewis Vaughn Botanical Gardens and historic Olde Town Conyers. The Georgia International Horse Park is known for holding the equestrian events of the 1996 Centennial Olympic Games. Today, it hosts many equestrian competitions, festivals, concerts, and sporting events.
You can also enjoy local events like the Olde Town Fall Festival, Taste of Spring Festival, and Trucks on the Tracks.
Conyers Accident Statistics 2019-2021
Steps to Take After a Car Accident
Here is what you need to do immediately after being involved in a car accident in Rockdale County in order to make sure everyone is safe, avoid breaking the law, and maximize your chances of receiving compensation for your losses.
Stop at the Scene of the Accident and Help the Injured
There are some drivers who panic after being involved in a car accident and keep driving, hoping they will not get caught or believing the damage they caused was negligible. This is the worst thing someone can do, and all Conyers car accident lawyers advise against it.
By running from the scene, you assume liability for the accident, jeopardize the life of the other parties involved, and expose yourself to additional penalties. Georgia Code Title 40, Chapter 6, Article 12 stipulates that in case of car accidents involving injuries, death, or property damage, drivers should stop and assist or request medical assistance for the injured.
Those who do not stop face charges of a misdemeanor, fines from $300 to $1,000,000, and time in jail, depending on the severity of the accident and the existence of previous similar offenses. Therefore, it is better to pull over after a wreck without impeding traffic. If you think you are at fault, running from the scene will not help, but a personal injury lawyer might.
Report the Accident and Contact a Conyers Car Accident Lawyer
Once the accident victims receive help, and the cars involved are driven or pushed to the side of the road to avoid interfering with the traffic, you should report the accident to the police. The minimum damage amount for notifying the police is $500.
If the police do not come to the scene to investigate and fill in the accident report, you should fill in a Personal Report of Accident. Although no institution or agency requires a copy of this document, most car accident lawyers agree it is of great help when it comes to proving how the accident took place and who was at fault.
While waiting for the police to arrive, you should consider contacting a car accident attorney. It helps to have one present at the scene when the police and the insurance agents arrive. Your lawyer will prevent you from making any detrimental statements and help you avoid costly mistakes.
Exchange Contact, Car, and Insurance Information
No matter how serious the accident was and whether they have a car accident lawyer present at the scene, the parties involved should exchange contact, car, and insurance information. This information will enable you to file the car accident claim later on when the consequences of the accident become clear.
The minimum insurance coverage for Georgia drivers is $25,000/person and $50,000/event for personal injury and $25,000/event for property damage. Many drivers acquire uninsured/underinsured motorist coverage as well to benefit from protection if the driver at fault does not carry insurance.
Find out if the driver responsible for your accident is insured and obtain their contact, driving license, and insurance policy information. If they aren't, you should check your own policy to see if it covers damages caused by uninsured drivers. If you cannot obtain the data you need, a Conyers car accident lawyer may be able to help, since they have their own investigation methods.
 Gather Evidence and Avoid Unnecessary Statements
After an accident, especially when there are no car accident lawyers present, it is not uncommon for drivers to start arguing over who was at fault, cast blame, and even start a fight. Their insurer's representative often tries to take advantage of the stressful situation to get the other driver to accept liability and, thus, discourage any compensation claims.
Worried, stressed, and assaulted by insurance agents, without a car accident attorney on your side, you may be tempted to say things you do not mean, apologize for mistakes you did not commit, or sign agreements without reading. You may also neglect collecting evidence and testimonies, and later find yourself unable to prove your innocence or justify your compensation claim.
At The Weinstein Firm, we always advise our clients to remain calm and focus on gathering evidence. Even if you plan on hiring a car accident lawyer who will carry out their own investigation into what happened the day of the wreck, it is important to take photos from the scene of the accident to be able to show how it took place and what damages your car sustained.
If there are surveillance cameras in the region, they may have caught the moment of the accident, so it is important to obtain copies of the footage.
Witnesses often are the difference between success and denial concerning claims, so it helps to find someone who witnessed the accident and convince them to testify. They can be passengers, passersby, other drivers, or anyone who might have seen the accident and can testify to how it occurred.
The more evidence and witnesses you have, the higher your chances of getting fairly compensated.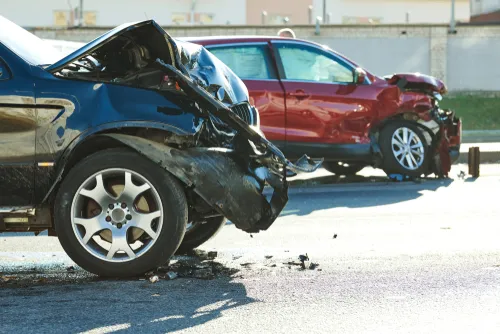 Filing the Compensation Claim: The Importance of Working With a Conyers Car Accident Lawyer
As mentioned above, anyone who incurred property damages or injuries in a car accident has the right to request compensation for their loss from the party at fault. Requesting compensation means filing a car accident claim. You can do it yourself or hire a car accident attorney to help you.
It is advisable to leave this procedure in the hands of an experienced car wreck lawyer, as it raises numerous questions only someone familiar with Georgia laws can answer.
Here are some of the most important.
What is the Deadline for Filing Car Accident Claims?
According to the Georgia statute of limitations, you have two years from the date of the accident to request compensation for the injuries you suffered and up to four years to seek compensation for property damage. However, since all claims require solid evidence, the best strategy is to contact a car accident lawyer and initiate the procedures as soon as possible.
With Whom Should I File My Claim?
As a Georgia car accident victim, you can file your claim against any of the following parties: the driver at fault, the other driver's insurer, or your own insurer. If the driver at fault is insured, the attorneys at The Weinstein Firm usually advise our clients to file the claim with their insurance company.
However, depending on the circumstances, you may benefit more from filing the claim against your own insurer or from filing a lawsuit against the party at fault. A consultation with an experienced Conyers car accident lawyer can easily help you assess which option is more suitable in your particular case.
How Much Is My Car Accident Claim Worth?
The best way to assess how much your claim is worth is to discuss its particularities with a car accident attorney. The amount will depend on several factors: property damages and injuries incurred, your ability to prove fault and losses, insurance coverage, and more.
Although most insurance companies try to settle claims within the above-mentioned insurance coverage threshold, an experienced car wreck lawyer may be able to obtain much higher compensation.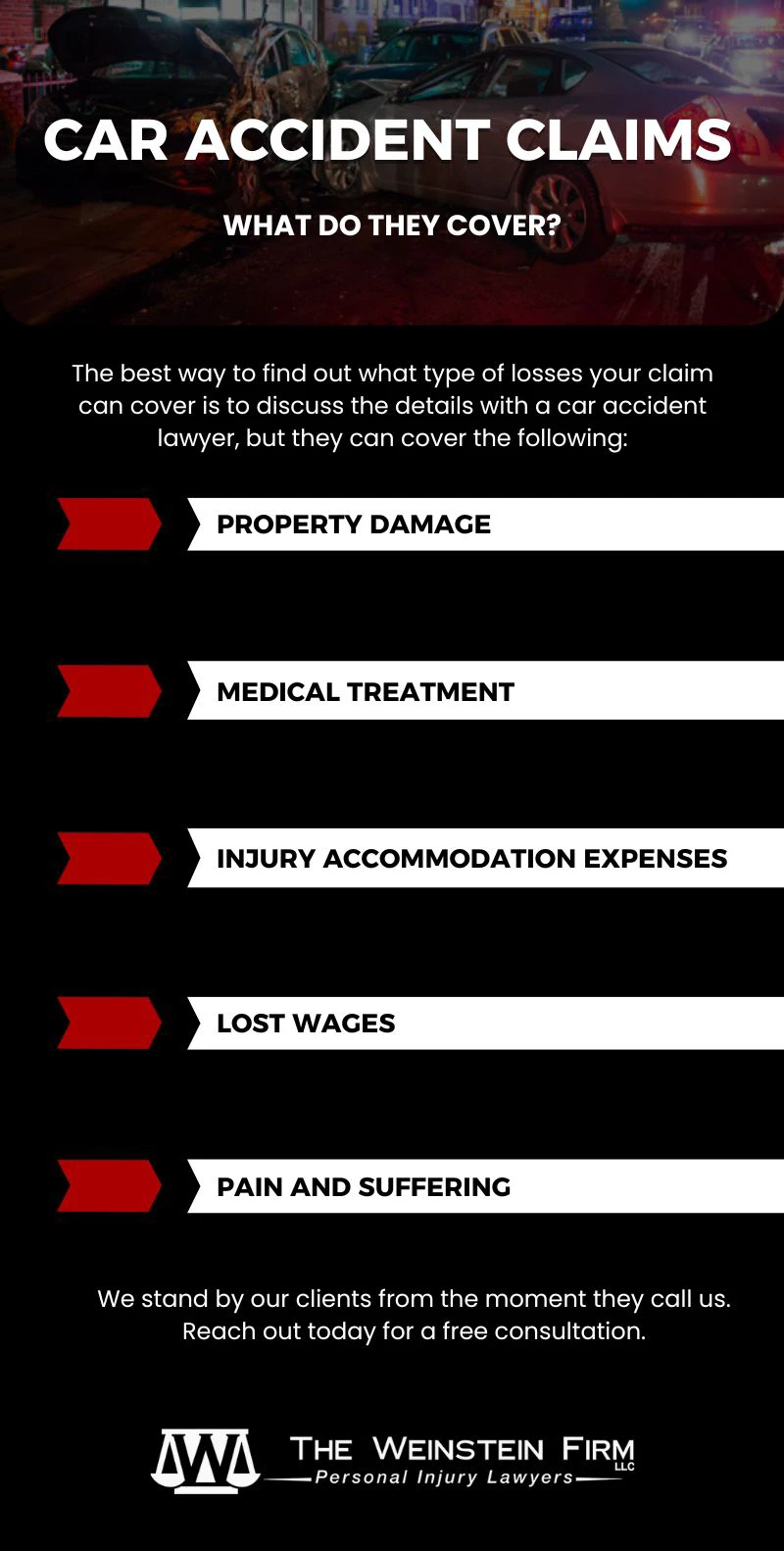 What Should My Car Accident Claim Cover?
Car accident claims can cover any or all of the following.
Property damage (car repairs or replacement and any valuable possessions damaged in the accident),
Medical treatment (doctors visits, medical procedures, drugs, rehabilitation)
Injury accommodation expenses (wheelchair, home care, costs to make a home wheelchair-friendly),
Lost wages (any money the victim may have lost due to their inability to work after the accident)
Pain and suffering (the physical and emotional pain that comes with severe injuries or disability).
The best way to find out what type of losses your claim can cover is to discuss the details with a car accident lawyer.
What If I Am Partially at Fault for the Accident?
In Georgia, car accident liability follows the comparative negligence rule. All traffic participants are responsible for showing a reasonable amount of care for the others on the road. Failure to do so qualifies as negligence.
If several parties are at fault, their combined faults represent 100%. Based on the available evidence, each party's fault is evaluated and associated with a percentage. That percentage determines how much of the losses each party has to cover.
For example, if your car accident resulted in damages and injuries worth $100,000 and you were 25% at fault for it, while the other driver was 75% at fault, you will cover damages of $25,000, while the latter party will cover $75,000.
What If the Insurer Denies My Claim or Offers Unfair Compensation?
When you file a car accident claim, in person or with the help of a car accident lawyer, the claims adjuster of the insurance company you file the claim with will review it and either reject it or offer a settlement.
If you find the settlement offer unacceptable, your lawyer will appeal the claim adjuster's decision to the insurance agency's claims supervisor. In the event that you are unable to reach an agreement, then your final step is a court trial.
Is It Worth Reaching a Car Accident Settlement?
Insurance companies prefer to settle matters outside of court and without dealing with the court system, in order to avoid bad publicity and reduce costs. Taking advantage of the car accident victims' vulnerability and desire to avoid complicated legal proceedings, they may offer a very low settlement initially.
The best way to assess whether a settlement offer is worth accepting or not is to let a car accident attorney evaluate the claim. Your lawyer can then analyze the evidence, estimate costs, and damages, and tell you exactly how much money you can obtain.
Your car wreck lawyer can also take over the negotiations and convince the insurance company to step up their offer.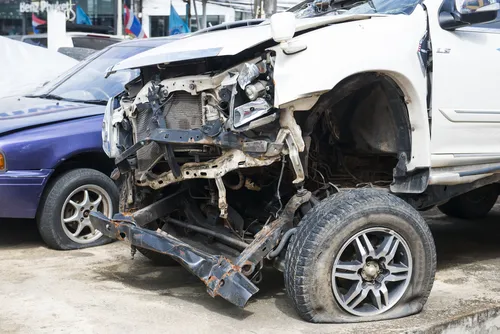 How Can a Conyers Car Accident Lawyer Help My Case?
Car accidents often have traumatic consequences. Some victims incur severe injuries and require long-term recovery and costly treatments and medical procedures. Others develop post-traumatic stress disorder and are unable to get back behind the wheel, suffer panic attacks, and keep having nightmares related to their accident. In all cases, victims need time and peace of mind in order to get back on their feet.
A car accident lawyer can ensure these and more by taking over the legal formalities and dealing with the insurance company on your behalf. They can advise you every step of the way, help you avoid mistakes, gather evidence of how the accident took place, and use that evidence to obtain the compensation you deserve.
Why Work with an Attorney?
After being involved in an accident, you need more than a cold car wreck lawyer reciting Georgia Laws and telling you what forms to fill in, or promising you the moon and the stars. You need someone who understands what you are going through and is ready to help and make everything easier during this difficult time in your life.
You need a Conyers, Georgia car accident attorney who will not rest until they make sure you receive fair compensation with minimum effort and hassles on your part.
At The Weinstein Firm, we have been helping Georgians for years, recovering fair compensation for our clients, and teaching insurance companies and reckless drivers a lesson: that our clients' health and safety are valuable and those who threaten them will pay the consequences.
We can help you too, risk-free! Our car accident lawyers offer free consultations to Rockdale County residents, so finding out what your options are and how much your claim is worth will not cost you anything.
If you decide to trust our Conyers car wreck lawyer with your case, you will benefit from our services from the moment you step into our office until you receive the compensation you deserve. You will only pay for those services when we win your case.
Would you like to obtain consistent compensation for the damages and injuries you incurred during your Georgia car accident? Would you like to have more time and energy to focus on your recovery after the car accident, while the legal procedures follow their course?
Then you need a dedicated and experienced Conyers car accident lawyer on your side. Call us now at 770-HELP-NOW and schedule a free consultation today.