In 2018, the injury rate per 100 million vehicle miles traveled was 104. (National Highway Traffic Safety Administration) If you have been hurt in a car wreck in Clarkston Ga, then you may be unable to work. We encourage you or anyone in your family to contact a car accident lawyer near Clarkston at The Weinstein Firm.
You could be coping with severe pain and wondering if your life will ever be exactly the same. Even a minor injury can give you medical bills. However, you need not worry about the price of an accident by yourself. If your time and finances are being exhausted by the injury, you can recover money for both. You need to talk to a personal injury lawyer near Clarkston at The Weinstein Firm. Our lawyers have been helping accident victims get the money they need for years! You're charged nothing if we don't win your case!
We'd like to give you a FREE, no-obligation consultation. Call 770-HELP-NOW or fill out the form below to acquire your free consultation today.
About Clarkston
Clarkston is a city in DeKalb County, Georgia. It has been called "the Ellis Island of the South" because of its ethnic diversity. In the 1990s, refugee resettlement programs identified Clarkston as a good place for displaced people. Today, students attending Clarkston High School come from over 50 countries; the neighborhood mosque has a sizeable congregation, and over half of the populace is estimated by some to be immigrants.
The Clarkston Culture Fest celebrates the city's diversity through music, dance, art, games, cultural entertainment, food, and more. The Clarkston Campus of Georgia State University's Perimeter College is just south of the city limits. Stone Mountain Park is approximately 6 miles away. The park boasts hiking trails, a 363-acre lake, and two beautiful golf courses. Visitors can learn about Civil War history and enjoy a scenic train ride around the mountain with a full-size locomotive from the 1940s.
Clarkston Accident Statistics 2019-2021
How do I Know Whether I Have a Valid Automobile Accident Claim?
We see many vehicle accident victims who attempt to talk themselves out of a claim. They state the accident wasn't anyone's fault blame themselves. However, the law doesn't work that way. Legally, someone caused the accident and their insurance company is obligated to pay for the injuries.
The perfect way to tell when you've got a claim that is valid would be to speak with an automobile accident attorney who can take an objective look at the facts and knows the law.
What Kinds of Car Accidents are Covered by a Claim?
Any crash could be covered depending on what happened. Rear-end, head-on and small accidents are treated equally under the law as are others.
We manage all Kinds of Automobile Accidents in our workplace, but some of the most frequent ones include:
DUI drivers
Distracted driving
Multi-car accidents
Injuries caused by conditions or visibility
Accidents Brought on by Faulty Equipment
Whiplash claims and more…
It is very important to understand that it is quite unlikely that the insurance company will pay you what your claim is worth. Although many accidents are covered by insurance your best interest is not always their interest. That is why you have to speak to a car accident attorney as soon after your accident as possible.
How Does the Insurance Company Determine Who is At Fault?
In most injury claims, fault depends on the legal concept. It doesn't matter the situation, the negligent party at fault and their insurance provider must pay. Negligent driving behavior includes DUI, speeding and many other traffic law offenses. To ascertain who is at fault, insurers either make a quick judgment call based on the police accident report or they'll ship out their investigators and adjusters. They'll rely on the damage along with the police report to these vehicles to determine compensation. However, insurance companies do not get to the final call on the amount to pay as at times they will blame the wrong person, potentially in an effort to avoid paying. Your car accident lawyer near the City of Clarkston can build hard evidence to show what happened and help you win your case.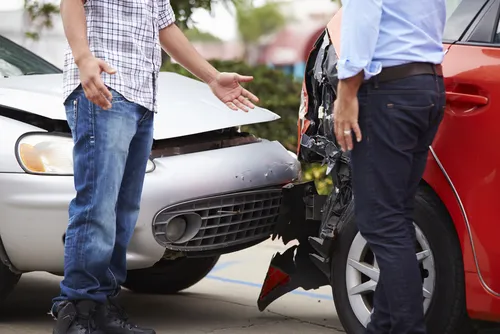 What Injuries are Covered?
ALL kinds of small injuries, as well as big, are covered. Automobile accident victims are able to recoup money for all types of injuries, including:
Pain & suffering
Minor injuries
Serious internal injuries that may involve surgery or hospitalization
Brain injuries
Concussions
Sprains
Broken bones
and no this isn't an exclusive list
Keep in mind that not all injuries are obvious. You may seem fine immediately after the crash to feel discomfort, dizziness or other symptoms or days later. As a result of this, we suggest if you believe you were hurt that you find a doctor straight away after ANY car accident. If the crash caused your injury and you know such is covered by insurance than you still must report such within your claim period.
Your chances of a complete recovery can enhance by seeing a physician immediately. This timeliness makes it possible to create a more powerful insurance case.
How Much Cash Can I Get From an Auto Accident Case?
It depends on a variety of factors, including the way that your accident occurred and the type. The principle, however, is that you could recover all of your costs related to your accident.
These costs are called damages and the most frequent ones are:
Car repairs
Medical expenses
Lost Wages
You may be eligible for additional large sums of cash for pain and suffering, any disability, or other losses due to your car accident. Other kinds of damages could be available if you lost a family member.
Accidents take more than just a physical toll. One can suffer mentally and emotionally. Although money can not eliminate the effects of a horrible accident we realize that money may help keep some aspects of your life stable and hopefully relieve some stress as you recover.
Why do I Need a Lawyer?
A lawyer can evaluate what the insurance company is requesting to provide and tell you if more should be provided. A lawyer can assess if you've got a claim that is strong. Insurance companies want to make a profit, and one of the ways they do this is to offer accident victims as little cash as possible. The insurance provider knows you haven't had an opportunity to learn what your injuries will entail, but it expects you will take the cash and sign away your right to recover anything more. A lawyer can help you get a medical evaluation and understand the real price of this accident. Additionally, an attorney may construct a strong case showing that you're not at fault and the other driver's insurance should cover. A lawyer may use this info to drive a hard deal or pursue a car accident lawsuit.
You Pay Zero Unless We Win!
Millions recovered for injured victims
Protect Yourself Financially by Calling The Weinstein Firm Today!
Talk for free to a car accident lawyer at The Weinstein Firm. Our attorneys have committed themselves to helping car accident victims get money. We never charge you anything unless we can get money for you. Please allow us to tell you if you have a claim and provide you with a free consultation. Call 770-HELP-NOW or fill out the form to get your free consultation now.