Most people admit to being afraid of sharing the road with tractor trailers. This fear becomes a reality for people injured in truck accidents. Our Athens truck accident attorneys have helped hundreds of clients who suffered devastating injuries in a tractor trailer accident.
One of the questions a lot of our clients have had – and a question you may have – is who will your truck accident lawyer sue to get you the damages you deserve?
There's a Good Chance Your Athens Truck Accident Lawyer Will Sue Multiple Parties
In a majority of truck accident cases involving commercial drivers, there are multiple defendants. It's very rare that your trucking accident attorney in Athens will file suit against the individual driver alone.
There are several reasons for this:
Any payment will likely come from the trucking company's insurance company
If the driver was on the clock, it will be their employer you need to pursue
Even if you sue the driver and get a judgment, they may not have assets through which you can collect your judgment
It makes sense for your truck crash attorney to pursue as many parties as possible. This will increase your ability to collect damages.
Some of the parties your lawyer may name in your truck accident lawsuit include:
The driver
The company the driver works for
The company that manufactured the commercial truck
The mechanic who serviced the truck
The insurance companies for all parties involved
Any other potential parties who may have contributed to the accident
Ideally, the insurance company will settle the case early on.
Why Would You Sue the Defendant's Employer?
You may wonder why your trucking accident lawyer will name the owner of the trucking company. If the other driver was on the clock at the time of the crash, their employer will likely be held vicariously liable for your injuries.
According to Georgia Statute §51-2-2, a business owner can be held vicariously liable for the actions of their employees under the following conditions:
The employee was acting within the scope of their employment at the time of the accident.
The driver or employee was, in fact, negligent.
The business owner had general control over the driver's duties and employment.
As long as your attorney can prove these elements, the defendant's employer should be found liable for your injuries. The good news is that it'll be a lot easier to collect damages from a company than from an individual.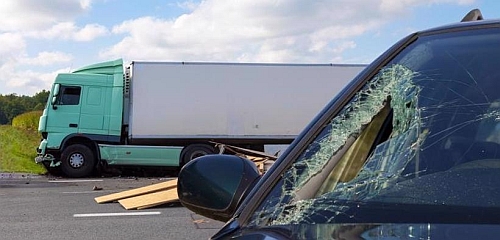 Your Athens Truck Accident Attorney May Need to Sue Other Third Parties
As stated above, the driver's employer isn't the only party your Athens trucking crash lawyer may need to sue. For example, if the accident was caused by a defect in the truck itself, you may be able to pursue the manufacturer for damages.
The same is true if the mechanic who services the truck was negligent. For example, if the accident was caused by faulty brakes, your attorney may be able to prove the mechanic was negligent.
Why Is it Beneficial for Your Lawyer to Pursue More Than One Party?
The more people you name in your lawsuit, the more avenues you'll have to pursue. If the court finds both the employer and the mechanic liable, you'll be able to pursue both of their insurance companies for damages.
Rather than be limited to the coverage of one policy, your Athens truck accident lawyer can negotiate a settlement with both insurance carriers.
What Kinds of Damages Can Your Truck Accident Attorney Demand on Your Behalf?
The only reason you hire an Athens trucking crash attorney is to get compensation for your injuries.
Once your attorney has a chance to review your case, they'll have a better idea of what kind of damages you'll be entitled to. Typically, in most truck accident cases, your lawyer will demand the following:
Medical bills
Future medical bills
Property damages
Lost wages
Lost future income
Pain and suffering
The amount of damages that you demand in your initial complaint will depend on the nature and extent of your injuries. The more serious your injuries, the higher your medical bills will be.
In addition, if your injuries are severe, you may not be able to do the same kind of work that you did before the accident. This would make you eligible for lost future income.
And the more severe your injuries, the more pain and suffering damages your lawyer can demand.
There Is a Good Chance Your Lawyer Will Settle Your Case
Most truck accidents settle. The insurance companies are not going to want to go to trial. Trials can be expensive and time-consuming. Plus, the driver's employer isn't going to want the negative press associated with a lawsuit.
Your lawyer will meet with representatives from each of the parties named in the suit. They will then remind them of what evidence you have proving fault and work toward a fair settlement.
Contact Our Office and Schedule Your Free, Initial Consultation Today
If you or your loved one were injured in a truck accident, you don't have to deal with the aftermath by yourself. Our Athens truck accident attorneys have helped hundreds, if not thousands of people injured in this type of accident.
The question a lot of our clients have when they first meet with one of our accident lawyers is how much their case is worth. Before we can answer that question, we need to know the details of your case.
If you pursue a claim against more than one party, it should increase your chances of recovering damages. In many truck accident cases, our Athens accident lawyers pursue at least two parties – the driver and the company they work for.
We suggest you call our office at 770-HELP-NOW and schedule your free, initial consultation. This will give you a chance to explore your options and decide how best to proceed.