In the modern era, the age of the bus, train, and taxi are giving way to ride-sharing services like Lyft and Uber. These companies continue to grow day by day, quickly becoming the most reliable and widely used form of transportation in Alpharetta, Georgia.
Uber and Lyft's convenience, quality, and the simplicity with which one can hire an Uber driver make this service an excellent way to get around town. Recent interviews with clients are showing that Uber and Lyft passengers and drivers alike enjoy the experience.
However, if you find yourself in an accident involving a ride-sharing service you could find yourself in a complicated legal landscape. Contact an Uber accident lawyer in Alpharetta, Georgia to help you make sense of things.
When to Hire an Alpharetta Uber Accident Lawyer
Every day, more and more individuals use ride-sharing services like Lyft and Uber, and the increase in passengers means an increase in Uber and Lyft accidents near Alpharetta.
If you have been involved or injured in an accident involving a Lyft or Uber vehicle, you should reach out to a Lyft accident lawyer near Alpharetta right away. We will help you to learn just what your rights are, how much your claim may be worth, and the best way to proceed to claim those benefits.
The recent growth of Lyft, Uber, and similar ride-sharing companies in both urban and rural areas in Georgia are making it important for motorists to know how they are protected should they be involved in an Uber or Lyft accident near Alpharetta.
Whose insurance company pays for the damage? Will the coverage be sufficient to cover your damages? Does the Uber driver have any liability, or only the Uber company itself? The answers to these questions will depend on the situation, and your car wreck lawyer in Alpharetta can explain it all to you in detail.
How Insurance Works in Uber or Lyft Accidents
If you find yourself involved or injured in a Lyft or Uber accident in Alpharetta, there are two potential scenarios that are fairly common.
You may be an Uber or Lyft passenger who finds yourself in an accident in which another vehicle hits your Uber or Lyft car. If the driver of the at-fault vehicle does not have enough liability insurance coverage to pay for your losses and injuries, both Uber and Lyft companies have a 1 million dollar uninsured/underinsured motorist policy which can and will cover the difference.
Second, if you are a driver or passenger in a vehicle that is hit by an Uber or Lyft vehicle, the insurance policy responsible depends upon the Uber or Lyft driver. If the vehicle was currently on duty and transporting a passenger, then the company's liability coverage will cover any injuries and damages.
However, if the Uber driver is between fares or off duty, then the driver's personal insurance will be the policy that will cover losses. Your Uber accident lawyer in Alpharetta will be able to explain in greater detail.
What If I Am Injured in an Uber or Lyft Accident in Alpharetta?
If you are a passenger in a Lyft or Uber vehicle in Alpharetta and are injured in an accident, then your Uber accident lawyer would look at the specific circumstances of the driver and your accident to determine how your injuries would be covered. In general, if the driver was on duty as an Uber or Lyft driver, the company's insurance policy should cover the injuries.
How Are Uber or Lyft Drivers Insured?
Just like any other driver on the roads in Alpharetta, GA, Uber and Lyft drivers must carry the state minimum liability insurance coverage. Since the business model of ride-sharing companies is still relatively new, it is not always easy to know when the driver's own insurance is to be used, and when Uber or Lyft's own insurance is to be used. Thankfully, you have experienced personal injury lawyers in Alpharetta to help you figure it all out.
Uber's own insurance covers all of their drivers while they are on duty and carrying a passenger, and Lyft's insurance works the same way. Both companies carry $1 million in liability insurance for their drivers – very good coverage which you can feel secure about if you're a passenger in a Lyft or Uber vehicle.
However, if the Lyft or Uber driver is between passengers, things can get a little complex. An Uber driver who is marked as On Duty but does not yet have a passenger still has Uber's insurance, but the liability is capped at $50,000.
This means that having an accident with an Uber driver who is on duty, but without a passenger could end up reaching that cap, especially if there are injuries involved. If the Lyft or Uber driver is not on duty at all, the driver's insurance policy will be solely responsible for compensation.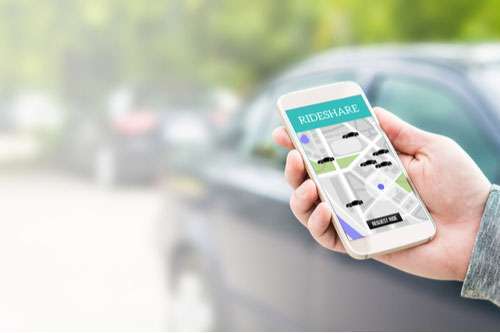 Since their drivers must keep personal insurance at least at the Georgia state minimum amounts, the company feels this breakdown of coverage is justified. However, for the third-party driver who needs to seek compensation from an Uber driver following an accident, this policy can make things complicated. For this reason, it is best to let an experienced Uber accident lawyer in Alpharetta handle it.
Uber Drivers and Insurance Companies in Alpharetta, GA
As if things weren't complicated enough, sometimes the Uber driver's own personal insurance will deny claims if they learn that the person drives for Uber. This is because Lyft and Uber are considered to add the risk of accidents, and many policies do not allow ride-sharing drivers to have standard policies.
Some newer insurance plans have commercial use allowances. Even worse, many Uber or Lyft drivers in Alpharetta don't even know that this policy exists and that their personal insurance is essentially worthless because they drive for Lyft or Uber.
Things Get Complicated: How Lyft and Uber Accident Lawyers Can Clarify Your Situation
Ride-sharing companies like Uber and Lyft continue to surge in popularity, and regulations surrounding them have lagged behind comparatively. This allows for the case where unique issues involving insurance claims and Lyft accident attorneys in Alpharetta can have unique issues that don't have a clear answer.
Until all of these complexities have been smoothed over by the legal process and precedent has been set, it is essential that if you are involved in a Lyft or Uber accident in Alpharetta, GA, that you contact an Uber wreck lawyer straight away and learn the facts from an experienced professional.
One of the more challenging issues involving Lyft and Uber accidents near Alpharetta is the question of fault as it pertains to Lyft or Uber passengers.  Since Uber treats its drivers as independent contractors and not employees, in many cases, liability will fall to the drivers.
However, certain courts have found that the companies exert "sufficient control" over their drivers to warrant treating them as employees, legally speaking. In the latter case, the company is held liable for any damages. Whether or not this is true in your circumstance is something that only your Lyft accident attorney can explain to you for sure.
By performing a careful investigation of Uber accidents and their insurance claims, a court will be able to determine just who the responsible party ought to be. This party could be Uber or Lyft themselves, the driver, or yet another third party, including the driver of another vehicle.
Safety and Lyft or Uber Accidents
Uber and Lyft plainly assert that the safety of their drivers and passengers is of paramount importance to them and that this is the reason for their 1 million dollar liability, uninsured or underinsured motorist coverage on each and every driver. In contrast to more traditional ride-for-hire services like taxis, Uber and Lyft allow customers to choose the driver they prefer, along with their photo and a quick bio.
Uber also allows customers to rate their drivers, in theory, to help future passengers make better decisions about an Uber or Lyft driver. As for the vehicle requirements, there are no restrictions on what kind of vehicle their drivers use. Uber and Lyft do require their drivers to carry personal insurance (at the state minimum in Georgia) and perform a background check to ensure that their drivers have clean driving records.
However, despite the precautions, there will, of course, be Uber and Lyft drivers who slip through the cracks in the screening system. These people may even have positive reviews thanks to friends or family. Many such accidents, sadly, are caused by reckless or careless driving on the part of the Lyft or Uber driver. Some common causes seen by Uber accident lawyers in Alpharetta include speeding, driving under the influence, and disregarding traffic laws and signals.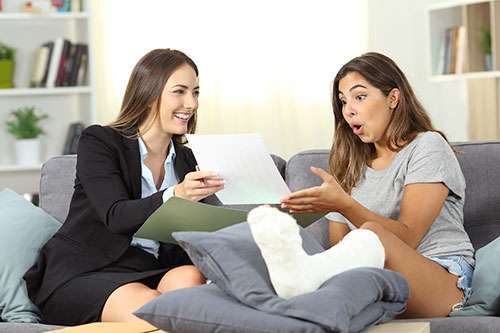 If you find yourself involved in a Lyft or Uber accident in Alpharetta, it is important that you reach out to a Lyft wreck lawyer as soon as possible. The experienced Uber and Lyft accident attorneys at The Weinstein Firm have knowledge about all sorts of vehicle accident situations involving ride-sharing vehicles, so we will be able to guide you in the best direction to ensure the maximum possible settlement amounts from the most appropriate insurance company.
Our Uber accident lawyers are happy to answer any questions that you may have, explaining the situation of your accident and what makes it unique, give you an idea of what your claim is work, and walk you through the process of filing it.
If you have been injured or suffered property damage in a Lyft or Uber accident in Alpharetta, GA, contact a Lyft accident lawyer as soon as you possibly can. Don't write up your Uber accident as just another fender bender, and certainly never trust that an insurance company will merely write you a check. Proceed to the next stage with confidence with the help of an Uber wreck lawyer.
Reach Out to the Lyft and Uber Accident Lawyers at The Weinstein Firm
Here at The Weinstein Firm, our Uber and Lyft accident attorneys have a clear understanding of all the latest developments involving ride-sharing services, their insurance policies, and the liability issues at hand in these accidents. In the most straightforward circumstances, including when the Uber or Lyft driver has a passenger in the vehicle with them, the one million dollar coverage can mean that you could recover a larger settlement than you may think.
On the other hand, if the company denies that their driver was on duty at the time, you may find yourself and your Uber accident lawyer working with the driver's insurance policy to recover fair and just compensation. In either case, having a skilled Lyft accident lawyer at your side can be crucial to getting a positive outcome.
The experienced Lyft and Uber accident attorneys at The Weinstein Firm will work hard every day to help you navigate the new and complex landscape of liability law as it pertains to ride-sharing companies. They can help you get the largest possible financial award to pay for your medical bills, reimburse your lost wages, and compensate for your non-economic losses such as pain and suffering.
Injured in a Lyft or Uber Accident? The Attorneys at The Weinstein Firm Are Waiting for You!
Whether you were a passenger, motorist, or pedestrian involved in a Lyft or Uber accident, the attorneys at The Weinstein Firm are ready to provide the representation and legal advice that you need.
Our experienced Uber accident lawyers have excellent knowledge and experience in the area of Lyft and Uber accidents near Alpharetta, Georgia, and will be able to guide you as you handle the insurance claims in your accident case.
If you have been hurt in an accident with a Lyft or Uber vehicle, the first thing you should do is seek medical attention if you suspect an injury at all. Then, when it is time to recover compensation to cover your losses, contact an Uber accident lawyer at The Weinstein Firm today. We will provide all the legal assistance you need, from the complimentary consultation to the final settlement award is signed.