Car accidents happen more often than we realize, leaving lasting effects on their victims. These effects range from mild to severe injuries that cause permanent disability. Asides from the injuries, car accident injury victims also suffer other damages. Where can I find a "car accident lawyer near me" is one of the best questions you can ask after a traffic collision.
It is a fact that there are specific injuries one can sustain from a car accident that might lead to permanent disability. Therefore, it's no surprise that accident victims often ask their treating physicians about their wounds and the kind of effects they can have on their bodies. This article will answer the central question about the type of accident injury that causes permanent disability.
While it is essential to focus on your health after a car accident, you should also take the necessary steps to recover fully from the effects of the crash. Therefore, this article will also tell you what you need to know about getting compensation for a permanent disability caused by an automobile collision.
What Is a Permanent Disability?
According to a report, there were over 5 million police-reported car accidents in the United States in 2020. That same year, there were 14,386 auto accidents per day. Out of these numbers, a significant amount resulted in permanent disability.
Permanent disability occurs when a person is incapable of working due to injuries. A person is said to have a permanent disability not because it is impossible to recover from their injury but because their recovery will take very long years.
When a person is diagnosed with a permanent disability, the treating physician gives them a timeline for when they must undergo reevaluation to know their disability status. While it is widely believed that people with a permanent disability cannot hold any gainful employment, this is incorrect.
Instead, it means that, for a particular period, the diagnosed person will be unable to act in a capacity required for their job. For example, if a plumber loses an arm in a car accident, they will be considered permanently disabled. However, after years of rehabilitation and learning to use a prosthesis, they may be able to go back to work and function in another capacity.
It is essential to know about permanent disability and how it relates to car accident injuries because it can substantially affect your claim and the compensation you will get. With that in mind, let's look at the different types of disability.
Types of Permanent Disability 
The following are the classes of permanent disability:
Permanent Partial Disability
Permanent partial disability (PPD) occurs when a victim is not disabled but has a lasting impairment. When crash victims suffer this kind of disability, they are not required to return to work. However, if they return to work, the law may require that their task is modified to accommodate their disability.
Permanent Total Disability 
Permanent total disability (PTD) prevents the victim from working permanently. In this instance, the person cannot hold any employment or perform day-to-day chores.
When an accident victim suffers an injury that could cause either partial or permanent total disability, they are entitled to compensation. However, a person with PTD would get a higher settlement than someone with PPD.
Also, the expertise and experience of the victim's injury attorney affect how much they will get as compensation. The strength of the evidence supporting the claim plays a role too. Therefore, if you suffer injuries in a crash, ensure you preserve evidence and hand it over to your lawyer.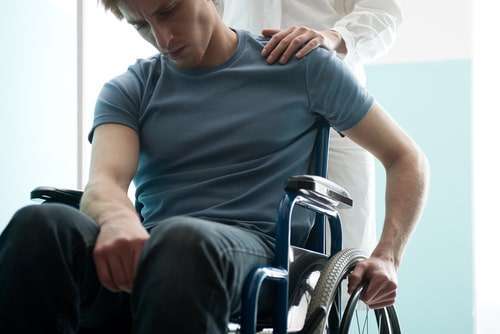 Types of Accident Injuries That Cause Permanent Disability 
Not all accident injuries will cause permanent disability, even when severe. Below, we discuss some wounds with a high chance of leaving victims disabled.
Traumatic Brain Injuries 
A traumatic brain injury can prevent an accident victim from holding employment and negatively impact their quality of life. Traumatic brain injuries can result from a hard impact or from the brain being jostled inside the skull.
These injuries are often the result of car, truck, and motorcycle accidents.
Spinal Cord Damage or Paralysis 
A spinal cord injury causes permanent disability because it impairs the ability of people to move around. Paralysis can cause accident victims to lose control of their limbs, which typically requires long and extensive treatment and rehabilitation.
Complete or Partial Limb Amputation 
Compound fractures or crush injuries might damage a body part like the arms or legs beyond repair. In such cases, the victim will have their limb or limbs amputated. If this happens, they will be unable to return to the life they had before the crash. Therefore, compensation for this injury runs into hundreds of thousands of dollars.
Severe Burns 
Burn injuries occur when a car catches fire in an accident. Third and fourth-degree burn victims will likely suffer a permanent disability as their nerves and bones are affected. Also, they undergo a series of surgeries and rehab, increasing their pain and suffering and, consequently, financial compensation.
How Does Permanent Disability Affect a Car Accident Case? 
It is crucial to seek maximum compensation since permanent disabilities have a lifelong impact on a vehicle accident victim's income, employment prospects, and general quality of life. Also, you must factor in your current and future medical expenses.
Failing to do this means you will bear the cost of future medical care and rehabilitation. However, note that you cannot return and ask for more money once you get a settlement. Also, the at-fault party's insurance coverage might not be enough to compensate you.
In this situation, you can file a personal injury lawsuit against the liable party directly. If you get a judgment, the court will order the at-fault party to pay from their income or property. Where the person cannot afford a lump sum payment, they will pay in installments until they complete the money awarded.
Stop Searching for a Car Accident Lawyer Near Me! Contact The Weinstein Firm 
At The Weinstein Firm, we understand the impact a permanent disability from a car accident has on the finances and the general well-being of car accident victims. Therefore, our legal team works tirelessly to secure the maximum compensation and protect your rights.
If you or your loved one suffered injuries in a car accident, book a free consultation with one of our top personal injury attorneys in Atlanta. We work on a contingency fee basis. That means you pay nothing until we win you compensation.