Head-on collisions are one of the greatest causes of serious injuries and fatalities in accidents. In fact, they are responsible for about 10% of car crash fatalities. This may not seem like much but when you take into consideration that these types of accidents are quite rare, this is a major contribution.
If you have sustained injuries in this type of accident, you need to contact a Wrightsville head-on collision lawyer as soon as possible. You may have a claim for compensation from the driver who caused the accident. It can be difficult to prove who caused the accident in some cases. The cause of the accident will generally decide who was at fault.
Our Wrightsville car accident lawyers at The Weinstein Firm can help you determine who is liable and file a claim to recover the compensation you deserve. Call 770-HELP-NOW now for a free consultation.
What Are Common Causes of Head-on Collisions?
There are a number of different causes for head-on collisions including:
Distracted driving where the driver does not have their eyes and focus on the road or both hands on the steering wheel.
Fatigue or falling asleep behind the wheel of a car.
Poor weather conditions and bad visibility.
Overtaking when it is dangerous to do so.
Disobeying traffic signs and signals.
Driving under the influence of alcohol or drugs.
What Damages You Can Receive From A Head-On Collision Claim In Georgia?
Damages is the legal term used to describe the losses that you incurred as a result of the head-on collision. In the state of Georgia, you can claim for the following damages that result from a head-on collision:
Special Damages
Special damages are financial or monetary losses and include:
Damage to Property: The cost of repairs for the damage that was caused to your vehicle and/or other property.
Medical Bills and Expenses.
Loss of Wages and Income.
You can claim for medical expenses and loss of income that you may suffer in the future. For example, if you are permanently disabled and can no longer work, the income that you would've earned had the head-on collision not occurred can form part of your claim. As can medical treatments and care that you will require in the future.
General Damages
General damages do not reflect monetary losses but rather those of an intangible nature and include:
Pain and suffering
Anxiety and depression
Loss of quality or enjoyment of life
Loss of companionship
Disfigurement
Permanent disability
It is up to the discretion of the court to decide an amount that is fair compensation for general damages. In the case of a settlement, the attorneys and insurance adjuster or actuary will decide a fair amount. It is essential to have a lawyer represent to ensure that you receive general damages in the maximum amount possible relative to the injuries that you have sustained.
Punitive Damages
Unlike special and general damages, punitive damages are aimed at punishing the driver who caused the head-on collision in an effort to prevent them from repeating the behavior that caused the accident in the first place. However, it is necessary to prove that the driver showed malice or willful misconduct. If punitive damages are awarded in court, you will receive 25% while 75% will go to the Georgia Treasury.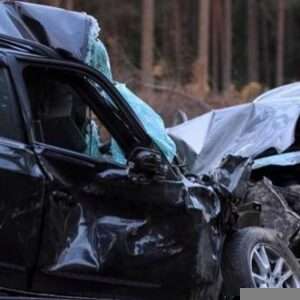 Why Do You Need An Attorney For A Head-On Collision Claim?
Commonly, head-on collisions result in severe injuries which in turn result in incurring greater losses. This means you are looking at a much bigger claim than would normally be associated with minor car accidents. To ensure that you are receiving the maximum compensation for your losses, it is crucial to have an experienced and skilled head-on collision lawyer represent you.
It is also critical to have legal representation when it comes to negotiating a settlement. In most cases, you will not be dealing with the driver who caused the accident but their insurance provider. Insurance companies have access to the best legal teams and will do their best to either deny your claim or to reduce it as much as possible. Your lawyer will ensure that you aren't short-changed in the negotiations.
If a settlement isn't reached in the negotiation stage, we have the skills and experience needed to represent you in court.
How Much Will an Attorney Cost?
Weinstein head-on collision accident lawyers in Wrightsville work on a contingency basis. This means that our legal fees are contingent or depend on whether or not we win your case. If we don't win, we don't get paid. When we do win, we charge a small percentage of the settlement that you receive or the amount that is awarded to you in court to cover our legal fees.
This means that you don't need money to file a claim for compensation. You have nothing to lose by contacting The Weinstein Firm today for a free consultation.
How Long Do You Have To File A Claim For A Head-On Collision In Georgia?
You have 2 years from the date of the head-on collision accident to file your claim for compensation. Once this period expires, you will no longer be able to claim. It is imperative to start the process of preparing your case and filing your claim as soon as possible after the accident so that you don't miss the deadline. Two years can pass much faster than you think so give us a call today so that we can submit your claim sooner rather than later.
Call Our Wrightsville Head-on Collision Lawyers Now
The reason that head-on collisions are so serious is that the impact is greater due to the combined speed of the vehicles. If both vehicles are traveling at just 45 m/h, the combined speed is 90 m/h and the impact would therefore be the same as a car traveling 90 m/h when colliding with a stationary object.
Our Wrightsville head-on collision lawyers understand how devastating a car accident can be without having to deal with the financial and legal issues that follow. Let us take care of your claim while you focus on recovering from your injuries and the trauma that you experienced.
Call our leading Georgia personal injury law firm today at 770-HELP-NOW to get the best legal advice and assistance.