An estimated 2.74 million people were injured in car accidents in 2019. (National Highway Traffic Safety Administration) If you were injured in a car accident in Newnan, GA, the first thing you should do is speak to a lawyer. Car accidents could result in injuries that linger for weeks or even years, and injuries that need thousands and thousands of dollars in treatment can be caused by severe car crashes. You can't rely on the insurance company to offer a fair amount without a legal professional. That is why you need an experience car accident lawyer from the Weinstein Law Firm.
At The Weinstein Firm, we make sure that your claim is taken. We send our investigator to record what happened and what you can get. Our purpose is to get the amount you need, and calculate the grand total after all remedies, physician appointments and missed work period for you. We've got over twenty years of expertise as car crash lawyers and a track record that speaks for itself. Get in touch with us today at (770)HELP-NOW and get a free case evaluation.
About Newnan
The city of Newnan is the county seat of Coweta County, Georgia, and part of the Metro Atlanta area. It is located about 40 miles from downtown Atlanta. Newnan had a population of 42,549 at the 2020 census. Newnan contains a great deal of original pre-Civil War architecture. Celebrated architect Kennon Perry designed many of the city's 20th-century homes.
You can admire many historic buildings and enjoy shopping and dining in the downtown area, and take a self-guided tour of the Brown's Mill Battlefield from the Civil War. Downtown Newnan hosts an Art Walk twice a year where you can browse exhibits and see demonstrations by the city's finest artists.
Newnan Accident Statistics 2019-2021
How Can I Be Helped by a Car Accident Lawyer Near Newnan?
Following a car collision, you might not understand that your car insurance company or another driver's insurance company is not your adversary. Though these companies are under contract to settle bills and compensation, they will do anything possible to avoid paying the entire amount. They're eager for you to say stuff so that they can turn your words against you in order to reduce or deny your claim. The insurer has an entire team of lawyers on their side. Getting a lawyer of your own is the only way to level the playing field.
Your case can be helped by attorneys in several ways. The insurance company must speak with your attorney, not you personally, in order to acquire legal representation. This prevents them from utilizing your words and asking misleading questions. Your lawyer brings negotiation power to a claim, forcing insurance companies to take you seriously. Your attorney can help you spot costs you might not have realized your claim could cover. In order for your case to be presented in the best possible light, your legal team will put together comprehensive documentation of your accident and therapy. They may include an emergency room visit, follow up doctor appointments, ambulance expenses surgery or intensive care, physical therapy, medication, automobile repairs, and lost wages.
Do I Need to Sue a Person to Win My Case?
No. This is a frequent misconception about automobile accident cases. There are two important things when contemplating whether to get a lawyer that you will need to know: our discussions are with an insurance company, not another driver. You won't be ruining anyone's life if you request the money you're owed. Many auto accident claims are resolved without a lawsuit.
Your lawyer will attempt to settle the lawsuit through easy negotiation. The insurer will find a settlement with no lawful action needed. Sometimes the insurance provider will hold out. Your personal injury attorney will advise you whether it makes more sense to take their final offer or to file a lawsuit for the full amount. Both options will be explained by a lawyer and they allow you to make the final call, without pressure.
How Is a Claim Won By a Car Accident Lawyer?
We notify the insurance company that we're representing you. From this point on all communication goes through the lawyer, not you. You may have your attorney present to advise you if you are needed to provide a statement. Then your attorney will gather proof. This could include: getting you to a professional doctor who understands common automobile accident injuries like neck and back injuries. This kind of doctor can give a much better estimate of the therapy required by assessing your previous medical history. Insurance companies may blame pain on you or state it's not linked to the accident. Your attorney may prove otherwise. Assessing the injury and reconstructing it so that there is proof. With this evidence your lawyer can drive a tough bargain. They'll show the insurance provider how strong a situation they have and pressure them to pay you what you're owed without a court hearing. There is no trial needed and it is rare for a case to go all the way to regional courts.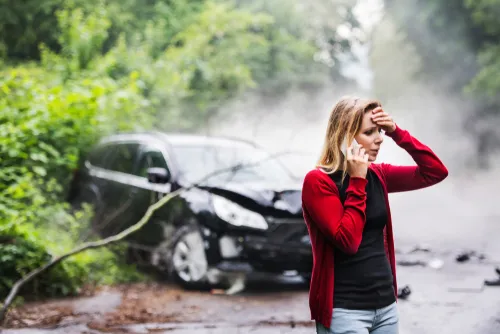 How Much Can a Car Accident Lawyer Cost Near Newnan?
It costs you nothing upfront. At The Weinstein Firm, we do not request car accident victims to cover cash out of pocket to us. You're facing anxiety, pain and financial worry over the prices of your treatment. Our first concern is to get you the care you need and make sure you recover a fair settlement from the insurance policy company. Instead, we take our fee out of whatever financial recovery we triumph as a percent, for you. If we don't win you cash, we don't get paid. This is how we make it risk-free that you call us. Nothing will be paid by you unless we get you a success.
How Long Do I Have to File a Claim For My Car Crash?
In Newnan, some conditions allow up to two years to submit a case. In some cases, you might have just weeks. When the statute of limitations has passed, you will forfeit any cash. The best thing you can do is to speak to an experienced car accident lawyer right away. Talk to one of our Newnan car accident lawyers for free. After an accident, your job is to return to the best health possible. Our job is to assist you in paying for it. The Weinstein Firm is among the biggest and most experienced automobile accident law firms serving the Newnan region. Get in touch with us at 770-HELP-NOW or fill out the form to your best and receive your free consultation.