According to the latest report from the National Highway Traffic Safety Administration, traffic fatalities and deaths in Wrightsville, Georgia have decreased over the years. However, the decreased number doesn't mean that auto accidents have stopped happening. The estimated economic cost of motor vehicle crash injuries in Georgia in 2019 was $6.5 billion. (GOHS, 2020) That's because there are still a number of motorists who still fail to follow all the traffic rules and end up causing avoidable accidents. A skilled Wrightsville car accident lawyer fighting your case can help you maneuver through the process of your claim.
If you or a loved one has sustained injury due to the reckless or negligent action of another driver, you are eligible for compensation and our Weinstein Firm lawyers are here to offer the legal assistance you need to navigate the murky waters.
About Wrightsville
The city of Wrightsville is the county seat of Johnson County, Georgia. It is located 18 miles from Dublin. U.S. Route 319, State Routes 15, and State Route 57 pass through the center of Wrightsville. Johnson State Prison is on the northeast side of town. Wrightsville was incorporated in 1866.
Downtown Wrightsville is home to a variety of shops and restaurants as well as historic buildings like the Johnson County Courthouse and Grice Inn. The abundant wild game and fish in Johnson County's woodlands draw visitors for hunting and fishing.
How Much Does an Auto Accident Attorney Cost?
There are numerous law firms in Wrightsville, all with varying rates and terms for providing legal services. However, at The Weinstein Firm, we work on a contingency basis. This puts our clients at ease, allowing us to focus on the case at hand and worry about the payment afterward. Working on a contingency fee means you do not have to pay us unless we win your case. So, do not hesitate to avail of our services due to your financial situation. Get in touch with our auto accident lawyers by calling 770-HELP-NOW today!
Wrightsville Accident Statistics 2019-2021
What to Do After an Auto Accident
Nobody likes car accidents, but given the number of cars on the road and conditions, it's impossible to eradicate them. Most people don't know what to do right after a car accident. Keep in mind that what you do following an auto accident plays a major role in how your claim turns out. As such, ensure you do the following:
Call the Police
The first thing you want to do following an auto accident is to call the authorities. The police play a vital role in maintaining order at the scene as well as determining the party at fault. So, make sure you call the police as soon as possible. Also, keep in mind you might need an official police report to make a solid claim in the future.
Check on the Other Party
You'll also want to check on the other party before leaving the scene. They might have sustained severe injuries, causing them not to move. If anyone has sustained severe injuries, call the emergency services and if there's a risk for a fire or explosion, move to a safer location.
Exchange Information
The state of Georgia requires both motorists involved in an accident to exchange relevant information, including vehicle registration numbers, driver license numbers, full names, contact information, and insurance information. If the other party does not comply, wait for the authorities to arrive and then make the request.
Record the Scene
In order to remember the accident's outcome, you need to record the scene. Taking photos and videos is advantageous as it helps make your claim easier. This is especially true if the incident was due to the negligent or reckless act of the other party. Don't leave any crucial details behind as they can be used by the lawyers and the investigation team to determine the cause of the accident and the party at fault.
Do Not Admit Fault
Whether or not you're responsible for the accident, you should never admit fault. If you do so, it means you'll be held responsible for all the injuries and damages sustained by the victims. So, ensure you are calm and wait for the authorities.
Seek Medical Attention
Your health is important, and so is holding the party at fault liable. The accident can cause minor and severe injuries, which might not be apparent at the time of the accident. As such, you should visit the nearest medical center for an assessment. Keep in mind that the doctor's report will be required when it comes to calculating the owed expenses from the accident.
Call an Auto Accident Lawyer
An experienced Weinstein Firm attorney can help protect your rights by ensuring you're compensated for the injuries and damages experienced from the accident. However, this applies if you're not held responsible for the accident. Get in touch with the best lawyers in the region by calling us at 770-HELP-NOW.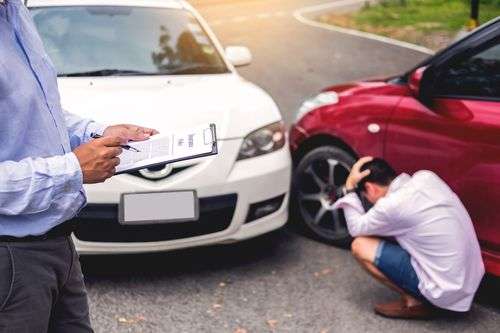 Why Do I Need an Auto Accident Attorney?
Going in alone on a car accident claim isn't advisable, especially when you have no legal experience or are still nursing your injuries. As such, it's important that you handle the issue with the help of an experienced personal injury lawyer. An auto accident attorney will provide legal advice and do all the hard work on your behalf. That being said, here are several other reasons you should consider hiring a lawyer for your auto accident claim:
Case Preparation & Filing a Lawsuit
There are specific requirements when it comes to filing a lawsuit. Some of them are relatively easy while others are not so straightforward. That's why you need the assistance of an auto accident attorney as they are trained and skilled in this kind of task.
Settlement Negotiation
Auto accidents don't necessarily have to be settled in a court of law. If the guilty party is willing to make the settlement for your losses, then you can handle the issue out of court. However, it's not advisable to handle negotiations without the presence of your lawyer. That's because insurance adjusters and lawyers have a habit of pressuring victims to accept offers that are worth less than the actual claims.
Trial Preparation and Representation
If you cannot come to an acceptable amount in the settlement stage, your next option is to take the case to court. However, litigation is a complex process that calls for proper planning. This requires gathering all the necessary evidence to build a solid case. In addition, you need to prepare witness reports and know the best way to deal with each one of them. Our lawyers have been handling personal injury cases for years and know exactly what to do when it comes to litigation.
How Much Should Expect to Get From Your Damages?
How much you receive as compensation for your injuries and losses depends on a lot of factors and so, it's hard to assign a precise figure. However, the right legal representative should help you calculate the total cost of the damages sustained.
Types of Damages You Can Recover in Georgia
In Wrightsville Georgia, auto accident victims are eligible for three kinds of damages:
Economic Damages
These compensate you for your financial losses. If you paid any medical fees out of your pocket, then the party at fault is required to compensate you. Other than medical expenses, you also get a settlement for any monetary loss experienced from the accident. This includes damaged property, lost income, future medical care, etc.
Non-Economic Damages
These compensate for the non-quantifiable damages such as emotional distress, pain and suffering, loss of companionship, loss of consortium, etc. An important thing to note is that some of these damages sometimes call for continuous treatment, thus an increase in expenses.
Punitive Damages
In some cases, auto accidents are a result of the driver's ignorance or mistakes. When a motorist ignores obvious traffic laws and their actions result in an accident, the court or jury can take strict action to ensure that such behavior is not repeated by both the defendant and the public. This is done by awarding punitive damages, which can sometimes go into the hundreds of thousands of dollars.
You Pay Zero Unless We Win!
Millions recovered for injured victims
How Is Fault Determined in Wrightsville Georgia?
Georgia is a comparative negligence state. This means that the party at fault needs to be at least 50% responsible for the accident in order to be held liable. As expected, the evidence garnered is used to determine who was at fault. Your lawyer and the law enforcers will use witness' statements, traffic footage, drivers' statements, etc., to determine the party at fault.
How Long do I Have to File a Claim?
People involved in auto accidents tend to sustain injuries that take longer to heal, and that's why the state of Georgia has a 2-year statute of limitations for all personal injury claims. This gives you adequate time to recover before taking legal action. However, these cases tend to be intricate and so, it's usually advisable to file a claim as soon as possible with the help of an attorney.
What To Do If the Insurer Denies My Claim
Insurers are known to try every trick in the book to deny personal injury claims. Even with solid evidence, insurance firms will still attempt to deny your claim, in an attempt to save money. Some of their common excuses include dealing with an uninsured motorist, failing to pay for premiums as per the agreement, etc.
Our team at The Weinstein Firm knows all these tricks and has dealt with numerous companies that have acted in bad faith. As such, you can leave the job to us.
Hire an Auto Accident Lawyer Today!
Our team is trained and experienced at dealing with every kind of auto accident, including distracted driving, DUI, speeding, reckless driving, head-on collisions, etc. So, if you have been injured due to an accident that was not your fault, don't be afraid to reach out by calling the Weinstein Firm at 770-HELP-NOW today!