If you have been injured in Woodstock, GA, then you might wonder how you're going to pay your doctor bills and make up for lost time . However, you don't have to cover an injury that wasn't your own fault and you might have a right to recover money. You have to speak with personal injury lawyers near Woodstock. The Weinstein Firm has more than 20 years of combined experience helping injured people. We are now among the biggest and most respected personal injury firms in the state. Let us use our size and experience to work for you. Get in touch with our injury firm near Woodstock GA and get your free consultation now.
What should I do if I'm injured in Woodstock?
Injuries can occur in several ways and for many reasons from a devastating car crash to a slide on a drink in a fast-food restaurant. Your injuries may heal or may cause conditions that are permanent. Regardless of your injury, you need to do two things to protect yourself:
Don't accept money or sign paperwork from an insurance company. Insurance companies like to provide money immediately after an injury. You don't even know the full extent of your injuries along with the price of your therapy. But should you take this fast money, you'll have to sign away your right to regain anything else, even should you find out your injuries will probably cost far more than you initially thought. Get legal counsel before you take money or sign anything.
Meet with an experienced injury attorney. An attorney will check with you so there's no risk. A car accident lawyer knows how insurance businesses operate, knows the law, and operates on cases like yours every day. An attorney can help you determine whether you've got a claim and what it may cost.
How can I tell if I have a valid personal injury claim?
In the event that you were hurt through no fault of your own, you most likely have a claim. This surprises many injury victims, who believe that their injuries were unavoidable, or they must somehow be accountable. But under the law, someone's negligence causes most injuries. If a person had been careful, paying attention, or adhering to the law, the harm would not have occurred. A negligent person is necessarily hurting others on purpose, but when someone is negligent, they (or their insurance) are legally responsible for all of the injuries and harm that happen for this.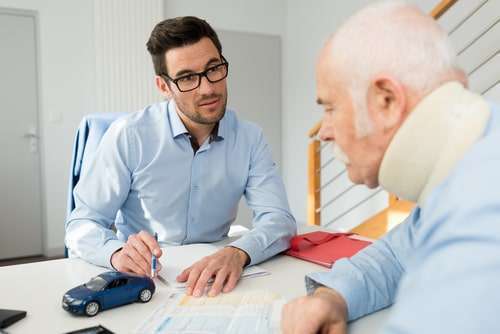 What harm claims are considered by lawyers?
The most common personal injury claims our attorneys see are:
Truck and other vehicle accidents
Slip and Fall injuries
Accidents in which a vehicle hits a bicyclist
Pedestrian car accidents
Nursing home neglect
Defective product claims
Dangerous medical apparatus
Harmful prescription medications.
However, all these are simply some of the most frequent types of personal injury claims. Any type of injury may result in a valid claim.
You Pay Zero Unless We Win!
Millions recovered for injured victims
Will I need to take my claim to court?
All personal injury claims are issued to insurance firms, not people, and rarely involve lawsuits. An insurance company can refuse to negotiate and dig its heels in. If this happens in your case, we'll take some opportunity to give you our professional opinion about the potency of your situation, your chances in court, as well as the risks entailed. It is up to you to choose if a case goes to the local court, but if your claim goes that far our litigation team will work hard for you.
Normally we solve claims with the insurance company before the case ever gets to court. At The Weinstein Firm, we are known for our capacity to be tough negotiators. We come the way they occurred and well prepared because we've done our investigation into your accident. We provide the insurer the full amount they'll cost and a complete picture of your injuries. This often convinces them to offer a sizable financial recovery to you.
How Much Will An Attorney Cost For An Injury Claim Near Woodstock, GA?
At The Weinstein Firm, we don't believe you should need to be worried about what your personal injury attorney in the city of Woodstock, GA, costs. So we've developed a system which makes our services affordable for everyone: We will never ask you to pay anything if we don't win your case. Our commission collects as a percentage, in the end, should we do win cash to you. The rest is yours to keep.
What's The Deadline For Filing an Injury Claim in Georgia?
Deadlines are imposed by federal and state laws on personal injury claims elsewhere in Georgia and the towns surrounding Woodstock. Deadlines vary depending on the particulars of your injury. You could have anywhere from several weeks to 2 years to document your claim. It is important that you don't miss this timeframe or you will lose your right to recover any cash.
Talk to a Personal Injury Lawyer Near Woodstock at The Weinstein Firm
The Weinstein Firm has one mission: to help injured men and women recover the money they deserve and want. We would like to give you a free consultation to discuss your injuries and allow you to decide what to do. Get in touch with us at 770-HELP-NOW or complete the form today, and get your FREE consultation.