Every accident victim has to deal with the consequences of the collision or crash, even when they are not responsible for causing the incident. Speeding accidents have been found to have catastrophic outcomes, with most victims left with physical injuries and emotional trauma that substantially impact their finances and way of life. The effects can be a life-long experience for some victims. Fatalities are also a high probability in many speeding accidents.
It is best to contact a seasoned speeding accident lawyer at Weinstein Firm to help you pursue your claim and ensure your rights and interests are protected. You can call our law offices in Vidalia, Georgia, to speak to a Vidalia car accident lawyer that will confidently and aggressively represent you while handling your claim case. Get in touch with us at (770) HELP-NOW; we are available 24/7 and offer an initial non-obligatory case review.

How Does Speeding Increase The Chances Of A Road Accident?
Data from the National Highway Traffic Safety Administration (NHTSA) shows that nearly 20% of car accidents are associated with speeding, and it accounts for roughly 27% of the reported fatalities. Experts say that these figures are bound to shoot up because of the abolishment of steeper penalties for such reckless conduct on the roads and highways.
But while speeding is legal in certain situations, the risks cannot be downplayed. Thus, every road user should seek answers touching on how speeding increases the probability of accidents occurring. Overall, it all boils down to the following facts:
Reaction Time: The driver cannot react adequately to an unexpected situation that demands safe maneuvering of the vehicle. It is hard to respond on time, and the car can flip and roll or crash/collide with the immediate object.
Visibility: The driver's vision is often impaired when traveling at high speeds. Most drivers will concentrate on the road, zeroed in at the far distance, which overshadows everything within their immediate proximity. As such, they are bound to notice things like potholes, road hazards, and traffic signs a bit late.
Braking Distance: A car traveling at ridiculous speeds will have a longer braking distance because of the kinetic energy generate at fast motions. Therefore, it is harder to avoid crashing or colliding with something during an emergency.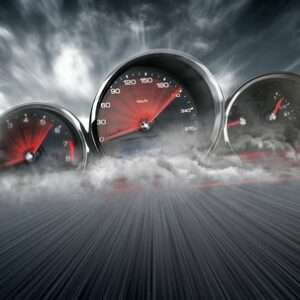 How Can I Prove That The Other Motorist Was Speeding When They Hit Me?
Our experienced attorney will use three methods to determine the other driver's fault in the accident, proving they were speeding. It is an essential thing that we must show the court to ensure you receive fair compensation. The object is to prove liability by show proof of reckless and negligent conduct. Overall, speeding will amount to a criminal offense, and we can use the following to support your claim:
Find Witnesses
We shall search for potential witnesses who can attest to the speeding. It is harder for the average person in motion to gauge if a driver was traveling over the legal speed limit. But it possible to notice this when stationary, say like at an intersection, and a vehicle zips by.
Police Report
Police are mandated to respond to different road accidents, and you should not leave the scene until they arrive. You also must ensure all who are involved in the speeding accident do not leave. The police will collect everyone's statements and compile a report describing what happened.
Collecting Physical Evidence
The Vidalia police can miss or downplay something when they arrive to assess and document the incident. As such, we shall work closely with accident recreation experts and other professionals in different specialties to unearth how it all happened and find missed clues that help prove those responsible committed a speeding offense. This is why we recommend that you take pictures or videos while at the scene, even after the police arrive.
Other crucial elements that your attorney will consider when trying to proving the defendant was speeding when they cause the accident include skid marks on the road, damage to your vehicle, and road debris.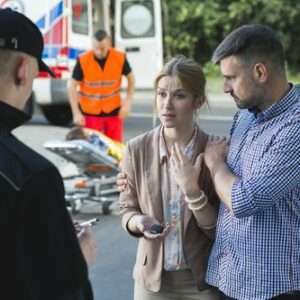 How Long Do I Have To Make A Speeding Car Accident Claim In Vidalia, GA?
Georgia State statute of limitations dictates when you should file a compensation claim for a road accident. Different circumstances can alter the standard allotted two years.
Suppose you have a loved one killed in a speeding accident; the matter will be handled as a wrongful death lawsuit and subject to the two-year deadline. However, if the victim is underage, this can potentially push up the timeline to three years from the date they are of legal age. It means the matter can be heard after the victim turns 18 years and is given three years for then to file the claim. And if you are filing a lawsuit against a government (state or federal) entity, the deadline is shorter, requiring you to act within 90 days after the incident.
Why Do I Need A Speeding Accident Lawyer?
Working with a Vidalia speeding accident lawyer will ensure you have the best legal counsel. Your attorney will help you navigate the different legal hurdles as you do your best to file for compensation within the stipulated timeline.
You will have to worry about the legal requirements or how the system works. And you also will be confident that the insurance companies will not get away with dubious allegations they level against you to discredit or deny your compensation claim. Your speeding accident lawyer will counter every trick they use to minimize the payout.
Furthermore, they will be on hand to oversee the settlement negotiations and ensure your interests are protected. At Weinstein Firm, we shall be ready to take the matter to trial if the settlement negotiations fail. We are the legal team you need if you want the best counsel and representation from law professionals committed to ensuring you get fair compensation for injuries, losses, and suffering.
How Much Will A Speeding Accident Lawyer In Vidalia, GA, Cost?
Our Vidalia speeding accident attorney will listen to your claim and provide professional and reliable advice on what you must do to protect your rights and interests. We offer a free initial case review and can provide our legal services on a contingency fee basis. That means you will not be asked for upfront fees and will pay us after we help you receive the maximum compensation.
Get In Touch With Weinstein Firm To Find An Experienced Speeding Accident Attorney
Why should you suffer because of another person's reckless and negligent conduct on the roads? Speeding is dangerous, and those that do it and cause accidents must be held accountable for the injuries and losses that arise. Call Weinstein Firm to speak to our Vidalia speeding Accident Lawyer and find out how we can help you get fair compensation and ensure those responsible are punished for their crimes.